UFC Fight Night: Joanna Jedrzejczyk vs. Jessica Penne Crystal Ball Predictions
BY Elias Cepeda • June 17, 2015
UFC Fight Pass has just hit the big time, folks. This Saturday, the UFC's digital streaming service will feature a card with a world title on it for the first time, ever.
In the main event, the UFC's most terrifying new champion, Joanna Jedrzejczyk, will defend her strawweight title for the first time. Challenging her will be The Ultimate Fighter veteran Jessica Penne.
In the co-main event, veteran Dennis Siver will look to prove that he can once more claw his way into the featherweight division's top-ten as he takes on one of the best fighters to ever come out of Japan, Tatsuya Kawajiri. 
The action from Berlin will be good, this Saturday, so don't miss it! And, be sure to prep for the international card with our analysis and picks of the main card, below.
Joanna Jedrzejczyk (9-0) vs. Jessica Penne (12-2)
Jessica Penne is a worthy and interesting title contender for the new champ. Penne has a lot more experience than Joanna Jedrzejczyk, having begun her professional career nearly six years prior to the Polish champ.
Additionally, Penne is on a two-fight win streak and has won five out of her last six. The Alliance team member has good hips off her back, is slick with submissions, and quite comfortable and able on her feet with strikes.
As good of a striker as Penne is, however, she may not posess the speed or power on her strikes as the champion is. Jedrzejczyk has a quick-pumping jab and puts some meat behind it with crosses and overhand rights.
Penne may also have problems getting herself into position to use her ground game because Jedrzejczyk's size, strength and takedown defense could keep the fight standing. Hardly anyone, this writer included, thought Jedrzejczyk had a great chance of keeping former champ Carla Esparza off of her when they fought last March.
Jedrzejczyk defended the wrestler's takedown attempts, time and again, and punished her for trying. Penne doesn't have the pure wrestling prowess of Esparza, but she could, however, potentially set up her takedowns better because she's a much more fluid striker. 
Penne may be a tad undersized for this fight, overall. She has looked quite good at 105 pounds, whereas, Jedrzejczyk had to work very hard to make 115 pounds. 
We could be wrong, but we're guessing that Jedrzejczyk will be the faster, larger fighter, with the striking power advantage. That's a tough combination to beat.
Prediction: Jedrzejczyk by decision
Dennis Siver (22-10) vs. Tatsuya Kawajiri (33-8-2)
Siver had his moments last January against Conor McGregor before succumbing to the much younger fighter's speed and punching power. Now, the German kickboxer has a great opportunity to get back on track at home. A win over Kawajiri would likely be the biggest of Siver's career, because of the Japanese legend's career accomplishments.
If he were to ever get Kawajiri, now would be the time. Both men are about the same age (Siver is 36, Kawajiri is 37), and "The Crusher" may have a bit of rust after a year away from competition.
Kawajiri lost his last fight, in April 2014, to Clay Guida by decision, but had won six straight fights prior to that. Prior to his loss to McGregor, Siver looked good in winning a fight of the night against the much younger prospect Charles Rosa.
Kawajiri had better hope he can time some of Siver's kicks to shoot for take downs or counter with right hands. Otherwise, Siver may prove a bit tricky with his foot speed.
Prediction: Kawajiri by decision
Peter Sobotta (14-4-1) vs. Steve Kennedy (22-6)
Sobotta is a dangerous fighter who always goes for the kill, and usually gets it. All but one of his 14 career wins was the result of a stoppage.
He'll also have the benefit and added pressure of fighting near home, in Germany, in just his second UFC fight. The Aussie, Kennedy, has the tough task of going into hostile territory for his promotional debut.
Then again, he may as well get used to it, as that will be the story of his UFC career, more than likely. Kennedy is a pro, and a veteran, with very good submissions, so he's certainly got a chance.
Prediction: Kennedy by close decision
Nick Hein (11-2) vs. Lukasz Sajewski (13-0)
Sajewski is young, undefeated, is nicknamed "Wookie" and comes from the most Eastern European sounding of teams (Mighty Bulls Team mother fu----!), but he has a tough draw for a UFC debut in Hein. The German, Hein, has already fought twice in the UFC and performed well against tough competition. 
He lost a decision to James Vick and beat Drew Dober -- no small feat. So, Sajewski is definitely stepping up in class, here.
He may be up to the task, however. The Polish 24-year-old is certainly the more dynamic finisher of the two, with nine of his 13 career wins coming by finish.
Prediction: Hein by decision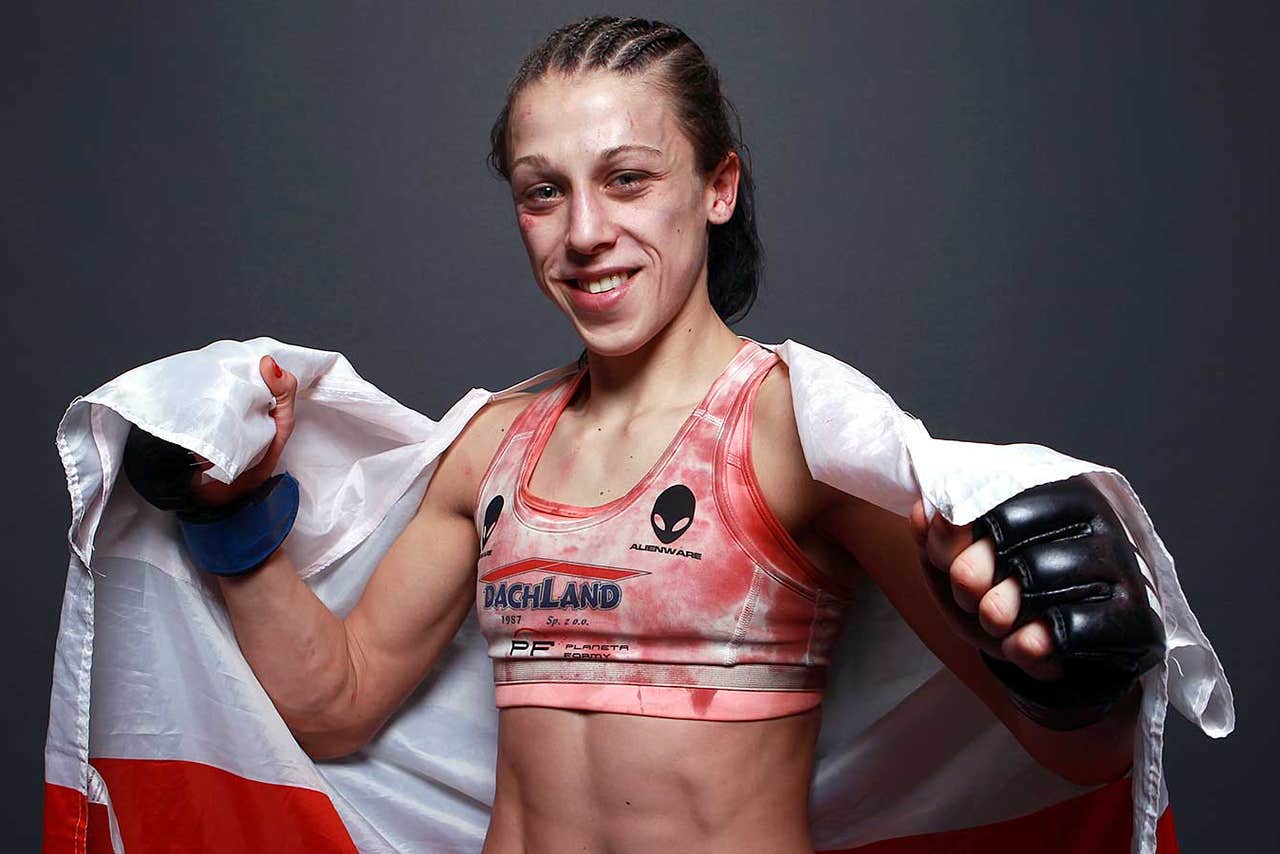 Joanna Jedrzejczyk gets to fight near home, in Europe, for her first title defense.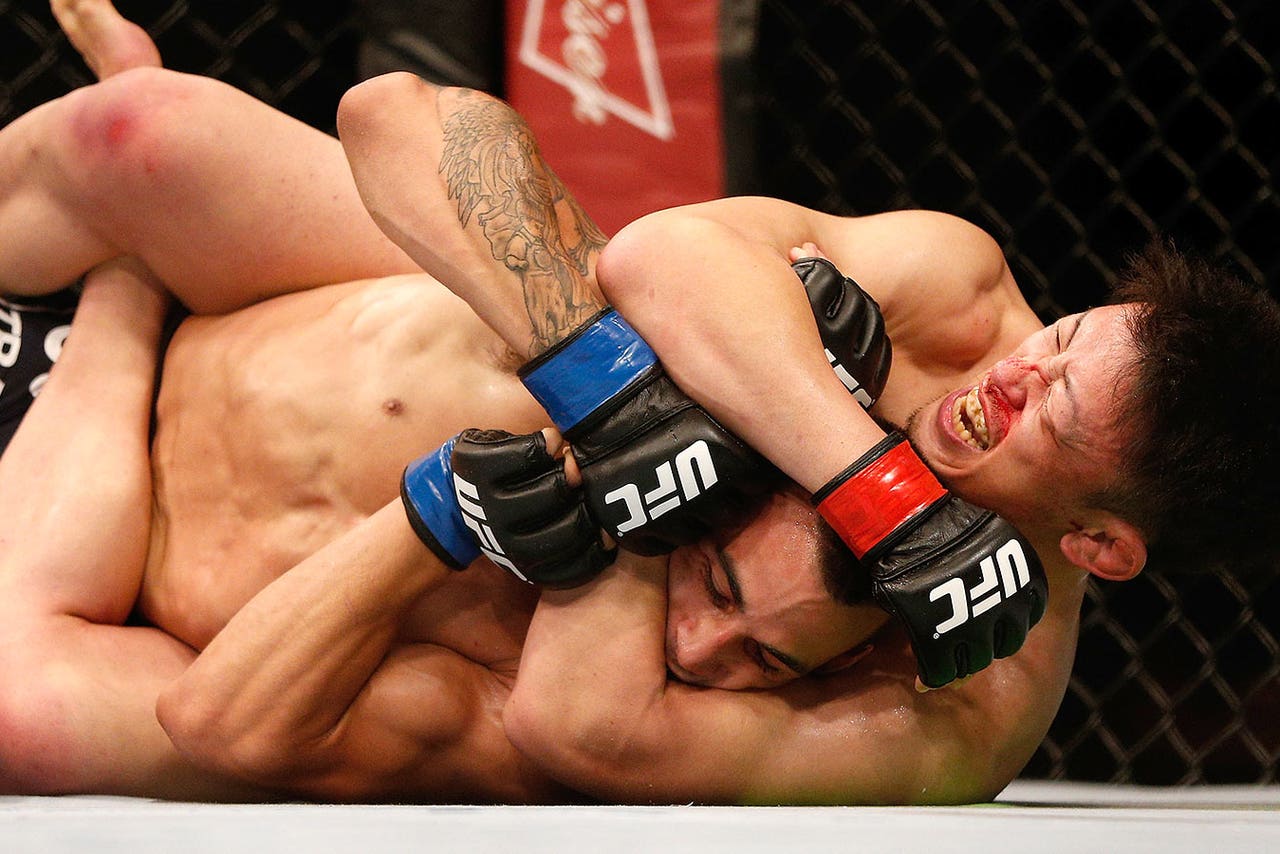 Tatsuya Kawajiri (R) is a finisher, and likely wants another UFC win, badly.
---
---