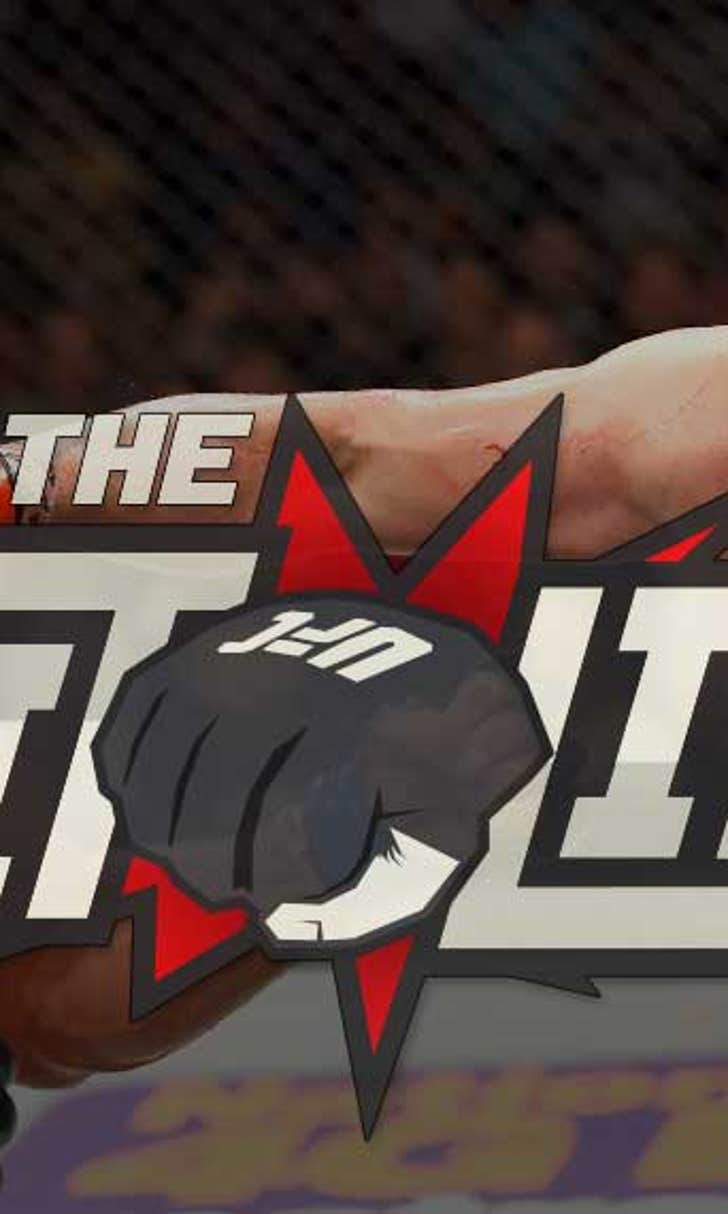 The Hit List: The top five moments of UFC 188: Velasquez vs. Werdum
BY Elias Cepeda • June 14, 2015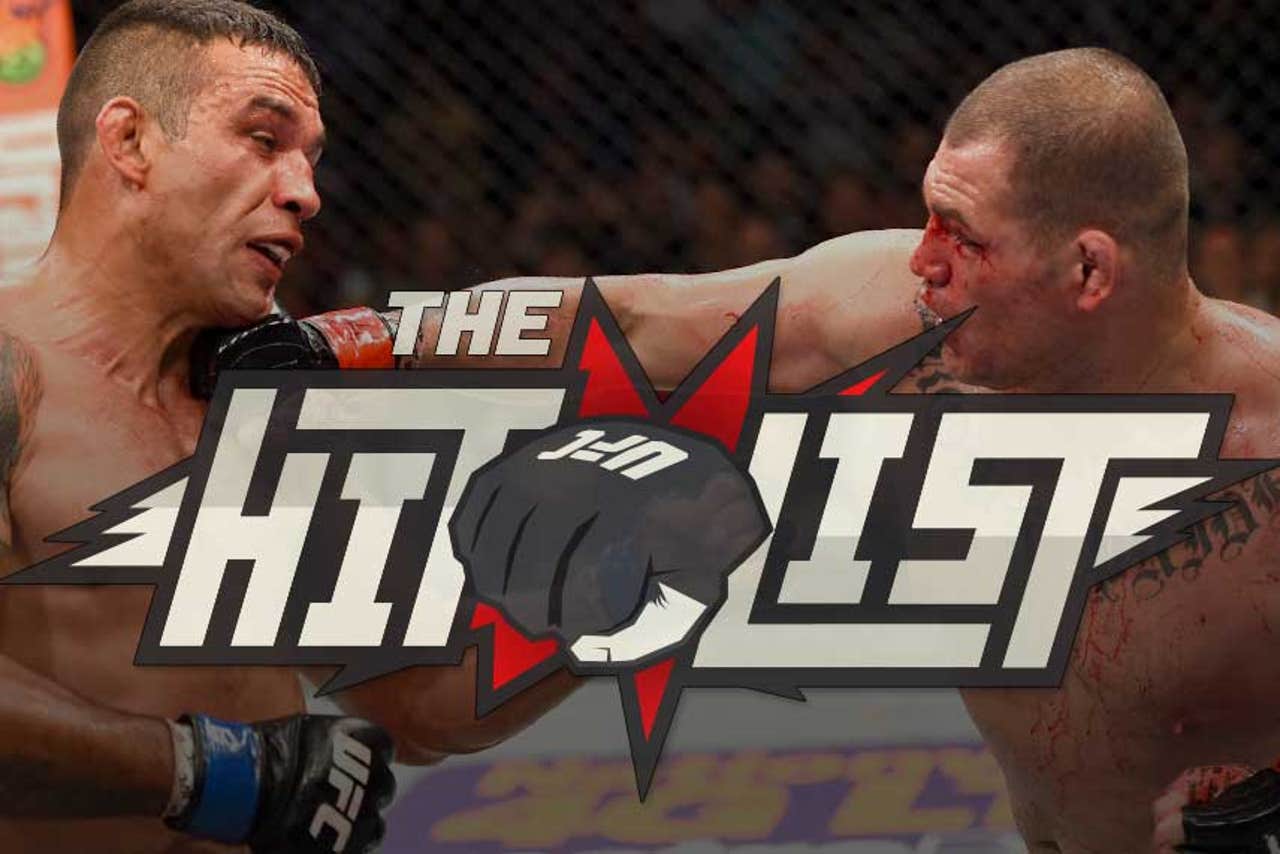 With another Saturday gone, we have one more UFC event that delivered spectacularly in the books. Mexico City's UFC 188 saw a lot of finishes, at least two incredible back and forth wars, and the crowning of an underdog and new undisputed heavyweight champion.
Read on to find out our top five moments from UFC 188, and then let us know your picks on Twitter and Facebook!
The guillotine drops, over and over
Patrick Williams and Efrain Escudero indivdually and collectively made history, Saturday night. Their super quick guillotine choke finishes marked the first time since UFC 12 that a UFC event saw two submission victories in less than a minute, each.
Williams knocked TUF winner Alejandro Perez around with an overhand right and an uppercut before locking on a standing guillotine choke and forcing the tap out at 23 seconds into the first round. The finish is the fastest submission in the history of the men's bantamweight division. For his part, Escudero submitted Drew Dober in just 54 seconds of their lightweight fight, also with a guillotine choke.
The improbability of two standing guillotine chokes in a single event was enough of a shocker, to say nothing of how fast these two men latched onto them. Of course, Fabricio Werdum ended the whole night with another expertly applied guillotine choke, this one much later.
Early in the third round, Werdum chose not to even fight a take down from Cain Velasquez. Instead, he set up his arm-in guillotine choke with his right arm around Cain's neck.
From his back, using his full guard, Werdum finished the hold and forced the tap. From top to bottom, UFC 188 provided a ton of guillotine choke highlight footage for submission nerds to study for years to come.
Yair Rodriguez and Charles Rosa tear it up
I have a hard time scoring a fight for anyone who ends it on their back, eating big shot after big shot to the dome as Yair Rodriguez did. However you scored this thrilling featherweight prospect's  fight, you had to agree that each competitor impressed and had their moments.
Rodriguez locked on a triangle choke early in the first that looked sure to be tight enough to take Rosa out. However, the Boston fighter defended and immediately got on offense, taking the TUF winner's back and connecting with punches.
After Rodriguez got up, Rosa soon slammed him back down to the mat. In the second round, Rodriguez got it back, however, and had his best period of the bout.
Rosa survived danger once again and dominated the final period. Both young men fought with hunger and skill, and it was a pleasure to watch this fight of the night. 
Knockdown Werdum strikes, again
Heading into UFC 188, most if not all of Fabricio Werdum's biggest career wins were preceded by him getting dropped with punches. He took just seconds to submit Fedor Emelianenko, but was still dropped by punches prior to the win.
Roy Nelson knocked Werdum down three times but the Brazilian still eventually won a lopsided decision. At UFC 180, Werdum got dropped by Mark Hunt before scoring his own KO.
Saturday night, it happened again. Velasquez came out firing in the first round and hurt and floored Werdum.
Once again, Werdum somehow managed to recover and come back and win. His conditioning, iron-chin, volume striking and expert Brazilian Jiu Jitsu won the day for Werdum.
At this point, knocking Fabricio Werdum on his ass early in a fight almost seems like a death knell for opponents. Go figure.
Eddie Alvarez pushes through the pain
I scored the first two rounds of UFC 188's co-main event for Gilbert Melendez but I still can't be mad at Eddie Alvarez for getting the split decision win. Here's why - he fought harder, for longer, and finished stronger.
Melendez did a lot of damage to Alvarez with a right elbow and overhand right punch in the first. The Philly slugger made the mistake of blowing out through his injured nose right after the first round ended, and his left eye swelled up immediately.
So, Alvarez had to fight for two rounds with one eye. It didn't stop Alvarez from being the more active and aggressive fighter, especially in the third round, landing punches and takedowns.
Melendez is going to feel as though he deserved to get the win, and I don't blame him. When he looks back at the tape, he'll at least have to admit that he took his foot off the gas pedal when Alvarez pressed down.
Cejudo keeps on rolling
Olympic wrestling gold medalist Henry Cejudo entered the UFC in 2014 as one of the top flyweight prospects in the world. Six months later, he's one of the division's top contenders.
On Saturday, Cejudo won for the third time in the UFC since last December and established once again that he's going to be hard to beat. The wrestler may not have blown Chico Camus out of the water in a way that made fans clamor for him to get a title fight next, but if he keeps on winning handily, it will simply be a matter of time until he faces Demetrious Johnson.
---
---