Stephen 'Wonderboy' cruises to win over Rory MacDonald, calls for title shot
BY foxsports • June 19, 2016
Stephen "Wonderboy" Thompson picked up another huge victory as he took out former title contender Rory MacDonald to win his seventh straight fight and move one step closer to competing for a UFC championship.
It was a big moment for Thompson after he just knocked out former champion Johny Hendricks in his last fight as he stepped into enemy territory to face MacDonald in his home country of Canada.
For MacDonald the fight served as his first action after a fifth-round loss to welterweight champion Robbie Lawler last July as well as the final bout on his current deal with the UFC as he enters free agency in the near future.
While most expected Thompson and MacDonald to engage in a high-paced kickboxing bout, the two welterweights showed a tremendous amount of respect for each other and the danger each of them represented in the Octagon.
"I expected to come out here and be a little bit more of a war. I didn't think Rory was going to be prepared for the angles, the speed, but as soon as I met him in the middle, just his stance, I realized this was going to be a chess match," Thompson said about the fight.
MacDonald made several early attempts to throw Thompson off his game as he dove for a leg and tried to roll into a heel hook.
While Thompson is best known for his flashy knockouts, he had clearly been preparing for a ground attack and he slipped out of MacDonald's attempts again and again over five rounds.
"I knew he was going to shoot or try something different, like I was saying in interviews in the past. Rory is always evolving. You don't know exactly what he's going to bring," Thompson said.
As devastating at Thompson has been over his last six fights, he was a master tactician on Saturday night. He waited for MacDonald to engage with incredible patience before cracking his opponent with fast counter shots all night long.
Even when MacDonald managed to land a solid punch, the moment he stepped forward looking for a combination it was Thompson who would crack him in return with three or four shots as punishment for opening up his offense.
By the fifth round it appeared to be a fairly lopsided fight in Thompson's favor so MacDonald finally started going for broke, but he was the person paying for it in the end.
Thompson battered MacDonald with a hard series of strikes, including a wheel kick that just nearly took off his opponent's head. Instead, Thompson just clipped MacDonald's nose, which was already severely mashed and broken in his last fight against Lawler.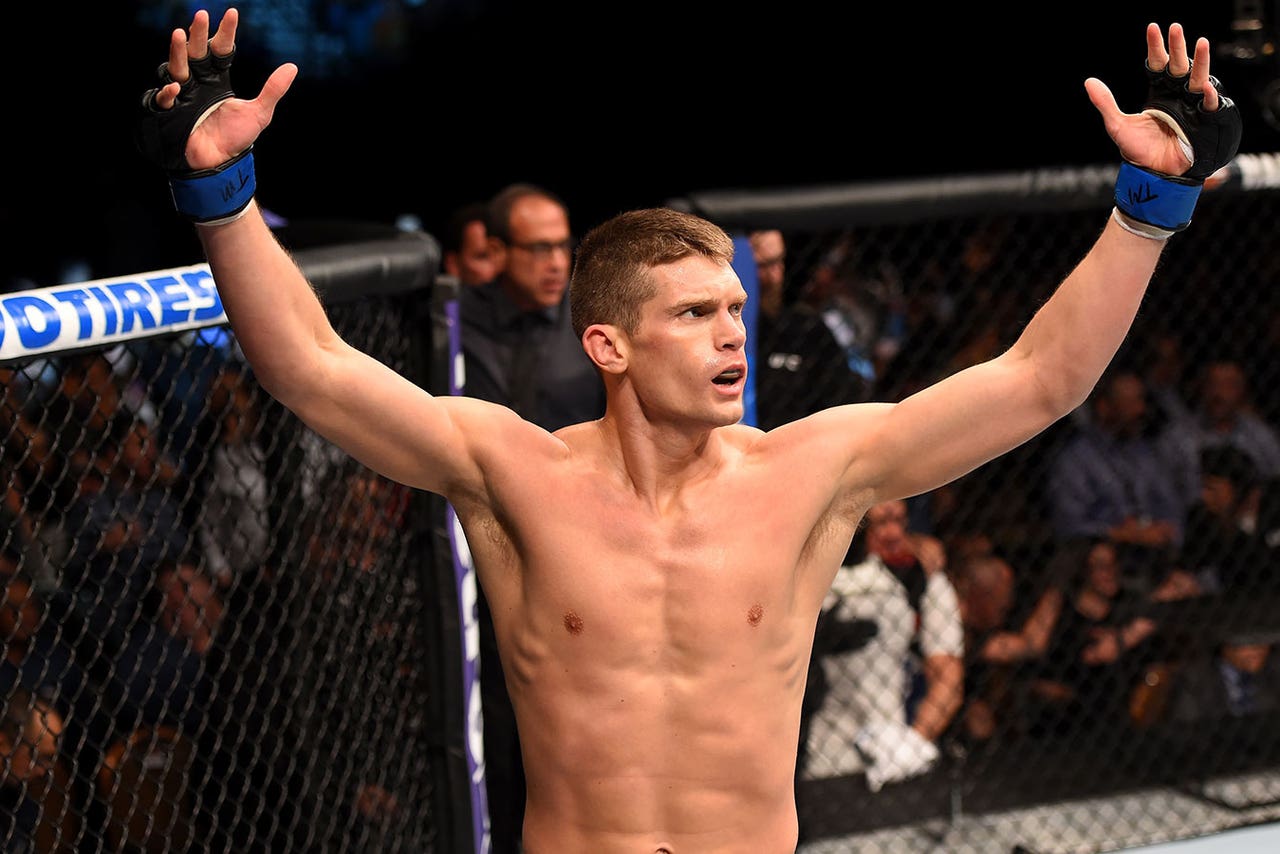 Thompson's onslaught continued until the final horn sounded as he cruised to a victory with the scorecards returning 50-45, 50-45 and 48-47 all in his favor.
With seven wins in a row, including victories over a former champion in Hendricks and the No. 1 contender in MacDonald, Thompson quickly made it known that he was calling for the next title shot at 170 pounds against the winner of the UFC 201 main event.
He even tossed out a plan to fight for the belt at UFC 205 in New York City on November 12.
"Title belt, baby! I want the winner of Robbie Lawler and Tyron Woodley, baby. New York," Thompson shouted.
Expectations were high for a five-round war, but Thompson showed that even when he's not landing a knockout that he can pick apart a top-ranked opponent and still dominate a fight on the feet.
Following this latest victory it seems nearly impossible to deny Thompson a title shot against either Lawler or Woodley and he'll certainly be sitting cage side to watch that battle unfold on July 30.
As for MacDonald, he suffers his second straight loss after nearly a year off from the sport. The former title challenger will now enter negotiations for his next contract as MacDonald tries to figure out what went wrong on Saturday night, and where he'll go next following this latest defeat.
"Hard fight but it was good man. I came in the best shape of my life. I was at my best tonight, I can't take anything away from Stephen," MacDonald said. "He really came. Stopped all my takedowns really successfully. He's a tricky guy and I wish him all the best."
---
---