Michael Bisping explains exactly when and how he will finish Dan Henderson
November 15, 2016

Like all fighters, Michael Bisping would like to avenge every single loss that currently decorates his record.
Bisping has won far more than he's been defeated, but there are some particularly stinging losses that have irritated him over the years. The one that obviously sticks out the most ahead of UFC 204 this weekend is the devastating knockout Bisping suffered at the hands of Dan Henderson back in 2009.
Bisping has often talked about getting revenge on Henderson and with the 46-year old on the verge of retirement, he was able to get his shot this weekend in the first defense of his middleweight title.
While the storyline for this fight is easy to tell based on the highlight from their last meeting, Bisping promises that the loss to Henderson didn't really hurt all that much more than any other defeat during his career.
Still, Bisping can't deny that when the UFC offered him the fight in his backyard in Manchester, England, things couldn't have worked out any better for the middleweight champion.
"I'll be honest, getting revenge on Dan Henderson wasn't something that massively consumed me," Bisping told the Fight Society podcast recently. "Of course, I always sort of got irritated that his company logo, if you will, was me laid unconscious. That always kind of pissed me off a little bit and I wanted to get that one back but it wasn't like it completely consumed me.
"Revenge is always something that's one goal. When the UFC came at me with the fight, I was like yes 100-percent and when they said in Manchester, it doesn't get any better than that."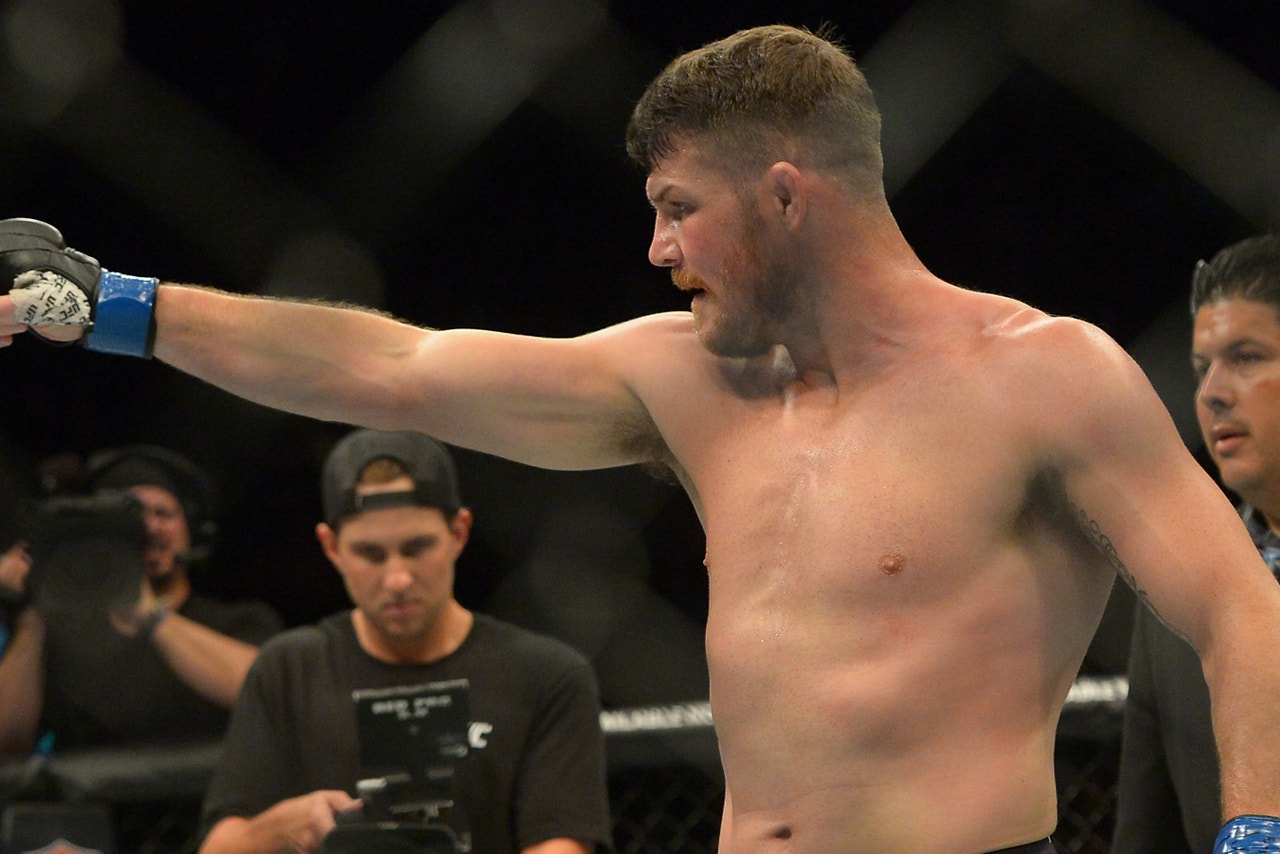 If there's one measure of payback that Bisping really wants to exact on Henderson, it's finishing the future Hall of Famer in the same fashion that he suffered back at UFC 100.
Coming off a first-round knockout win over Luke Rockhold in June, Bisping is confident in his punching power and he just doesn't see a way Henderson survives until the final bell.
It's certainly not the retirement gift Henderson wants, but it's the only one Bisping is willing to give him.
"I am one-million percent looking for a finish in this fight. When it's all said and done, a win is a win and I'll take it anyway I can, but I'm looking for a stoppage. I want to go out there and have a showcase performance. I feel I'm in the best shape of my career and I'm going to continue that. I want all those other (expletive) at middleweight to be like 'I don't know if I want to fight him actually,'" Bisping said. "I'm going to put a beating on Dan Henderson like he's never had in his life. I'm going to make him look old. I'm going to make him look every one of those 46 years that he has on his clock. I'm going beat him to the punch.
While Bisping certainly has a lot of confidence running through his veins ahead of the rematch with Henderson, he isn't looking past the veteran contender like his victory is a foregone conclusion.
Looking back at their last fight, Bisping still believes that he was the superior mixed martial artist that night with more tools in his arsenal to get the job done and Henderson still managed to land one of the most memorable knockouts in UFC history.
Bisping knows that's the danger Henderson presented back then and he still possesses to this day and underestimating that fact could cost him his title.
Add onto that, Henderson is retiring after Saturday night whether he leaves England with the belt or he goes home with a loss and that makes him a very dangerous opponent.
As writer James A. Baldwin famously said — "the most dangerous creation of any society is the man who has nothing to lose."
"In that first fight, I believe I was the better striker. I believe I was faster and younger and all these things and that's still the case now," Bisping explained. "I'm definitely faster, I'm definitely a better striker, I think I've got a more well-rounded skill set, but that doesn't matter. It only takes one and Dan was able to land that shot.
"That's what makes Dan dangerous in this fight. He knows he has the knockout power and he knows it only takes one and he knows he's done it before. Win or lose, he's going to retire after this fight so he's got nothing to lose."
---
---