Kenny Florian says enough is enough, BJ Penn needs to retire
BY Damon Martin • January 16, 2017
UFC legend BJ Penn came out of retirement on Sunday night to face Yair Rodriguez in the main event from Phoenix after more than two years away from the sport.

It did not end well for the former two-division champion as Rodriguez battered Penn 55-4 in significant strikes before ending the fight by TKO just 24-seconds into the second round.

That loss dropped Penn's record to 0-4-1 in his last five fights. The UFC Hall of Famer hasn't won a bout since defeating Matt Hughes at UFC 123 in 2010.

Following that latest performance, former opponent, title contender and FS1 analyst Kenny Florian says that he's seen enough and he hopes Penn calls it a career once and for all.

"Retire at this point. No one needs to see a legend like BJ Penn go out like that," Florian said during the post-fight show. "That was very hard to see, not to mention the last fight against Frankie Edgar was very hard to see. Now we're it again with Yair Rodriguez. The sport has passed him by.

"This is an eventuality for every single fighter. It doesn't matter, eventually, you don't move the same way if you don't keep up with the sport, you're going to get beat down like this. This sport is way too hard. There's other ways to make money and I hope BJ Penn finds some kind of peace in retiring finally."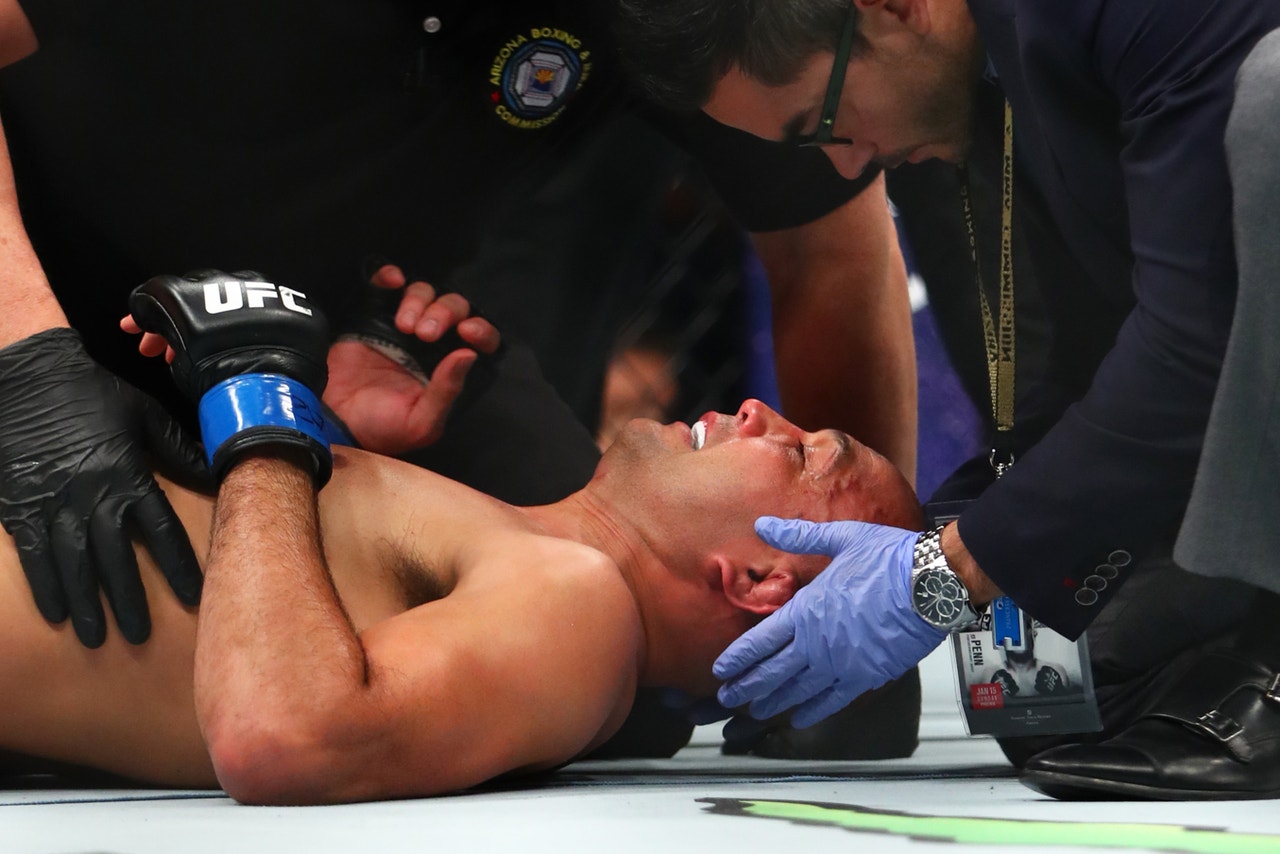 Welterweight champion Tyron Woodley didn't say that Penn should retire but instead pointed at his poor fight selection by accepting a matchup with a young gun like Rodriguez after sitting on the sidelines for more than two years.

The speed difference in the fight was staggering and Penn also struggled to deal with the size and power of Rodriguez, who came into the night as a whopping four-to-one favorite according to the oddsmakers.

"From the beginning this matchup was problematic," Woodley said. "Maybe a Cole Miller or a matchup like that would have been a better interest fight back into the UFC.

"Coming in and fighting Yair Rodriguez, who has been on a complete tear might not have been the wisest choice by BJ Penn so I'm not going to completely say retire but he needs to consider his opponents in his next bout."

Penn didn't make any statement following the loss and wasn't available for any questions after the event was finished so it's unknown what decision he will make about his future at this time.

It's certainly been a tough run for the 38-year-old Hawaiian with his fourth straight loss in the Octagon on Sunday night.


---
---