Kamaru Usman gunning for fight with Dong Hyun Kim next
BY Damon Martin • January 17, 2017
The UFC welterweight division is arguably one of the deepest weight classes in the sport, but rising star Kamaru Usman might be the best prospect in the world right now at 170-pounds.

The former "Ultimate Fighter" winner has been dominant through his first four UFC fights, including a lopsided win over fellow prospect Warlley Alves in his last trip to the Octagon.

Following that win, Usman called out top five ranked welterweight Demian Maia while stating that he would maul the multi-time grappling champion on the mat if they ever fought.

Ultimately, Maia declined the call out due to his standing in the division where he's likely in line for a title shot later this year, but that didn't deter Usman from continuing to hunt big prey in the welterweight division.

So Usman is turning his attention to another top 10 welterweight, who he hopes accepts his challenge for a fight.

"100-percent honest, this is the plan, Demian Maia isn't going to take the fight so we're going to go around him. I don't want Demian Maia. It's not realistic and it makes no sense for him. Right now, I want Dong Hyun Kim. He's next," Usman told FOX Sports. "He's winning, he's not coming off three losses, or two losses or anything like that. I think that's a guy I will completely dominate in every facet of the game.

"That's who I want, bar none, Dong Hyun Kim."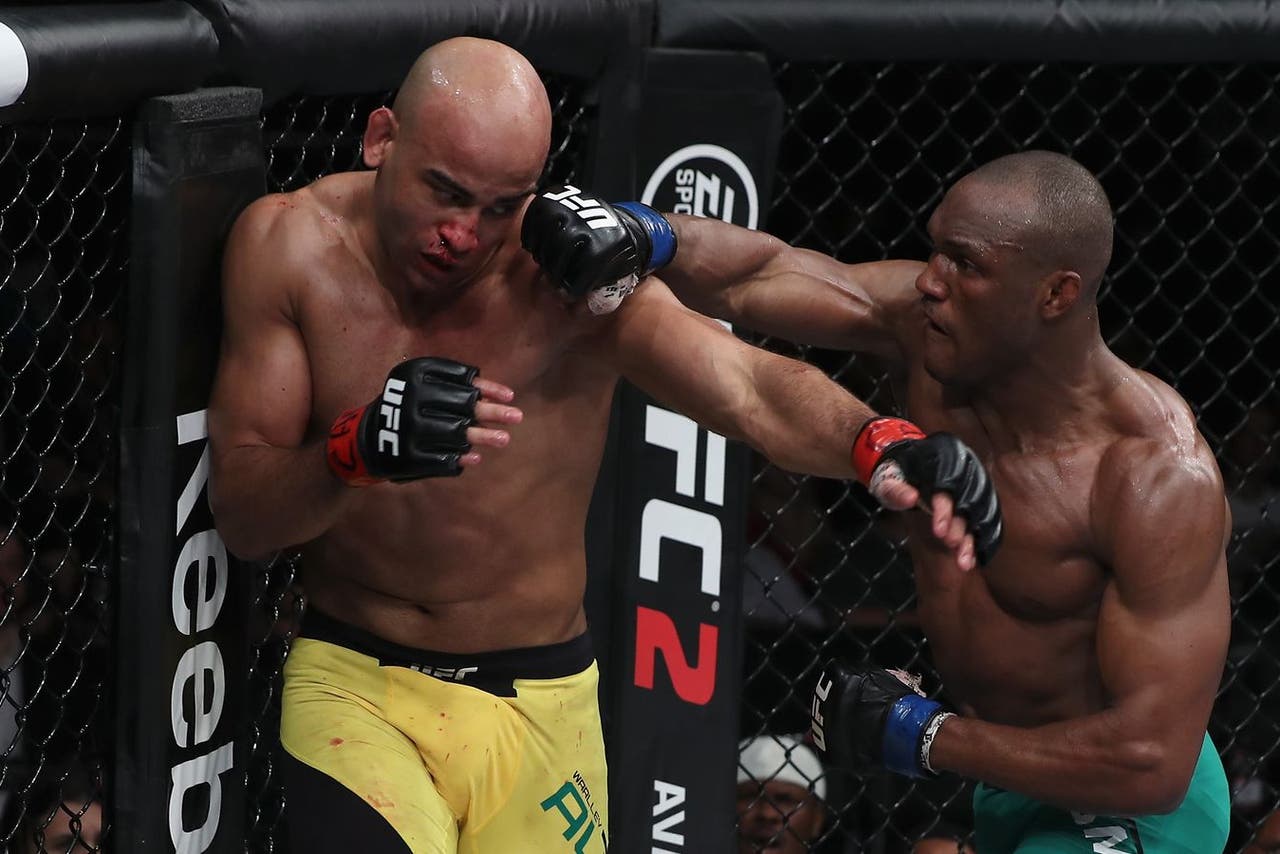 While Usman is moving onto Kim as his ideal next opponent, he hasn't forgotten about his desire to fight Maia at some point in the future.

Usman may not be ranked as a top 10 fighter just yet, but he showed no fear in asking to fight Maia, who is regarded as one of the top submission specialists in the history of the sport. Usman has no regrets asking for the fight because he honestly believes that he would give Maia fits on the mat and still welcomes the challenge whenever the Brazilian is ready.

"I came out and said what I truly believe," Usman said. "I believe I would dominate some of these guys. Of course, I get the blowback. People get on Twitter all the time 'oh you're crazy, Demian Maia!' No, I'm not.

"Demian Maia's fought my teammate before, Ryan LaFlare, I've watched his last six or seven fights live. I know what I'm capable of and I know what I can do to a guy like that. So I'm just stating the fact to myself."

In fact, Usman feels like he's ready to compete with anybody at the top of the welterweight division and that includes current champion Tyron Woodley, but don't expect him to issue a call out like that just yet.

"The only reason I don't say Tyron Woodley is because it's not realistic right now," Usman said.  "I want to make known the things that I know could happen. Demian Maia could wake up tomorrow and say 'oh I need an opponent' so why not give this guy a shot. It could happen.




"Tyron Woodley, he's the champion, he wants big fights, he's already stated it several times, he only wants big fights and he wants money. I understand that. So in order for me to get that fight, I need to beat up guys like Demian Maia to where I'm sitting in that range and he has no choice but to fight me."

If Maia is out of the picture, for now, Usman is happy to target Kim next instead and then he has his plan laid out for another top 10 welterweight to keep him moving up the rankings as he continues his charge towards the title in 2017.

"I want Dong Hyun Kim. He's a grappler, he's a strong stand-up fighter, and I think that would be a great fight. I think I beat him every and anywhere," Usman said. "After Dong Hyun Kim, and I would like to fight him in March or if not, early April in Buffalo, or anywhere there's an African community. New York, Atlanta, Houston, London, wherever. I want Dong Hyun Kim.

"After Dong Hyun Kim, I want Neil Magny, probably in June or July. Then if Demian Maia is still hanging around and if he doesn't want it, then we'll go around him."


---
---