Josh Koscheck: The original bad guy
BY Damon Martin • August 7, 2014
When the Ultimate Fighter kicked off more than nine years ago, there was no writing on the wall about who would be successful after the reality show ended or which personalities would stand out once viewers had a chance to meet the contestants and coaches. At the time the show started, Josh Koscheck was a 2-0 professional fighter whose biggest accolade was his college wrestling career where he was an NCAA champion from Edinboro in Pennsylvania.
With his bleached blonde locks and smug attitude, it didn't take long for Koscheck to stand out on the show, but it wasn't until a little too much alcohol was imbibed that his trip to infamy was secured after a showdown with fellow housemate Chris Leben.
A night filled with drinking by the cast members ended with Leben sleeping outside to get away from the rest of the fighters, but Koscheck and former teammate Bobby Southworth decided to up the ante and torment him while he was passed out on the lawn.  Eventually, Leben woke up and went on a drunken tirade, tearing through the house like a tornado and when the coaches and UFC president Dana White saw the footage the next day there was only one course of action -- let Leben and Koscheck fight to solve their differences.
While the bout itself wasn't all that memorable, the lead up and result will never be forgotten as Koscheck, with extremely rudimentary MMA skills at his disposal mind you, beat Leben, who was 10-1 going into the show and a heavy favorite to win the entire tournament.
Koscheck taunted Leben on his way out of the gym after being eliminated and his career as one of the most despised villains in the UFC was well on its way.
Following the conclusion of the reality show, Koscheck hooked up with the team at American Kickboxing Academy in San Jose, Calif. to hone his skills and pick up some new weapons to go along with his already dangerous wrestling arsenal.  Through his first seven fights in the UFC, Koscheck would go 6-1, which eventually led to another seminal showdown in his career when he came face to face with another old friend from the Ultimate Fighter.
While Koscheck did manage to beat Leben and send him packing, he was actually eliminated from the competition by eventual show winner Diego Sanchez in the semifinal round.  Sanchez defeated Kenny Florian to become the first ever Ultimate Fighter champion and then proceeded to win his next five fights in a row, putting him in the crosshairs of a potential welterweight title shot.
Before he got there, however, the UFC opted to pit him in a rematch against Koscheck at UFC 69 in Houston, Texas.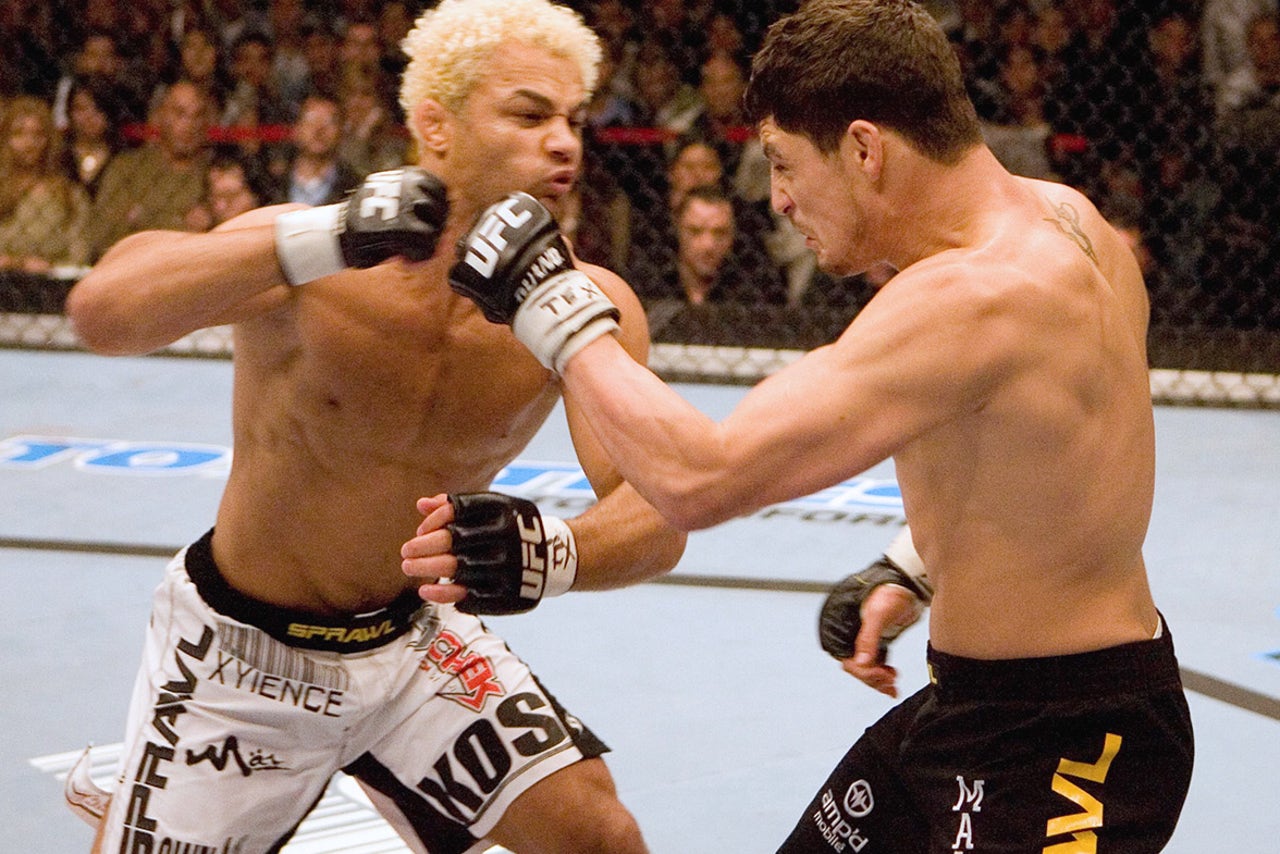 Koscheck battles Sanchez
The distaste Sanchez felt for Koscheck ever since the show was never more evident than when the two fighters stared down at the weigh-ins.  Koscheck hit the scales first, followed by Sanchez, who proceeded to get in his opponent's face and then shove him with every ounce of power he could muster in his dehydrated body.  The weigh-ins on that particular day were held outdoors with a different sized stage than usual and Koscheck nearly tumbled and fell off the structure following the shove from Sanchez.
Luckily it didn't happen and Koscheck just answered back with his signature smile before going out the next night and beating Sanchez by unanimous decision, showcasing a superior jab and boxing footwork all night long to get the win.  It was a far cry from the wrestling only attacks Koscheck was known for just a few years earlier when he was on the Ultimate Fighter.
From there, Koscheck jumped into the deep end of the welterweight division, which saw him face real adversity for the first time in his career.  He lost to Georges St-Pierre and Thiago Alves in fights that could have earned him a title shot and then fell to unknown newcomer Paulo Thiago in one of the biggest upsets in UFC history at the time.  In the middle of those losses, Koscheck did manage to pick up some impressive victories as well including his vicious knockout over Yoshiyuki Yoshida, which may remain as the biggest highlight of his entire career after catching the Japanese fighter with punches and literally trapping him against the cage while still standing and unloading a barrage of machine gun like strikes until he finally crumbled to the mat.
Koscheck rebounded after a rocky stretch to win his next three fights in a row including a knockout over former title contender Frank Trigg as well as a submission victory over Anthony Johnson.  Those fights set the stage for another epic showdown as Koscheck took on British bad boy Paul Daley in a bout that would determine the next No. 1 contender for the UFC welterweight title.
In the weeks leading up to the fight, Daley was relentless with his trash talk towards Koscheck and even ran a contest to see which fan could come up with the funniest interpretation of the former NCAA champion in a picture that he would then present to his opponent during fight week (the winning picture turned Koscheck into painter Bob 'Happy Little Tree' Ross and even he couldn't deny that it was hilarious).
For all the pre-fight chatter, Daley still couldn't defend Koscheck's takedowns.  He couldn't get up off his back.  He couldn't really land much offense at all before the wrestler powered through on a takedown and forced him to endure round after round of punishment on the mat.  When it was over, Koscheck won in a shutout, but Daley was so infuriated about the entire ordeal that he actually got up from the canvas and threw a punch at the former Ultimate Fighter competitor long after the final horn had sounded.
The momentary lapse of reason cost Daley his job in the UFC and earned him a lifetime ban from the promotion.  Koscheck just kept grinning and laughing the entire time like he got exactly what he wanted as Daley got bounced from the UFC for good.
Koscheck would go onto coach The Ultimate Fighter season 12 opposite Georges St-Pierre before eventually fighting the welterweight champion after the show was completed.  Heading into the fight, Koscheck taunted St-Pierre at every turn, often welcoming the jeers from his hometown crowd in Montreal as the fight approached.
Unfortunately things didn't go Koscheck's way and he lost a lopsided decision to St-Pierre, marking the only time in his career where he fell to the same opponent twice.
Koscheck's career rebounded with two more victories after the loss to St-Pierre including a TKO win over former welterweight king Matt Hughes in what ended up being the Hall of Famer's final fight inside the Octagon.  The former NCAA champion fell on harder times in his last three fights, dropping bouts to Robbie Lawler and Tyron Woodley as well as a close decision to future welterweight champion Johny Hendricks.
Don't cry for Koscheck too much, however, because while he came up short in his only bid to win a UFC title and wasn't able to climb the mountain again after the loss to St-Pierre in 2010, he's not hurting much in his spare time.  Since coming to the UFC, Koscheck has earned more than a few solid paydays and he's invested his money well by opening his own gym in Fresno, Calif. as well as becoming an avid pilot in his spare time. He was once featured in an episode of The Ultimate Insider where he showed off his plush house, complete with a swimming pool and a garage housing a Range Rover, a Mercedes and even a 2008 Ferrari.
At one point in his career, Koscheck was believed to be the most hated man in the UFC, often times topping other infamous names like Michael Bisping or Rashad Evans when it came to the jeers launched in his direction at every fight card no matter where he was competing.
"I've never seen one guy clapping in an entire arena when Josh Koscheck walks out. Ever," UFC president Dana White said in 2012.
And guess what? Koscheck kept on smiling all the way to the bank because being the bad guy still pays an awful lot of money. He remains one of the most successful members of the Ultimate Fighter alumni, while touting an overall UFC record of 15-8 and a potential slot in the UFC Hall of Fame when his career does finally come to an end one day.  
---
---