Joanne Calderwood brutalizes Valerie Letourneau to win by TKO in Ottawa
BY foxsports • June 18, 2016
Joanne Calderwood put on a masterful performance Saturday night as she thrashed former title contender Valerie Letourneau over three rounds before stopping the fight with a spinning back fist TKO.
Inconsistency haunted Calderwood through the early part of her UFC career, but the 29-year-old showed off a lot of her arsenal, and gave her most impressive showing while competing in the first-ever women's flyweight fight in the Octagon.
Both Letourneau and Calderwood commented heading into the fight how advantageous it would be to fight at 125 pounds, instead of cutting more weight to get down to 115 pounds where they normally compete.
The results showed right away, especially in Calderwood's first-round performance — she went on the attack immediately with a barrage of strikes against the former title contender in the opening moments.
Calderwood's aggressiveness allowed her to land a takedown before working back up to the feet after avoiding an arm bar attempt from Letourneau on the bottom.
With about two minutes to go in the first, Calderwood uncorked a beautiful spinning back elbow that sent Letourneau crashing to the mat. It appeared for a moment that Letourneau was knocked out, but Calderwood's continued assault seemed to wake her up and she made a quick recovery.
Calderwood continued her strong striking attack in round two, although Letourneau seemed to recover enough to start firing back some counter shots.
Though after that stunning knockdown in round one, Letourneau seemed a bit more gun shy than normal, allowing Calderwood to land a few more shots throughout the five minute session.
Calderwood kept the pressure on in the third round, catching Letourneau with a shot to the body that forced her to turn away to make a wardrobe adjustment. It was a strange sequence, but it also seemed like Letourneau was hurt by the shot because she never quite recovered after that exchange. 
A few seconds later, Calderwood blasted Letourneau with a body kick as her opponent turned away and it appeared like the fight was over, but referee Jaren Valel didn't stop the action. Finally, Calderwood unleashed another spinning back fist that sent Letourneau crashing to the mat, and the fight was mercifully stopped late in the third round.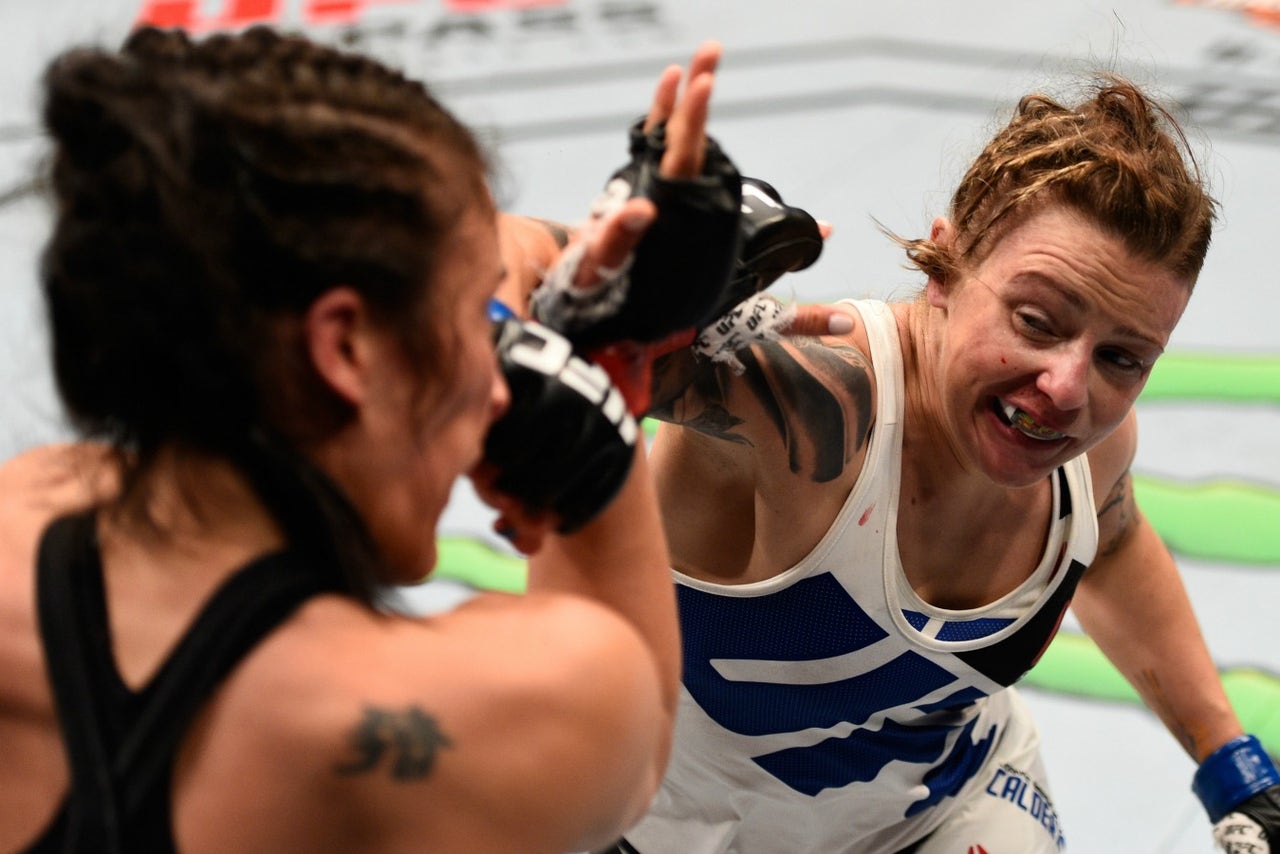 Scotland's Calderwood (right) takes a swing at Canada's Letourneau. 
As odd as those final few sequences were in the end, Calderwood looked better than ever in her return to action after nearly a year away from the sport.
With a win over a former title contender like Letourneau, Calderwood immediately takes a big jump up in competition as she looks to tackle the top five in the world back at strawweight in the near future.
---
---