Frank Mir: Mark Hunt won't survive on the ground with me
Published
Mar. 17, 2016 11:55 p.m. ET

Frank Mir is well aware that Mark Hunt has the kind of consciousness-stealing power that has made him one of the most devastating knockout punchers to step inside the Octagon.
Mir is no stranger to facing prolific strikers because he's been fighting them throughout his career, so as much as he respects Hunt's power, it's not anything he hasn't seen before.
"He hits extremely hard but he's not the first guy I've fought that has one-punch knockout power. There's a list of guys like that," Mir told FOX Sports ahead of his fight with Hunt in Australia this Saturday on FS1 (7 p.m. ET).
Mir is no fool when it comes to Hunt's strategy because the 41-year old New Zealander never really has kept his game plans a secret. He wants to connect with a punch and send Mir's head into the third row while his family and friends celebrate.
It's Mir's job to stop him from doing it, and he knows for all the power Hunt can pack in his punches, he has the ultimate equalizer on his side.
"The differences that he has over me in striking, I feel like on the ground, grappling wise, the gap is really great," Mir said. "Obviously if this was a K-1 fight, Mark has been doing it for many more years than I have as far as pure standup, so you'd have to give him the advantage.
"I think part of my strategy in the fight is that he really has to worry about the takedowns and the only way he's going to worry about it is if I take him to the ground early in the fight a couple of times. Even if he survives, it's not a loss because now he can't put 100 percent of his mind into striking because he knows I can get him down."
Mir has worked tirelessly on improving his boxing over the past few years, so he's not exactly scared to trade punches with Hunt, but he knows that's exactly what his opponent is hoping will happen.
On the flipside, on the ground the fight turns into a mismatch, considering Mir's long history in Brazilian jiu-jitsu, not to mention he sits second all time behind Royce Gracie for the most submission wins in UFC history with eight.
Mir isn't discounting Hunt's ability to stave off a ground attack, but he knows six of his career losses have come by way of submission.
Mir would love to be No. 7.
"He might survive the first time, he might even survive the second time. But on a long enough scale, you're going to get submitted by me," Mir said.
"He obviously knows I'd like to submit him and I'm sure Mark wants to stay away from the submissions. So he's going to try to fight where he's most comfortable at."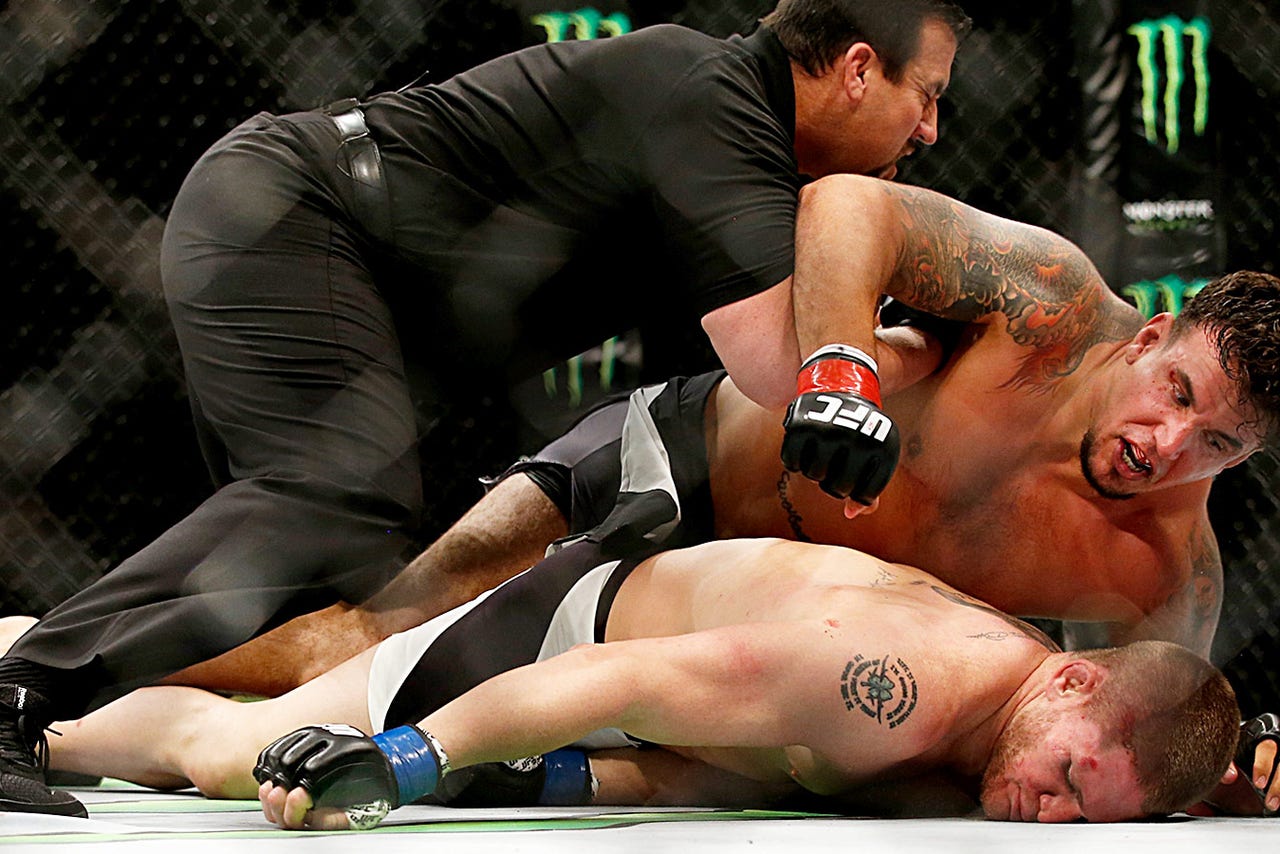 Mir won't go as far as calling his shot in the fight with Hunt, but he's not afraid to predict how this main event bout will end.
Whether it's the first round or the last, Mir sees Hunt being submitted. 
If that means a broken limb like Mir has handed to Tim Sylvia or Antonio Rodrigo Nogueira, or just applying the right kind of choke, the former UFC heavyweight champion believes Hunt won't make it to the final bell and he'll either tap, muscle or bone will snap or he's going to sleep.
"I'm really trying to go in there and finish in the first or second round," Mir said. "I think earlier on when people are drier, it's easier to get a submission because it's easier to hold on. By the third and fourth round, people are sweating and submissions start falling off.
"We are seeing a lot of fifth-round submissions though because once fatigue starts to set in, it's harder to explode out. Now they have to rely on pure technical prowess on how to leverage, and do you know how to escape this choke, do you know how move your shoulders and your chin at certain angles to where I can't put my forearm across the carotid arteries and cut off the blood flow to your brain? That becomes easier. It's either going to be an early submission or a late submission."
---
---