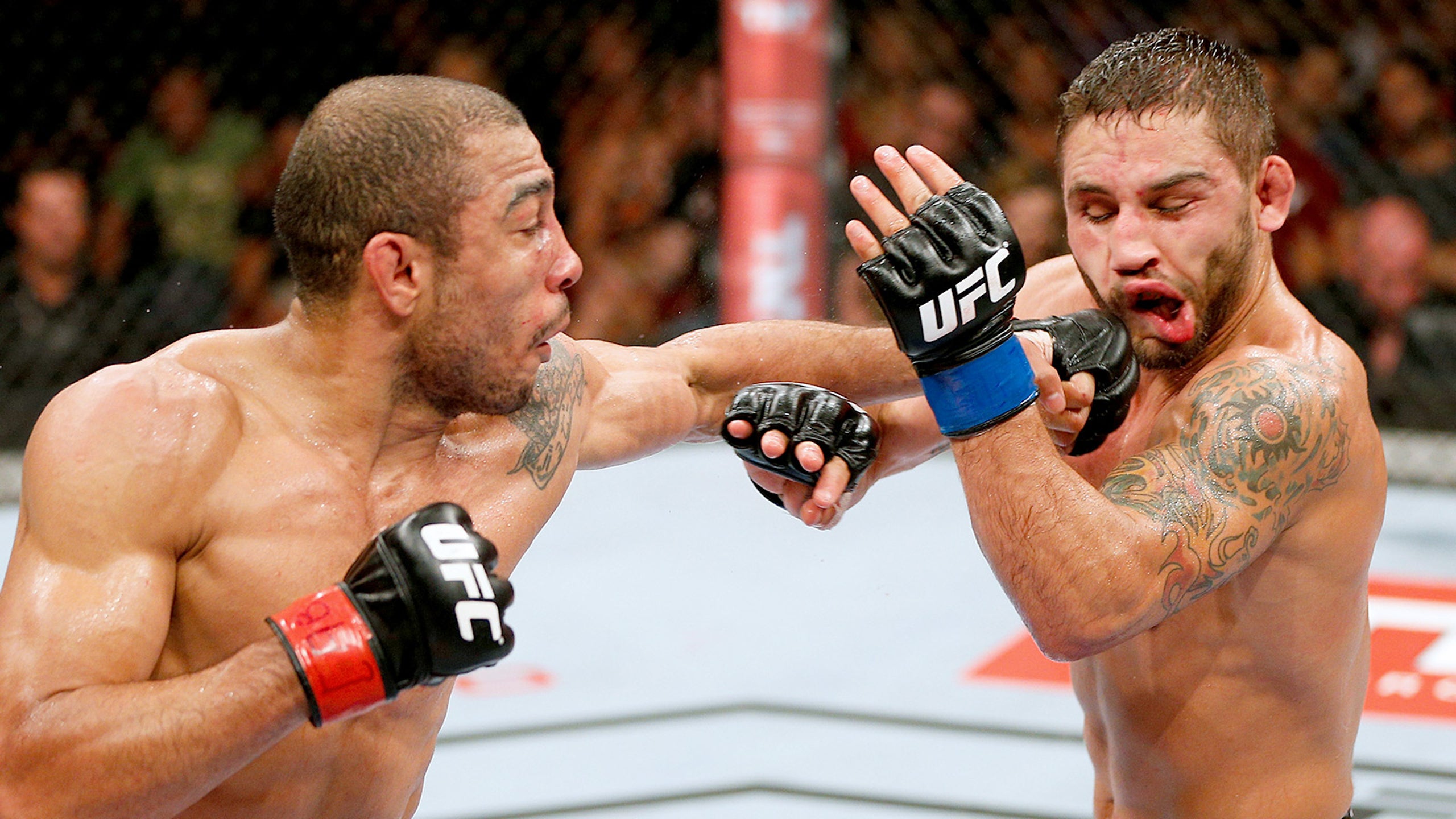 Fight Blog Recap: Jose Aldo tops Chad Mendes in five-round classic
BY Damon Martin • October 25, 2014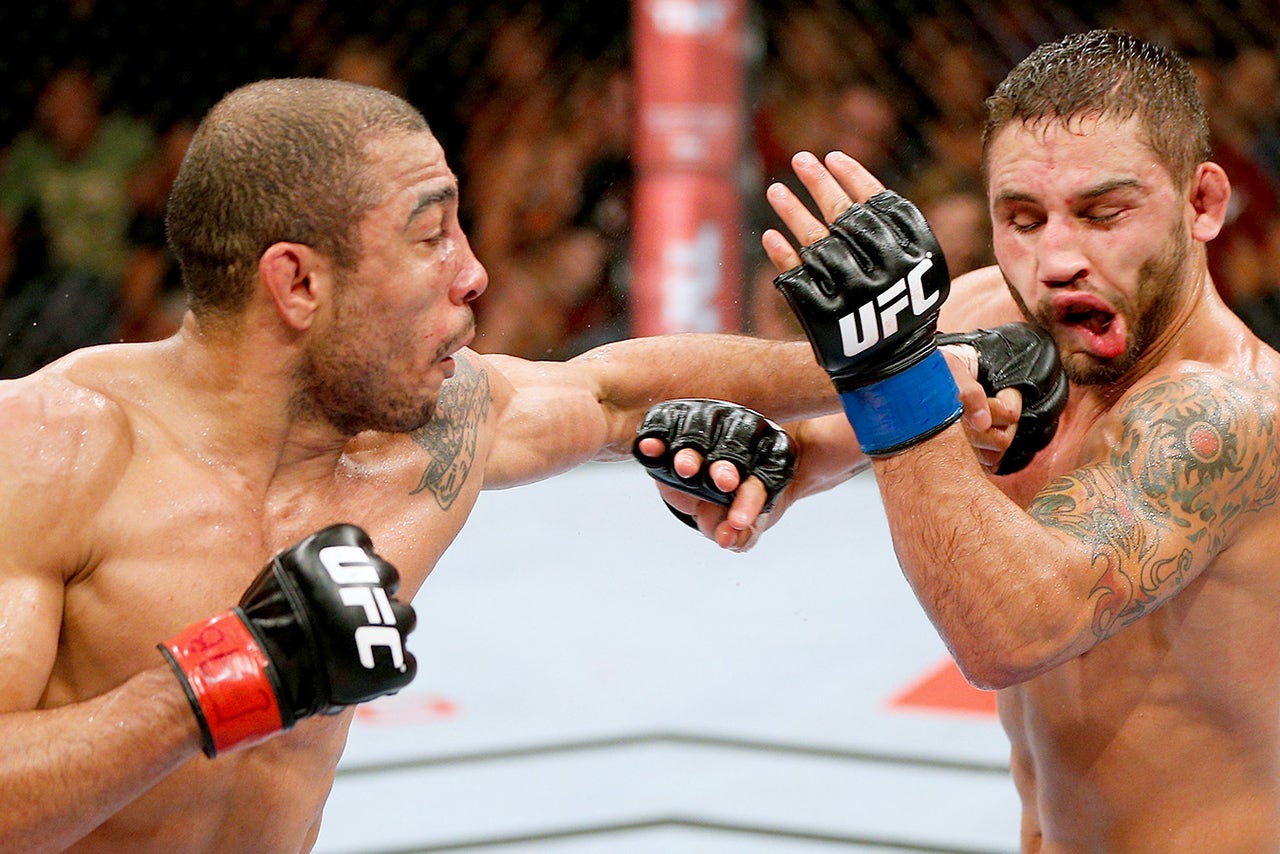 Jose Aldo has been accused of cruising through his title fights lately, but Chad Mendes proved to be the perfect opponent to wake the sleeping giant from his slumber. 
Aldo and Mendes fought toe to toe for five straight rounds in a 25-minute class as the featherweight champion retained his title in a unanimous decision, 49-46 on all of the judges' scorecards. 
Mendes did a great job of getting inside and nailing the champion with several big uppercuts and power punches throughout the fight, but he had no answer for Aldo's counters and long range.  Aldo connected with more shots round after round and when it was over it was clear he was going to hold onto his title, although he pushed the champion further than he had ever been pushed before.
In the co-main event, Phil Davis put on a wrestling clinic against Glover Teixeira to win a shutout on the scorecards as he bounces back from a rough outing in his last fight.  Davis took Teixeira down nine times over the course of three rounds and the Brazilian just had no answer to his opponent's wrestling prowess.
Here's the full play-by-play and results for UFC 179: Aldo vs. Mendes II
Chad Mendes out to "Country Boy" by Aaron Lewis, George Jones, Charlie Daniels. Jose Aldo out to "Run This Town" by Rihanna & Jay-Z
Round 1: Mendes out aggressive and he's gunning for Aldo's chin. The champion fires back but Mendes catches him with a short hook and drops Aldo to the mat for a moment.  Back on the feet, Mendes with a nice counter left but Aldo finds his range and connects with a good straight right.  Mendes fires over the top and clubs Aldo with a right hand.  An eye poke pauses the fight as the doctor checks on Aldo.  On the restart, Aldo nails Mendes with a huge shot and he's hurt.  The horn sounds and Aldo connects with another punch knocking Mendes down.  Clearly after the round ended. Should have been a point deducted.
10-9 Jose Aldo
Round 2: The second round starts with a fast pace, but Mendes connects with a knee to the groin and the fight is paused again. Mendes constantly switching his stance to stay away from Aldo throwing leg kicks.  Mendes connects with a nice body kick.  The fighters are both keeping their distance this round. Aldo working a stiff jab this round as Mendes continues to move around the cage.  Aldo doing better in the exchanges, but Mendes definitely landing some shots.
10-9 Jose Aldo 
Round 3: Another eye poke starts the round. Mendes warned if another poke happens, he will lose a point.  Aldo comes out of the break super aggressive, head hunting on Mendes.  Aldo clips Mendes with a quick left hook that knocks him off balance and the champion is surging.  Mendes ducks under and nails Aldo with a huge uppercut.  Aldo's hurt, but as Mendes presses forward, Aldo tags him with a big shot! Mendes is hurt and he's going for a takedown and tosses him to the mat. Mendes holding onto Aldo's back against the cage. Mendes connects with a good left hook before the round ends.
10-9 Jose Aldo 
Round 4: Mendes is aggressive this round after his corner tells him that Aldo is starting to fade.  Mendes connects with a good uppercut and he has Aldo backing. Aldo's left eye is a mess. Mendes lands with a nice left to the body, right to the head.  Aldo starts throwing his jab with less than a minute to go in the round.
10-9 Chad Mendes
Round 5: Mendes comes out firing and lands two left hooks in a row to Aldo's chin.  Mendes runs through a double leg takedown and puts Aldo on the mat.  Aldo works up to his feet again and they are back striking. Aldo connects with an uppercut and hook.  As Aldo pushes forward, Mendes tumbles to the ground, but he gets up in a hurry. Aldo with another nice 1-2 combo and Mendes is slowing down as well.  Fight comes to an end.
10-9 Jose Aldo
FOX Sports scores the fight 49-46 for Jose Aldo 
Official result: Jose Aldo def. Chad Mendes by unanimous decision (49-46 on all cards)
Analysis: Jose Aldo retains his title, but he had to give everything he had to get past Mendes.  It's really unfortunate their first fight ended the way it did because now Aldo is 2-0 against Mendes and it's going to be hard for the Team Alpha Male fighter to get back to another title shot and he might be the perfect foil for the champion.  Although now it seems Aldo will face Irish bad boy Conor McGregor and that may end up being the biggest fight in featherweight history. 
Round 1:  Davis is trying tirelessly to work this fight to the ground. He lands his first takedown about three minutes into the fight as he starts punching under Teixeira's defense.  Teixeira works his way back with a little cage assistance.  Davis with another takedown with less than a minute to go and he's just putting Teixeira wherever he wants once he gets on the mat
10-9 Phil Davis 
Round 2: Teixeira starts to work his hands a bit in round 2, but Davis gets another takedown. Teixeira gets a nice reversal and uses it to stand back up again.  Davis ducks under trying for the takedown, Teixeira looks for a guillotine but slips right out and now he' stuck on his back again.  Davis pounds Teixeira with punches again, but the Brazilian is able to power up to his feet to get it standing again. Davis gets another takedown just before the round ends
10-9 Phil Davis 
Round 3: Davis with another double leg takedown in round three and he's on top of Teixeira.  Teixeira tries to escape but Davis wraps him up with a cradle before tossing him back to the mat.  The fighters work up again but Davis remains in control. Davis is just relentless going for takedowns and Teixeira's just got nothing left as the fight comes to an end.
10-9 Phil Davis
FOX Sports scores the fight 30-27 for Phil Davis
Official result: Phil Davis def. Glover Teixeira by unanimous decision (30-27 on all cards)
Analysis: Phil Davis rebounded well after a very disappointing performance against Anthony Johnson in his last fight.  He out wrestled Glover Teixeira for almost the full 15 minutes, just moving the Brazilian around the cage and putting him down over and over again. It wasn't the most exciting fight in the world, but it was the kind of win Davis needed after his last bout against Johnson.  It seems fitting for Davis' next fight to come against fellow college wrestler Ryan Bader. Davis asked for a fight against Anderson Silva but there's little to no chance that fight will actually happen. As for Teixeira, he looked flat all night long and just unable to pull the trigger.  It appeared as if Teixeira really lost a step after that devastating loss to Jon Jones in his last fight. 
Fabio Maldonado vs. Hans Stringer
Round 1: Stringer puts Maldonado on the mat almost immediately. Stringer maintaining control from the top working from Maldonado's half-guard. Maldonado tries to roll to break free and he eventually works his way to his feet and two seconds later Stringer puts him back down again.
10-9 Hans Stringer
Round 2: Stringer still looking to drag this one to the mat but Maldonado finds a way to reverse and he gets on top instead.  He starts punching away from the top as Stringer turtles up.  Maldonado just continues to pour on the punishment and the referee sees enough and stops the fight.  Great comeback and finish for Maldonado.
Official result: Fabio Maldonado def. Hans Stringer by TKO (strikes) at 4:06, R2
Analysis:  Following two lackluster fights, Fabio Maldonado gave this card the necessary injection of adrenaline that was needed.  Maldonado had a rough first round, but once he got on top in the second, he just took over and beat Stringer up until the fight was over.  Maybe one of the best parts of the night was Stringer jumping up on the cage in celebration where he was joined by former middleweight champion Anderson Silva, who leapt up to give his long time friend and teammate a congratulatory hug.  Maldonado remains one of the toughest fighters in the sport and always finds a way to make his bouts exciting no matter how hard his opponents try to the contrary. 
Lucas Martins out to "Tarde de Outubro" by CPM 22. Darren Elkins to "You've Got to Stand for Something" by Aaron Tippin
Round 1: Elkins lands his first takedown in less than 30 seconds into the round, but Martins does a good job of working back to his feet in a hurry.  Martins cuts Elkins under his left eye as they separate.  The threat of the takedown has Martins tentative.  Elkins still pressing forward as the round comes to an end.  Elkins up 25-19 in strikes so far according to FightTrax
10-9 Darren Elkins
Round 2: Martins lands a good strike to open the round, but Elkins wastes no time pressing the fight up against the cage. Martins cracks Elkins with a good kick, by far his best strike of the fight, but Elkins grabs hold and pushes him against the cage again.  The entire round was spent with Martins trying to break free of Elkins' vice like grip against the cage. Scoring the round for Martins based on landing the only effective strikes during the entire five minute session
10-9 Lucas Martins
Round 3: Rinse, wash and repeat from Elkins as he just keeps pressing the fight against the cage even when the referee separates them, he goes right back to it.  Elkins dives forward again with under a minute to go snatching for another single leg takedown.  He doesn't get it, but Martins is trapped against the cage.  A suffocating performance from Elkins as the crowd unloads on him for a rather boring fight.
10-9 Darren Elkins
FOX Sports scores the fight 29-28 Darren Elkins
Official result: Darren Elkins def. Lucas Martins by split decision (30-27, 30-27, 27-30)
Analysis: Darren Elkins wins, but he certainly won't win any favors with UFC matchmakers after that fight.  He perfected the clinch against the cage but did nothing much else to show his dominance.  Still it's on Martins to fight free and he couldn't do it.  
Beneil Dariush out to "Rock With You" by Michael Jackson. Diego Ferreira to "Strong Enough" by Matthew West
Round 1: Dariush aggressive with his striking but Ferreira is firing back with good counters.  Dariush snags a nice takedown before the end of a close first round.  All depends on scoring for Dariush based on aggressiveness and Octagon control or Ferreira for better striking.
10-9 Beneil Dariush
Round 2: Dariush with another strong round as he lands the takedown and works from top control with punches and elbows.  Ferreira struggles to get up from the bottom and he's not nearly as active as he's been in past fights.  Night and day from Ferreira's other two performances in the UFC.
10-9 Beneil Dariush
Round 3: Ferreira comes storming out of the gate early trying to do something to come back in this fight but Dariush wastes no time putting him down yet again. Dariush working for elbows inside the closed guard of Ferreira. The crowd is starting to get restless with this one. Dariush remains in control until the final horn as the fight mercifully comes to an end.
10-9 Beneil Dariush
FOX Sports scores the fight 30-27 for Beneil Dariush
Official result: Beneil Dariush def. Diego Ferreira by unanimous decision (30-27 on all cards)
Analysis: Not much memorable happened during this fight, but Dariush got the job done and handed Ferreira the first loss of his career.  Maybe the most startling part was Ferreira's absolutely abysmal performance compared to his first two fights in the UFC.  Dariush continues to improve and picks up another win to tack onto his resume.
Round 1: Magny establishing his reach throughout the first round, pawing at Patolino and keeping him away with the jab.  Patolino is looking for the knockout shot, swinging big lefts and rights all round long. Patolino tries to get a takedown as the round comes to an end, but Magny shrugs him off.  Close round but Magny out landed Patolino 16-10 according to FightTrax
10-9 Neil Magny
Round 2: Patolino firing off some powerful shots in the second round, backing Magny against the cage.  Patolino finds a home for a couple of good left hands, but Magny fires back with offense of his own.  Patolino gets Magny trapped and he starts unloading knees to the shoulder and uppercuts, but as he backs out it's Magny who gets a takedown.  Magny quickly moves to mount with just over a minute to go.  Magny opens up with some nasty ground and pound, just hammering away at Patolino. Probably secures the round.
10-9 Neil Magny 
Round 3: Magny puts together a nice combination and just cracks Patolino on the jaw.  Magny gets another takedown and he's back on top just dropping anvils on Patolino from the top while stuck in half guard.  Magny continues to blast away and the referee has no choice but the stop the fight.  What an impressive finish from Neil Magny.
Official result: Neil Magny def. William Patolino by TKO (strikes on the ground) at 2:40, R3
Analysis: What can you say about Neil Magny in 2014 except impressive.  He moves to 5-0, tying Roger Huerta for the most wins in a calendar year (in the modern UFC era).   The best part for Magny is he just kept getting better as the year moved forward.  Now that's he's won his last five fights in a row, it's time to see if this run was predicated on the opponents he was facing or if Magny is for real.  He's has to get a top 15 level opponent next to see where he stands. Maybe a fight against Gunnar Nelson following his recent loss would be a good matchup to see if Magny is ready for the step up in competition 
Round 1: Kotani gets a nice body lock takedown to get the fight going, but Cabral is able to get up from the bottom and work back to the feet.  This time it's Cabral who gets on top with a slip from Kotani and he starts working to pass guard.  Kotani maintains control until the round comes to an end
10-9 Yan Cabral 
Round 2: Cabral stays in control to open round 2 as he takes Kotani down twice in the first two minutes. The second time Cabral lands on Kotani's back and he starts to work for the rear naked choke.  It doesn't take long for Cabral to cinch up the hold and Kotani is finished. Rear naked choke by Yan Cabral.
Official result: Yan Cabral def. Naoyuki Kotani by submission (rear naked choke) at 3:06, R2
Analysis: For his first fight at 155-pounds, Cabral looked really strong although it's hard to guage where he fits in because Kotani has proven time and time again that he's just not UFC caliber.  He's now 0-4 in two separate stints in the UFC.  Cabral will hopefully get a better test next time out to see where he really stands in his new division.  It's hard to imagine Kotani getting another shot after this latest loss. 
Round 1: Wilson Reis cracks Jorgensen early but a counter shot puts the Brazilian on his butt for a moment.  Reis lands a big body kick and Jorgensen is hurt.  Reis puts Jorgensen on the mat and he's looking for a head and arm choke.  Reis locks it up tight and Jorgensen taps.
Official result: Wilson Reis def. Scott Jorgensen by submission (arm triangle choke) at 3:28, R1
Analysis:  Wilson Reis is a welcome addition to the flyweight division.  With champion Demetrious Johnson almost out of contenders, Reis might be a name to watch in the next year as he climbs the ranks.  He's got experience and a serious set of tools at his disposal.  Jorgensen drops to 2-6 over his last eight fights and an abysmal 1-3 since dropping to 125 pounds. A really rough run for the veteran.  
Round 1: Fili lands an early takedown, but Arantes gets back up.  Arantes lands on top this time and he starts to open up with some big elbows, but then Fili reverses and he's up again before landing in side control.  The fighters stand back up again and Fili starts opening up with his strikes.  Fili grabs another takedown before the end of the round.  Back and forth, close round
10-9 Andre Fili 
Round 2: Arantes lands a quick takedown and puts Fili against the cage.  Fili wastes no time pushing off and reverses position, lands on top again. Arantes looks for a heel hook, but he's just moving so Fili gets out of the way and the Brazilian gets the takedown again.  The fight is paused after Fili kicks Arantes while he was on the ground and while the kick definitely landed it looks like Arantes is milking it for a break.  Fili gets another takedown before the end of the round
10-9 Andre Fili
Round 3: Arantes snaps off a guillotine choke to open the round but Fili slips out almost immediately and he's on top.  Fili working from top and eventually goes for a choke of his own and he slips and now Arantes is on top.  Fili looks for an arm and then an omo plata, but Arantes works out. Fili explodes from the bottom and gets a takedown with just seconds in the fight remaining. Another close round
10-9 Andre Fili
FOX Sports scores the fight 30-27 for Andre Fili
Official result: Andre Fili def. Felipe Arantes by unanimous decision (29-28 on all cards)
Analysis: Fili bounced back from a tough loss in his last fight and put on a solid performance in every round.  He was strong on the ground and looked much better than Arantes on the feet.  The most puzzling part of the fight was Arantes' corner insisting that Fili was slowing down in between each round when in reality it seemed like the Brazilian was the one losing steam.  
Gilbert Burns vs. Christos Giagos
Christos Giagos out to "Animal I Have Become" by Three Days Grace.
Round 1: Burns grabbed an early takedown putting Giagos in the one place he didn't want to be in this fight.  Burns moved into mount and sunk in the body lock as Giagos actually stood back up again.  They drop back to the mat and Burns transitions from the back around to an armbar attempt. Martin rolls but Burns has it locked up and he goes belly down and he gets the submission! Nasty finish
Official result: Gilbert Burns def. Christos Giagos by submission (armbar) at 4:57, R1
Analysis: Fantastic work on the ground from Gilbert Burns.  Got Giagos to the mat and just dominated him from there moving from guard to mount taking his back and then locking up the submission.  Burns is now 9-0 and a real rising star coming out of the Blackzilians camp in Florida.  This win should earn him a bump up the card. 
Fabricio Camoes vs. Tony Martin
Round 1:  Tony Martin slips under and takes Fabricio Camoes down quickly and starts working from there.  Camoes looks for a kimura from the bottom stuck in half guard, but then Martin transitions for a submission attempt of his own.  Martin snatches his own kimura and starts to methodically crank the hold from the top.  Camoes tries to fight out, but Martin stays on the move and eventually wrenches it up and the Brazilian taps!
Official result: Tony Martin def. Fabricio Camoes by submission (kimura) at 4:16, R1
Analysis: Martin had looked solid in his previous fights, but this was definitely do or die at UFC 179 and he came out and shined.  Camoes is a black belt in Brazilian Jiu-Jitsu as well so he's tough to submit, but Martin stayed patient and locked up the hold to get the finish.  Good win, especially for the American traveling to Brazil, which is never an easy spot
---
---