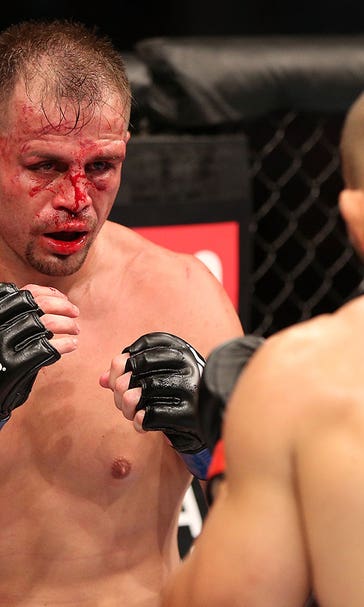 Fabio Maldonado guarantees a bloody war at UFC 186
April 17, 2015

UFC light heavyweight Fabio Maldonado has won four out of his last five fights, heading into April 25's main card bout against last-minute replacement Steve Bosse. The Brazilian was disappointed when a court order kept his originally scheduled opponent Quinton "Rampage" Jackson out of their UFC 186 bout, but he's still eager to fight Bosse in front of the Montreal crowd.
"I wanted to fight 'Rampage'," Maldonado admitted recently to Guilherme Cruz.
"I've been waiting to fight [Jackson] for 12 years, but I'm not thinking about it anymore. I only think about Steve Bosse now. That's my focus right now."
Bosse was on his way to the UFC before an injury prompted him to retire from MMA competition. As it stands, Bosse has not fought in nearly two years. 
Maldonado therefore concedes that he doesn't have a great idea of how Bosse may have changed as a fighter. "I've watched his fight, but he might have changed his style," the slugger said.
"He hasn't fought in 20 months. He could have changed his style a lot, so I'm expecting everything, even takedowns. I will keep it standing and go to war, that's for sure."
Maldonado is a skilled boxing stylist and is best when the fight stays standing. He has also proven to have the guts and conditioning to out-last many opponents when the going gets tough.
If he has his way, Maldonado vs. Bosse will be a blood bath. "My idea is to open him up, cut his face and everything else. I want to beat him up. I don't wish him anything bad, but I want to beat him a lot," he continued.
"Fans will watch that old Maldonado. Hands down, asking for my opponent to punch. Punch and get punched. It's going to be fun. There will be a lot of blood in Montreal. It's going to be an exciting fight. I guarantee you that I'm going to a stand-up war."
---
---