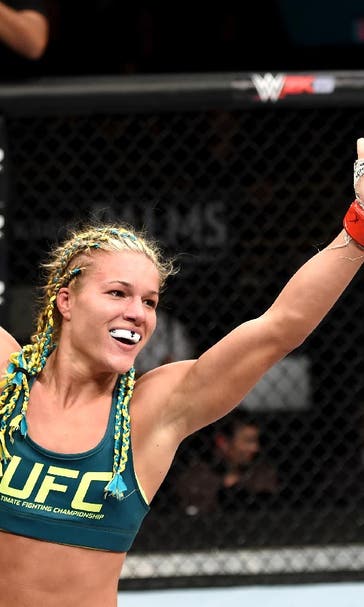 Ever the fighter, Felice Herrig happy and energetic on the eve of battle
April 17, 2015

Long before she became well-known as a star of MMA and the UFC, Felice Herrig, like countless fighters before her, got into professional fighting in hopes of making a career and better life for herself. "I always considered myself an athlete and wanted to do gymnastics and track and field, and I did. But it was hard to get the training I needed for those sports because my family didn't have a lot of money," she remembers.
So, Herrig tells FOX Sports, days before she fights on the main card of FOX UFC Fight Night against Paige VanZant, she eventually decided to try and make some money using the skills her dad had taught her since she was a child. "My dad is a life-long martial artist and we would train together," she says.
"I also wanted to be an actress, when I was a little girl. I was athletic, loved fighting, thought I could do well in this and I also hoped it would open up other opportunities for myself."
The natural entertainer made a tough choice to go all-in with fighting as soon as she was done with highschool. "When I turned 18, I decided to leave and go and make this happen. I started training harder and taking fights," Felice recounts.
And, Felice won most of them. Herrig became a champion kickboxer and Muay Thai fighter, in addition to finding success as a boxer. When Herrig began fighting MMA in 2009, the UFC didn't have any women's divisions and so the prospect of big money for fighters like Felice seemed slim.
Furthermore, Herrig lost her first two MMA fights. It would have been easy for the young fighter to give up on her dreams to use fighting as a stepping stone to a better life.
That's where Herrig showed she was more than an outgoing young lady with some athletic ability. Felice realized during hard times that she is a fighter, plain and simple. 
"I just loved the training," she says to explain why she stuck with fighting, even when the future in fighting seemed uncertain. 
"I couldn't get enough of the training and competition. Yes, I hoped to make a living off of it, but I just loved being a fighter, and still do."
Herrig kept fighting, started winning more and more, and got herself the attention she hoped she would with her aggressive style of fighting and sense of dramatic style outside the cage. Herrig and many other women have finally made it into the UFC after Ronda Rousey convinced UFC president Dana White to take his promotion out of the gendered dark ages.
The "Lil Bulldog" made her dreams come true prior to making it to and winning in the UFC, however. Herrig fought and won in Bellator, Invicta and a host of other top promotions, before joining the cast of The Ultimate Fighter.
"Being in the UFC is so great, but ever since I got with my current manager Brian Butler from Sucker Punch Entertainment, I've been able to make a full-time living fighting," Herrig explains.
"I've been so fortunate to get great sponsors who have made it possible for me to make a living fighting. I've been able to do it by being myself, from the way I talk to the way I fight and the fun I have with my weigh-in costumes that I design myself."
Herrig says her relationships with her sponsors are so good that she isn't worried, as many UFC fighters are, that she'll lose them and their dollars once she is no longer able to wear their logos during fight week and fight nights after the UFC's exclusive clothing deal with Reebok goes into effect this summer.
"My great sponsors like Alienware will stay with me even after the Reebok deal," she says.
"And, I'm happy with the UFC, I am. There are concerns about things I can wear during fight week but I'm optimistic and really looking forward to trying to work with Reebok to come up with stuff that is unique for me and lets me be myself."
For over a decade, Felice Herrig has been nothing if not herself. As she continues her fighting journey, Saturday in a real contender's bout against VanZant, we're betting she'll find a way to continue to be, win or lose.
The action kicks off live on FOX starting at 6pm ET with the FOX UFC Fight Night prelims before the main card starts at 8pm ET with FOX UFC Fight Night: Machida vs. Rockhold.
---
---