CM Punk fights back the tears after loss in UFC debut
November 15, 2016

CLEVELAND — CM Punk tried his hardest to keep it together after his first-round submission loss at UFC 203 on Saturday night, but the emotions of the moment finally got the best of him.
Punk fell by rear-naked choke to Mickey Gall in his Octagon debut after signing with the UFC in 2014 as he transitioned to mixed martial arts from professional wrestling.
His best effort still came up well short after Gall planted Punk on the mat early in the first round before finishing the fight in under three minutes.
"I'm just really, really hard on myself. I lost and it sucks," Punk said at the UFC 203 post-fight press conference. "It was lopsided and it's upsetting. I know I'm better than that."
Punk faced a litany of criticism before his debut thanks to signing his deal with the UFC while having no prior fight experience whatsoever.
After the mauling he took on Saturday night, Punk admitted that he has a lot to learn but wasn't sure if his future would be in the UFC or possibly in a lower level organization so he could get some more experience.
The only thing Punk could say for sure was that he plans on fighting again one day.
"My initial venture into this was going to be at the lowest level. This opportunity just got presented to myself and I would have been a fool to say no," Punk said.  "I don't know what happens from here, what if I get cut? I don't know. I think that's a possibility. Do I want that to happen? No. Who's to say where I go from here. I definitely want to keep going."
As far as injuries from the fight, Punk suffered a laceration on his ear as well as some minor cuts on his face that required attention about his bout was finished. In a perfect world, Punk would like to be back at his home gym in Milwaukee training next week, but he does plan on taking some time off after the loss.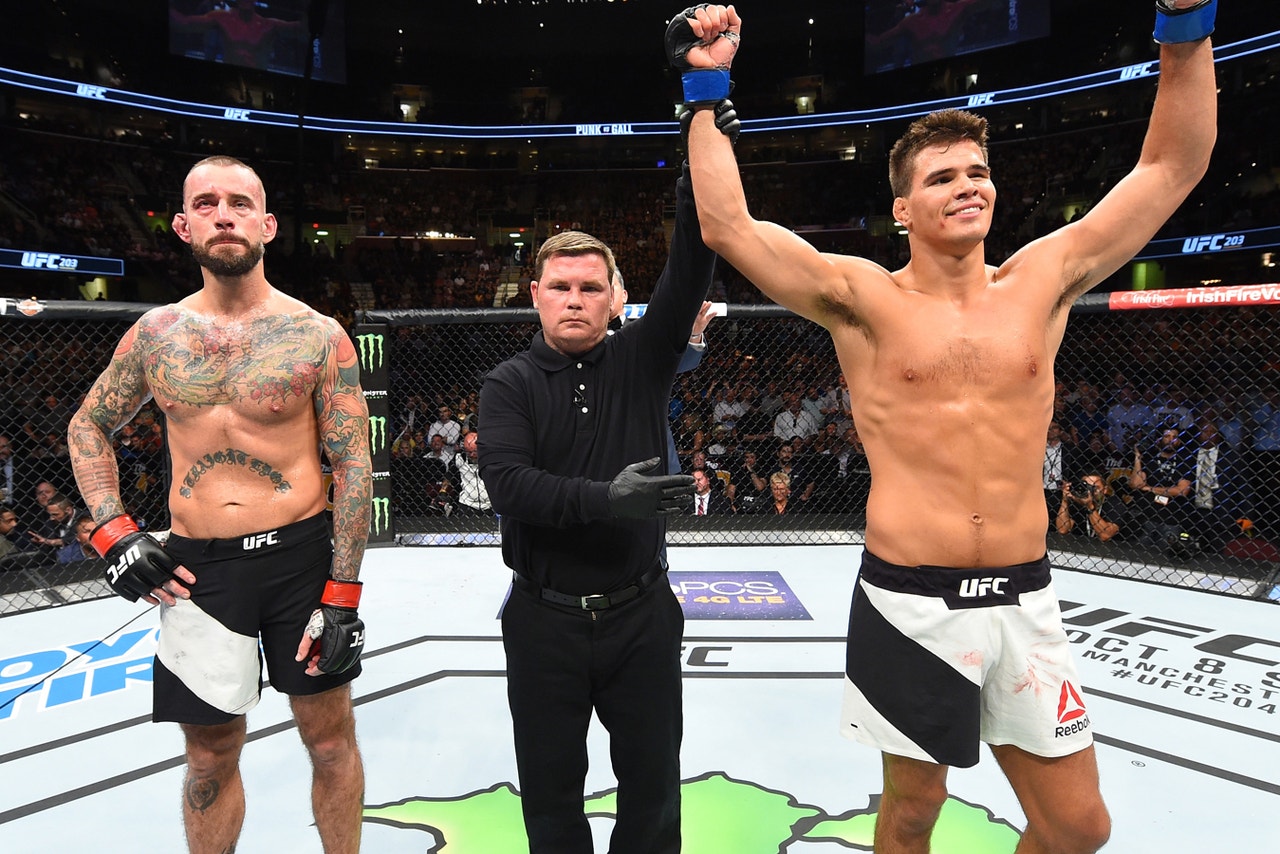 "I think they're going to force me to stay out cause I have this ear and I got a couple stitches on my eye but I'd be back in there Monday if it was up to me," Punk said.
Right now, Punk said his main focus is turning his attention to his wife — former professional wrestler April Brooks (AJ Lee) — after she supported him so much after making the decision to becoming a professional fighter.
"My wife's put up a lot through this process. Instead of her cooking meals for me, I've got to cook some stuff for her," Punk said.
The subject of his wife is what really choked him up because she stood by him throughout his training camp and the fight despite her own fears and nervousness about the entire situation.
Punk was asked about her first words to him after the fight was over and it took him a few moments to answer while fighting back the tears.
"You guys are going to make me cry, you (expletive)," Punk said. "She just said she was proud of me."
Through it all, Punk still said his debut was an incredible experience although if he could change anything it would be walking away with a win rather than suffering the loss.
"It sounds crazy. I'm still happy. I still love it," Punk said. "I didn't win. That's what I wanted. I wanted to win. I wanted to perform. It didn't happen."
---
---