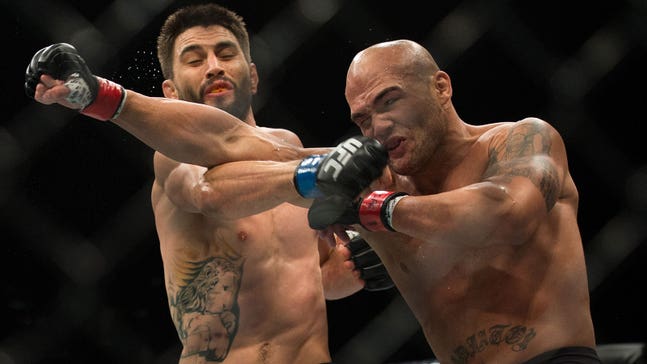 Carlos Condit would love to rematch Robbie Lawler at UFC 200
Published
Mar. 14, 2016 5:30 p.m. ET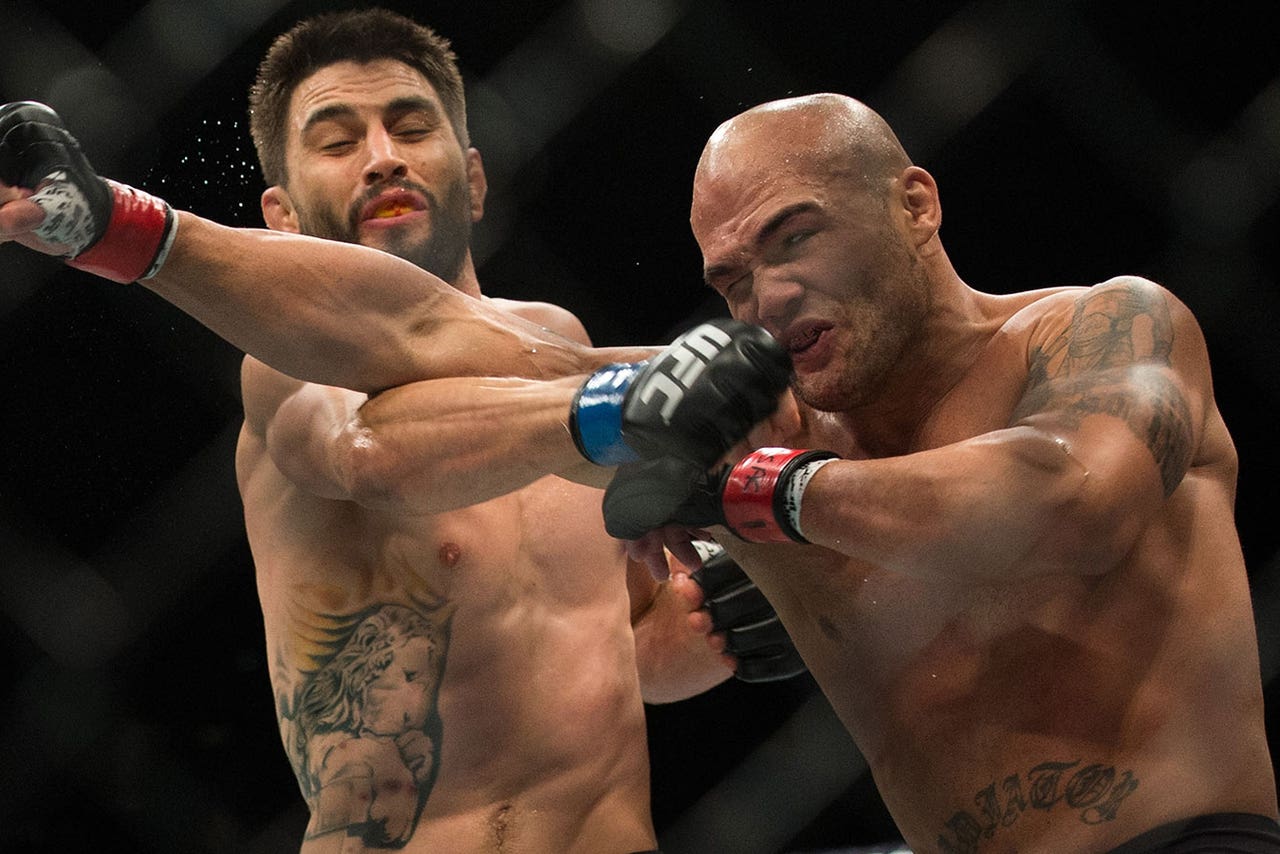 It's been over two months since Carlos Condit lost a narrow, split decision to Robbie Lawler at UFC 195 but the pain of that loss still stings.
Condit fell short according to the judges, although the welterweight title fight was a 25-minute battle that brought the best out of both men that night.
Since UFC 195 ended, Condit has gone back and re-watched his performance and while fighters are notoriously tough on themselves, he still believes he did enough to get the job done against Lawler.
"I think I watched it twice. For starters it was a great fight. I'm always very critical of my performances so I saw a lot of mistakes that I made. Little stuff, but it's stuff I'm like 'oh man I can't believe I did that'. But overall, I felt like I deserved to get the win," Condit told FOX Sports.
"I'm not (expletive) about it. Robbie fought a great fight. He's a warrior, he is a champion, but I think it was my fight that night."
Following the fight, Condit and Lawler received a $50,000 bonus for "Fight of the Night" and chances are when 2016 is over, the UFC 195 main event will also get more than a few nods for "Fight of the Year" as well.
Unfortunately those accolades still don't equal a world championship, which is what Condit wanted that night and what he felt he should have around his waist right now.
In fact, after the fight was over, Condit was honest enough to admit that he might call it a career, because following almost 40 fights over 14-plus years in the sport, he wasn't sure if anything other than a championship would satisfy his thirst for another fight.
"I'm still kind of up in the air for me. I don't know. I want the title fight with Lawler," Condit said. "I feel like I should be the champion and I should be defending the belt. We can wish all we want but the reality is what it is. I don't know. If a fight that piques my interest is offered to me, particularly the rematch with Lawler then I think I could get excited. Otherwise, I think I'm on hiatus.
"It's a little bit of a waiting game. That's basically what the UFC told me. Give them a few weeks to kind of figure stuff out and we'll just see where it goes from there."
Condit met with the UFC a few weeks back but wasn't given much clarity on what is going to happen for Lawler's next title defense.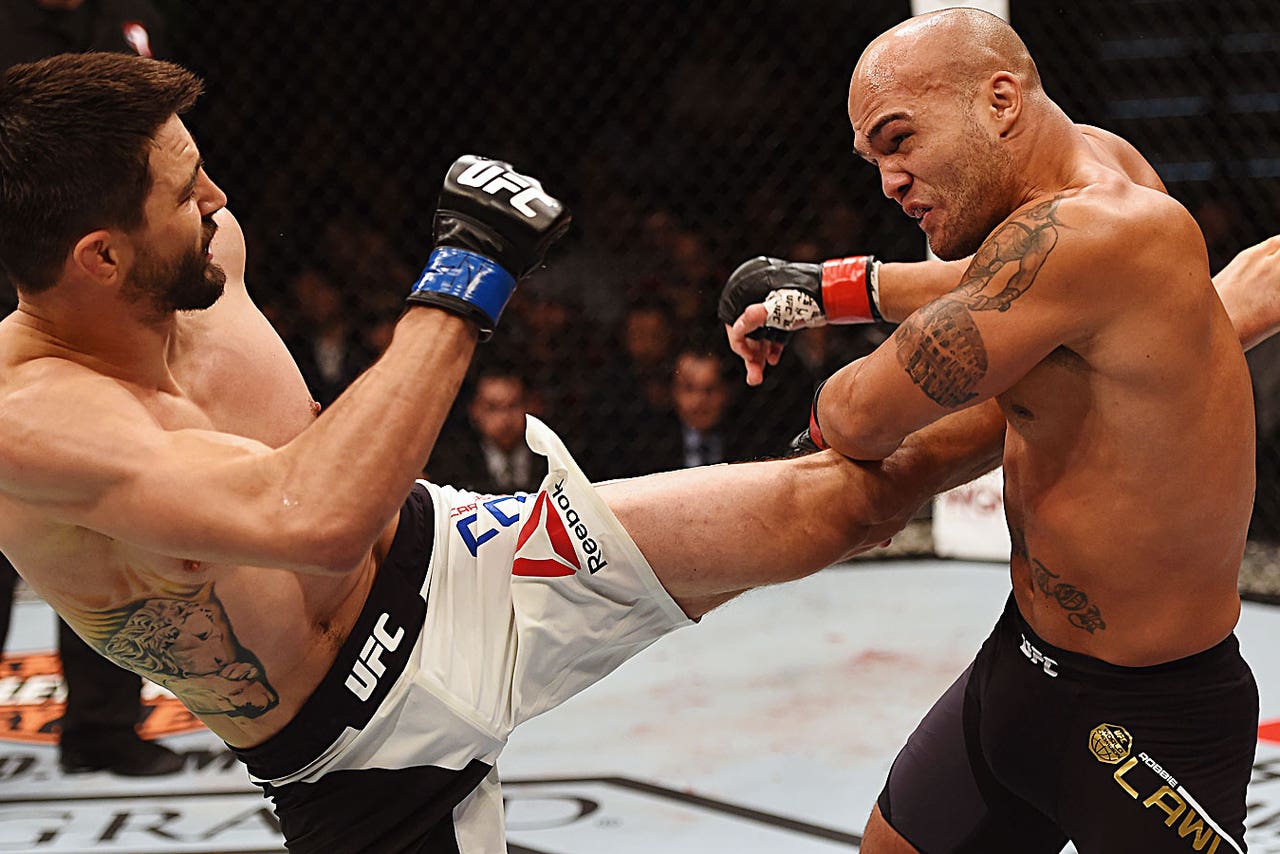 One rumor that was squashed at UFC 196 was Conor McGregor potentially challenging for the belt, but his loss to Nate Diaz put an end to that possibility. Of course right after the fight, Diaz then suddenly became a challenger to Lawler's title as well.
One other name who has been tossed into the mix is former champion Georges St-Pierre, who has flirted with the idea of a return to action for several months. Whether or not that actually happens is still a mystery, but Condit knows if the welterweight icon is coming back, a title shot might be the best way to lure him into the Octagon.
"It's a little crazy right now. There's an argument that could be made for a lot of different guys getting a title shot," Condit said. "I think I have one of the strongest arguments but it's kind of crazy right now."
In a perfect world, Condit wants to get a call offering him the rematch with Lawler as part of the historic UFC 200 card set for July 9 in Las Vegas.
All of the rumors about Lawler's next title defense seem to point to that show and Condit would love nothing more than the chance at redemption as his opponent.
"I would be stoked. That's definitely something that I would shoot for. That would be ideal," Condit said about fighting Lawler at UFC 200. "I don't think anybody would be sad about them making that matchup. I understand there's other fights that might want to make and that's basically want they told me, but I'm going to stay in shape.
"You know how this sport is, people get hurt, people back out of fights. If that happens in this situation, I'll be ready to step in and fill in for the challenger. I don't think anybody would be sad about that."
Condit isn't ready to commit to retirement because even if the title fight doesn't come together, he could still be drawn into another matchup if it's the kind of opponent that really gets him interested.
"If there's a fight that piques my interest, I still love this thing. I still love to train. I've still got a hell of a lot of fight left in me," Condit explained. "It's just from more of a logical standpoint, a standpoint of being responsible to my longevity for my family, I definitely have to take a lot of things into consideration.
"I'm just at a different point in my career. I'm not working my way up the ranks. When you're trying to get your foot in the door and make a name for yourself, you've got to kind of take the fights that you can, but I've been at this for a while. I'm not speaking about anybody else, I'm just speaking for me."
There is no exact time limit on how long Condit will wait for a title shot or another interesting matchup before he finally decides that enough is enough and he's no longer planning to return. If Condit ultimately decides to walk away, he's not leaving on a sour note or angry that he didn't get what he wanted.
Condit started doing MMA for the love of the sport and that hasn't changed since he strapped on a pair of gloves and stepped into a cage for the first time.
"I've always gone out and fought in a way that I was proud of and I think inspired others and hopefully drew people to the sport," Condit said. "I've come farther in this sport than I ever thought. I was just doing this because I had an interest in martial arts as a kid and wanted to be a ninja.
"Now I'm fighting for the world title. It's been a crazy ride but I'm proud of what I'm done."
---
---