Carlos Condit explains why he returned to fight Demian Maia after hinting at retirement
BY Damon Martin • November 15, 2016
It was less than nine months ago that Carlos Condit was contemplating retirement after dropping a very close split decision to former welterweight champion Robbie Lawler at UFC 195.
In the days following the loss, Condit spoke honestly about the long-term damage fighting inflicts on an athlete's mind and body, especially considering he's been competing professionally for more than 13 years with nearly 40 fights on his record.
As recently as June, Condit stated that it would probably take a rematch with Lawler or a second bout with former foe Nick Diaz to get him committed to even taking another fight inside the Octagon.
So when Condit was announced as the opponent for Demian Maia in the main event for FOX UFC Fight Night this Saturday in Vancouver it came as a shock to many, especially considering how close he seemed to calling it a career just a few months earlier.
"It is a number of things, but Demian Maia for all intents and purposes is definitely a contender," Condit said when explaining to FOX Sports why he decided to take this fight. "I feel like if his style was a little more exciting, he would definitely be the No. 1 contender with all the wins that he has and the guys that he's beaten.
"So I feel like — no, I don't feel like, I know — this is basically a No. 1 contender eliminator, which kind of doesn't mean a whole lot these days because people are coming and jumping in line and whatever. But I think beating Demian without a doubt gives me legitimacy to give me another title shot very quickly."
As much as Condit hinted at retirement after the loss to Lawler, the one thing he makes clear ahead of his return to action is that he never actually lost the desire to fight again.
Condit still loves the feeling of stepping into the cage and dueling with another human being in the ultimate form of combat, but he also understands that there will come a day when it's time to walk away.
In Condit's mind, he'd prefer to make that decision than to have that decision made for him.
"It never really went away. I still have it," Condit said about the fire that fuels him to fight.
While Condit never truly closed the door on fighting again, he did seem resigned to sit out the rest of 2016 to focus on some family commitments like the birth of his new baby that's due in September.
But when UFC president Dana White came calling with this opportunity and a fight that could put him back into the Octagon with the welterweight title on the line, Condit just couldn't resist.
"As far as the timing, it was kind of out of left field," Condit explained. "I got a call from Dana (White) and he wanted me to do this fight late summer and I wasn't planning on fighting until January. I've got a new baby going to be born in September so I was going to kick back and wait to fight until after that, but it also kind of made sense to go ahead and get a fight out of the way right before the baby's born so I don't have to worry about doing another camp for a while and just focus on my family."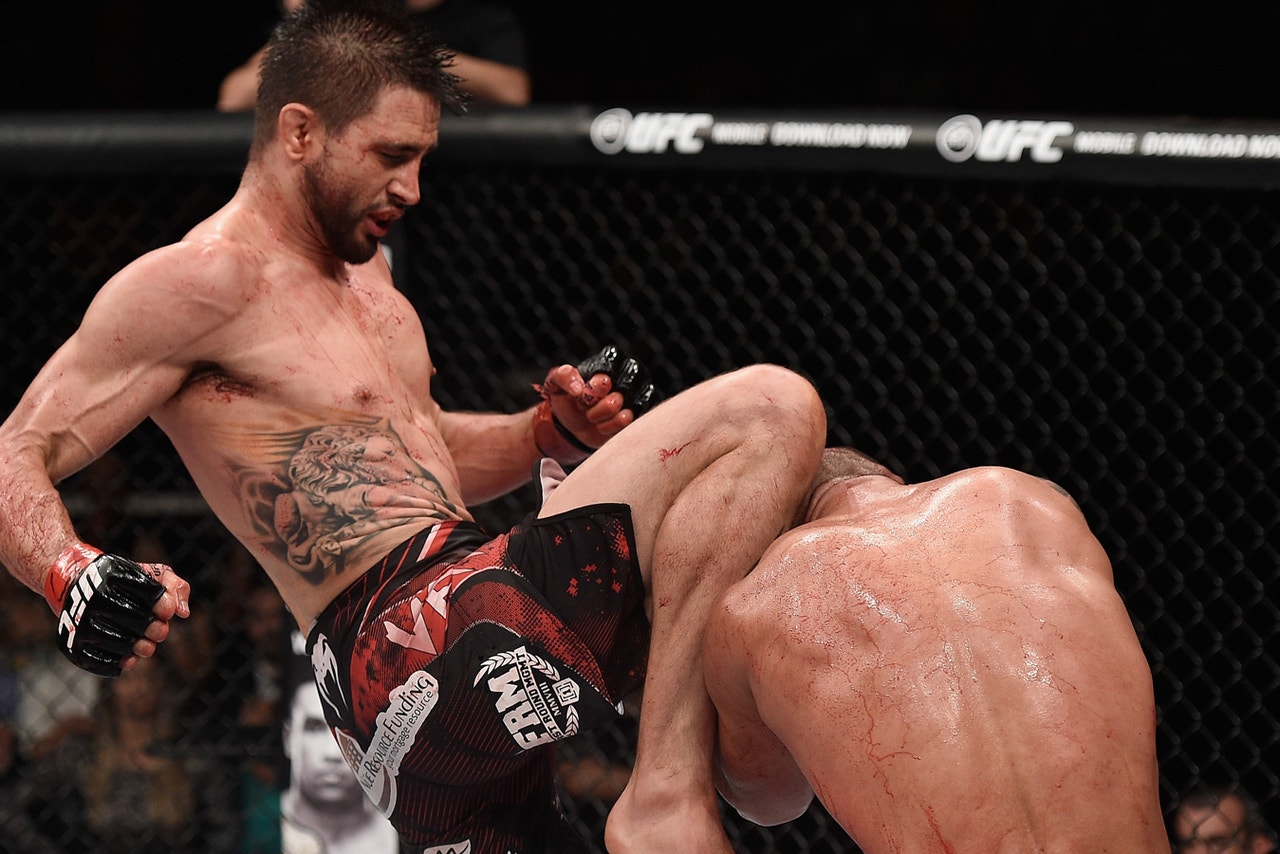 Condit knew when he got offered the fight with Maia he knew this could possibly be the toughest stylistic matchup he could face in the UFC right now.
Maia is a superb grappler, who rarely looks to engage with an opponent on the feet and instead prefers to drag them to the mat where he can apply his world-class Brazilian jiu-jitsu skills. Fellow welterweight Matt Brown recently found out as a knockout striker just how tough it can be to even land a shot on Maia after the Brazilian wrapped him up like a boa constrictor for three rounds before earning the submission win in the final moments of the bout.
On paper, Condit knows that Maia is probably the worst possible fighter for him to face while searching for his signature highlight reel knockout, but that's exactly why this was the perfect matchup to prove he deserves another shot at the gold.
"He is a stylistic nightmare for a lot of guys, even good grapplers. Because he's just so good in that realm. Hey, if I could get an easier stylistic matchup to get to the No. 1 contender's spot, hell yeah, I'd definitely want to go that route. But it's Demian Maia who they wanted me to fight and I'm excited to try and solve this puzzle," Condit said.
"I know I have the tools to beat him. If I do the things I've trained how to do, I know I'm going to beat Demian Maia."
With five rounds and 25 minutes to work, Condit knows he'll eventually find a home for the perfect punch or a flying knee or any of the other combination of strikes he'll use to finally earn the knockout on Saturday night.
Whether it's in the first minute or the last, Condit plans on finishing Maia and sending a strong message to the rest of the welterweight division that "The Natural Born Killer" is back and he's gunning for gold.
"Without a doubt. It depends on how I win and I plan on winning in spectacular fashion," Condit said. "That's how it's going to go down. Everybody knows that I'm one of the best. I can beat anybody on any night.
"I'm not going anywhere and I feel like I'm only getting better. I plan on showing that on August 27."
---
---