Anderson Silva's positive drug test is a game changer
BY Damon Martin • February 5, 2015
It's hard to remember how it felt to be an objective observer of mixed martial arts just 48 hours ago.
On the heels of UFC 183, the biggest debate was about the future of former middleweight king Anderson Silva, arguably the greatest fighter of all time, and whether or not he'd choose to fight again after making a winning return to action from a broken leg.
Silva's comeback story was a reason to love MMA.
Here was a 39-year-old former champion, a legend of the Octagon, returning to the scene where just a year ago it seemed his career was over. Instead of bowing out and saying, "I've had enough," Silva fought through pain, suffering and rehabilitation to walk back into the cage he called his office for the better part of the past nine years, and came away victorious.
Now, just days later, instead of celebrating Silva's accomplishment we're left with feelings of disillusionment and disappointment, after learning Silva tested positive for two performance-enhancing drugs before his win over Nick Diaz. 
Silva has denied using the drugs, and there still is much to be learned. Either way, this wasn't supposed to happen.
Silva was the fighter who destroyed cheaters. He beat Chael Sonnen twice before Sonnen got drummed out of the sport for using a cocktail of performance-enhancing drugs. Silva planted his foot in the face of Vitor Belfort, who has been busted on at least two occasions for stepping out of bounds of the drug policy. He crushed Nate Marquardt, another fighter who twice failed to live up to the drug testing standards.
Now, unless his name is cleared, Silva will join them on the list of athletes who couldn't get through their careers without some chemically enhanced assistance. Which brings us to this unfortunate question: Should we really be surprised?
Silva's test results came one month after Jon Jones defeated Daniel Cormier to retain his UFC light heavyweight title. Two days after his title win, Jones was in rehab, trying to save face after a drug test revealed he used cocaine a month before the bout. Jones wasn't using a performance-enhancer, but he still gave the sport a black eye. Same with Diaz, who tested positive for marijuana for the third time in his career following his loss to Silva.
Since Georges St-Pierre spoke out against PEDs in the UFC more than a year ago, and said it's part of the reason he stopped fighting, one bad headline after another has emerged: Sonnen's scandal, Wanderlei Silva's reported evasion of drug testers, Cung Le's suspension — which subsequently was rescinded due to drug testing flaws.
In the wake of Anderson Silva's positive test, the former middleweight champion is claiming innocence and deep down, don't we all hope he's right? Maybe there was a tainted sample at the lab? Maybe they mixed up the results? Maybe, just maybe, Silva is the exception to the rule.
Except he probably isn't.
If Silva's failed test holds up, it only proves that even the fighters held in the highest regard with the most sterling reputations aren't above trying to find an advantage before a fight.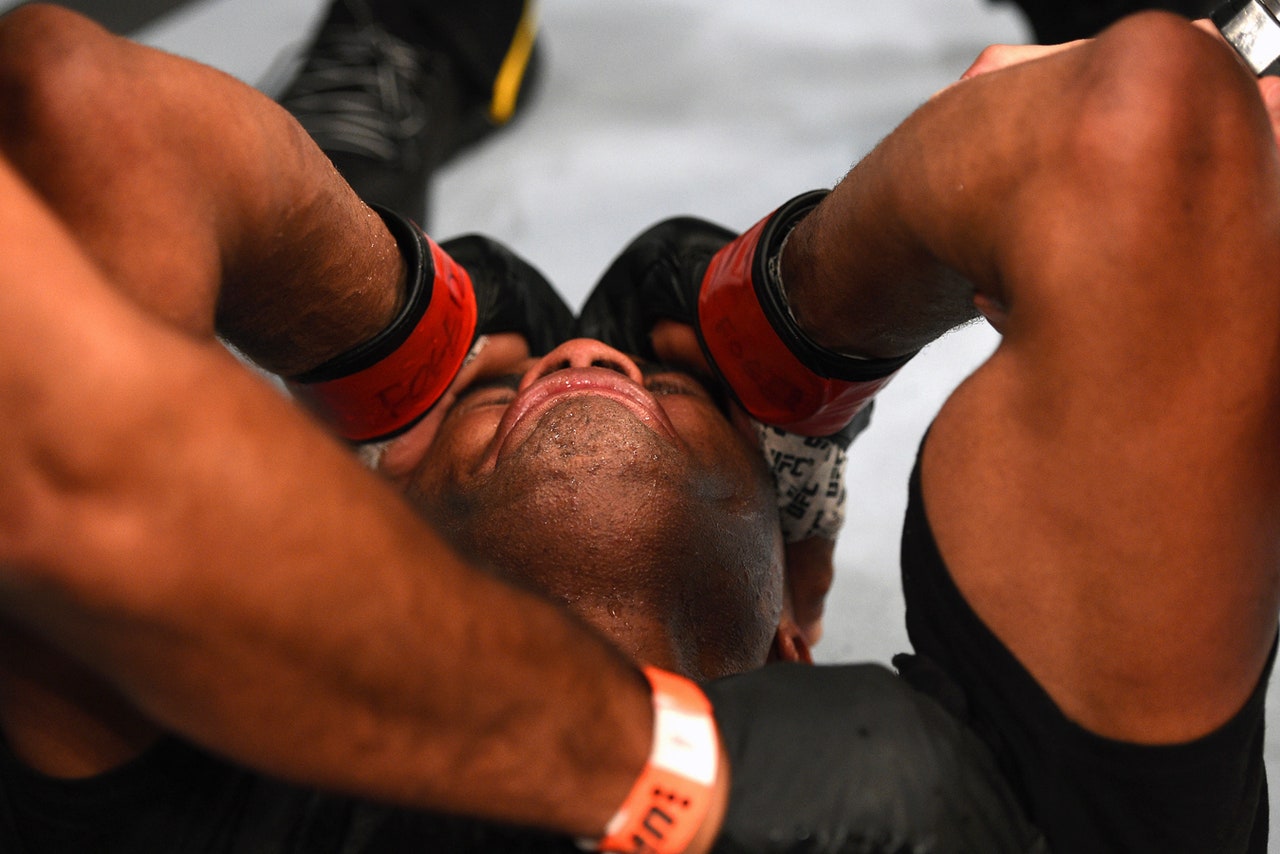 Anderson Silva was emotional after his win at UFC 183, but a failed drug test has changed the way we'll look at it.
There are athletes competing inside the Octagon who are completely clean and wouldn't touch a needle even if it meant title shots and piles of money falling at their doorsteps. Unfortunately, it's just harder to believe them now.
Who can we believe? Who should we believe?
MMAJunkie.com recently looked at the 16 known out-of-competition drug tests that were conducted on UFC fighters since testing ramped up in December 2013. Five of them, or 31 percent, returned with a positive test. The number is even worse when you consider that the only athletes going through that level of testing are high-profile fighters at the top of a card. 
So, if you assume the MMAJunkie findings to be a representative sample, then on average, seven of the 24 fighters on a UFC card would test positive if undergoing the kind of rigorous testing typically conducted out of competition.
Seven out of 24 fighters on every card. 
And there are UFC fighters who will say that percentage is low, and that a much higher number of competitors are believed to use performance-enhancing drugs.
Things may get worse before they get better. Just because Silva's test came back positive doesn't mean we've hit rock bottom. It's going to take a serious and dramatic change to the drug testing protocols as well as the punishment being doled out before real progress can be made.
Until then, don't be dumbstruck the next time a high-profile fighter returns a positive test. Following this stunner with Silva, nothing should surprise you ever again.
---
---