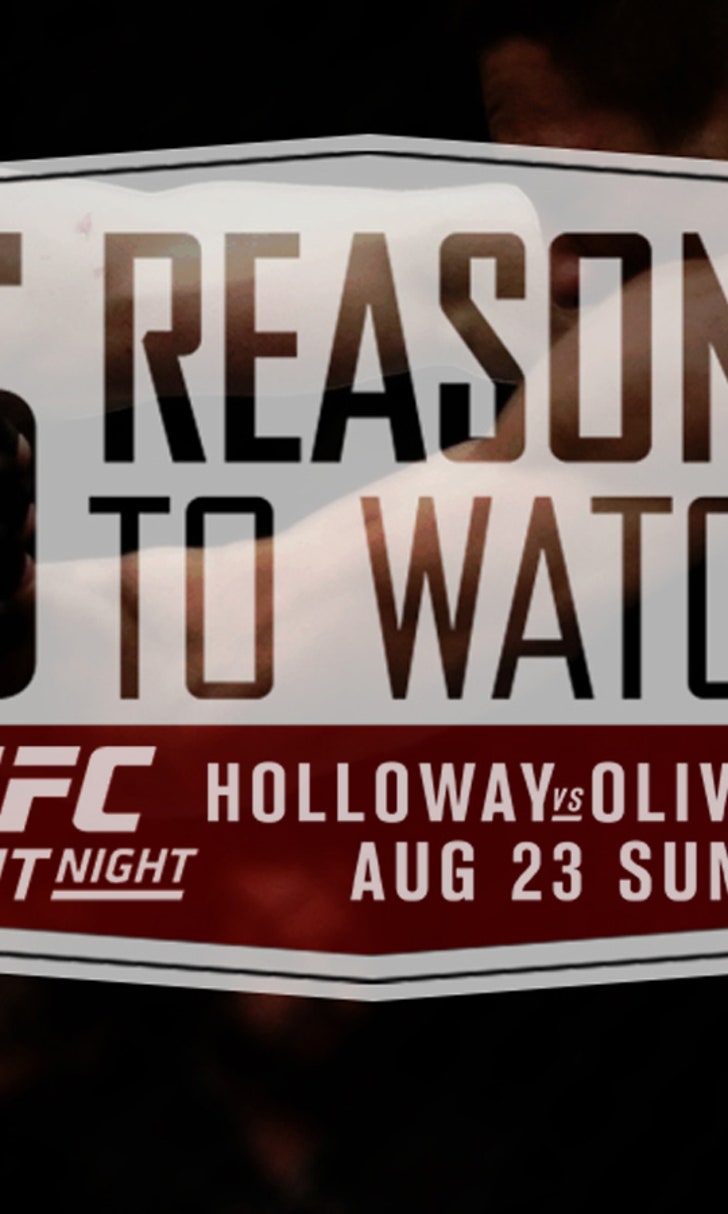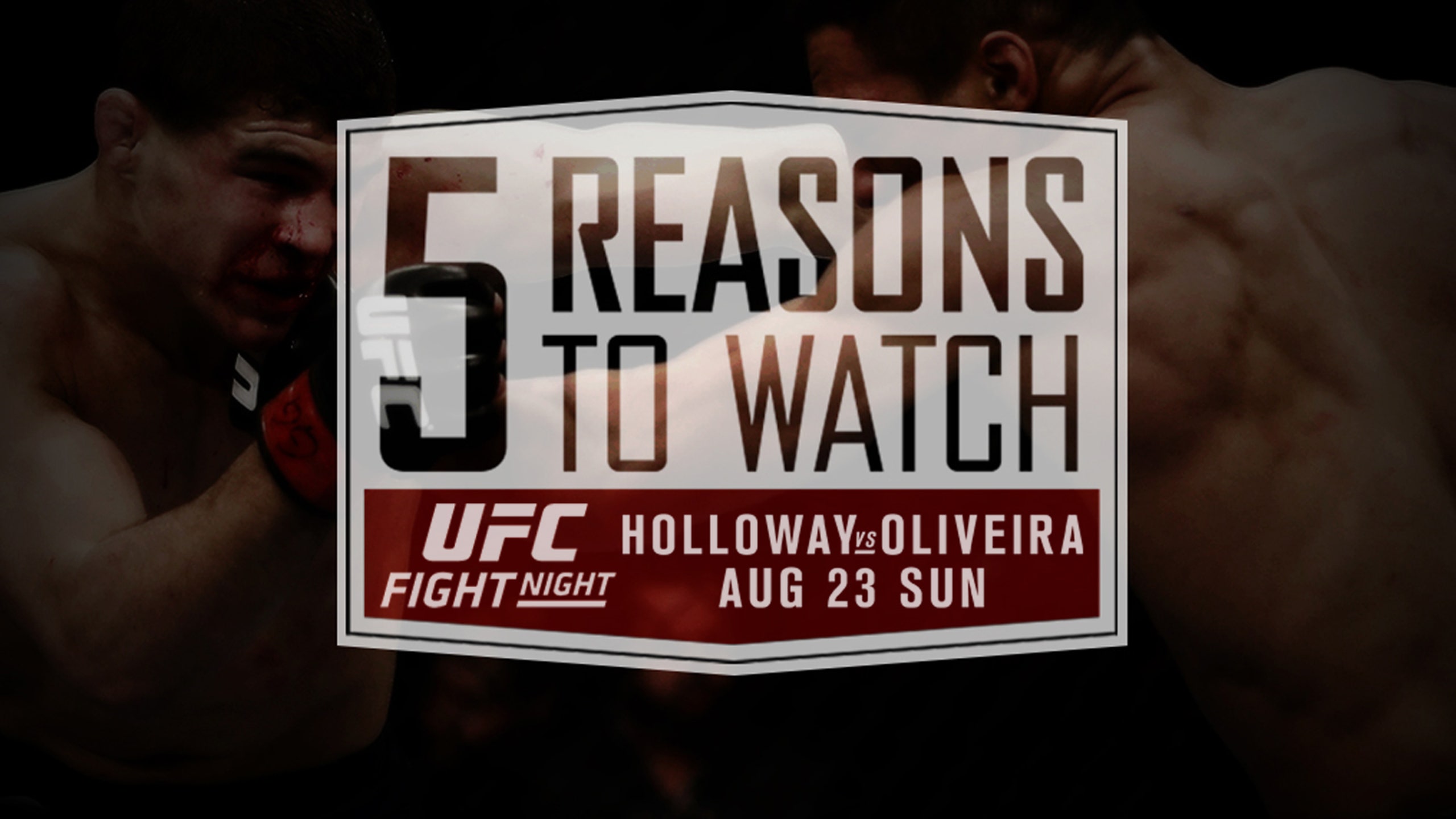 5 Reasons to Watch UFC Fight Night: Holloway vs. Oliveira
BY Damon Martin • August 19, 2015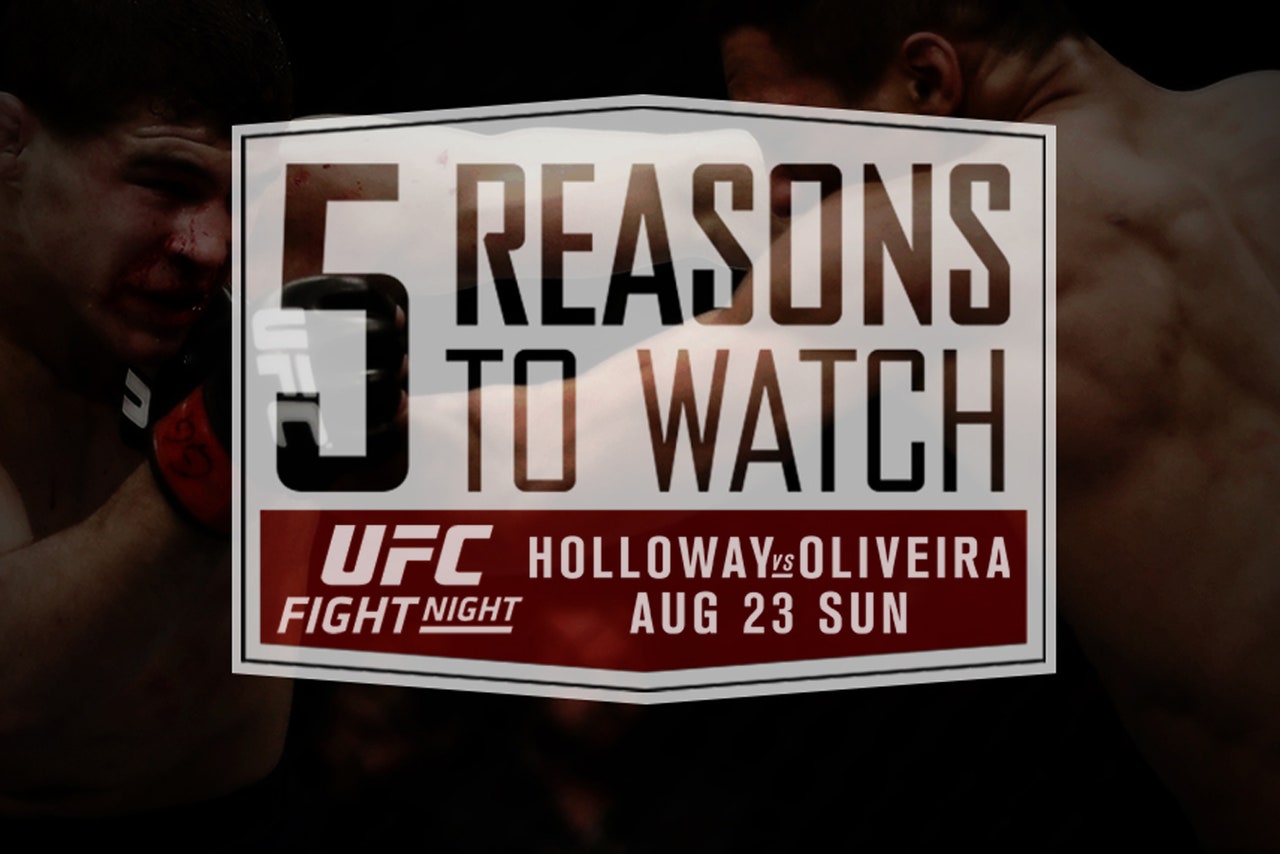 Two of the world's best featherweights will square off in a special Sunday night show as Max Holloway faces Charles Oliveira in a five-round main event from Saskatoon, Saskatchewan, Canada.
Holloway enters the contest riding a six-fight win streak, fresh off a victory over former No. 1 contender Cub Swanson. The young Hawaiian is inching ever closer toward title contention and a seventh consecutive win would put him directly in the path of either Jose Aldo or Conor McGregor.
Also on the card, Brazilian knockout artist Erick Silva looks for his third straight win as he faces Neil Magny, who tries to bounce back after his seven-fight win streak was snapped recently. Silva is well known as a fast starter, but Magny will give him everything he can handle and more on Sunday night.
As we gear up for another jam-packed card, there are plenty of reasons to watch UFC Fight Night: Holloway vs. Oliveira, but here are five good reasons to tune in on Sunday night to watch all the action.
Going For the Longest Winning Streak at Featherweight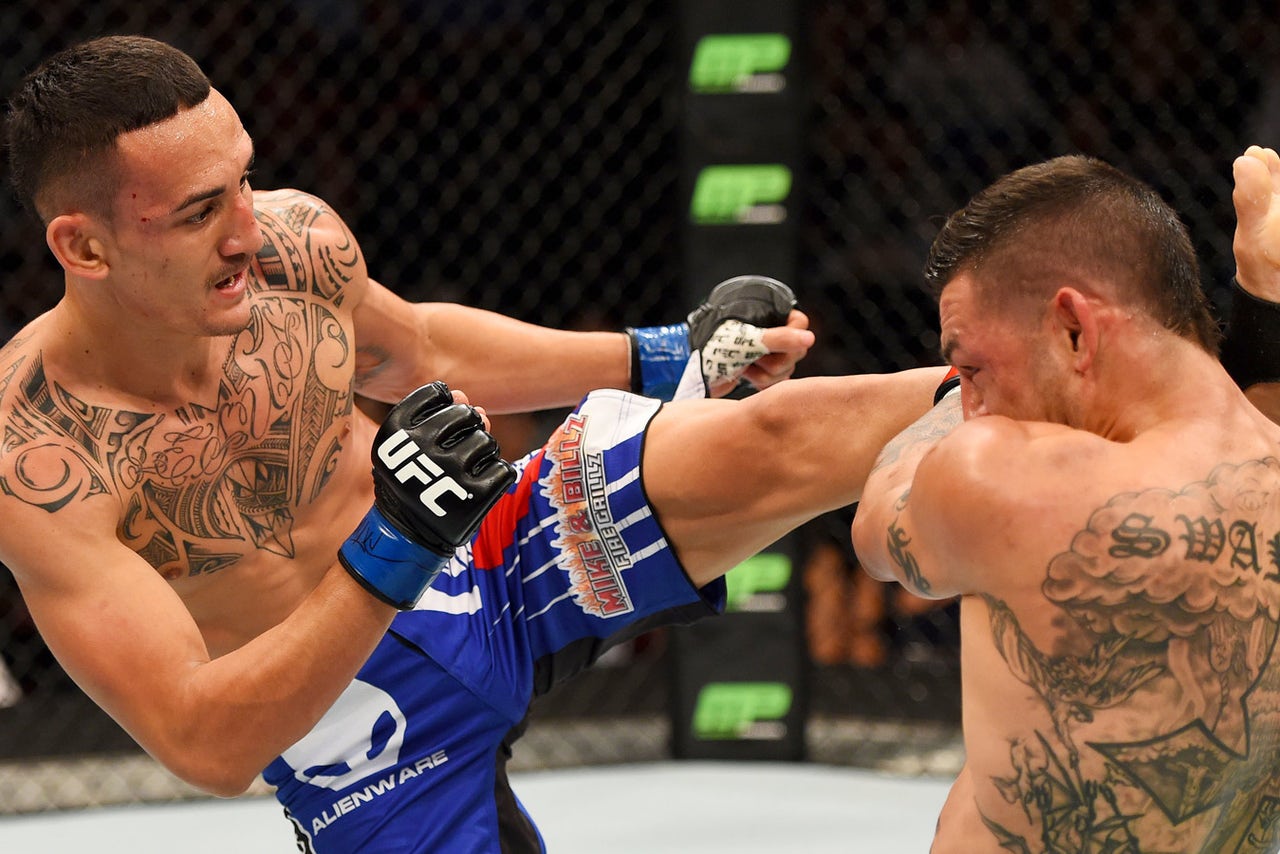 Max Holloway
Twenty-three-year-old Hawaiian Holloway is already considered one of the best prospects in the featherweight division, and he's about to enter title-talk territory if he can get past Oliveira on Sunday night.
Holloway is an ultra-exciting fighter with long range, nasty striking and an underrated Brazilian jiu-jitsu game that's earned him two submission finishes in his past six fights.
Those past six fights are key because Holloway has won all of them while quietly matching McGregor's current streak in the featherweight division. With one more win on Sunday night, Holloway will match featherweight champion Aldo with seven consecutive wins — the longest streak in the division right now.
Holloway has been tearing through the competition as well with five finishes in those six wins.
A victory for Holloway could mean a potential No. 1 contender's match for his next fight against someone like Frankie Edgar, so beating Oliveira is a key component in his dream to finally compete for a UFC title one day.
Potential Finally Realized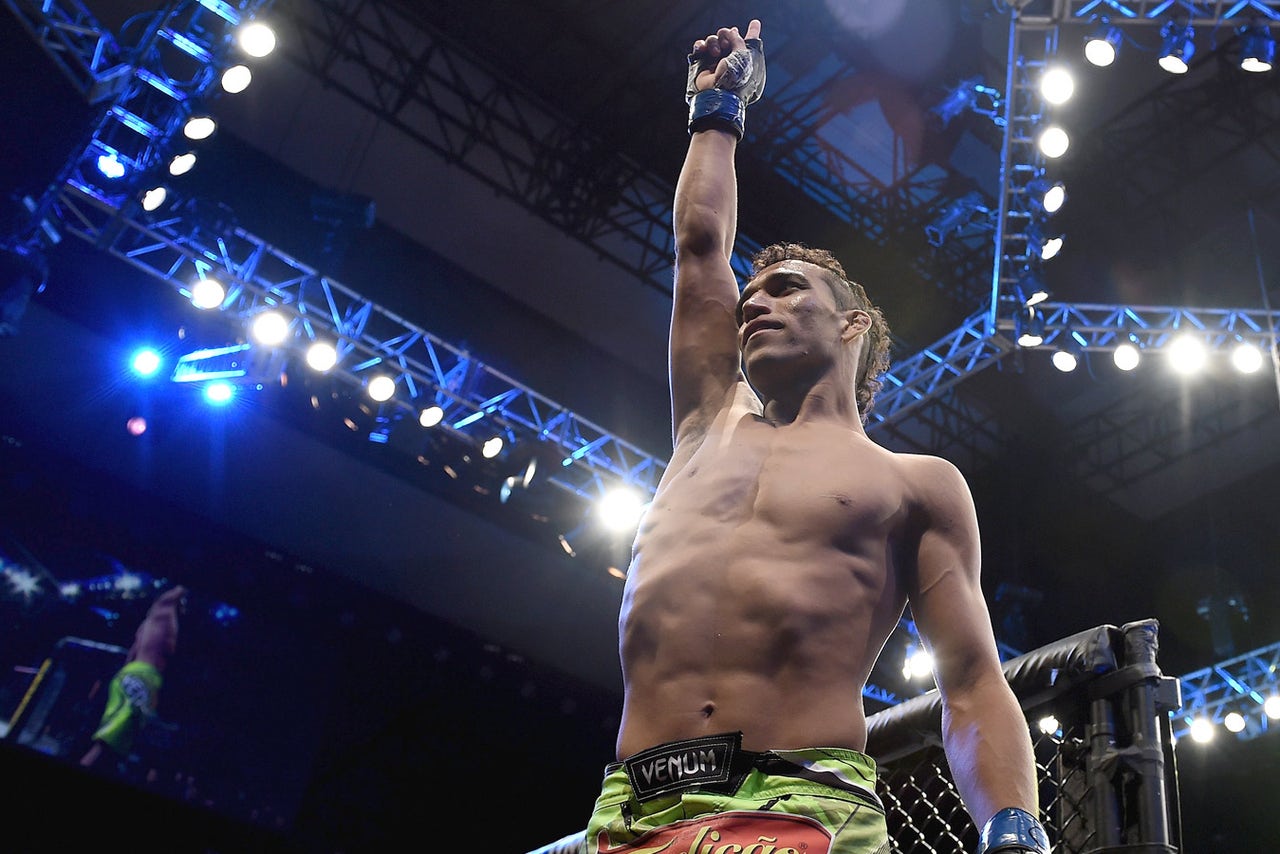 Charles Oliveira
Ever since he first arrived in the UFC and choked out former "Ultimate Fighter" winner Efrain Escudero in only his second fight, Oliveira has been warming in the spotlight of expectation. Unfortunately, for a big chunk of his UFC career, Oliveira has melted under the heat instead of rising to the occasion.
He lost in the biggest fights of his career against Jim Miller, Donald Cerrone, Swanson and Edgar, and it looked like Oliveira's lot in life was being a gatekeeper to the top five but never cracking the list himself.
Lately, however, Oliveira has turned this around with a new level of confidence and aggression that's earned him four wins in a row, three finishes by submission and a chance to finally move into the top five facing Holloway on Sunday.
When it comes to talent, Oliveira is virtually unmatched at 145 pounds and his style just makes his fights interesting to watch. Oliveira has a ridiculous 90-percent finishing rate since joining the UFC, with only one decision win on his career record with the promotion.
Oliveira always has been a potential threat to anyone at the top of the featherweight rankings, but now he's finally starting to live up to the hype that was first heaped on his shoulders when he arrived in the UFC. A win over Holloway would put him not only into the top five, but also likely one more fight away from a title shot.
Guaranteed Fireworks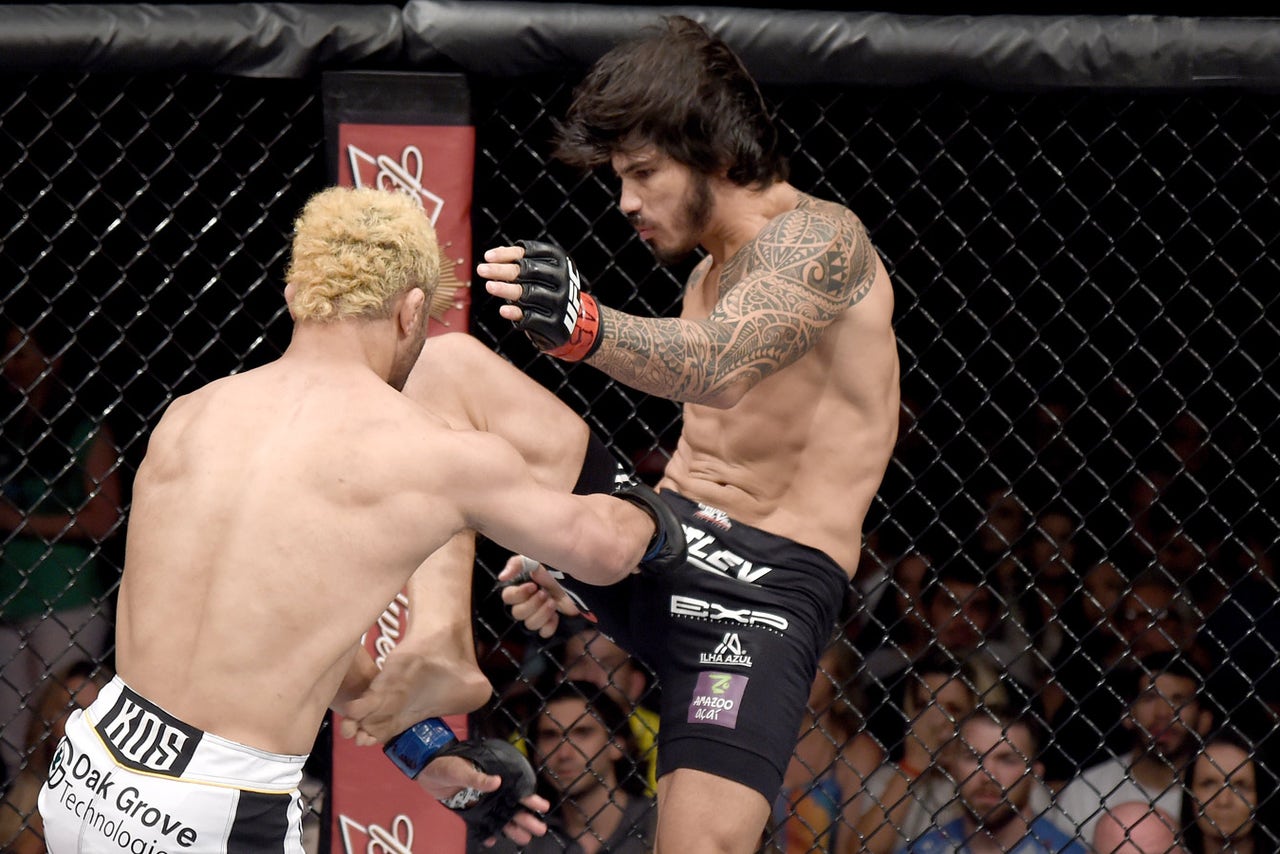 Erick Silva
Another prolific finisher fighting on Sunday is Brazilian welterweight Silva, who meets Magny in the night's co-main event.
Silva is another fighter who received a mountain of praise when he first joined the UFC roster, but largely has failed to live up to expectations with his up and down run, teetering back and forth between wins and losses for most of his career. On any given night, Silva could go toe-to-toe with the best fighters on the planet, including a champion like Robbie Lawler. At other times, Silva makes novice mistakes that cost him wins and keep him out of the top 10.
Well, Silva finally seems to have figured things out because he's won his past two fights in dominant fashion and looks for No. 3 this weekend.
Silva is just as dangerous as he's ever been — his 83-percent finishing rate and back-to-back first-round stoppages are evidence of that — but he's also fighting smarter these days and not making the kind of cringe-worthy mistakes that cost him dearly in past losses.
Silva found a spot in the rankings previously, but more recently people seemed wary to give him that nod again out of fear that he'll fall apart in another crucial moment. This time around, however, Silva seems to have all the right pieces in place to make a real run at the top 10, and his next step happens against Magny this weekend.
Canada's Best Hope for the Future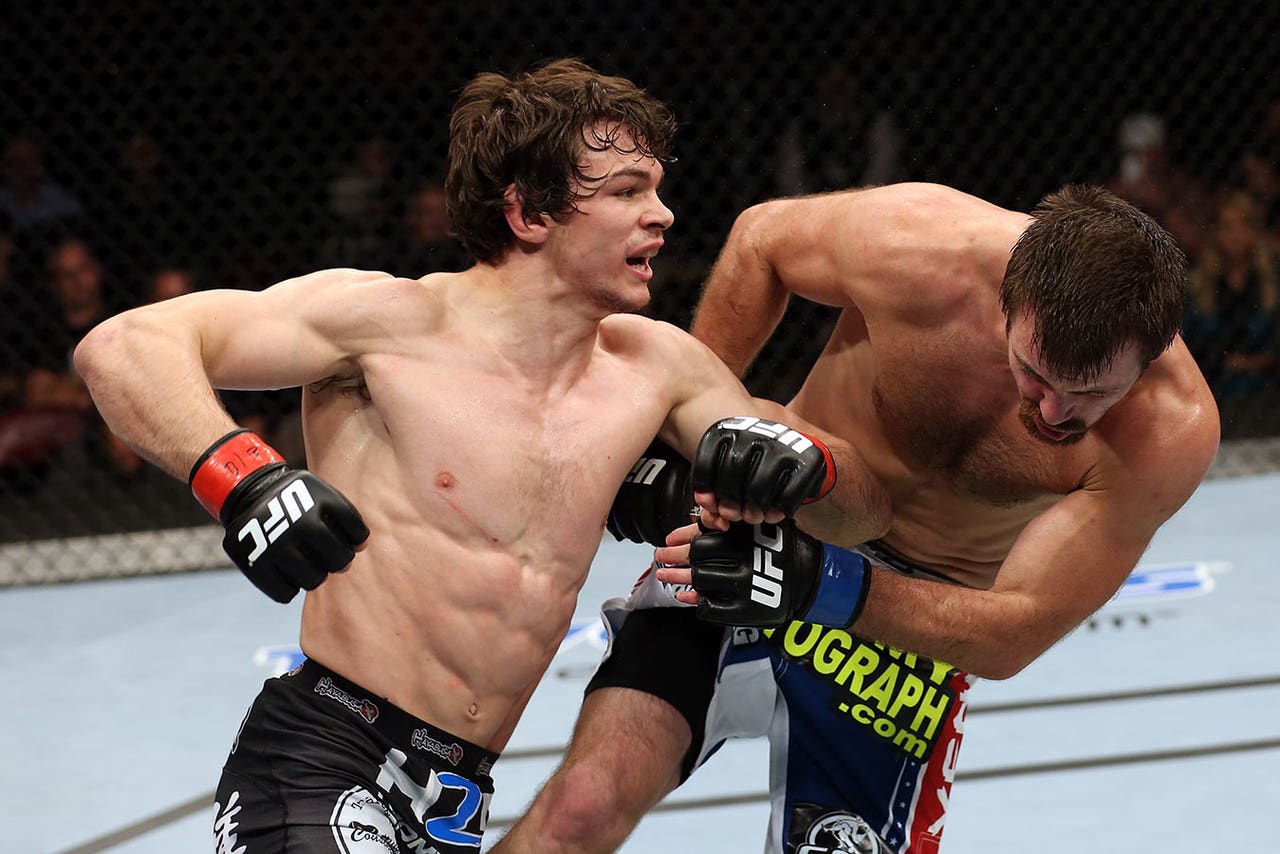 Olivier Aubin-Mercier
Let's just be honest: Georges St-Pierre is gone and he's probably never coming back.
Now for Canadian MMA fans that probably hurts about as much as watching Wayne Gretzky skate off the ice for the last time or waking up in the morning and realizing Justin Bieber and Nickelback are still from your country.
But fear not Canucks, the best young talent to come out of Canada since Rory MacDonald developed an emotionless stare will compete this weekend in Saskatoon.
Chad Laprise and Olivier Aubin-Mercier were the finalists on their season of "The Ultimate Fighter Nations" and while they competed for the same title, they are now both considered top prospects at 155 pounds and training under head coach Firas Zahabi in Montreal.
Laprise is a powerful striker with fast hands that pack a serious punch while Aubin-Mercier is a carbon copy of his idol St-Pierre as he incorporates a heavy dose of wrestling with ground-and-pound and submission attempts.
The UFC is making smart choices with these two fighters as well by bringing them up slowly and having them compete on local cards to build a loyal fan base in Canada. Both are heavily favored to win this weekend, and keep an eye on Laprise and Aubin-Mercier because if they keep developing the way they have so far, these young Canadians might be headlining cards in the Great White North in the very near future.
New Challengers for Joanna Jedrzejczyk
While UFC strawweight champion Joanna Jedrzejczyk recovers from thumb surgery and awaits a rematch with top contender Claudia Gadelha in 2016, the women's 115-pound division on Sunday may produce another potential opponent to fight for the title.
Maryna Moroz made quite the splash in her UFC debut when she submitted highly touted striker Joanne Calderwood in the first round earlier this year. Moroz is like an apple that fell off the Ronda Rousey tree because through her first six fights, she's finished five of them by armbar.
Facing Moroz in the kickoff fight for the main card airing on FOX Sports 1 is former bantamweight Valerie Letourneau, who makes her second appearance in the UFC as a strawweight. She just recently took out former "Ultimate Fighter" finalist Jessica Rakoczy, and she's faced a laundry list of tough fighters during her career, including a split-decision loss to Gadelha in 2012.
Champions always need new challengers and both Moroz and Letourneau could be names to watch in 2016, but first things first: only one of them can walk out a winner at UFC Fight Night: Holloway vs. Oliveira this weekend. This will be one strawweight fight you don't want to miss.
Don't miss any of the action from this Sunday's UFC Fight Night: Holloway vs. Oliveira card with our schedule and viewing guide. 
---
---