5 Reasons to Watch: UFC 190: Rousey vs. Correia
BY Damon Martin • July 28, 2015
There's no doubt that every time Ronda Rousey steps into the Octagon it's must-see TV, and she will look to get another win this weekend at UFC 190 as she faces upstart contender Bethe Correia in her home country of Brazil on Saturday.
Rousey has been virtually untouched through her last three fights, but Correia is confident she can beat the incumbent champion and pull off what might be the biggest upset in UFC history.
In addition to Rousey vs. Correia in the main event, UFC 190 also features a pair of legends in a re-do of their original bout a decade ago as Mauricio "Shogun" Rua faces Antonio Rogerio Nogueira in the co-main event. The first fight is regarded as one of the best fights of all time and now "Shogun" and "Lil Nog" will try to duplicate some part of that iconic moment when they face off again this weekend.
With seven fights on the main card plus a stacked preliminary card, there is no shortage of great bouts to see, but we're going to give you five good reasons to make sure you tune into UFC 190: Rousey vs. Correia.
It's Ronda Rousey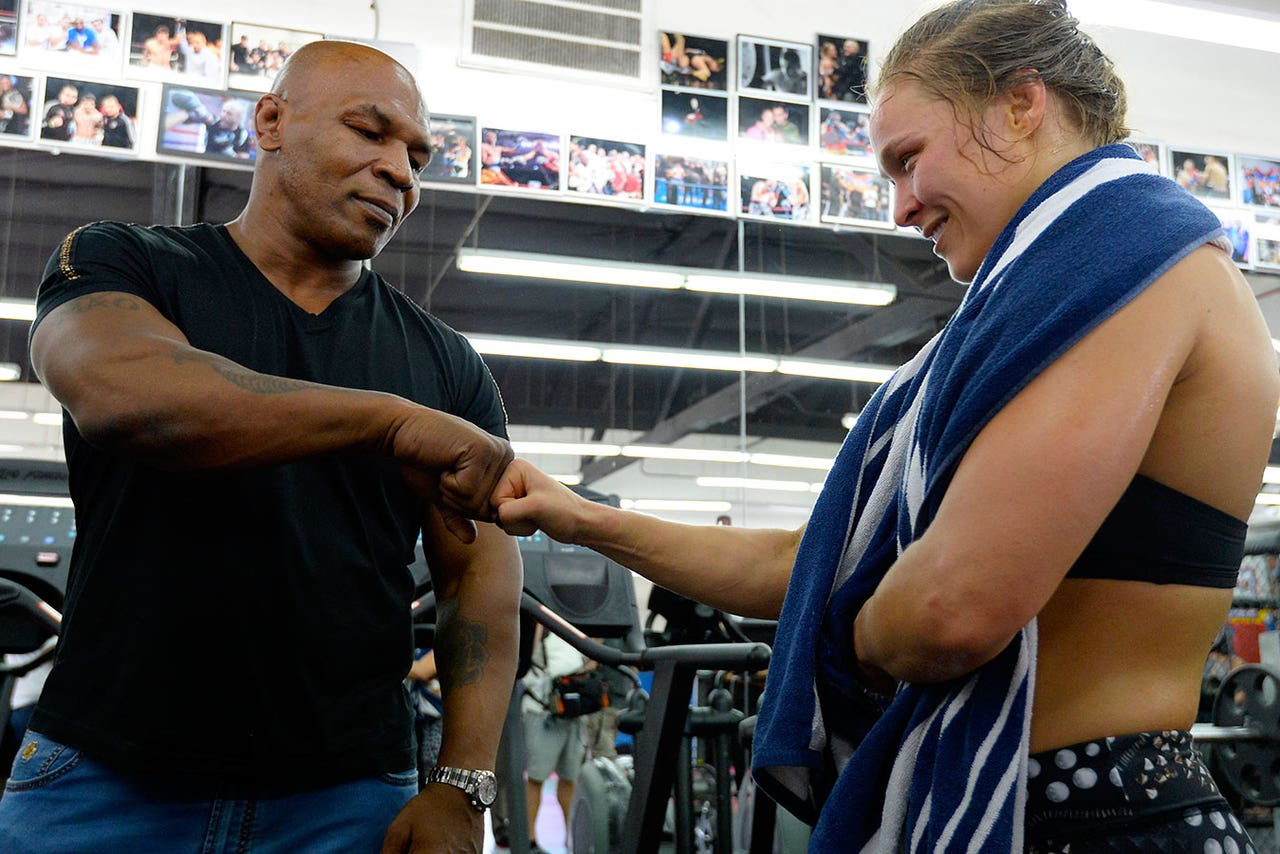 Mike Tyson and Ronda Rousey ... two of a kind.
There are certain events in sports that you just can't miss.
The Super Bowl. Game 7 in baseball, basketball or hockey. And in combat sports right now, the can't-miss athlete of this generation is UFC women's bantamweight champion Ronda Rousey.
Rousey is the modern day version of Mike Tyson in that she demolishes her competition in spectacularly devastating fashion, and whether it lasts for one round or one minute, there's something special about witnessing it live. Tyson's fights would often end in such rapid fashion that a trip to the bathroom would take longer than it would for him to knock out one of his foes.
Rousey is no different.
She started out as a vicious submission specialist, who would tear and torque an opponent's limbs until they were forced to tap out, or in some cases watch their arms bend and break. Eventually, Rousey developed into a knockout striker as well who could land punches in rapid succession, toss an opponent to the ground and batter them into unconsciousness, all in a matter of seconds.
Rousey finishes her opponents so quickly sometimes it feels like the entire fight could fit on a Vine video, but that doesn't make watching her any less attractive. Whatever Rousey does on Saturday night is likely going to dominate the media landscape for days after she's finished, so watching her do it live is always a special occasion.
Everybody Loves an Upset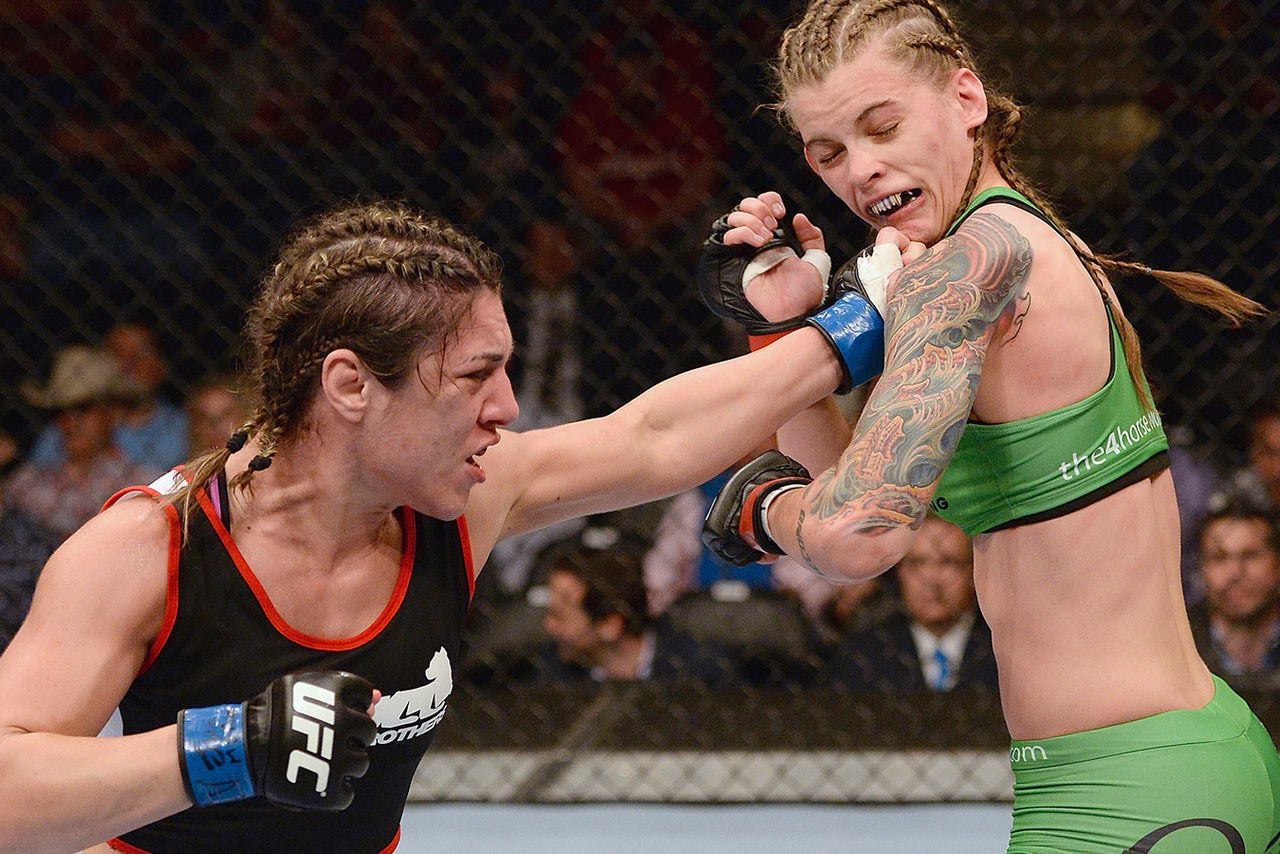 The potential of a massive Bethe Correia (left) upset is always enticing.
Ronda Rousey will walk into UFC 190 this weekend with some of the most ridiculous odds in the history of the sport in her favor. Some sports books have Rousey listed as much as an 1-to-18 favorite with most odds makers placing her somewhere in the range of a 1-to-15 favorite.
If she can pull off the victory, Bethe Correia would not only knock off Rousey and claim the first win over the 2008 Olympic bronze medalist in judo, but she would compete the biggest upset in UFC history, at least according to the odds.
Who can forget Matt Serra landing the knockout punch on Georges St-Pierre? Or watching TJ Dillashaw run through Renan Barao the first time when no one thought he deserved the title shot, much less that he'd actually win.
Correia has a rare chance to make the impossible seem possible and topple Rousey in the main event at UFC 190. She's fighting in her home country of Brazil and has shown the confidence it takes to face a champion like Rousey and walk out with her limbs intact and maybe a UFC title around her waist.
PRIDE Never Die
For fans of nostalgia, this weekend's UFC 190 card is everything you could hope for and more. The co-main event of the night features a rematch between "Shogun" Rua and Antonio Rogerio Nogueira in a bout that's a decade in the making.
"Shogun" defeated Nogueira the first time in an instant classic fight that took place in the PRIDE Fighting Championship Grand Prix and just in case you haven't seen it, take time to do so right now.
Beyond that fight, there's also a matchup between former UFC and PRIDE champion Antonio Rodrigo Nogueira and 7-foot tall monster Stefan Struve. Nogueira was not only a title holder in PRIDE, but he notoriously faced off against some of the biggest opponents in the sport.
Nogueira beat a hulking Bob Sapp when the former football player still remembered how to win fights. He faced Semmy Schilt -- another giant from Holland -- who would eventually be regarded as one of the greatest kickboxers of all time. And now, Nogueira gets a chance to erase a couple of tough recent losses when he faces Struve this weekend.
The best days of PRIDE may be gone, but this weekend's UFC 190 card is a fun throwback with a couple of the main card fights.
No. 1 Contender's Fight
The opening fight of the UFC 190 card this weekend will likely determine the next contender in the women's strawweight division as Claudia Gadelha takes on newcomer Jessica Aguilar.
Gadelha lost a close decision to current 115-pound champion Joanna Jedrzejczyk and knows with a win on Saturday night she will get another crack at the Polish knockout artist. The Brazilian fighter is one of the strongest and nastiest grapplers in the division and has been a top strawweight for several years with a title shot now looming overhead in her latest matchup on Saturday.
Meanwhile, Aguilar may not be as well known to some UFC fans, but she's absolutely deserving of this spot with a chance to earn a title shot in her first bout in the promotion. Aguilar has several wins over notable UFC names, including former strawweight champion Carla Esparza. Now, she finally steps up to the big leagues and fights another top 115-pounder with a chance to face Jedrzejczyk in her next fight.
Can Magny Make It 8 In a Row?
The welterweight division in the UFC is thriving right now with Robbie Lawler as champion and a long list of contenders all champing at the bit to get their shot at him. In the middle of that shark pit at 170 pounds is Neil Magny, who has quietly gotten better and better with each performance.
It seems like ages ago that Magny was a former "Ultimate Fighter" contestant who was arguably fighting for his job after two straight losses, but now the Colorado-based competitor is riding a seven fight win streak with a chance to pick up No. 8 this weekend.
Magny will take a decided step up in competition as he faces former title contender Demian Maia in his backyard of Brazil at UFC 190. If Magny is the real deal and he wants to be considered a serious threat to the top 10, he needs to win this weekend.
A victory would plant Magny in the rankings with eight wins in a row and knocking on the door of a potential title shot in the next year. It would also tie him with flyweight champion Demetrious Johnson and Donald "Cowboy" Cerrone with eight straight wins in the UFC, which is currently third overall in the promotion behind Chris Weidman (9) and former UFC champion Jon Jones (12).
Don't miss a minute of the action at UFC 190: Rousey vs. Correia with our schedule and viewing guide for everything happening in Brazil this weekend.
---
---