USA announce Women's World Cup roster; opt for experience and youth
April 14, 2015

With the 2015 Women's World Cup less than two months away, Jill Ellis has seen enough.
Luckily for a U.S. side hungry to win its first World Cup since 1999, what Ellis saw turned out to be a pretty good thing especially for some youngsters relatively new to the United States women's national team and some oldsters whose 30-something ages and nagging injuries proved no deterrent to their inclusion on the World Cup roster.
"We've got a very good balance and how we utilize players will be a big part of the strategy in this World Cup,'' Ellis said after the roster was announced live on FOX Sports 1. "The past six months we've absorbed some injuries, but that's helped improve our depth, and I feel confident that any one of our 23 players can start a game in the World Cup if needed. We've been able to play challenging teams and that has allowed us to vet our younger players and get them some great experience,'' she said.
At the heart of the team is standout goalkeeper Hope Solo, whose comeback from a month-long suspension in January seems to led her to a new level of calm and determination. Solo & Co. will start their claim to the Cup on June 8 against Australia in Winnipeg before facing Sweden on June 12 and Nigeria on June 16.
At midfield, Carli Lloyd is the team's conscience and pulse while playmaker Megan Rapinoe is back to full form, scoring a hat-trick this past weekend for the Seattle Reign of the NWSL just a week after recording her 100th career match in St Louis last week against New Zealand. Heather O'Reilly and Lauren Holiday are the other two midfielders while defenders Ali Krieger, Becky Sauerbrunn and Lori Chalupny and forwards Amy Rodriguez and Alex Morgan are the other World Cup team members with more than 99 career caps each.
U.S. Soccer notes that the average number of caps is 101. Meanwhile, the average age of this World Cup squad is 28 years old, but that average might be skewed by three veterans that Ellis calls integral to the team's chances.
The U.S. will head to Canada with veterans Christie Rampone, Shannon Boxx and Abby Wambach holding key spots in the 23 player roster. All three players will celebrate birthdays in June. Rampone, the team captain, is the only player on the squad who was part of the 1999 U.S. Women's World Cup championship team — a legacy so important that it all but guaranteed Rampone's inclusion on this year's squad.
Ellis took over at head coach of the U.S. women's national team less than a year ago. Though she had been first offered the position back when Pia Sundhage left for Sweden back in 2012, Ellis did not choose to accept the spot until after Tom Sermanni was abruptly let go last May.
In an underlying subplot about why the U.S. women have not quite kept up their former world dominance, there remains some criticism that a lack of player development to expand the national team pool has impacted the ability of U.S. Soccer to fend off Germany, Japan and now France as emerging powers in women's soccer. Regardless, the U.S. World Cup squad was culled from a pool based on the federation's desire to stick with and promote its core group of star players.
It has been up to Ellis, the former director of player development, to pull the U.S. side out of its funk and re-position the No. 2 ranked team in the world for a World Cup title run. Since then, Ellis has been criticized for tinkering too liberally with lineups and yet relying too heavily on an aging U.S. national team contingent.
But with a pool of players fairly well defined over the past year, Ellis has run the national team members through a trial-by-fire process that saw wobbly performances in 2014 and early 2015 to bring them to where they are now: A coalescence of talent and tactics that has come together to form a very interesting roster mix. The result was an Algarve Cup championship win and a rout of New Zealand last week in St. Louis.
"We've had several players over the past six months who have familiarized themselves with different roles within the team," Ellis added. "The players have a really good understanding of their role, but if needed, can play another one as well."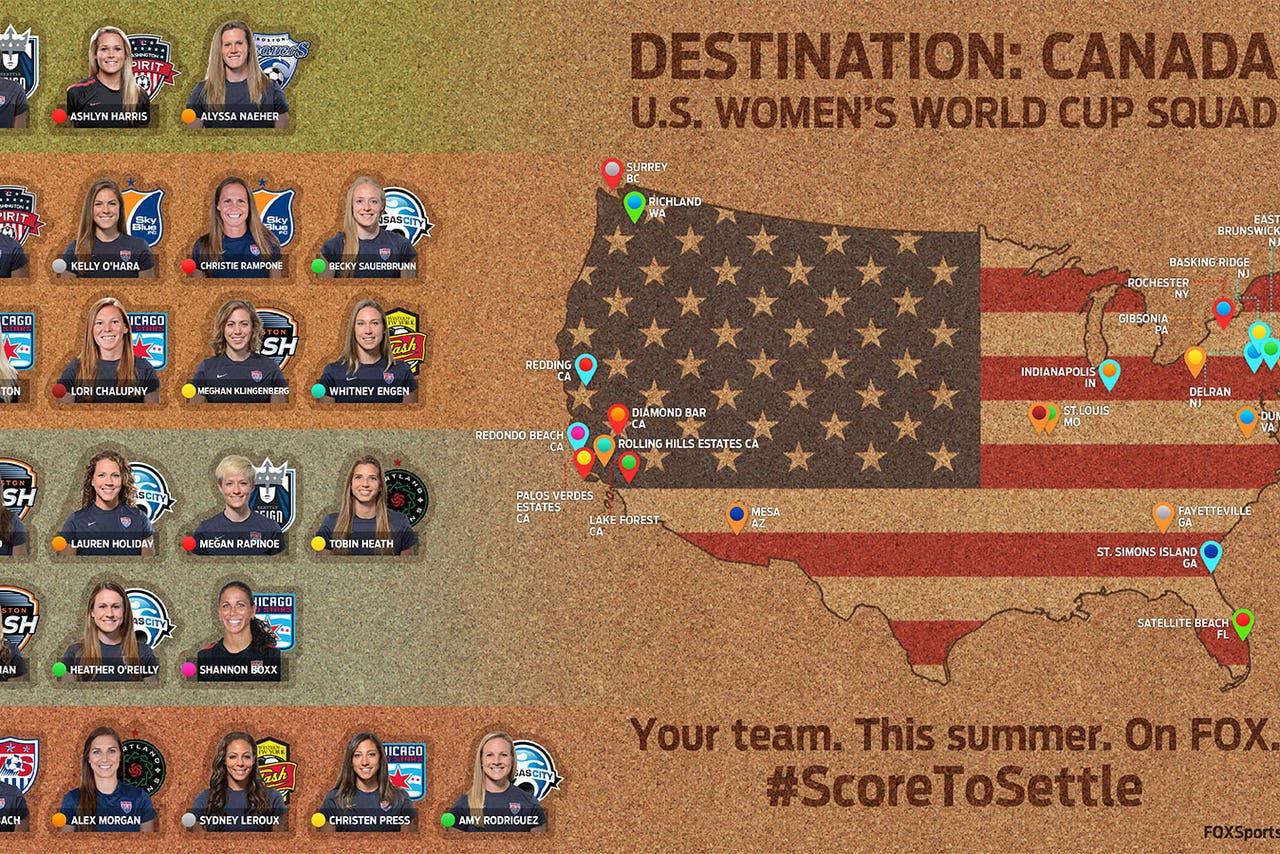 U.S. Soccer announced the 23-player roster that will represent the United States at this summer's Women's World Cup in Canada.
For Ellis, nothing can replace the formidable leadership that Rampone brings to the defense at centerback, or the holding midfielder composure that Boxx brings, or the specialty offensive firepower of Wambach, the all-time leading scorer in the history of women's soccer It's not exactly big news that veterans Boxx, 37, and Rampone, 39, have been picked by Ellis to be on the 2015 WWC roster. Ellis has long signaled that she wants that kind of experience in Canada for the U.S. side. However, Boxx has played less than 40 minutes in 2015 and Rampone has been sidelined all year with back and knee injuries.
Wambach, too, seems to have settled into a super substitute role over the past few games for the U.S., playing one half or coming in late to lift the U.S. into attack mode by posing a threat up front on set pieces. These headline players, however, will anchor a U.S. team that sports a smattering of youngsters that bring legs, speed and versatility up and down the field.
Ellis has tapped defender Julie Johnston, 23, and midfielder Morgan Brian, 22, in a clear effort to broaden the talent pool of the U.S. side. With Rampone out of action, Johnston acquitted herself brilliantly on the backline alongside Sauerbrunn and Krieger and wingers Chalupny and Meghan Klingenberg. With 31 career caps to her credit, Klingenberg has also proved to be a vital part of the U.S. game plan, one in which Ellis is implementing an attack that calls on the back line wings to push the ball outside and play the length of the field.
The backline in Ellis' 4-4-2 formation was the first unit to show the most cohesiveness over the past few games, with Sauerbrunn, Krieger, Johnston and Klingenberg working as a very dynamic unit capable of helping Solo record numerous blank sheets since her return to action at the Algarve Cup on March 4.
Up front, Christen Press, 26, and Sydney Leroux, 24, are also part of the U.S. attack plans. Press showed off her goal-scoring ability during the Algarve Cup, while Leroux has been battling back from an ankle injury and has seen limited playing time this spring.
But the U.S. brings a ton of speed with Leroux and Morgan, while Press has proved versatile between midfield and striker. Along with Rodriguez, these players will see most of the action up front, while the artificial turf and potential seven-game World Cup run will mean Wambach's playing time will be curtailed for maximum efficiency.
Also making the squad are defenders Whitney Engen, 27 and Kelley O'Hara,; midfielder Tobin Heath, 26, and backup keepers Ashlyn Harris and Alyssa Naeher.
"With only three subs in a match, having good cover in positions in all major lines and being able to have flexibility in the lineup allows you to adjust and adapt," Ellis said. "Having players with that versatility allows us to do that within a match. With the potential of several games in heat and all of them on turf, having a good balance at goalkeeper, defense, midfield and at forward allows us to potentially rest players or have fresh legs when we need them."
The two players who did not make the cut from the 25-player roster that the U.S. had been carrying all spring are defenders Rachel Van Hollebeke, 30, and Crystal Dunn, 21.
USA's 2015 Women's World Cup Roster:
Goalkeepers: Ashlyn Harris (Washington Spirit), Alyssa Naeher (Boston Breakers) and Hope Solo (Seattle Reign FC).
Defender: Lori Chalupny (Chicago Red Stars), Whitney Engen (Western NY Flash), Julie Johnston (Chicago Red Stars), Meghan Klingenberg (Houston Dash), Ali Krieger (Washington Spirit), Kelley O'Hara (Sky Blue FC), Christie Rampone (Sky Blue FC) and Becky Sauerbrunn (FC Kansas City).
Midfielders: Shannon Boxx (Chicago Red Stars), Morgan Brian (Houston Dash), Tobin Heath (Portland Thorns FC), Lauren Holiday (FC Kansas City), Carli Lloyd (Houston Dash), Heather O'Reilly (FC Kansas City) and Megan Rapinoe (Seattle Reign FC).
Forwards: Sydney Leroux (Western NY Flash), Alex Morgan (Portland Thorns FC), Christen Press (Chicago Red Stars), Amy Rodriguez (FC Kansas City) and Abby Wambach (unattached).
---