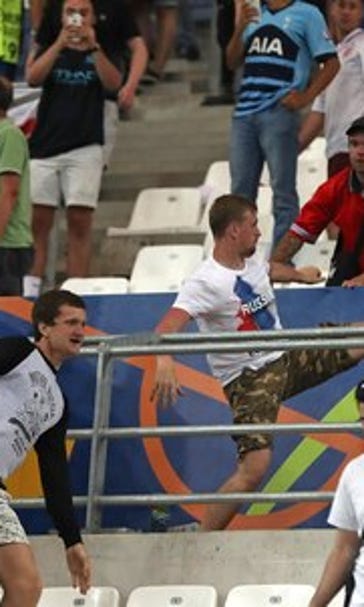 The Latest: Russia will be disqualified in more fan violence
BY foxsports • June 14, 2016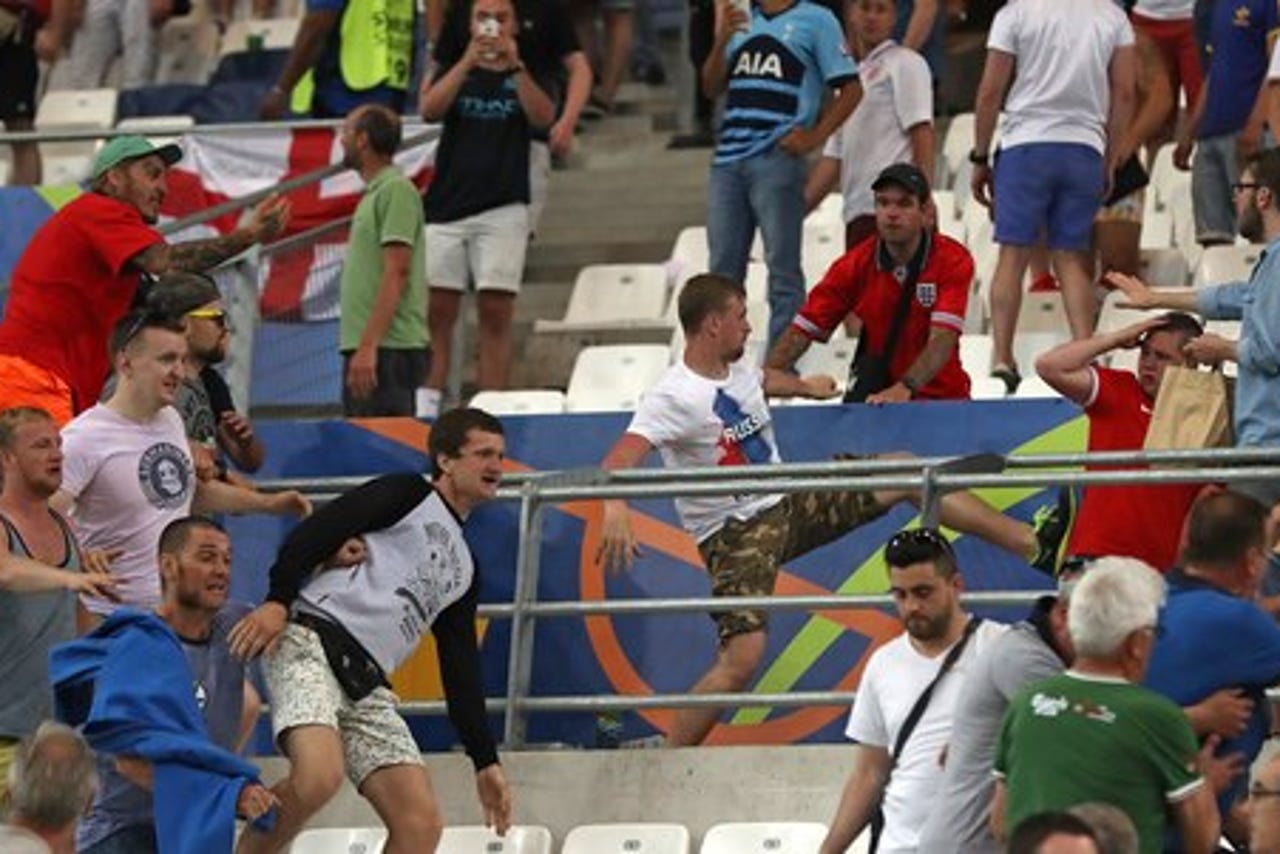 PARIS (AP) The Latest from soccer's European Championship (all times local):
---
11:55 a.m.
UEFA's disciplinary body says Russia will be disqualified from the European Championship if there is more fan violence inside stadiums in France.
Russia was charged after its fans attacked English rivals in Marseille after Saturday's 1-1 draw.
Russia, which was also charged over fan racism and fireworks being set off during the game, has been fined 150,000 euros ($169,000) by UEFA.
UEFA says Russia's ''disqualification is suspended until the end of the tournament. Such suspension will be lifted if incidents of a similar nature (crowd disturbances) happen inside the stadium at any of the remaining matches of the Russian team during the tournament.''
Russia has two more games in Group B.
---
11:40 a.m.
President Vladimir Putin's spokesman says Russian soccer fans in France should observe the law and he has urged them not to respond to any ''provocations.''
''Violations of the law have been committed by fans from various nations, who have gone on rampages in Marseille and some other places. It's absolutely unacceptable, and we certainly expect our citizens to respect the country's laws,'' Putin spokesman Dmitry Peskov said in a conference call. ''Regrettably, fans from various nations have taken part in those rampages, regrettably including Russia.''
Asked about statements from some Russian officials who praised Russian fans for their action, Peskov said he disagrees.
''I can't agree with those statements, and in any case they can't represent the official viewpoint,'' he said.
Responding to questions about a bus full of Russian soccer fans who face deportation from France, he said that Russian consular officials are doing what is necessary to ensure their rights.
---
11:25 a.m.
A bus carrying Russian fans has been detained near the French city of Nice amid concerns over hooligan violence after Russian fans attacked English supporters last week.
A local official says a bus carrying 29 Russian fans was stopped by police after leaving a hotel near the Cote d'Azur town of Mandelieu-La Napoule on Tuesday.
Prefecture communications chief Ariane Parachini says police stopped the fans to see whether any hooligans were among them. An unspecified number have been taken to detention centers, a possible prelude to deportation.
Russian Embassy spokesman Sergei Parinov confirmed the episode.
Russia will play Slovakia in Lille on Wednesday, and England faces Wales the next day in Lens, raising the prospect of more clashes.
---
11:10 a.m.
German police are appealing for people to come forward with video recordings of violence involving suspected German hooligans before their country's opening European Championship match in Lille.
The Federal Criminal Police Office on Tuesday called for witnesses to submit material via its website at http://www.bka-hinweisportal.de/index.pl?lang=en and said the portal will remain in place for other games at the tournament.
Authorities have said that two people were slightly injured in Lille on Sunday during violence involving supporters from Germany and Ukraine. The incidents took place hours before Germany beat Ukraine 2-0 in the northern city.
---
11 a.m.
French authorities say a 2,400-strong security force is being deployed in Lens as the town prepares for an influx of 40,000 to 50,000 England and Wales fans for Thursday's European Championship game.
The policing operation in Euro 2016's smallest host city and its 35,000-capacity stadium has been intensified after clashes involving England and Russia fans around their opening Group B game in Marseille.
Regional administration head Fabienne Buccio says 1,200 police officers and the same number of private security guards will be in Lens, whose population can fit in the Stade Bollaert-Delelis.
Police will be at the stadium to help separate fans. UEFA acknowledged there were segregation problems at Marseille's Stade Velodrome.
Buccio says supermarkets around Lens will be banned from selling alcohol on Wednesday and Thursday.
---