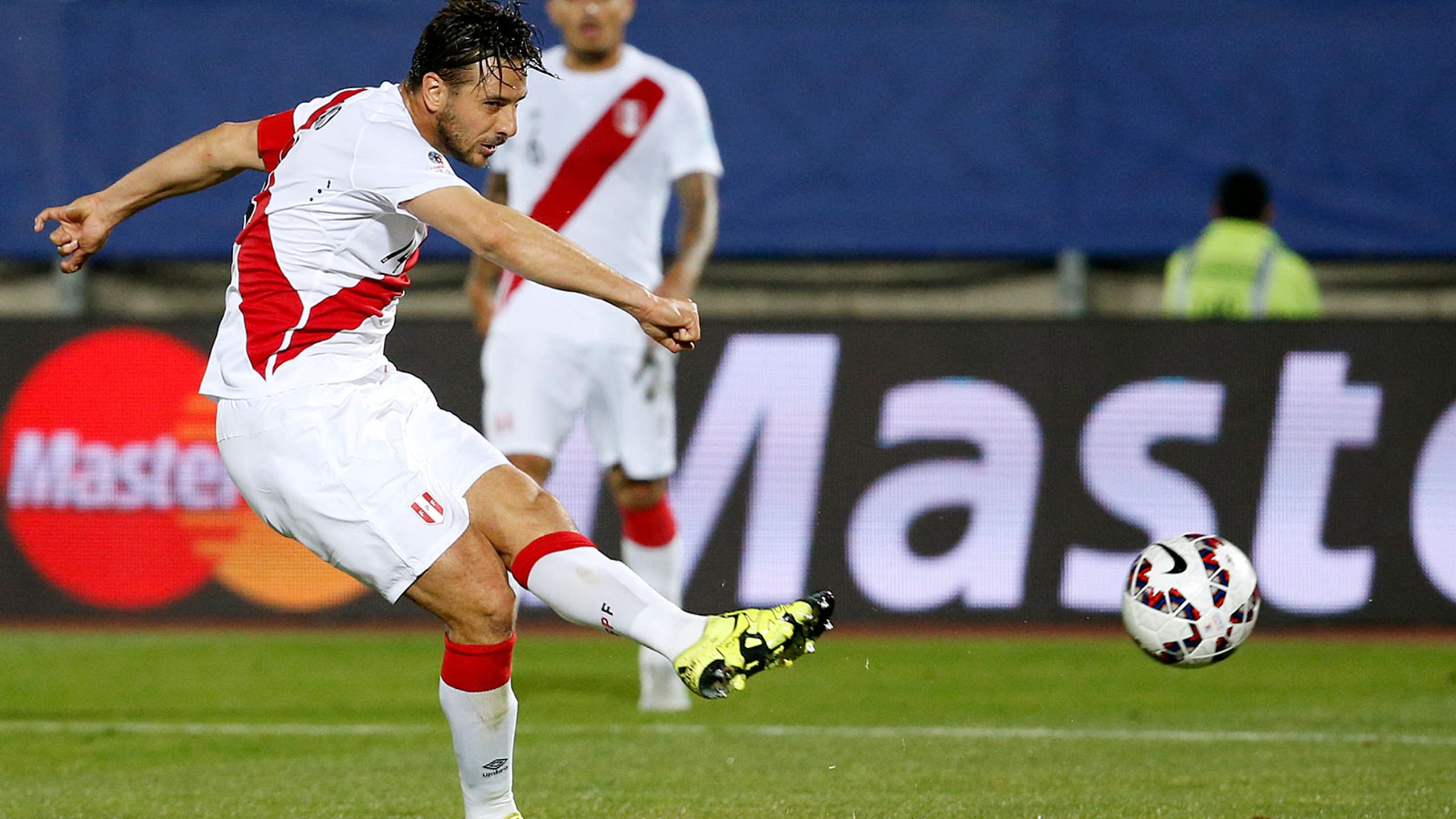 Pizarro fires Peru over 10-man Venezuela to claim critical Copa America victory
BY Jonathan Wilson • June 18, 2015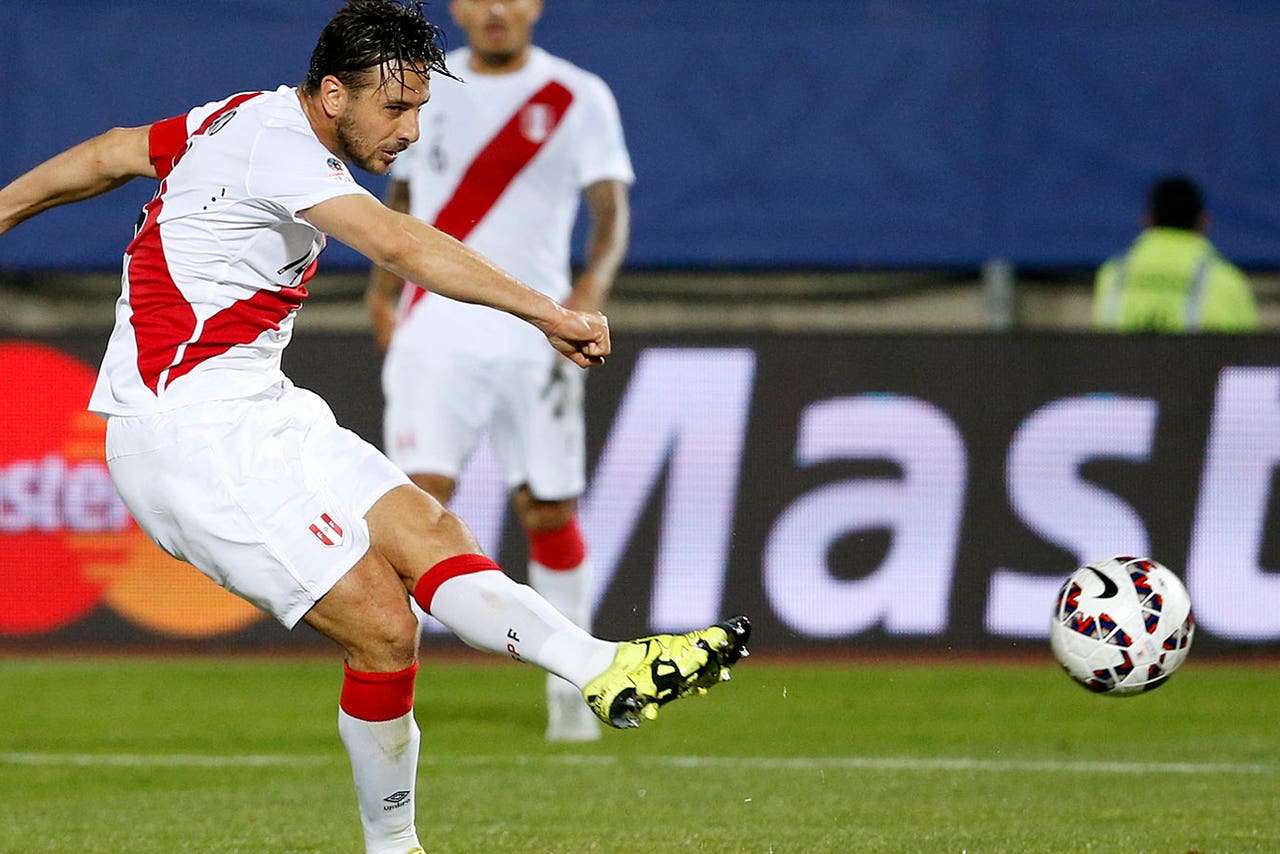 After all that, Brazil goes into the final round of games in Group C at the top of the table, although that is a slightly meaningless accolade with all four sides locked on three points and tied on goal difference.
The latest twist saw Venezuela, which would have secured its place in the quarter-finals with a victory, undone by the first-half dismissal of Fernando Amorebieta and then a goal 19 minutes from time by Claudio Pizarro. Peru's 1-0 victory essentially left us back where we started. Brazil, by virtue of having scored more goals than Venezuela and Colombia and by having a better head-to-head against Peru, has a technical advantage. Remarkably, no team in the whole tournament has managed to win both its games so far.
Given how little it was fancied before the tournament, Peru has overperformed. It was a minute from taking a point from Brazil in its opening game. Without ever playing scintillating football, it applied significant pressure here after taking a man advantage. Reaching the semi-final four years ago was unexpected. Following that feat up by reaching the knockout phase again would be a significant achievement.
Even in defeat, these are heady times for Venezuela. Long dismissed by the football word as a baseball nation, it has been the most obvious beneficiary of CONMEBOL's enlightened policy of having every side play every other home and away in World Cup qualifying, a schedule that ensures every nation has regular matches against the continent's elite. The benefits are there to see both financially and in terms of experience.
Los Vinotintos first entered the Copa America in 1967, finishing fifth of six teams. After that modest debut, they never made it beyond the first round until its quarter-final defeat on home soil in 2007. A semi-final defeat four years ago stands as the best ever Copa finish, but it goes into its last game, against Brazil, with a genuine chance of a victory that would carry it into the knockouts for the third straight tournament.
Its win over Colombia in its opening group game was well-deserved, but based on defensive solidity, discipline and resolve. The game against a Peru side that had been far livelier than anticipated in its opening 2-1 defeat to Brazil presented a different challenge. Here, it was expected to take the game to the opposition and try to capitalise on that opening win. Its creative shortcomings had been exposed – it managed only two shots in the whole of the first half - before its aims were transformed after 29 minutes.
Peru's Paulo Guerrero, top-scorer at the last Copa America seemed to have wriggled away from the Middlesbrough defender Fernando Amorebieta on the right touchline, only to be pulled back by the shirt. Guerrero went down and Amorebieta trod on him. Whether it was deliberate or whether it was simply his momentum took him over the prone forward was difficult to tell, but he was left with ugly wheals on his thigh and blood running from his knee. The Bolivian referee Raul Orozco showed red. Amorebieta, eyes wide with disbelief, trudged from the field, slowly unpicking the red tape he had bound over his rings as he went.
There was a poignancy to his departure, not least because it effectively ended Venezuela's chances of implausibly dominating what had seemed when the draw was made the toughest group. In a sense, though, it made Venezuela's task easier: it could go back to simply defending with the draw once again a worthy result. The coach Noel Sanvicente withdrew the winger Ronald Vargas for the defender Gabriel Cichero and the game swung inexorably Peru's way.
But Peru, having looked dangerous against Brazil, albeit in a vague, slightly ill-defined way, found it difficult to take the initiative. It too is a side better equipped for sitting deep and hitting on the break, using the power of Guerrero and the craft of Pizarro. The second half settled into a slightly odd pattern, engaging frenetic in the middle, without much in the way of genuine goal threat at either end. That the pressure on Venezuela never became intolerable was largely down to Salomon Rondon, who held the ball up superbly, making runs that helped keep the ball in the Peru half.
Eventually, though, the pressure of Peru's advantage in territory and possession was bound to tell. The goal came after 71 minutes and owed much to the persistence of Christian Cueva, who had scored the goal against Brazil on Sunday. His pass into the box was half-blocked, but it fell for Pizarro, whose shot went in off the bar after the Venezuela goalkeeper Alain Baroja had got a hand to the ball.
It was a messy goal to settle a slightly messy game, but it sets up the final round of matches perfectly.
---