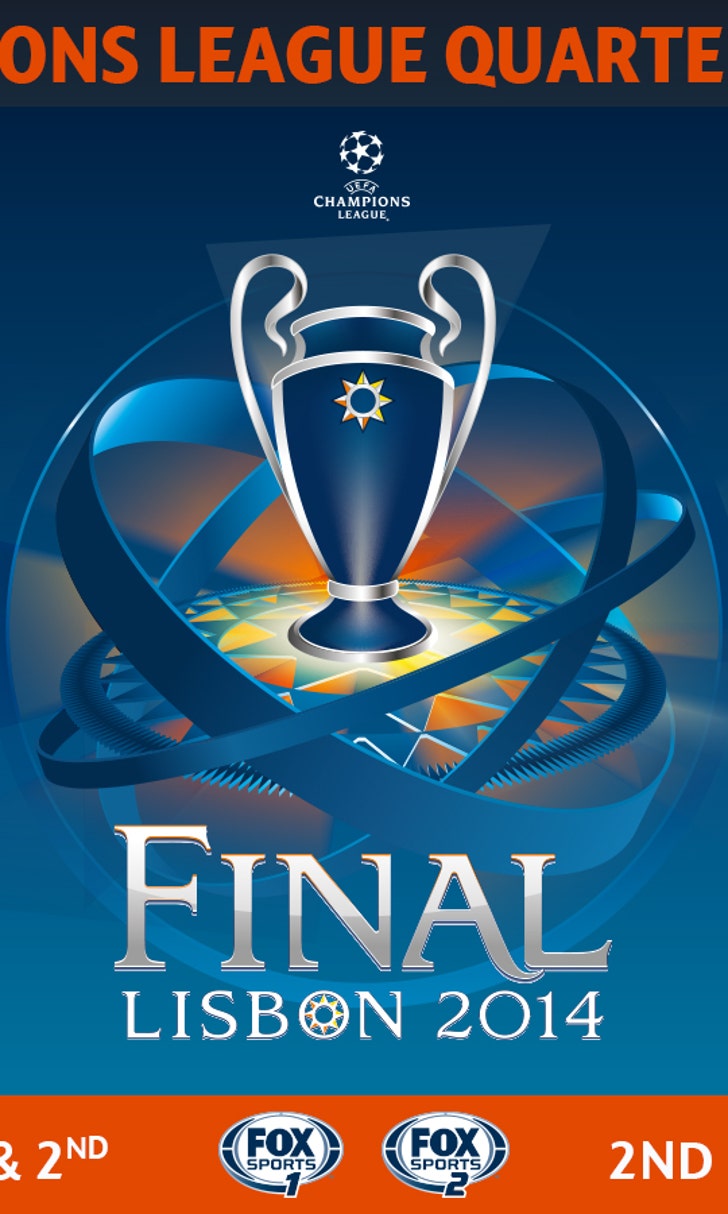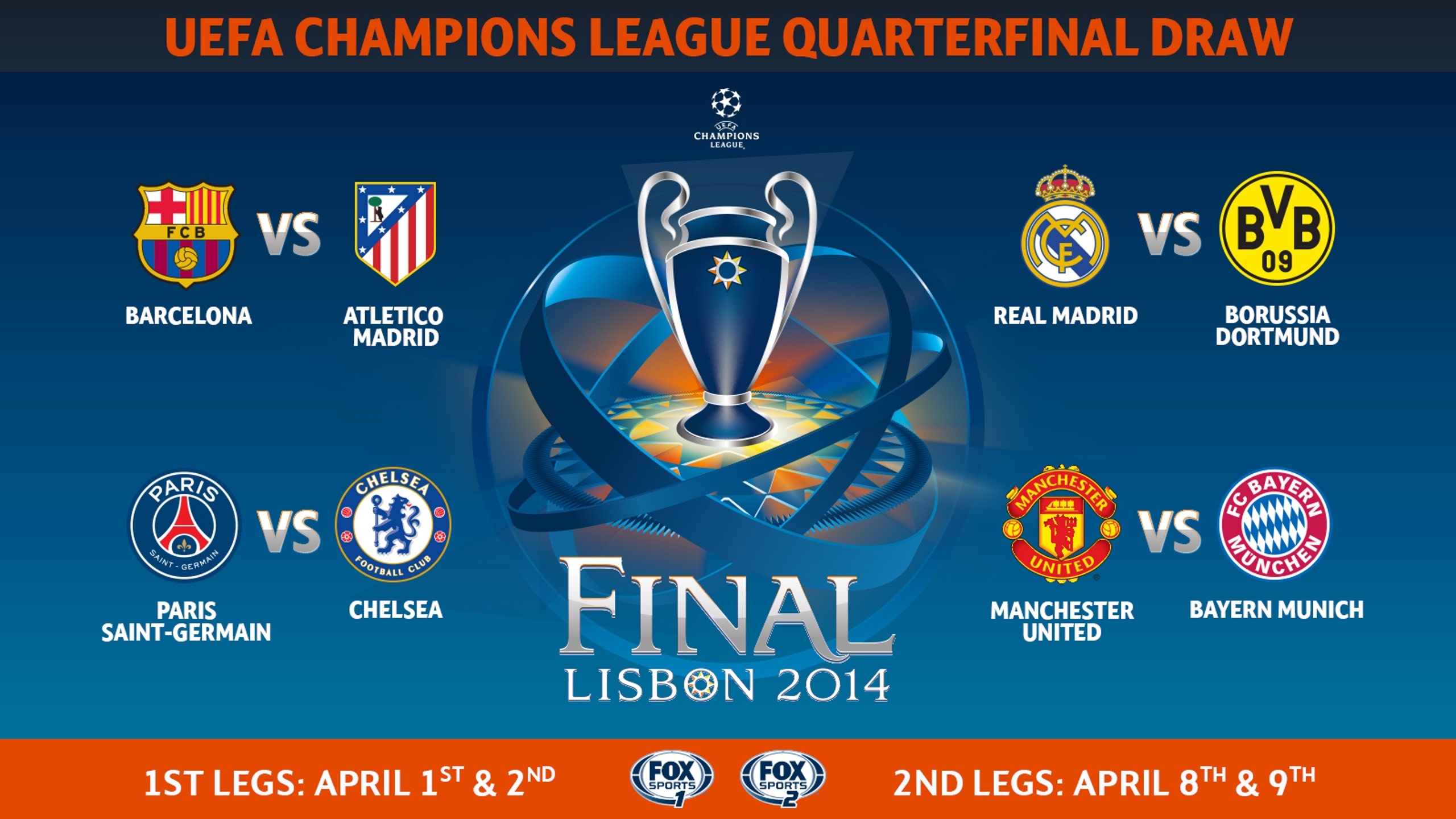 Manchester United handed toughest Champions League assignment
BY foxsports • March 21, 2014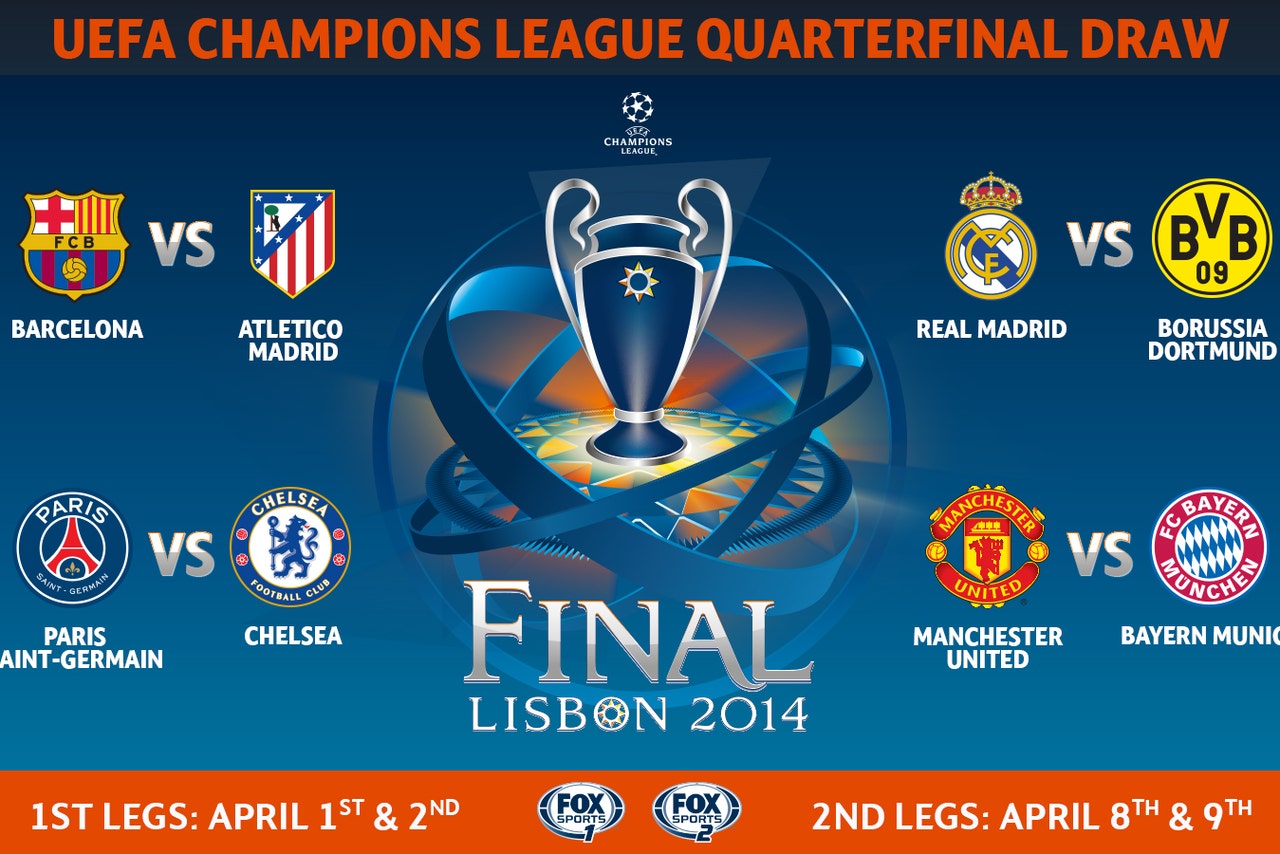 Pick your poison. That was the general sentiment heading into Friday morning's quarterfinals draw for the UEFA Champions League. There are no underdogs left in the field, no open-ended Cinderella stories. The remaining teams are, by any metric, the biggest and strongest and best clubs in Europe. Plus Manchester United.
Barcelona drew Atletico Madrid in an all-Spanish bout. Real Madrid were matched up with Borussia Dortmund. Paris Saint-Germain were paired with Chelsea. And Manchester United got Bayern Munich. First legs will be played on April 1 and 2 and the return games April 8 and 9, all live on FOX Sports 1, 2 or FOX Soccer Plus.
And so it was United that probably got the toughest assignment of anybody, drawing defending champions Bayern Munich. The Germans seek to become the first club to win the Champions League back-to-back since the tournament was rebranded from the European Cup in 1993. They have been imperious this season, both domestically and continentally, losing just one game all year – a meaningless final-day group stage game against Manchester City and even drawing a mere three. After galloping to the European title last year, they look even better this time around with Barcelona's former all-conquering manager Pep Guardiola in charge, scampering past Arsenal 3-1 in the round of 16.
United, in this dreary year of succession from the legendary Sir Alex Ferguson, have looked nothing like their former regal selves under succeeding manager David Moyes. They are far adrift in the Premier League 12 points out of fourth place and the Champions League spot it comes with and that they're here at all took a minor miracle, against the worst team still in the competition. After losing to Olympiakos 2-0 in the first leg, there was real doubt whether United could overturn such a deficit against any team anymore. A Robin van Persie hat trick in the return leg saw them through though. But nobody is under the illusion that they will pull it off again.
So, which clubs stand in Bayern's way? Ever since Guardiola left the club ahead of last season, things haven't been quite the same in Barcelona. The shimmering play is still there, from time to time, but the whole thing doesn't feel quite so authoritative. The dominance is no longer absolute. The ideology has been diluted, and superstar Lionel Messi, hampered by injury, hasn't had a vintage year – by his ethereal standards anyway. If their 4-1 win over Manchester City in the first knockout round was sound, we shouldn't forget that Barca haven't won this thing in two whole seasons, and somehow, that feels like underperformance.
In Atletico, Barca face domestic rivals Atleti are a point ahead of the third-placed Catalans in La Liga who have risen from their own ashes in recent years. Under former hard man midfielder Diego Simeone they have formed a wily and robust collective, somehow becoming competitive with just half the money and talent available to Spain's two giants. Their 5-1 win over AC Milan in the round of 16 was conclusive. And this contest should produce fireworks.
It's been 11 seasons now since Real won their ninth European title, which was their third in five years at the time. But ever since, European success has eluded them, in spite of wave after wave of lavish investment. They reached the semifinals in each of the last three seasons, but they were trumped by Barca, Bayern and Dortmund respectively. They'll get another crack at Die Borussen now and will feel better about their chances. The last time around, they lost the away leg 4-1, to four goals by Robert Lewandowski, and could only win 2-0 at home.
Real are soaring at present, leading Atletico by three points in La Liga and going into this weekend's Clasico with Barca safe in the knowledge that a draw would conserve their lead into the home stretch. Their 9-2 destruction of Schalke 04 in the round of 16 was unimpeachable. Dortmund, meanwhile, have fallen off some from last year, when they were the tournament runners-up. A biblical injury plague to their back line fairly well ruined their season, and they lack the crispness and sharpness they so dazzled the continent with last season. Frankly, they were wholly unconvincing in overcoming Zenit St. Petersburg 4-3 in the last round. And that makes Real the favorites.
In the final match-up, aspirational nouveaux-riches Paris-Saint Germain will face 2012 champions Chelsea. Neither team is seen as a top candidate for the European crown, but both have the capacity to surprise. PSG have invested so heavily in the import of superstars like Zlatan Ibrahimovic and Edinson Cavani that it seems but a matter of time before they reach the very top of the game. They beat Bayer Leverkusen 6-1 in the round of 16 and they might well do better than their quarterfinals place last year.
Chelsea, meanwhile, have been rejuvenated under the returned Jose Mourinho. They are a dynamic and attacking collective now, yet they retain the European experience. Galatasaray were victimized by their efficiency in the first knockout stage, 3-1. These two should engage in a fearsome and spectacular battle that is too hard to call now.
In the UEFA Europa League meanwhile, the quarterfinals matchups drew AZ with Benfica, Olympique Lyonnais with Juventus, FC Basel with Valencia, and FC Porto with Sevilla.
---