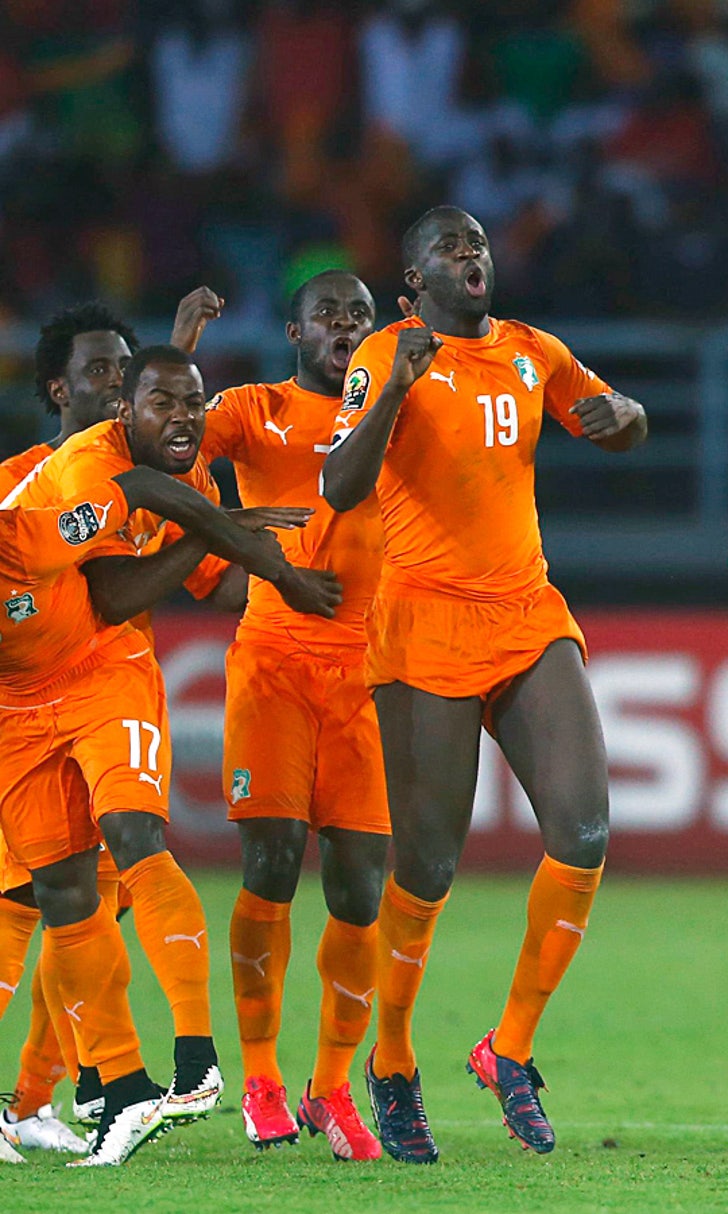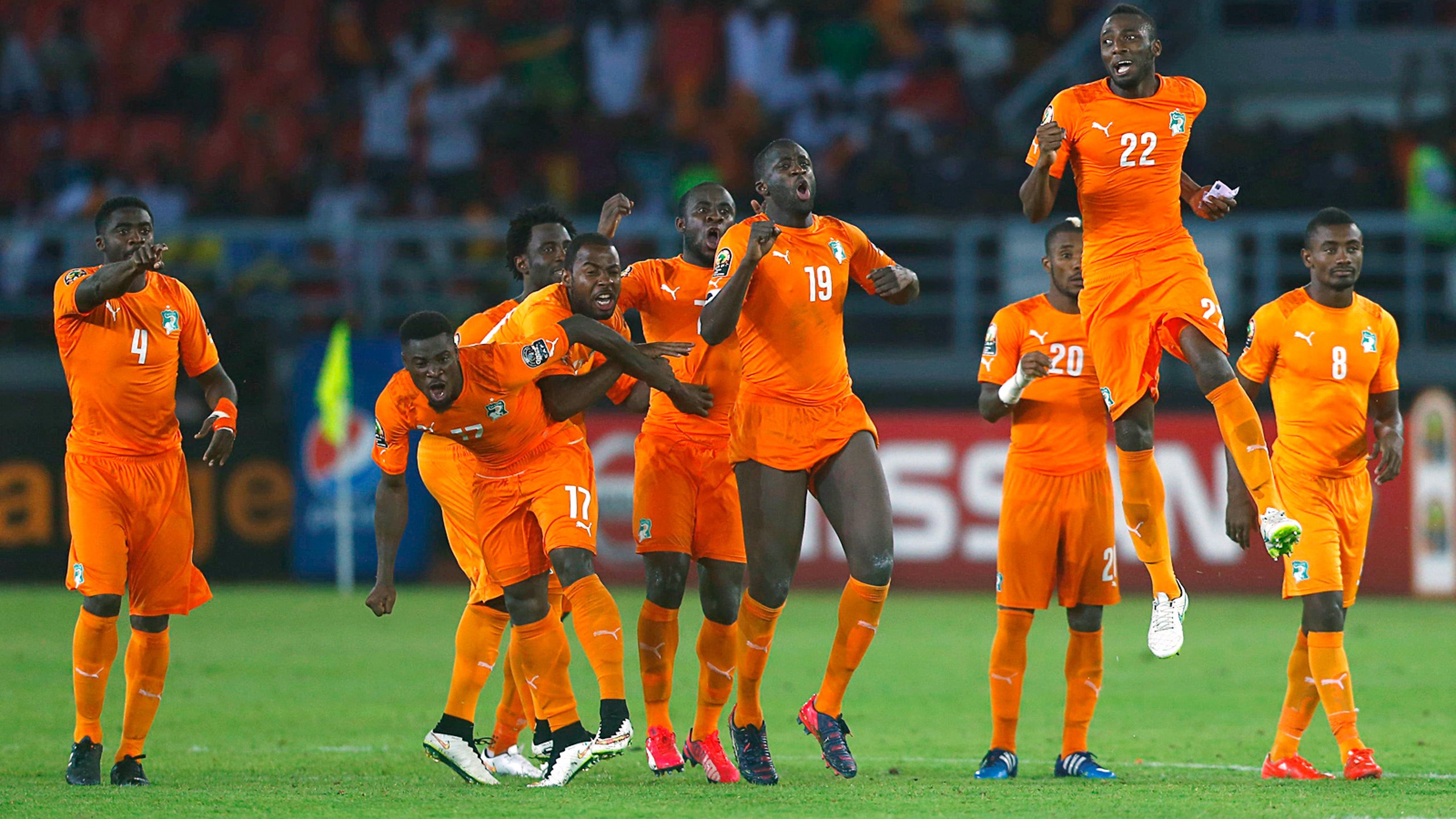 Cote d'Ivoire win African Cup of Nations in extended penalty shootout
BY Jonathan Wilson • February 8, 2015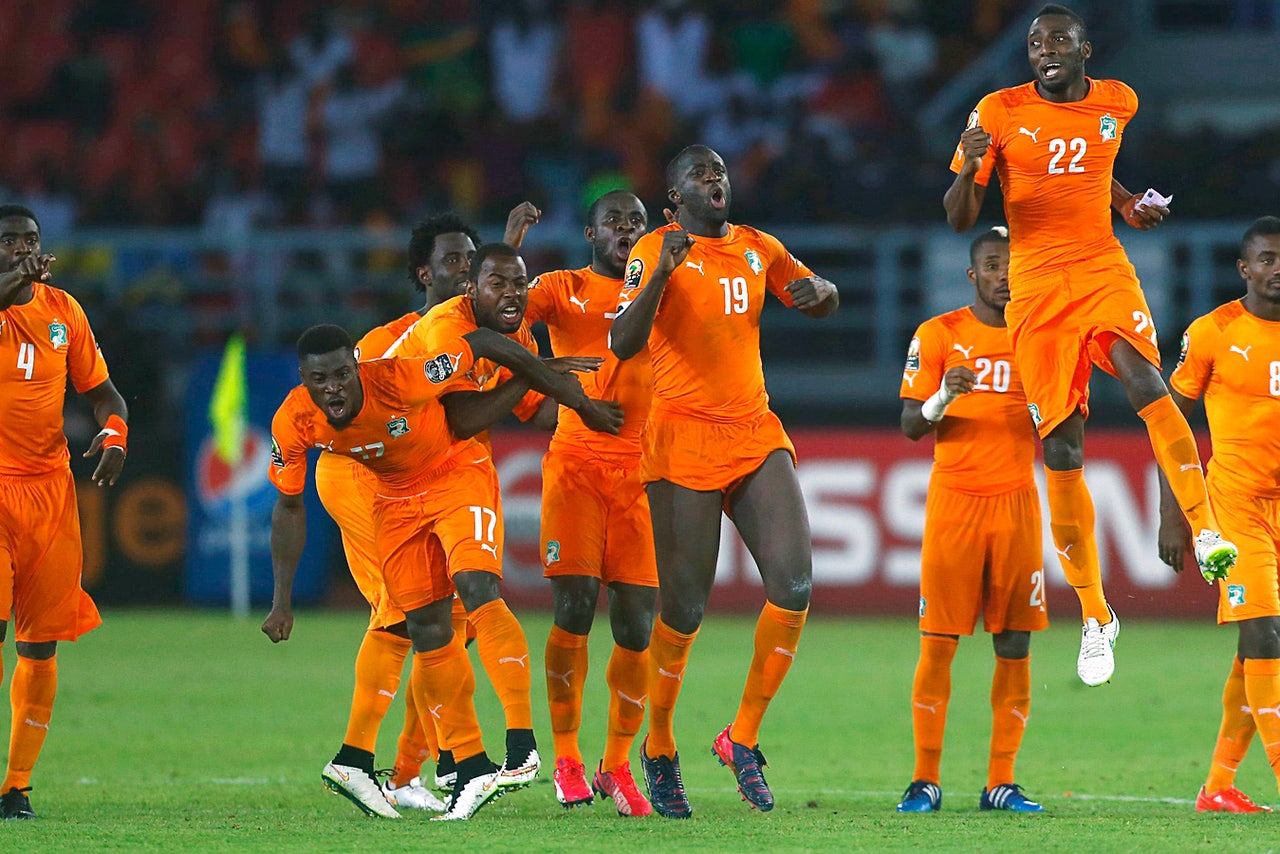 Boubacar Barry the hero. They're implausible words and yet it was the goalkeeper, so mocked over the past decade as the Ivorians have failed again and again to match their billing, who saved two penalties in the shootout and then slotted in the decisive kick. The agony is over, all the near-misses are over and Cote d'Ivoire, for the second time, are African champions.
When they missed their first two kicks, it seemed that for the third time in the past nine years they lost a Cup of Nations final on penalties. Poor Gervinho, who missed the decisive kick three years ago and was subbed off to spare him this time, sat on a chair behind the dugout throughout the shootout, facing away from the action. But there followed a remarkable comeback.
Wilfried Bony hit the bar and Junior Tallo missed the target with the first two Ivorian kicks but then Boubacar Barry saved from Afriyie Acquah and Frank Acheampong put his effort wide. When Seydou Doumbia thumped home his kick, suddenly it was 2-2, at which point it emerged that Barry was suffering cramp. The next 12 kicks were converted -- including one from Kolo Toure, who had missed in the final three years ago -- before Barry saved from the Ghaana keeper Razak Braimah.
On a night that was about the consecration, at last, of Ivorian football's decade of dominance, it was perhaps appropriate that all four players who remain from the squad that lost in the final in Egypt in 2006 started. The Toure brothers and the left wing-back Siaka Tiene have been regulars throughout the tournament, but Barry was selected only after Sylvain Gbohouo, who has looked a significant upgrade, went down with a strained thigh.
Barry is a skittish, nervous figure, a goalkeeper who doesn't so much dominate his box as spread panic liberally about it. Before half-time he had fumbled a cross and miscued a clearance straight to Kwesi Appiah. Barry also has the unfortunate habit of encouraging opponents to shoot, which is just what Christian Atsu did after 25 minutes, his looping shot catching Barry flat-footed and bouncing back of the post.
But he played his part.
Generally speaking, this has been a well-attended Cup of Nations, low prices and the distribution of free tickets meaning that there were a number of sell-outs, but Equatorial Guinea's exit in Thursday's semi-final -- and perhaps the violence that accompanied it -- effectively eliminated local interest. Only a few hundred turned up for Saturday's third place play-off in Malabo, in which DR Congo beat the hosts on penalties, while the largest group of Equatoguineans in the stadium on Sunday was the expanded security presence: paratroopers, soldiers, riot police and stewards. State television didn't even screen the game live.
Even with tickets handed out free outside the ground, the stands remained resolutely empty, although there were two banners insisting that "Equatorial Guinea opposes and condemns violence," presumably a response to the ruling party's demand for its members to redouble their vigilance against the "eternal enemies of peace" whom it had blamed for the trouble at the semi-final.
For those brought in to provide the pre-closing ceremony entertainment, it must have been a thoroughly dispiriting experience as they cavorted and gyrated and bellowed for banks of empty seats. When pitch-side machines began spewing out smoke, it wasn't immediately clear whether it was part of the entertainment or an attempt to control the non-existent crowd.
Both these sides have been content at times over the course of the tournament to sit deep and absorb pressure, looking to strike on the counter-attack. Gervinho, in particular, has excelled at that, his brand of skilled but slightly aimless running ideally suited to the role of linking a deep midfield to a lone front man.
It was Ghana, though, who had come to seem by far the more threatening by half-time. Ten minutes after Atsu hit the post, so too did Dede Ayew, whose father, Abedi Pele, missed the 1992 final between these sides through suspension. Running on to Baba Rahman's clever pass, he may have been trying to cross, the ball screwing off his foot and striking the outside of the upright.
In a bad-tempered first half, both sides should have been down to 10 men. Serey Die, having been booked for planting his studs into the gut of Wakaso Mubarak, was extremely fortunate not to collect a second yellow for a foul on Atsu and then Asamoah Gyan, who was far from fully recovered from his pelvic injury, stamped on Eric Bailly long after the ball had gone.
Bailly was also involved in some pushing and shoving with John Boye in the second half that ended with a half-hearted head-butt from the Ghanaian. It was nothing too serious but in another context it could easily have earned a red card. By then, Ghana were both in control and not looking particularly like scoring. John Boye put a header wide and Wakaso had a shot well-blocked, but by and large its threat came from corners and free-kicks that the Ivorian back three of Kolo Toure, Bailly and Serge Kanon dealt with competently.
Perhaps it was nerves, perhaps it was a lack of imagination, perhaps it was that both sides preferred the other to take the initiative, but the game very early took the shape of a 0-0 draw -- just as Ivory Coast's three previous finals have all gone to penalties after stalemates. A familiar story had a most unfamiliar ending.
---