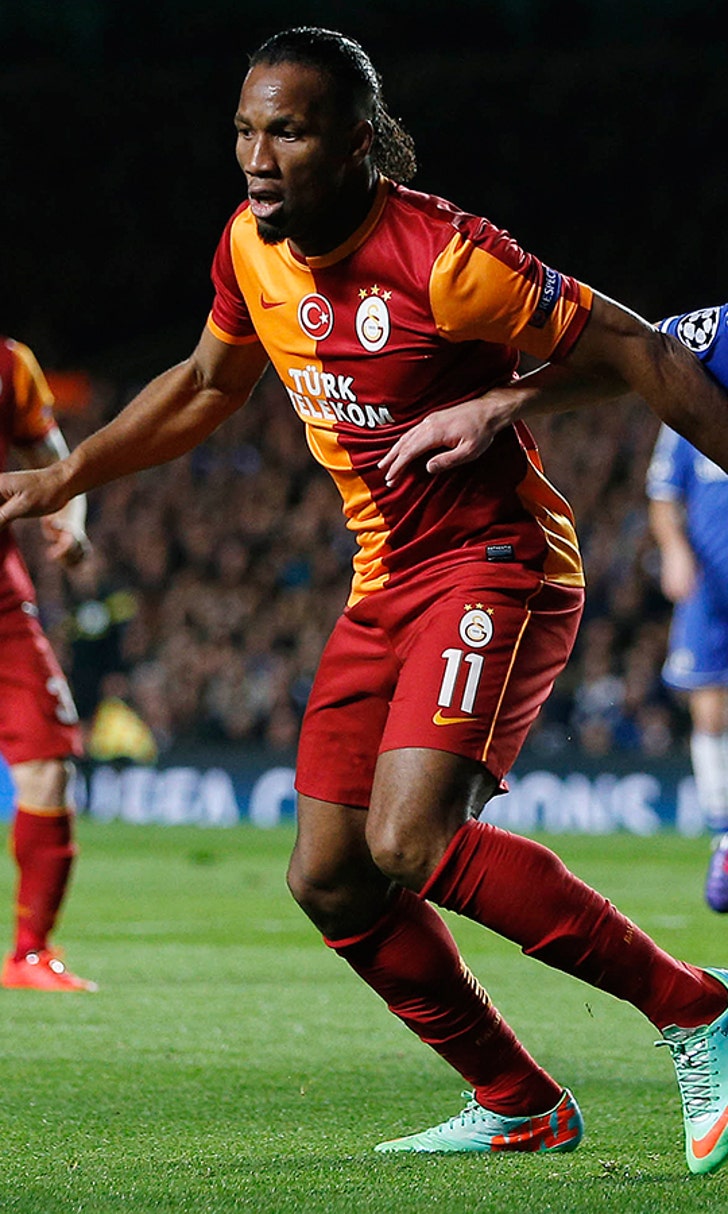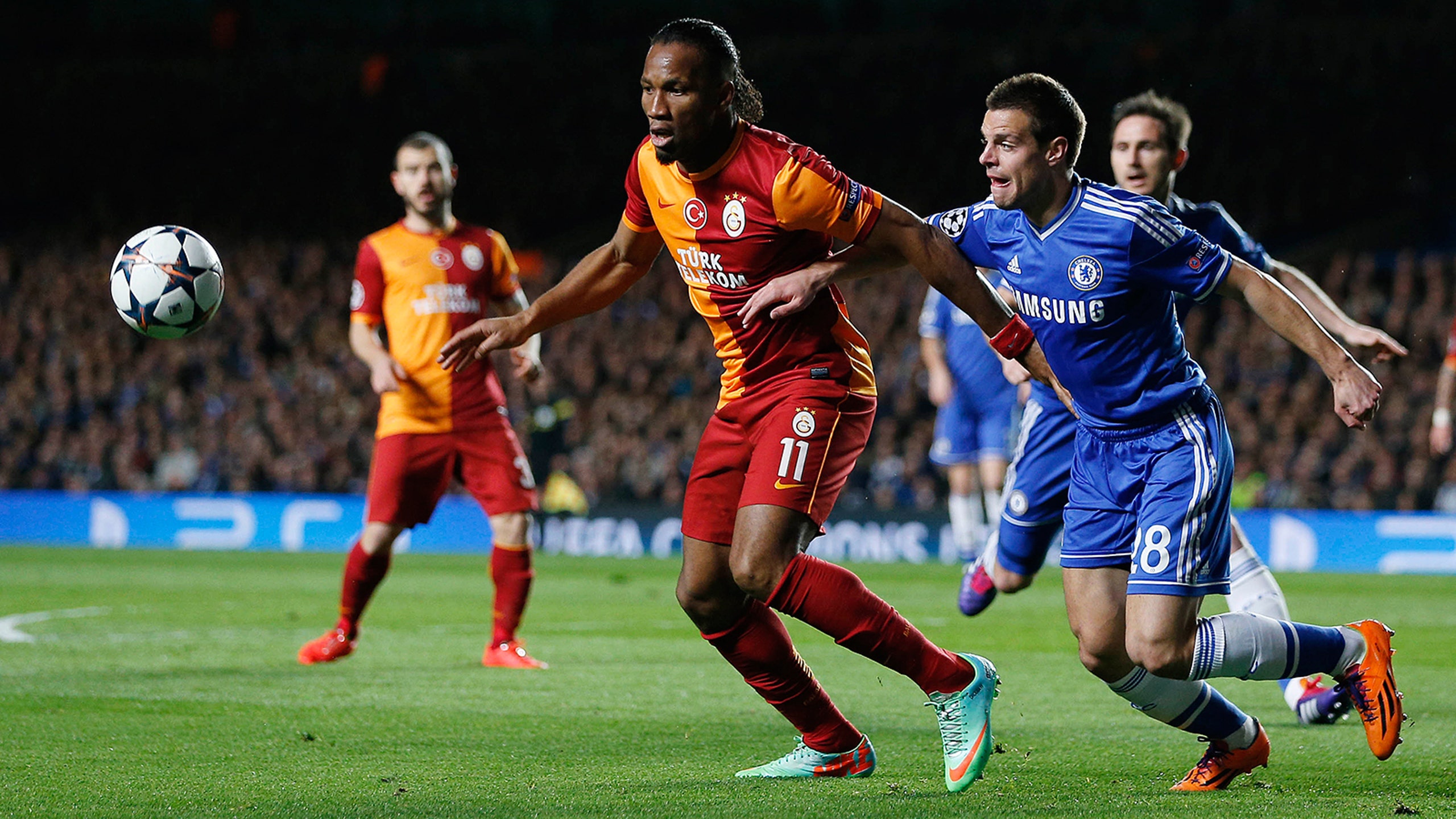 Chelsea rolls into Champions League quarters with win over Galatasaray
BY Jamie Trecker • March 18, 2014
Chelsea eased into the quarterfinals of the Champions League tonight in London with a 2-0 win (3-1 on aggregate) over Galatasaray. The Blues, looking strong and focused, never allowed the Turks into the match and had effectively killed the match by halftime.
In the night's other match, Real Madrid ripped Schalke 3-1, en route to a 9-2 aggregate win. Real's 6-1 first-leg whipping had effectively eliminated the German side before a ball was kicked off tonight.
It took only four minutes for Chelsea to find the mark, with Eden Hazard settling a bouncing ball in midfield off his chest, then turning smartly to feed Oscar wide to his right. Samuel Eto'o was kept on by Emaneul Eboue, and the big striker ran onto the cross to fire through Fernando Muslera. Muslera did not cover himself in glory on the play, but the pace and power with which Chelsea snapped the game open had to be admired.
Gary Cahill sealed the game with a shot into the roof of the net just before the stroke of halftime. John Terry met Frank Lampard's corner with a snap header that Muslera did well to keep out – but no one had his near post covered, and Cahill took full advantage, hoofing the ball into the back of the net before wheeling away and celebrating with a slide on his knees.
In between, there was little to remark upon from the Turkish point of view. Outfoxed by Hazard and Willian in the midfield and unable to find Didier Drogba up top, the Turks were left to chase the game, looking a step slower at every position. Felipe Melo tried to set the tone with a crunching tackle on Oscar early on, but Melo's cleat into the tiny Brazilian's ankle was meant to send a message, it failed. Chelsea simply shrugged past Yekta Kurtulus and Selcuk Inan in midfield, and Buruk Yilmaz was so ineffective at stemming the tide that he was yanked before the hour mark by a dour-looking Roberto Mancini.
Key to the performance was Hazard, who has become the best – and fortuitously for Chelsea, also currently the hottest – player in the Premier League. He may yet prove to be riding a streak, but right now the only way to stop the nimble Belgian is to foul him, something Galatasaray did early and often. The problem is that Hazard seems able to shrug off even the most crunching tackles, popping right back up after being poleaxed, and going on yet another terrorizing run. Tonight, he was at the center of virtually every play, dragging the Turks' back line to and fro and retreating back to collect when he didn't have the ball.
That sense of position combined with his natural turn of foot allowed Eto'o to range forward, unconcerned about service. Time and time again, Hazard and Oscar combined to draw Galatasaray's defenders forward, allowing someone in a blue shirt to run right behind them. John Terry nearly capitalized on this tendency off a first-half free kick when he nearly volleyed home Oscar's service only to see it just fly over the bar.
In truth, Chelsea might have had three or four more. Willian and Hazard were both well-denied by Muslera; Lampard was unlucky twice and Oscar might have scored had his shot not been blocked.
And then there was Fernando Torres. In a move that summed up both the best and worst of the night, the substitute was well set-up by a cheeky backheel from Hazard – only to fire it right at the hapless Muslera. The ball bounded out of play, Torres looked aghast – and Hazard looked again like a magician.
Chelsea awaits their next opponents, to be revealed on Friday in the Champions League draw. They may well prove to be the last English side left alive in the top-tier European competition, given Manchester United's tough task against Olympiakos on Wednesday. If that proves to be the case, at least the Premiership's lone representative can be said to be a tough and wily side.
They may grit out games in England with more sinew than style, but Jose Mourinho's men know how to win games. Tonight, they put Galatasaray to the sword.
---