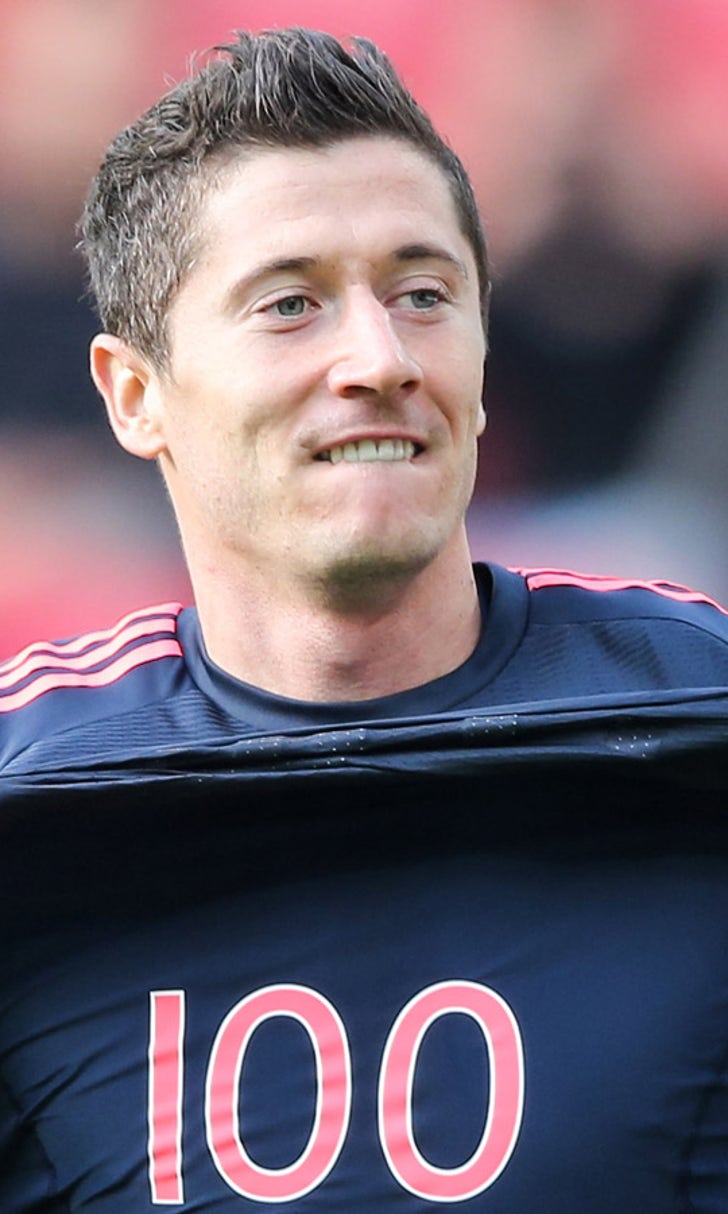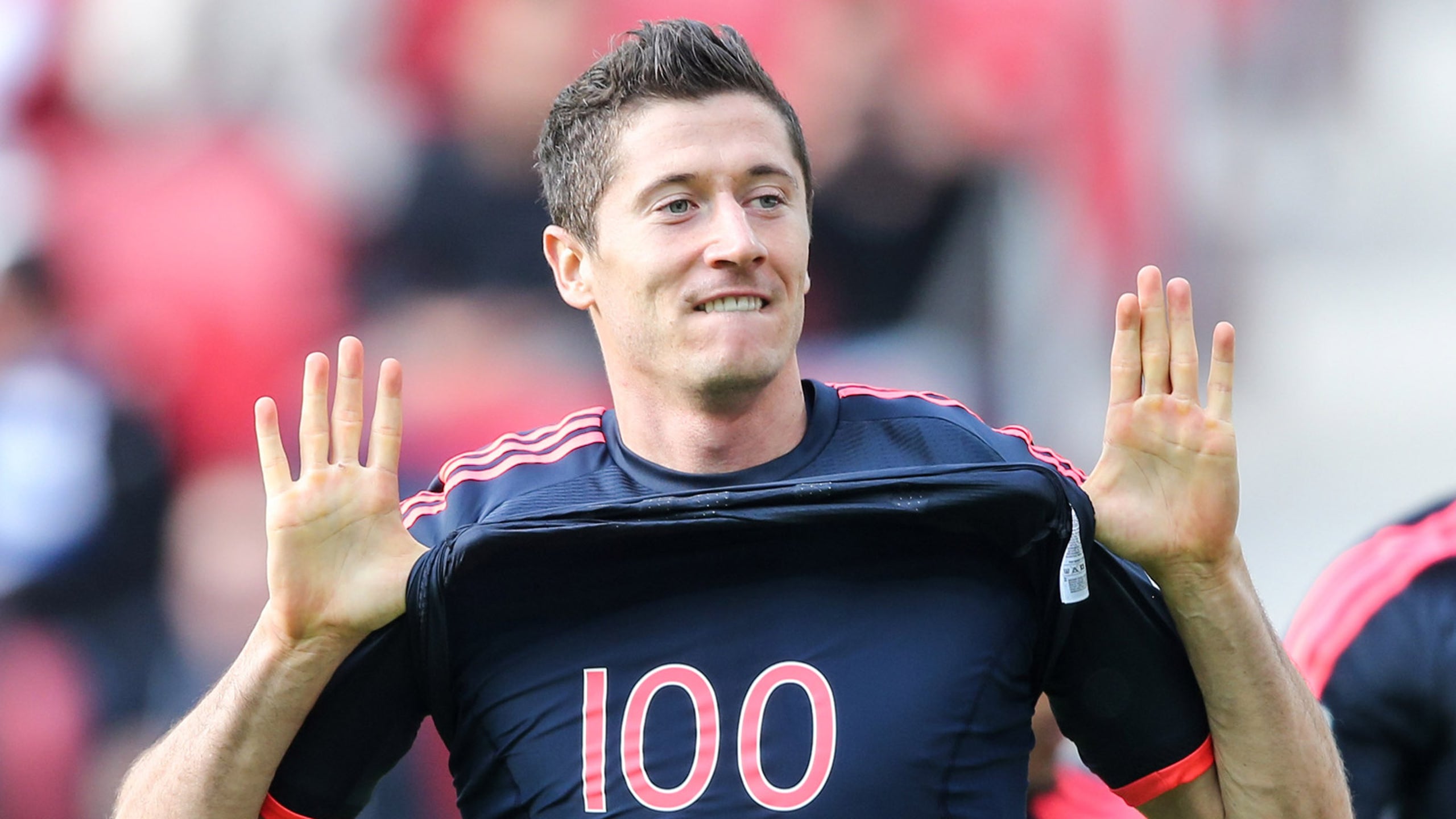 Can Lewandowski be stopped on his path to immortality?
BY Ross Dunbar • September 28, 2015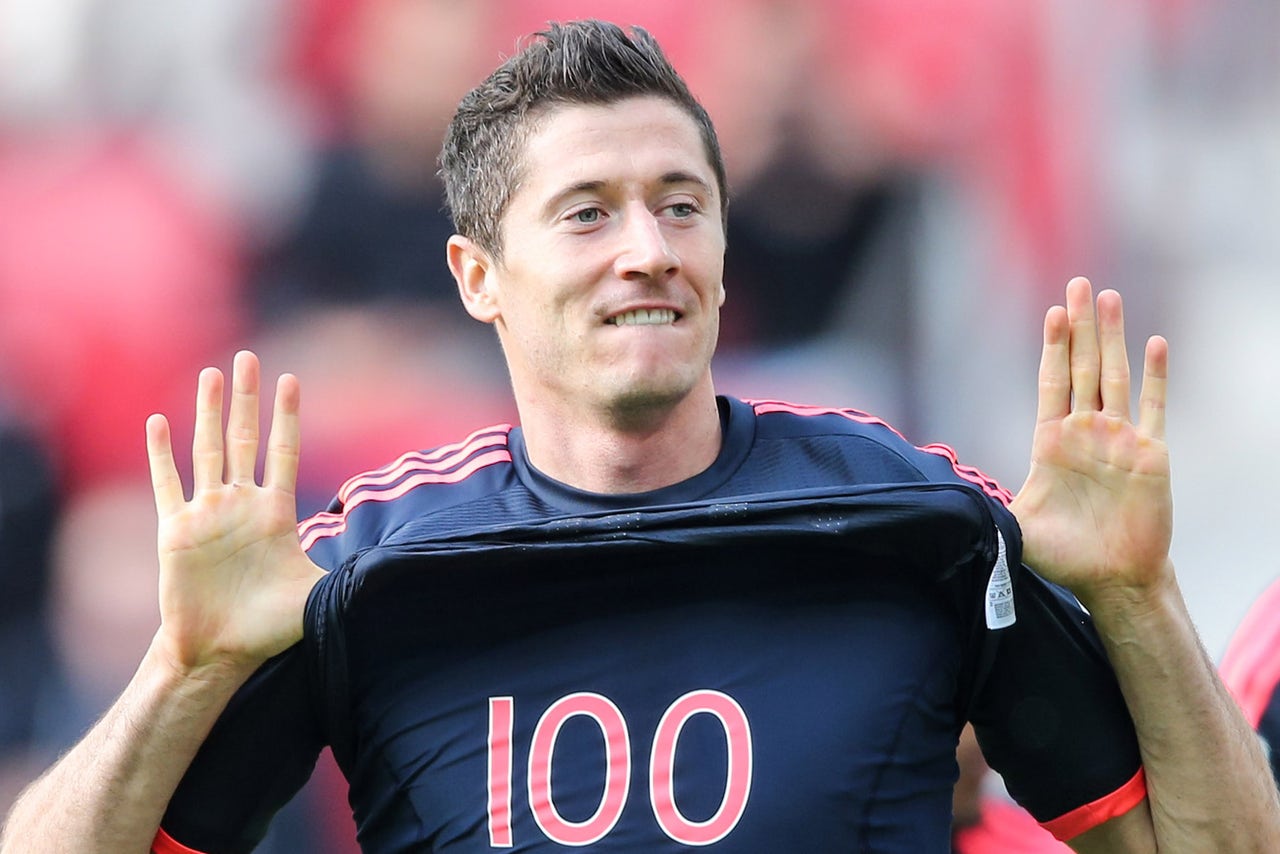 MUNICH --
It took just nine minutes for Robert Lewandowski to annihilate almost every scoring record in the book. In one magical spell last weekend, the Bayern Munich striker became the first player to score five off the bench; scored the quickest hat-trick and was the fastest to four and five goals in one match.
Another two goals in the 3-0 win over Mainz this past Saturday took Lewandowski beyond 100 Bundesliga goals – making him the fastest foreign player to do so. This season, he has scrubbed off Gerd Müller's record of being the fastest player to 10 goals and for the Polish national team, he scored the quickest hat-trick in qualifying history against Georgia in June.
There appears to be no stopping Lewandowski. "Looking at his game now, you can't not compare it with Lionel Messi and Cristiano Ronaldo," wrote one German publication this week. If Lewandowski continues at this current pace, he will more than certainly match perhaps the most iconic record at Bayern Munich: the 40 goals in one season that 'Der Bomber' Müller scored in the 1971/72 season.
As his stock rises, Lewandowski remains a pivotal figure in Polish sporting culture. The interest in the player regularly reaches fever-pitch with features on Lewandowski's diet, his marketing potential and what the major European media outlets are saying about him on an almost weekly basis. 
One article in the Polish media this week maintains the player is heading towards immortality at Bayern Munich. Given the rapid evolution of the game, perhaps there's even an argument for Lewandowski being one of the most talented players to ever don the famous red shirt in Munich.
Lewandowski is no different to the game's other global icons and the center-forward is big business both internationally and in Poland. The 27-year-old has a contract with giants Nike until 2020 and has been the face of brands such as Gillette and Coca-Cola. He was on the front cover of leading computer games FIFA14 and 15.
That's before you take into account the plethora of advertising contracts he has in his homeland which are believed to be worth several million dollars per year. Lewandowski, born in the capital Warsaw, hails from a sporting family -- his parents were successful athletes in judo and volleyball -- and his success at one of the top sides in Europe has captivated his home audience.
The talented hitman was shining in the second division at Znicz where scouts in the top-flight were beginning to take notice.
"Miroslaw Trzeciak, Legia's sporting director, once a striker himself, said that 'we don't need Lewandowski, we have Arruabarena,'" Polish sports journalist Michal Zachondy told Fox Soccer. "I think he went on to score one or two goals in Poland. But that was when Legia had a chance to buy him from Znicz."
Legia passed up the opportunity – and the rest is history. Lewandowski won Poland's top division and the national Cup in two seasons at Lech Poznan and left the club with scoring rate of exactly one in two. He might have then moved to England, but it is alleged that the ash cloud that hung over Iceland due to volcanic eruptions in 2010 prevented the striker from signing for Blackburn Rovers. He joined Borussia Dortmund instead for a fee of $5 million.
Lewandowski needed several months to adjust to Jürgen Klopp's high-octane playing style and while the starting slot was filled by Lucas Barrios, the Pole occupied a No.10 slot due to absence of Shinji Kagawa. Barrios' injury at the Copa America handed Lewandowski the starting berth and struck 22 times in his first season, helping Dortmund to the title.
A tally of 64 goals in 96 games over two seasons helped affirm his status as Europe's best center-forward. The performance against Real Madrid in the Champions League, however, where he scored four times, made Europe's elite clubs sit up and notice. The move to Bayern Munich required patience to adapt to such a high-pressure environment.
After a few months of bedding in, Lewandowski has really come into his own. The complete elements – scoring, combination play and movement - to his game are more visible than ever under Pep Guardiola who values his ability to play, essentially, anywhere. His remarkable drive for success has single-handily bulldozed opponents this season as Bayern remains unbeaten after seven matches.
"The most impressive thing is that he is developing with every season," adds Zachodny who has tracked the striker since his days in the Polish lower leagues. "He is 27. I think and I cannot remember a year in which he has not added something to his game."
Crowned Polish Footballer of the Year for the last four prizes, the biggest team prize has still evaded him: the Champions League. He appeared in the 2013 final for Borussia Dortmund against his current employers, but has fallen at the last hurdle in the last two seasons against Real Madrid and Barcelona.
In his current form, only a fool would dismiss the Poland striker firing Bayern Munich to the final this year and in the process, breaking Gerd Müller's sensational Bundesliga feat from 43 years ago which has stood untouched ever since.
---
---