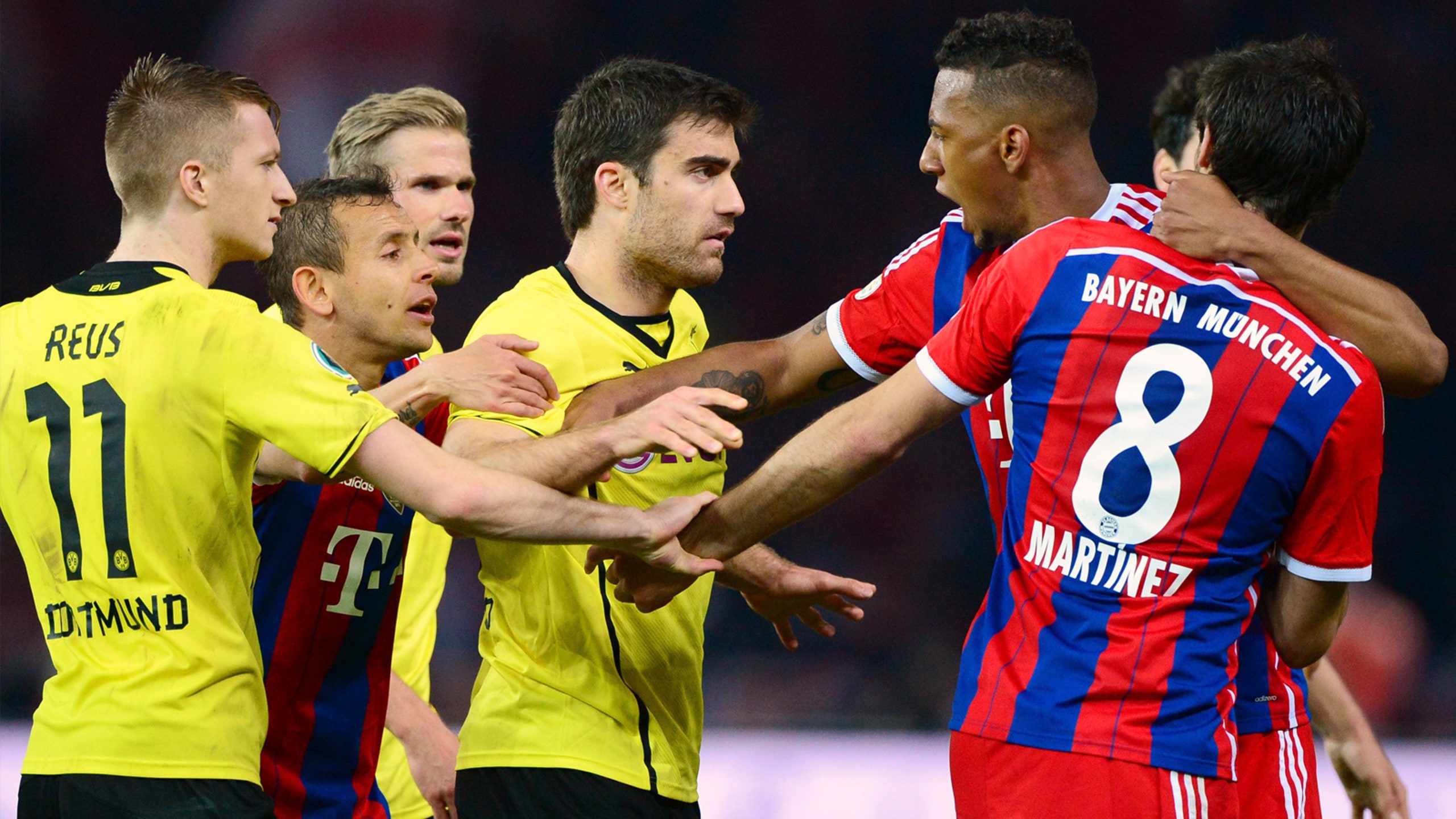 Bayern Munich-Dortmund rivalry kicks back up at German Super Cup
BY Thomas Hautmann • August 12, 2014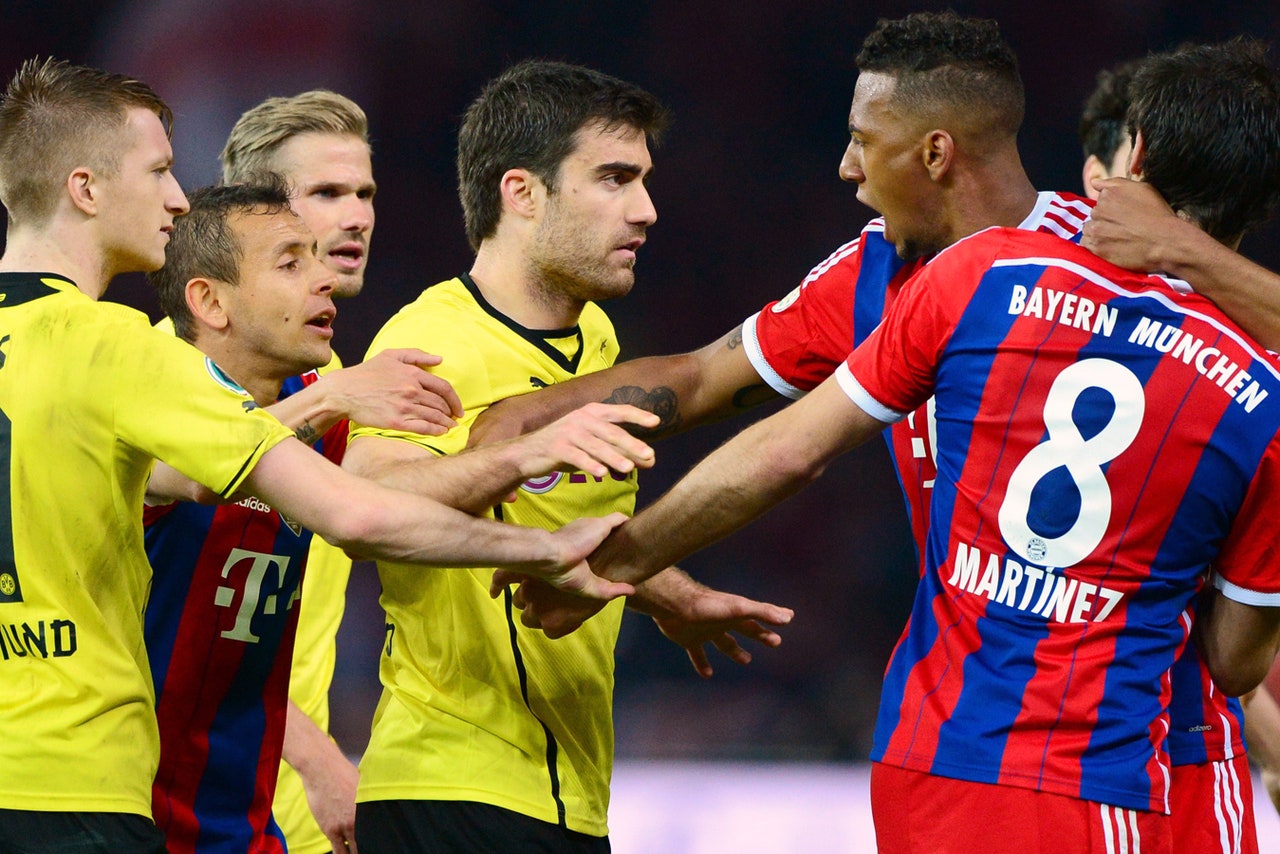 DUSSELDORF --
They were singing and dancing together just four weeks ago in Berlin. Philipp Lahm and Mats Hummels, Manuel Neuer and Roman Weidenfeller, Bastian Schweinsteiger and Kevin Grosskreutz -- the stars of Bayern Munich and Borussia Dortmund celebrated Germany's fourth World Cup with over 250,000 ecstatic fans in the streets of the capitol.
It was the happy end to a summer fairy tale even the Grimm Brothers would have applauded. Bayern and Dortmund, arm in arm, the toast of a nation, the best of friends.
Yeah, right.
It didn't take long for the second Sommermärchen to give way to renewed hostilities between these bitter rivals. Just two days after the victory parade, a video emerged of Schweinsteiger chanting a profane and popular anti-BVB song at a private party. The Bayern midfielder apologized later, citing his good friendships he developed in Brazil.
Bayern chief executive Karl-Heinz Rummenigge, as he is wont to do, then prodded his adversaries into another round of verbal fisticuffs by openly and repeatedly speculating on the availability of Marco Reus. Reus, the star winger who tragically had his World Cup hopes dashed at the final moment, is understood to have a release clause that could see him leave Dortmund next summer for roughly $46 million. Rummenigge claims to know better, telling Sport Bild last week that the clause is actually believed to be $33 million, which would be an intriguing bargain for Bayern, to say the least.
Dortmund chief Hans-Joachim Watzke, not surprisingly, was furious.
"Borussia Dortmund registers with a certain degree of annoyance that Karl-Heinz Rummenigge has been discussing internal BVB affairs through the media every three days," Watzke responded in an official statement posted to the team website. "Anyone who's interested in football knows, what motives lie behind those statements."
The club's sporting director, Michael Zorc, was a little less diplomatic. "It would be nice," said Zorc, "if [Rummenigge] would just shut up for once."
Indeed, Rummenigge seems to relish every opportunity to make his rivals seethe -- not to mention stealing their most desirable assets. Should Bayern indeed make a run at Reus, as you would infer -- they tried two years earlier, but Reus opted for his boyhood club instead -- it would mark the third key Dortmund star in three years that Bayern have been able to poach. That's of course after Mario Goetze, now a national hero, and Robert Lewandowski, the reigning Golden Boot winner.
Like it or not, the Reus rumor will likely hover over Jurgen Klopp's team all season long, and the heated back-and-forth has only added to the intrigue of Wednesday's Super Cup in Dortmund. Reus, who scored twice in last year's 4-2 win over Bayern, is still injured and will miss the match. Several more key stars from both teams will also pass, still struggling to get their legs back after a long summer.
But one who will suit up is Lewandowski, who should receive a warmer reception from the Yellow Wall than Goetze did last November. Still, the Polish target man, a goal waiting to happen, has embraced his new role within the feud.
"I think we need this rivalry," Lewandowski told Sport Bild. "It's part of football. When you have competition like this, you rile each other up and push each other to be even better. I'm not against it, if there's fire in these matches. We need this trouble with BVB -- but after the match we shake hands, and everything is okay."
Bayern goalkeeper Neuer, recently named Germany's Footballer of the Year for the second time, agrees.
"There are no friendly matches, when Bayern and Dortmund play. I've gotten to know some of them better in Brazil. But on the field, it's still a rivalry."
It's only been four weeks, but the parade in Berlin seems an eternity ago. Dortmund and Bayern: It's on again.
---