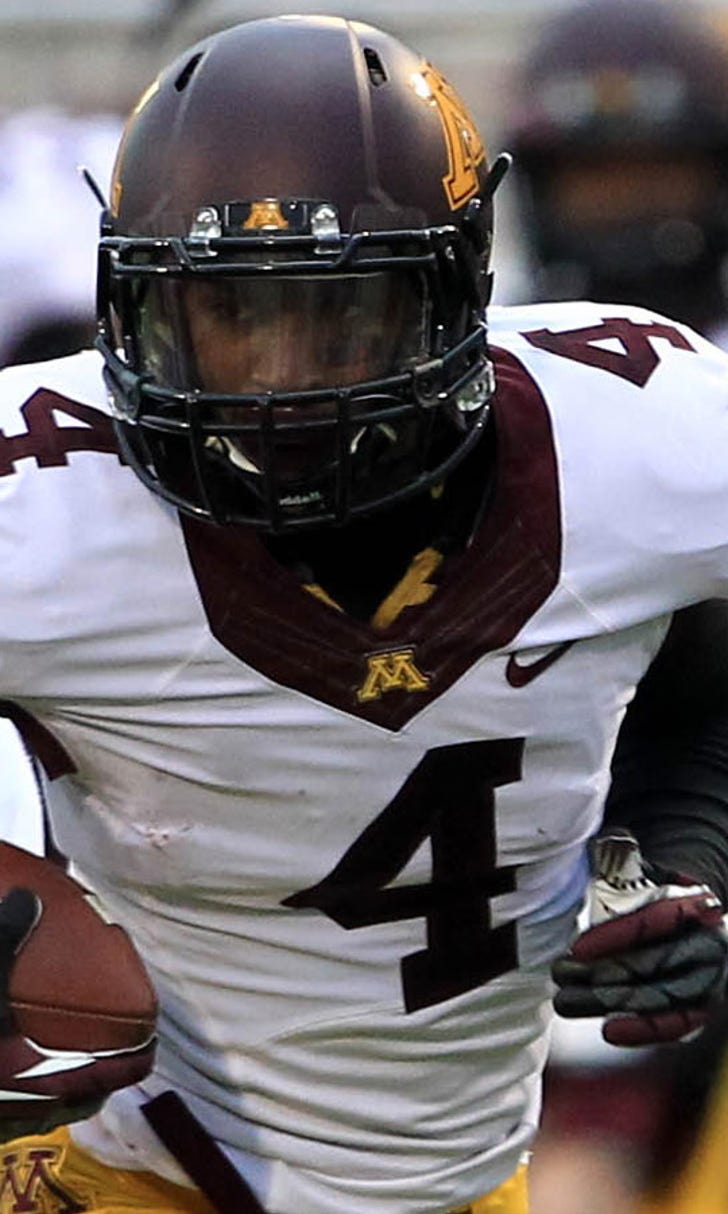 Younger Gophers have chance to shine in Texas Bowl
BY foxsports • December 17, 2013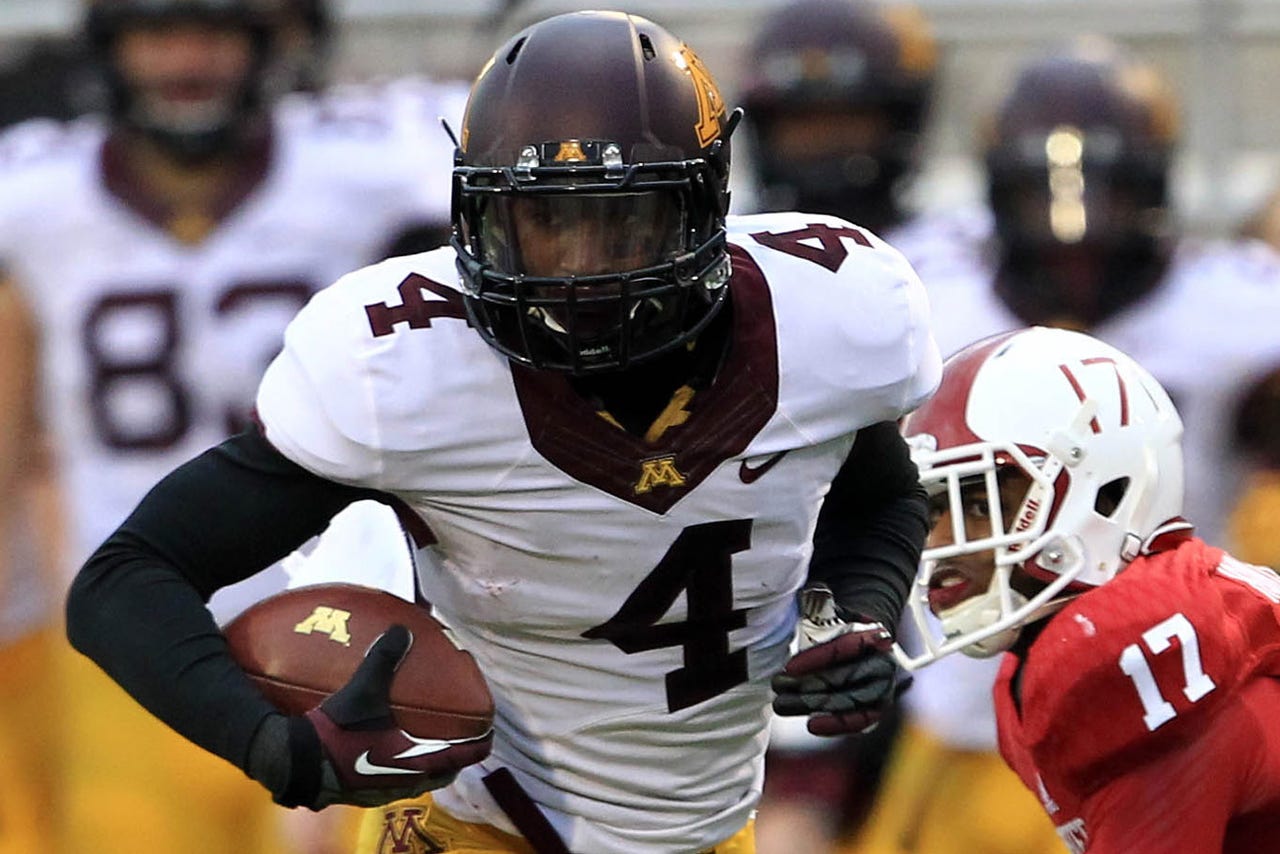 MINNEAPOLIS -- Young players such as cornerback Eric
Murray emerged for the Gophers last year in Minnesota's bowl game. One year
later, a similar scenario could play later this month in the Texas Bowl.
This Gophers team is still very young, but Minnesota has
seen increased contributions from its underclassmen. On the defensive side of
the ball, the matchup with Syracuse could be an opportunity for players like
cornerback Jalen Myrick, a true freshman who saw his playing time increase as
the season went on.
"We're going to play a one-back team that's going to
spread it out. I think there is an opportunity there for some young kids,"
said Gophers defensive coordinator and acting head coach Tracy Claeys.
"Jalen Myrick, there at the end of Michigan State (someone) got hurt, (we)
throw him in there and he did a hell of a job. All of a sudden he picks up
confidence. There will be somebody. I don't know who it is."
Offensively, the Gophers may need to lean on two more
freshmen in wide receivers Donovahn Jones and Drew Wolitarsky. Minnesota will
be without wide receiver Derrick Engel in the bowl game, as Engel -- the
Gophers' leading receiver -- had season-ending surgery to repair a torn ACL.
Both Wolitarsky and Jones have gained confidence and
additional playing time in recent games and finished the regular season third
and fifth overall, respectively, for total receiving yards. Wolitarsky caught
11 passes for 165 yards while Jones made 10 catches for 157 yards.
Head coach Jerry Kill knows his young receivers will only
continue to get better, and the Texas Bowl could be a springboard for both of
them heading into their sophomore seasons.
"(Jones) keeps getting bigger. He looks really good
right now. There's no substitute for maturity," Kill said. "The
maturity of playing the game at this speed and level is a good thing. They'll
get better. I expect them to get better in the bowl game. I think Donovan and
Drew, Drew's 225 pounds right now. I expect him to be better. I want him to be
better when we play in the bowl game."
Another underclassmen who could shine against Syracuse is
sophomore defensive end Theiren Cockran, who started all 12 games for Minnesota
this year. He led the team with 7.5 sacks and was second with 10 tackles for
loss, trailing only senior Ra'Shede Hageman.
Cockran's accomplishments have flown under the radar a bit
as he's played next to Hageman. The bowl game could be Cockran's chance to make
a name for himself.
"Our future's very good when you've got guys like that
as a sophomore. We've got a lot of good young players right now, so we're
definitely excited," Kill said. "For him to get that attention this
early, it's good for him. He's not as big as he's going to get, either. He's
still mature. It's really scary how good he's going to be."
Heisman finalist will visit Gophers: During his three
years at Minnesota, Kill has often spoken highly of his former quarterback at
Northern Illinois, Jordan Lynch. The Huskies senior recently finished third in
the Heisman Trophy voting after compiling 45 total touchdowns in 2013 -- 23
through the air, 22 on the ground.
Kill said this past weekend that he plans to have Lynch come
speak to the Gophers at some point after the season is over. Lynch didn't play
much as a freshman under Kill at NIU, passing just six times as Chandler
Harnish received most of the snaps at quarterback. But Lynch did run the ball
31 times in 2010 for 362 yards and three touchdowns.
Lynch finished the 2013 season with 274 carries for 1,881
yards -- second-most among all FBS players.
"It's one of those things where Jordan is so good is
the mental part. He's tough. To carry the ball that many times and not get
injured and all that, the mental toughness is what's special about him,"
Kill said. "There's no question he's a good one for our guys to talk to.
The bottom line is he's a Heisman trophy guy up there. I'd listen."
Nelson not limited in practice: Gophers sophomore
quarterback Philip Nelson left Minnesota's final game of the regular season
against Michigan State after failing the concussion test. He was replaced by
redshirt freshman Mitch Leidner for the remainder of the game.
Yet despite that injury suffered Nov. 30, Nelson has fully participated
in the Gophers' bowl practices the last few weeks.
"We practiced last week for three days and he was full
go," Kill said Friday.
Nelson finished that game against the Spartans by completing
just six of 18 passes before suffering the injury. For the year, the sophomore
from Mankato was 92-for-179 (51.4 percent) for 1,288 yards passing with nine
passing touchdowns and six interceptions. He also ran for 350 yards and six
touchdowns.
---