Young has great all-around game in Royals' big win in Milwaukee
BY foxsports • June 16, 2015
Both times, Chris Young tipped his lid toward his teammates. The gesture is normally reserved for saluting Kansas City's stellar defense. But during Kansas City's 7-2 win over Milwaukee on Tuesday, Young was just acknowledging his own accomplishments.
Young cracked two hits and collected three RBIs at the plate and twirled seven shutout innings on the mound to lead the Royals to their second straight win. Kansas City now leads the American League Central by a season-high 3 1/2 games.
Young became the first Royals pitcher with three RBIs in a game since Steve Busby in 1972. His three RBIs are the most for an AL pitcher in a full season since Felix Hernandez had four in 2008. Young also became the first Royals starter to throw at least seven shutout innings and also record three-plus RBIs.
On the mound, Young allowed just five hits and steered clear of pressure until the seventh inning, his last. With one out, he gave up a double and a single. But Young struck out Jean Segura and Shane Peterson to end his night.
All nine starters had hits Tuesday as Kansas City banged 17 hits, tied for the second most this season. Five Royals had multi-hit games.
3 UP
• Power surge continues. Kansas City blasted two more home runs Tuesday night, extending a nice stretch of power for the Royals. With Lorenzo Cain's two-run homer in the first and Mike Moustakas' solo shot in the seventh, Kansas City now has 10 home runs in its past nine games.
It was just the second time in Cain's career that he has homered in back-to-back games. He has just 23 career homers. For Moustakas, it was just his second home run in the last 28 games. Five different Royals have gone deep over the last nine games, led by Salvador Perez's four homers.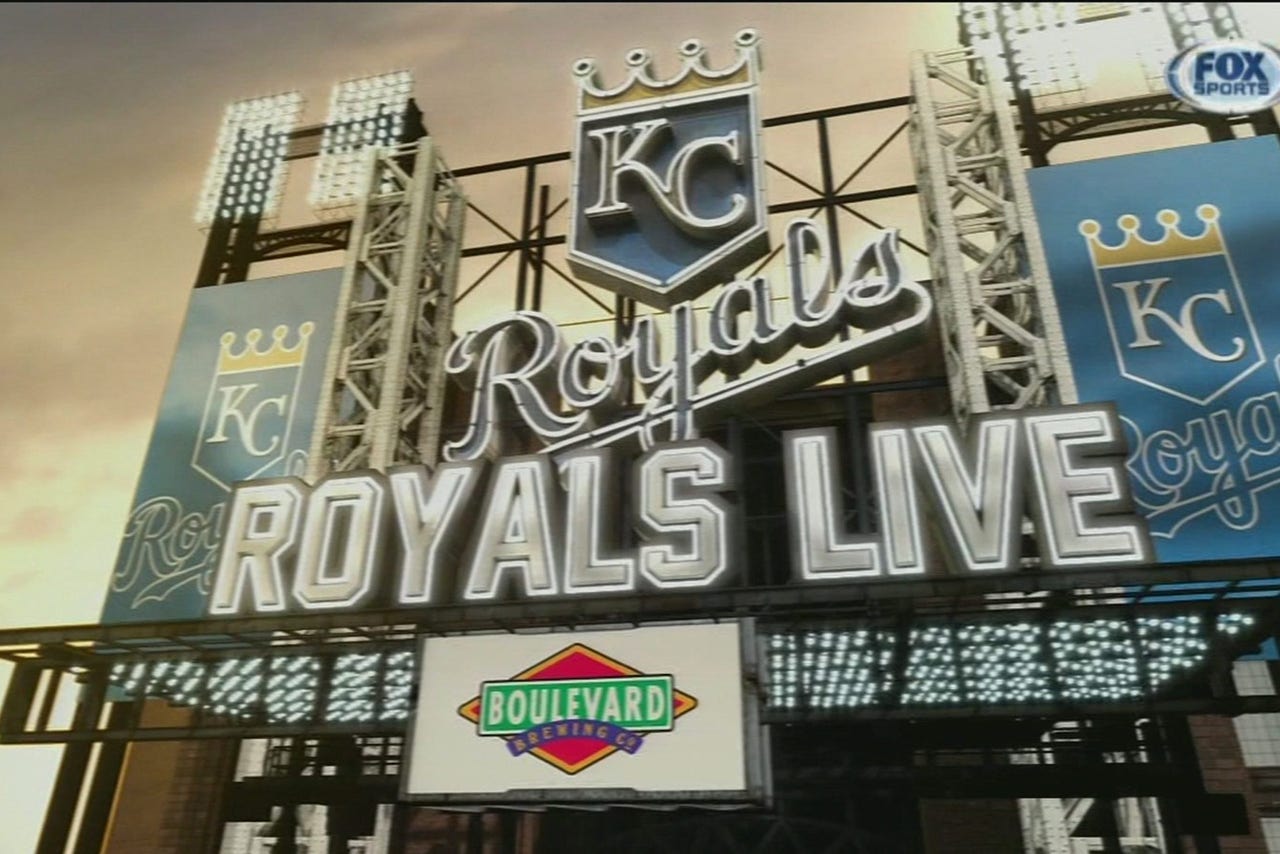 Watch the Royals Live pregame and postgame shows before and after every Kansas City Royals game on FOX Sports Kansas City.
• Robbery at the wall. Cain also hurt the Brewers with his glove. In the third inning, Cain leaped at the fence to snag Jonathan Lucroy's drive to center. The catch stranded runners at the corners for Milwaukee and saved at least one run.
After the catch, Cain appeared to grab at his back, possibly injuring it while bumping up against the padded blue wall of Miller Park. He departed in the eighth inning.
• 7-8-9 production. The bottom third of the lineup, occupied by the struggling Alex Rios and Omar Infante along with Young, churned out seven of the Royals' 17 hits Tuesday. It also scored three runs and drove in four.
Rios, who had four total hits entering Milwaukee since returning from the DL, has three in his past two games. Infante, the newly slated All-Star starter, has five hits in the past two games. Jarrod Dyson pinch hit for Young in the eighth inning and roped an RBI triple.
3 DOWN
• Herrera hit around. Kelvin Herrera, Kansas City's typical seventh-inning reliever, entered in Tuesday's eighth inning and allowed the first run of the game. The first three Brewers recorded hits against Herrera, but he struck out Ryan Braun and coaxed Adam Lind into an inning-ending double play.
It was just Herrera's second appearance in the past seven days and came one night after closer Greg Holland struggled (didn't record an out and allowed three runs) following a long layoff.
• A bad first bounce. On the game's first play, Kansas City suffered a pinch of misfortune. Alcides Escobar turned on a Matt Garza pitch and shot it down the third-base line. Escobar immediately made the turn to second base, but the ball caromed off the wall in foul territory.
It rebounded straight to left fielder Shane Peterson, who threw out Escobar at second base on a two-bounce throw. That out cost the Royals a run when Cain went deep two batters later.
• Young bunting. Young had plenty of success at the plate Tuesday, but it wasn't all perfect. In the second inning, he attempted to sacrifice bunt runners over to second and third. But Young's bunt was too hard and right at third baseman Aramis Ramirez. Ramirez turned and retired Alex Gordon at third base. The play went as a fielder's choice.
WHAT'S NEXT
The Royals return to Kauffman Stadium after a seven-game road trip that saw them go 5-2 against the Twins, Cardinals and Brewers. Milwaukee will follow the Royals back to Kansas City to open a two-game series. The Brewers have lost three games in a row.
Right-hander Joe Blanton will make his first start of the season, taking Jason Vargas' spot in the rotation. Blanton's spot was moved up from Friday to give Yordano Ventura additional time to recover from a hand injury. Blanton has largely served in mop-up duty for the Royals this season, appearing seven times and owning a 1.80 ERA.
Right-hander Mike Fiers will oppose Blanton. Fiers (3-6, 4.04) is coming off his longest outing of the season, when he went seven innings in a win over Washington. Fiers has not faced any Royals other than Infante and Rios -- who are a combined 0 for 6 against him.
You can follow Matthew DeFranks on Twitter at @MDeFranks or email him at matthew.defranks@gmail.com.
---