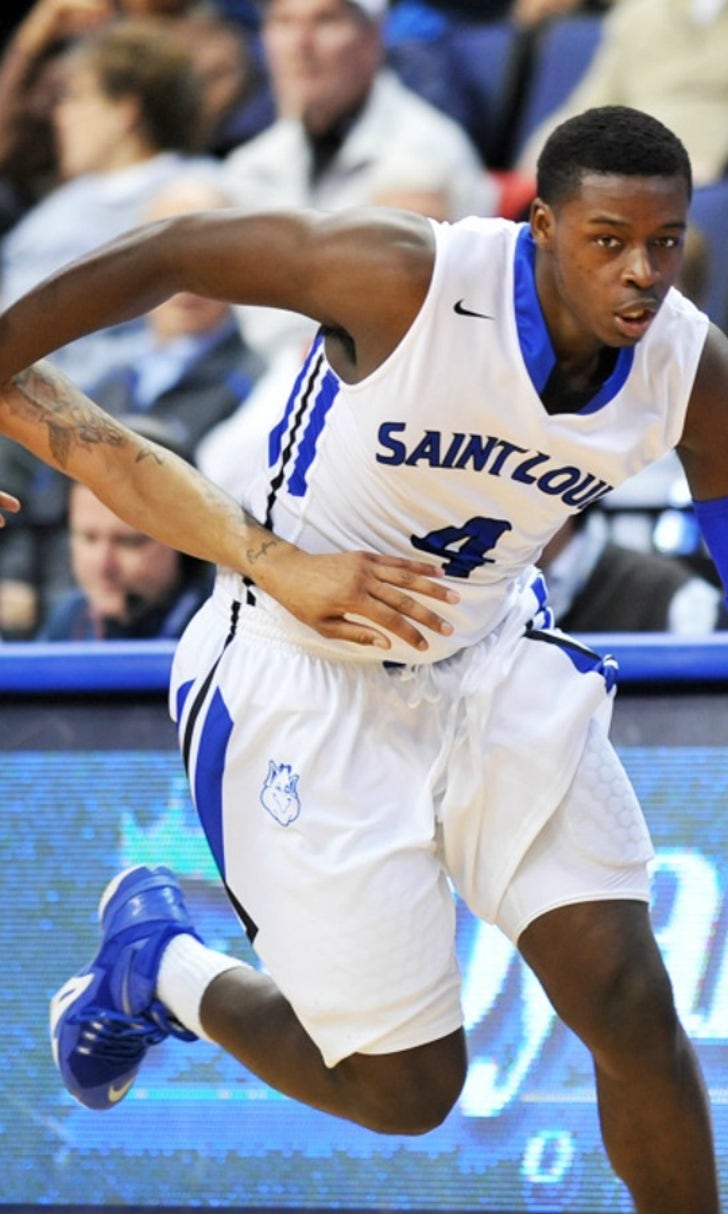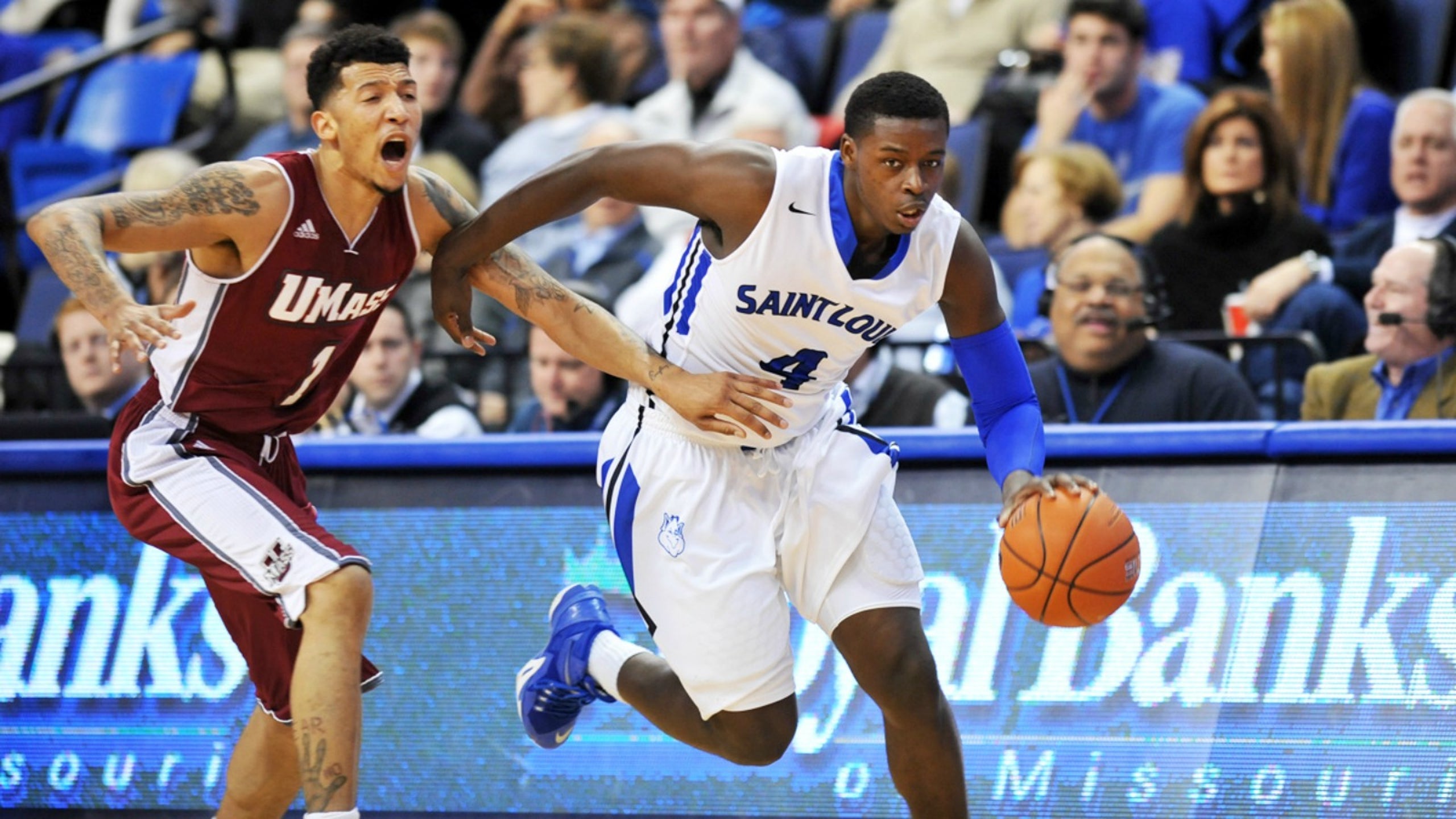 Young Billikens gathering momentum, but can't catch a break in narrow defeat
BY foxsports • January 31, 2015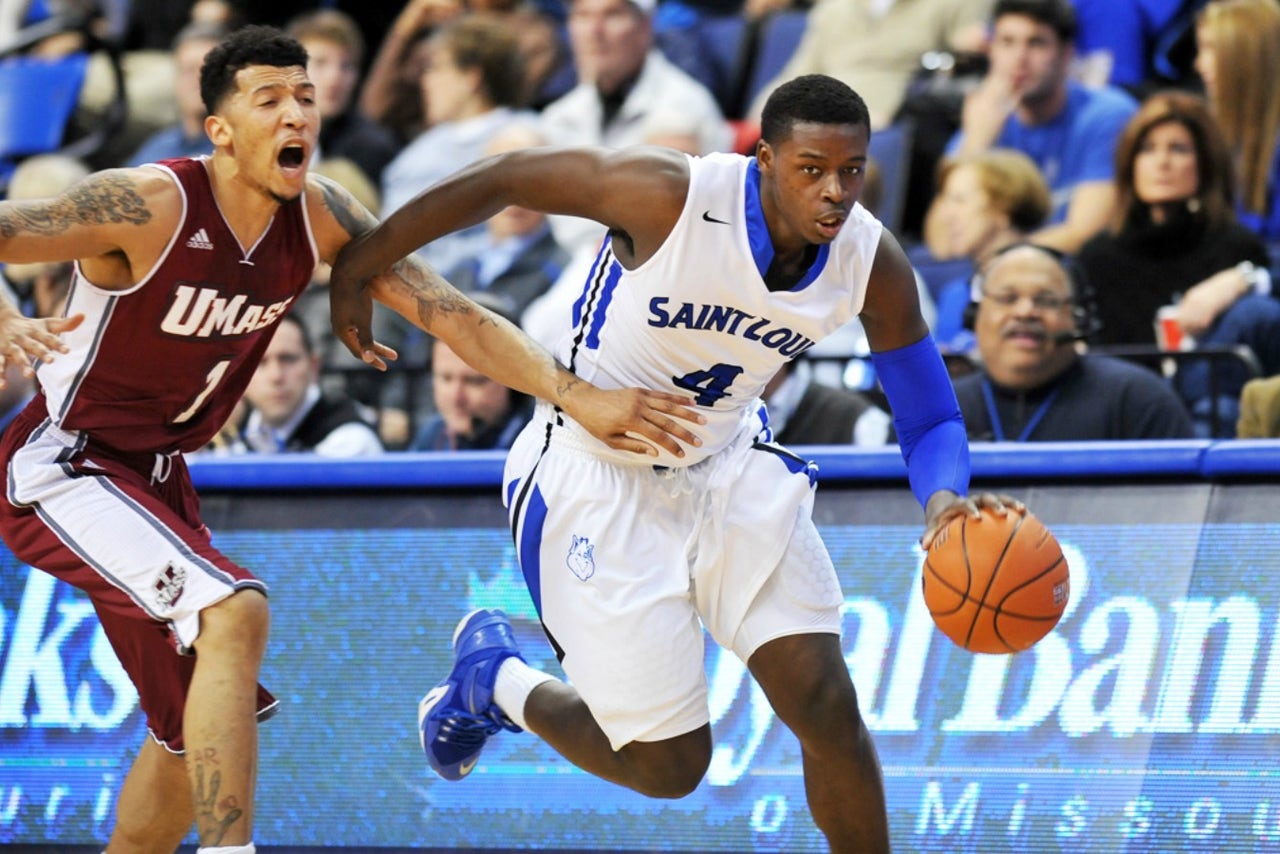 ST. LOUIS -- To lose eight of nine games requires the ball to do a lot of bouncing in favor of the other guys.
Just ask the Saint Louis Billikens. They lost for the ninth time since New Year's Eve on Saturday afternoon, this time 60-56 to the Massachusetts Minutemen in an Atlantic 10 Conference game at Chaifetz Arena.
It was really closer than that, too. With 18 seconds left, the Billikens trailed by two and had possession when coach Jim Crews called a timeout to draw up the final play. 
Crews decided to go for the victory and while the Billikens didn't get the exact shot he wanted, they got a good shot: An open look from behind the 3-point line for 6-foot-10 freshman Austin Gillmann, who'd made his first two threes.
But this time, Gillmann's shot banged off the front of the rim and UMass' Derrick Gordon grabbed the rebound, headed the other way and dropped in a layup at the buzzer as the Minutemen improved to 13-9, 5-3.
"It looked good when (Gillmann) shot it," said Mike Crawford, who led the Billikens with 15 points. "I thought it was in the whole time."
"I've got no problems with that shot whatsoever," Crews said. "I'll take that any day."
Added UMass coach Derek Kellogg: "It was a well-executed play by them. They got a great look at it to win the game. We were fortunate."
Crews' plan to go for the 3-pointer made sense because long-distance shooting had kept SLU in the game. The Billikens had made seven of 11 before the final miss. They needed the threes even more than usual because their leading scorer, freshman forward Milik Yarbrough, missed 13 of his 15 shots -- and none of them were 3-pointers.
"I think 13 of them were within four feet," Crews said.
Yarbrough, who still scored nine points and led the Billikens with seven rebounds, established good position underneath but once he caught the ball, he had little luck shooting over the Minutemen's taller defenders. He had five shots blocked, including one that two players were able to get a piece of.
"He's got to learn to shot fake or reverse layup, maybe throw it out some," Crews said. "Getting it deep in there, that's the first part. That's great. Guys were feeding him well and he's getting deep, so that's good."
Crews continues to say good things about the progress the young Billikens are making but meanwhile, the losing is taking a toll. Players who earlier hustled in and out of games without hesitation now can be seen scowling on their way out of the game as well as disagreeing with coaches and griping at officials.
"That's out," Crews said about talking to the refs. "I've tried that for 40 years and they don't change their minds. But sometimes that's their first reaction. Sometimes their first reaction is a coach will say something to them and they want to debate it. We're just trying to give them information but they're, ah, 'I didn't do that or this was happening.' But that's just part of it."
In the postgame presser attended by Crawford and freshman Davell Roby, the dejection was obvious.
"We're still trying to find the results," Roby said. "We've been getting better, but (it) only shows if you win."
"We just need to win," Crawford said. "We just need to do what it takes to win."
They came within one shot but, as has so often been the case this year, the ball didn't go their way.
You can follow Stan McNeal on Twitter at @StanMcNeal or email him at stanmcneal@gmail.com.
---