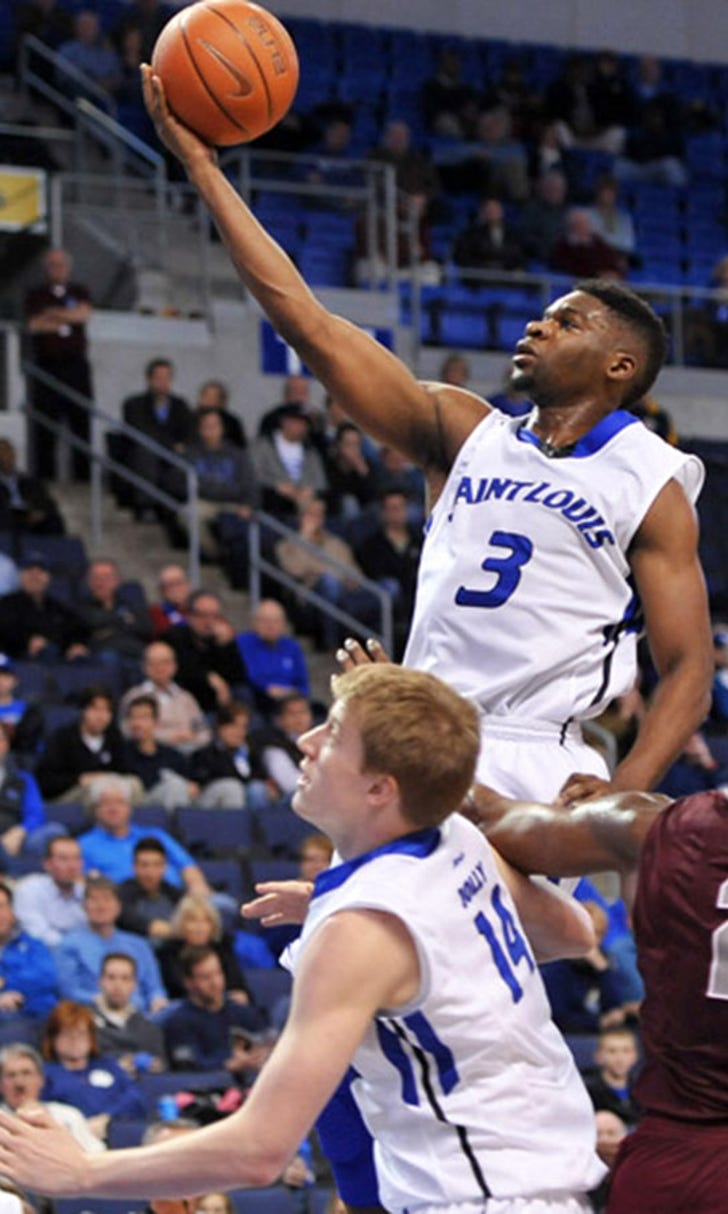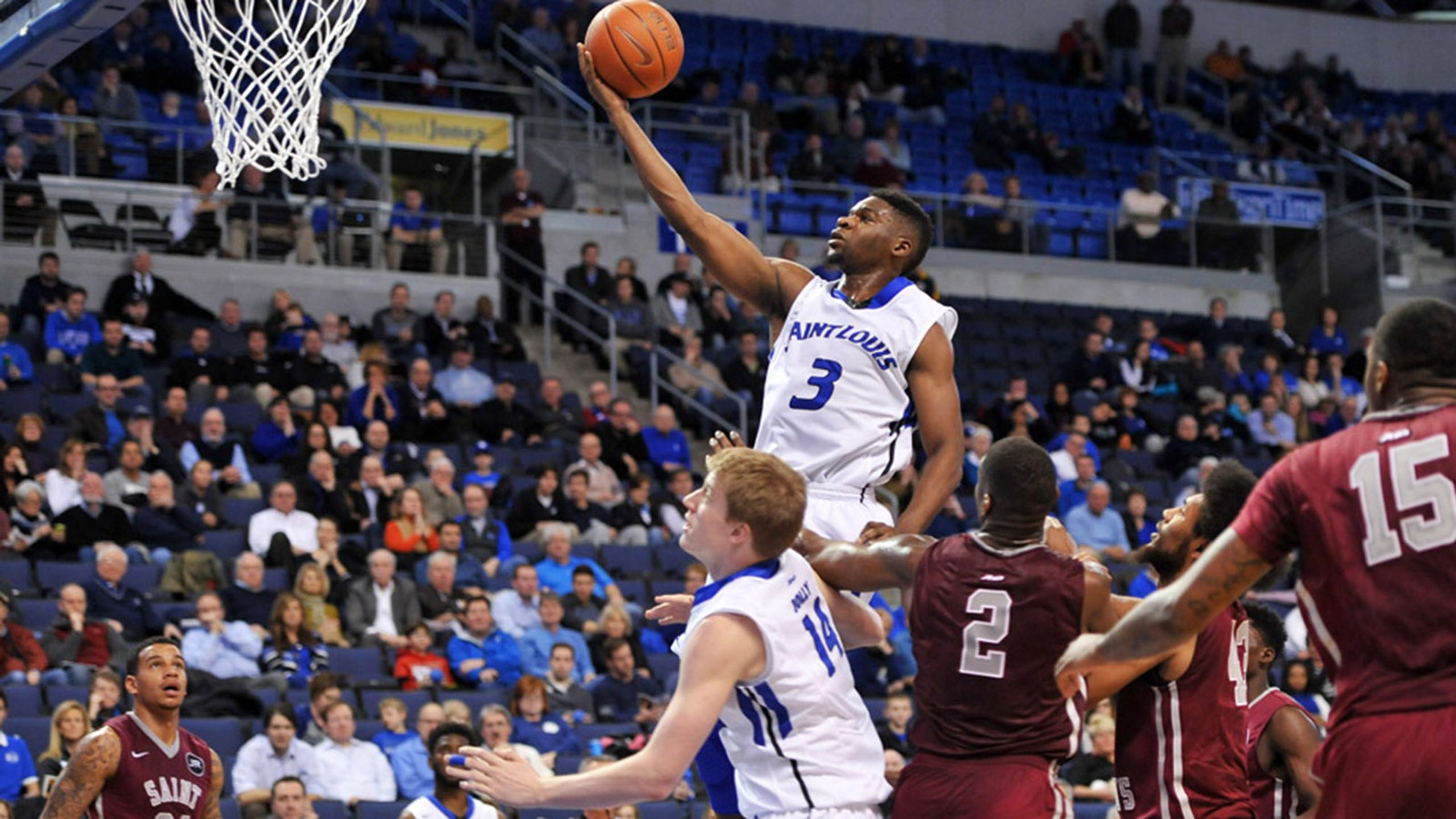 Yacoubou leads by example in SLU's OT victory over Saint Joseph's
BY foxsports • February 4, 2015
ST. LOUIS -- For the first time this season, the Saint Louis Billikens started four freshmen. And for one of the few times, they played stretches with five freshmen.
But the biggest difference-maker in the Billikens' 68-61 overtime victory over Saint Joseph's on Tuesday night was one of their old men. Relatively speaking, of course. Ash Yacoubou is a junior but is playing his first season for SLU because he sat out last season after transferring after two years at Villanova.
He played like a man against the Hawks. Yacoubou scored a career-high 20 points on eight-of-10 shooting, grabbed six rebounds and handled the primary responsibilities of defending the Atlantic 10 Conference's leading scorer, 6-foot-6 sophomore DeAndre' Bembry.
That Bembry scored 19 points on seven-of-14 shooting was not a reflection of SLU's defense as much as why he is a leading candidate for A-10 Player of the Year. He leads the Hawks in scoring, rebounding, assists and steals, one of only six players in the country to lead his team in four categories.
"Ash was very good against Bembry," SLU coach Jim Crews said. "They got to 24 (points) real fast (nine minutes in), but the rest of the game defensively, we were pretty darn good. (Bembry) is really a good player, but Ash was very, very good."
Said Yacoubou: "He has an array of moves, but all 19 points he had was tough. We made him earn them. My plan was to be physical with him and not let him get a lot of touches."
Too physical? Judging by the way Saint Joseph's coach Phil Martelli paused when asked about SLU's defense, he might have thought so. He didn't say as much, though.
"I'm going to say it this way: They guarded him the way the game was refereed," Martelli said. "They grabbed on and held on and that's fine. That's the way it was called for 45 minutes. I have no issue with that."
"I don't know if we were physical, but we didn't want to give space," said Crews when told how Martelli described the Billikens' defense. "I like that. Someone calls our team physical."
Offensively, it was a Yacoubou jumper with 8:11 left in regulation that gave SLU its first lead since early in the first half and kept the Hawks playing catch-up the rest of the way. But most of his damage was done on drives to the basket in the half-court offense.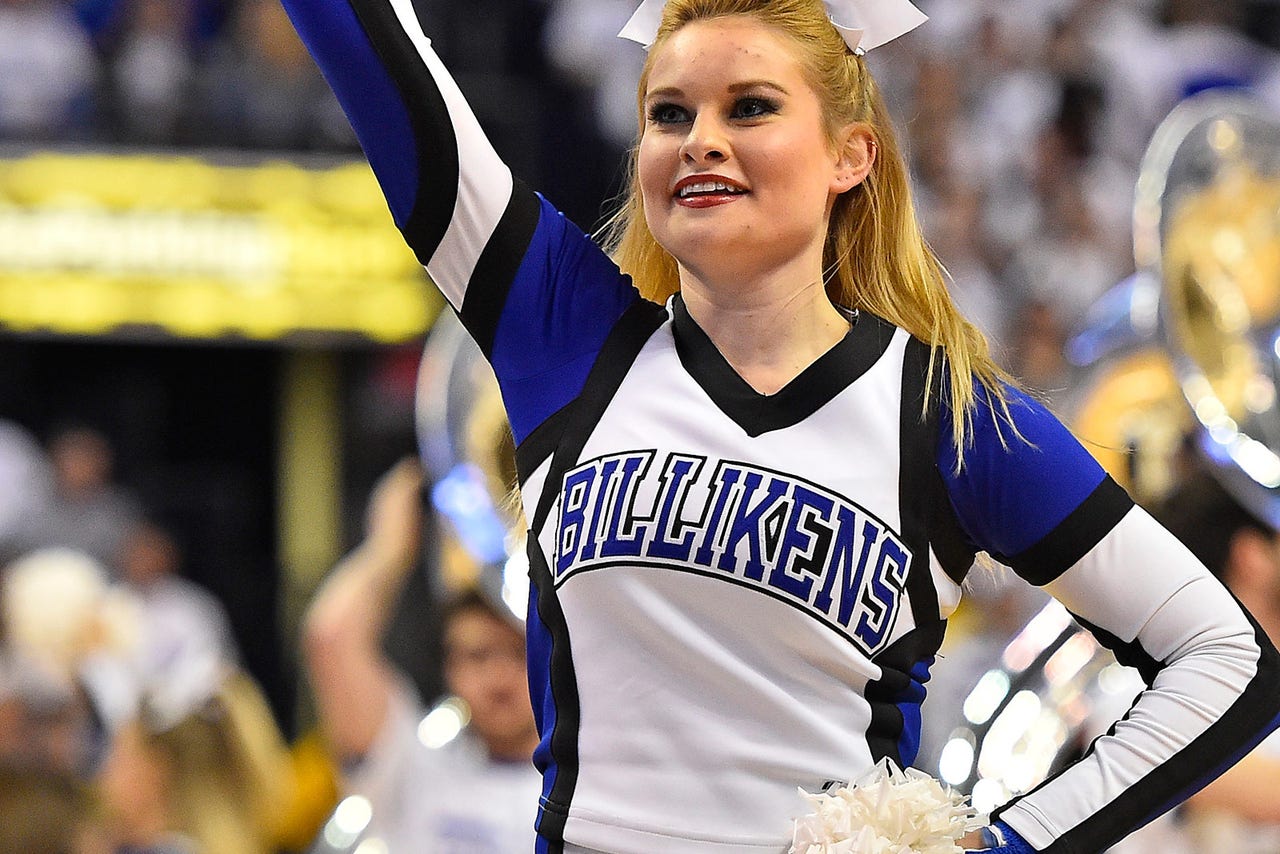 Lookin' good! Check out our gallery of NCAA hoops cheerleaders.
"I kept reading how they were trying to cover me," Yacoubou said. "And Brett Jolly did a great job of posting up, allowing me to get in the lane. He's posting up so big that you have easy lanes to get to the bucket."
And let's not leave out the fact Yacoubou did much of this after landing awkwardly and tweaking his left shoulder.
"I went for the rebound, my shoulder kind of went back a little too far and I felt something," Yacoubou said. "But I'm fine now."
That had more than a little to do with the outcome. The Billikens had lost eight of their last nine, including four in a row.
Yacoubou had a chance to end the game in regulation, but his drive to the basket with the scored tied in the closing seconds was halted when he was called for a charge against Bembry.
Yacoubou did not let the foul keep him down. He came out in overtime, grabbed a rebound, was fouled and made one of two free throws to give SLU the lead. He made another free throw following another rebound after he had forced Bembry into a miss with 2:18 to go. Soon after, the young Billikens were high-fiving and celebrating just their second win of 2015.
A victory for which they can thank the old guy leading the way.
You can follow Stan McNeal on Twitter at @StanMcNeal or email him at stanmcneal@gmail.com.
---