Xs and Os: Looking at Tyron Smith versus Robert Quinn
BY foxsports • September 27, 2013
Late every week we pick a few plays or a particular matchup and just break it down from a perspective of watching film and making observations.  It is not full of statistical evidence - that is more for Tuesday or Wednesday.  It is purely observational commentary based on looking at the coach's film one final time before we put last week's game to bed and move on to the next opponent for the weekend.

This week, I planned on doing a breakdown of Tyron Smith as we have done a few times before.  If you were to do a valuation of each and every Cowboys player based on all factors, it is highly possible that Tyron represents your single most valuable asset in the organization.  I know that might be scoff-worthy to some, but a 3rd year player who is 22 years old and still on his rookie deal, needs very little help to accomplish his goals each week, and seems like he is almost a no-maintainence player at a premium position, well, it is tough to beat that.

I remember the 2011 draft as one where I locked in one player back in February and never looked back.  He had an amazing resume that included fantastic athleticism (quick feet, good balance) with absurd build (height, weight, and arm length all off the charts) and had the physique of a tight end who would never make you wish he looked like he was in better shape.

He started like you might expect a rookie tackle to start back in 2011, with uneven performances for sure (and two very shaky performances - both against Philadelphia and Jason Babin), but you saw the talent.  He then swung over to left tackle in 2012 and after conceding 8 sacks in 2011, reduced it to a mere 3 in 2012.  His penalties were too high, and he certainly had days where the pass rush gauntlet that a left tackle must face was troubling, but overall, he was clearly the only legitimate part of the offensive line in 2011 and 2012 that you could feel great about.

He becomes a free agent at the age of 24 after the 2014 season, when the Cowboys will need to figure out a way to keep Dez Bryant and Smith - two guys who will likely get huge deals by league-wide standards - in the same offseason.  I expect that they are excited to have players like those two and Sean Lee that they actually want to keep - regardless of cost - because they have achieved everything that they were tabbed to out of college (apologies to Felix Jones, Mike Jenkins, Martellus Bennett).  But, it will come at a significant cost and one that will test the Cowboys payroll limits.

Regardless, I wanted to do this breakdown of Smith's showdown with the player who was selected just a few picks later in 2011, pass rush stud Robert Quinn out of North Carolina.   In Quinn's first year as a starter last year, he totaled 10.5 sacks and already had 4 through 2 weeks in 2013.  That demonstrates a career total of 19.5 sacks in just 18 starts, so he knows how to get to the QB.  Granted, Tyron will have to face quality every week in this league (Dwight Freeney is this Sunday), but I thought this was a particularly tasty matchup inside the game going in, so I watched the game a few times from simply that matchup's perspective.

Honestly, the game presented a report on Tyron that should please anyone that wants him to become elite.  He put on a show against Quinn that indicated that he is just that.  Quinn is impressive, make no mistake.  And he had a few moments of demonstrating that he can get an edge (the inside one) on Smith from time to time.  His play-side run blocking generally great.  His back-side run blocking is awkward, but usually effective - I am guessing a giant man will never look fluid in cut-blocking a back-side defender - and he gets passing grades all around.

But, most of what we saw in this matchup, including the picture below, was Tyron basically shutting down the hottest pass rusher through 2 weeks in the entire NFL.  Granted, those sample sizes are small, but ask Levi Brown or Sam Baker about their "Robert Quinn experiences" this season, and they are likely to burst into tears.  It was ugly.

But, here you see Tyron in his familiar spot.  On an island.  No help in sight.  And no help asked or required.  He is perfectly squared up and centered on his man and has forced him so wide that Quinn is closer to his sideline than he is to Tony Romo.  This happened numerous times.  Romo was getting the ball out quick, which is part of the scheme of self-preservation, too, but Smith had it handled.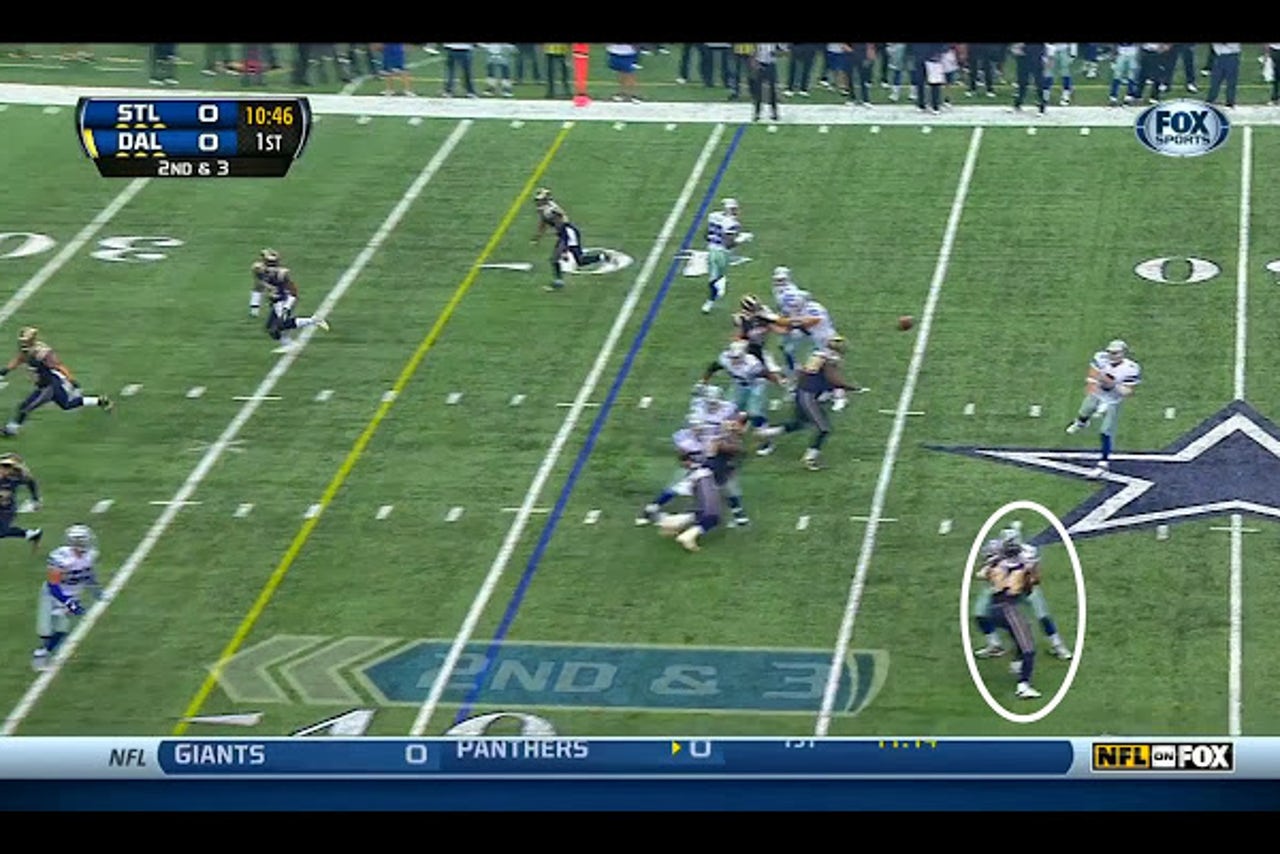 When doing a film study, I understand that it is pretty boring to simply say that a tackle dominated one of the best pass rushers in the league.  From just about any perspective, sacks are interesting and doing a great job of pass protection is not.  Good pass protection simply allows your QB to perhaps find a good play, but the LT is only noticed when penalties or sacks happen.

To put it another way, in 60 plays, if a defensive end gets 2 sacks or tackles for loss, we consider him for player of the game.  But, that means the left tackle was successful on 96.6% of the time.  Hardly seems like a horrible day at the office, but in football, that is what the sport demands of its big guys up front.

Tyron is so much better than he used to be in many departments.  If you watch him closely, you see that on occasion, he can still be bull-rushed.  But, his recovery is better than it used to be for me.  This here is one example of being pushed back further than you would like, but he regains his form and Murray is able to avoid the issue and go on a long run.  Again, you would love to say he can never be moved, but the opponent is talented, too.  But, to recover is great.




His arms are so long that there is almost no way to beat Tyron Smith around the corner anymore.  He is quick to the edge, but when his feet betray him against some of the track stars who now play edge rush positions, he can reach his arm out and steer them beyond Romo.  It is a beautiful thing to see, basically because of his skill set of arms and feet.  He appears to have an elite career ahead of him for years.
Below, see how they did get their one QB hurry.  Without knowing the actual protection call, I am merely speculating based on Tyron's technique.  But, it sure looks like he is expecting inside help from Murray.  I hesitate to say this with any authority because 1) I really don't know and 2) he got help with a chip only 1 other time the entire game.  So, the odds are that he wasn't getting help and perhaps set outside on Quinn and guessed wrong.  But, again, he looks like he is expecting help, so I will show you this near-sack (that is the best of Quinn's night) and leave it at that.  Clearly, Tyron looks less than elite in this moment, and Romo bails him out with his under-rated skills to spin back to his left.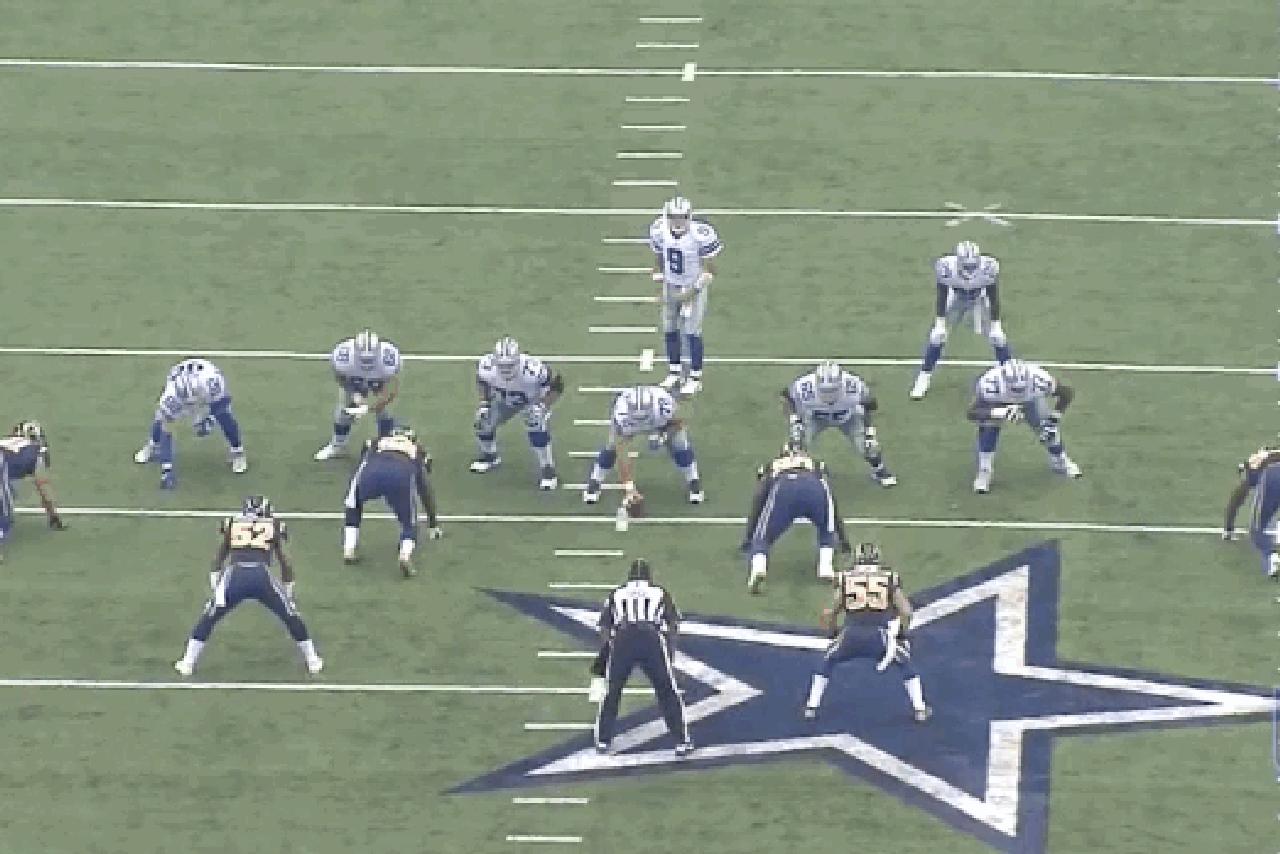 Here is one other idea the Rams tried.  They actually started Quinn outside in his "Wide 9" and then had him drop with Dunbar on a pass route.  This would give Wil Witherspoon a huge chance at getting home because Ron Leary is almost never turning outside to help, but rather always turning to Frederick's side.  I can't stress enough how little help Tyron gets from anyone - which is the greatest compliment ever.  They leave him happily on an island.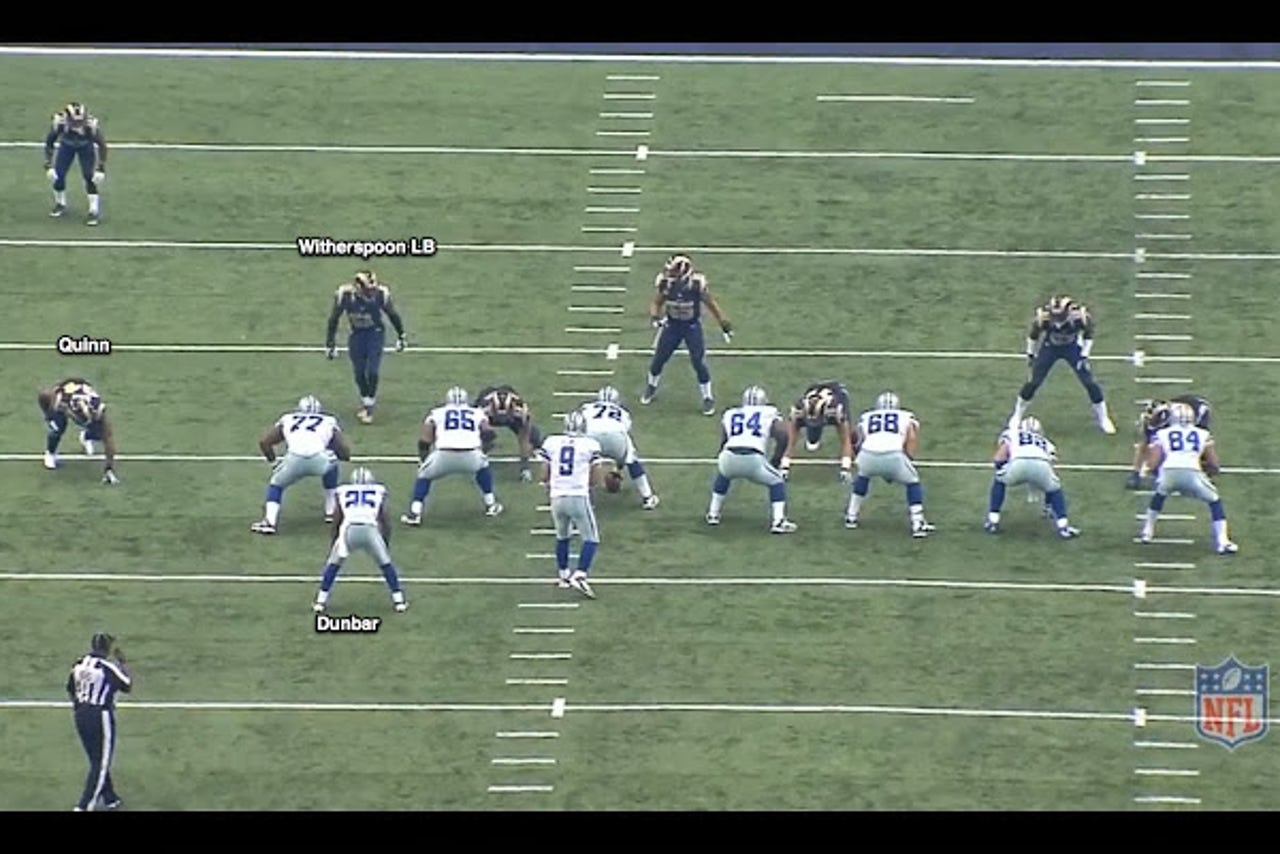 So, look above at the pre-snap and then below at how Tyron has to recover at the last second after he figures out the plan here.  You cannot imagine how difficult this is to set up on a DE to your wide left and then have the ability to recover and get a piece of a blitzing linebacker.  Romo did hurry his throw, but this is the normal dead sprint run at your QB that can knock him out for 4-6 weeks.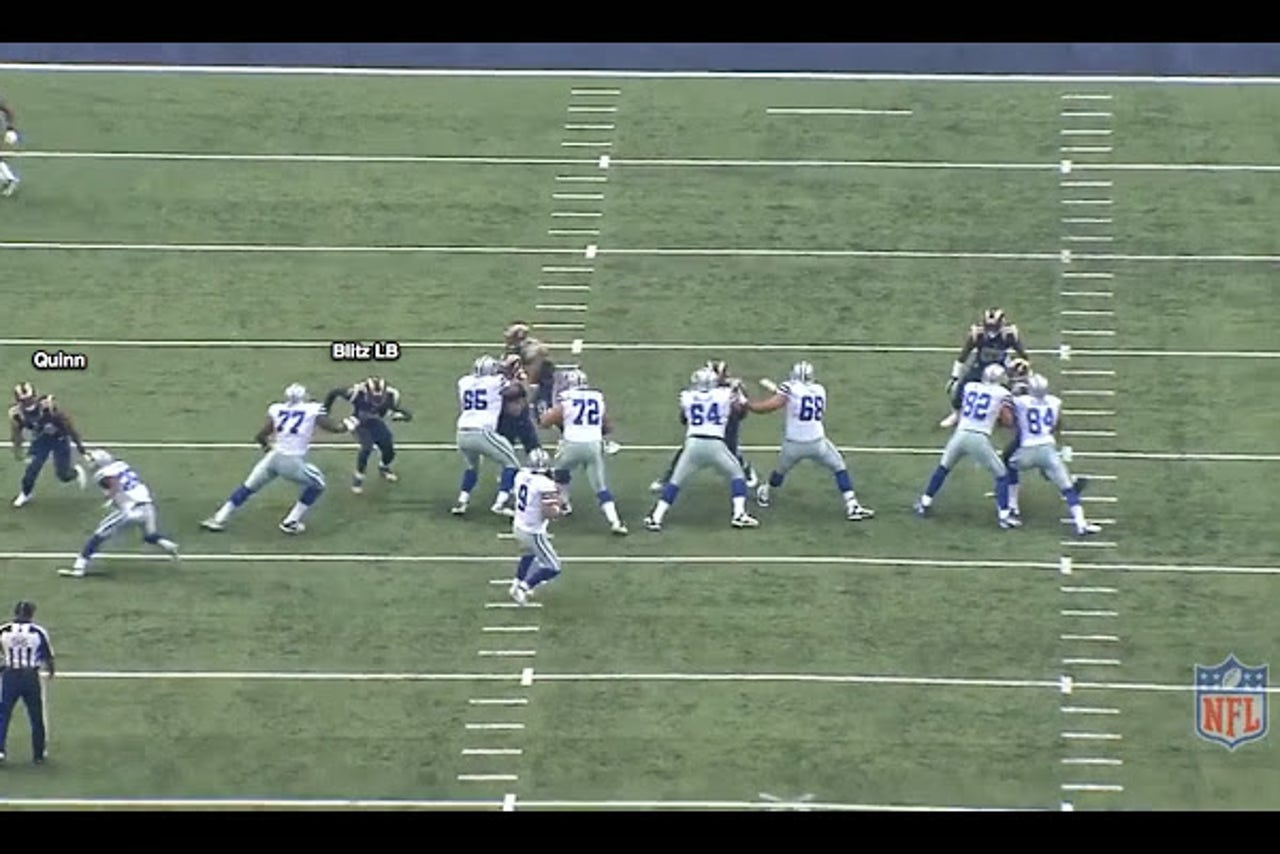 And then, one more poor play to work out which seems to be more of Tyron leaving too early and not giving Quinn enough credit for his absurd athleticism.  On the play below, which is a delay draw, the play calls for the tackles to almost encourage the DE's up the field and then let them go and head to the 2nd level.  The idea is that the run up the field is what takes the DE out of the play, but Tyron let him go too early, and the timing of the play put Quinn on Murray's lap and that caused a collision that could have easily been a turnover.  They recovered their own fumble, but I am sure Tyron got jumped for leaving too early.  If he engages Quinn for another tenth of a second, the play has a chance (except that Leary is beaten pretty badly here, too.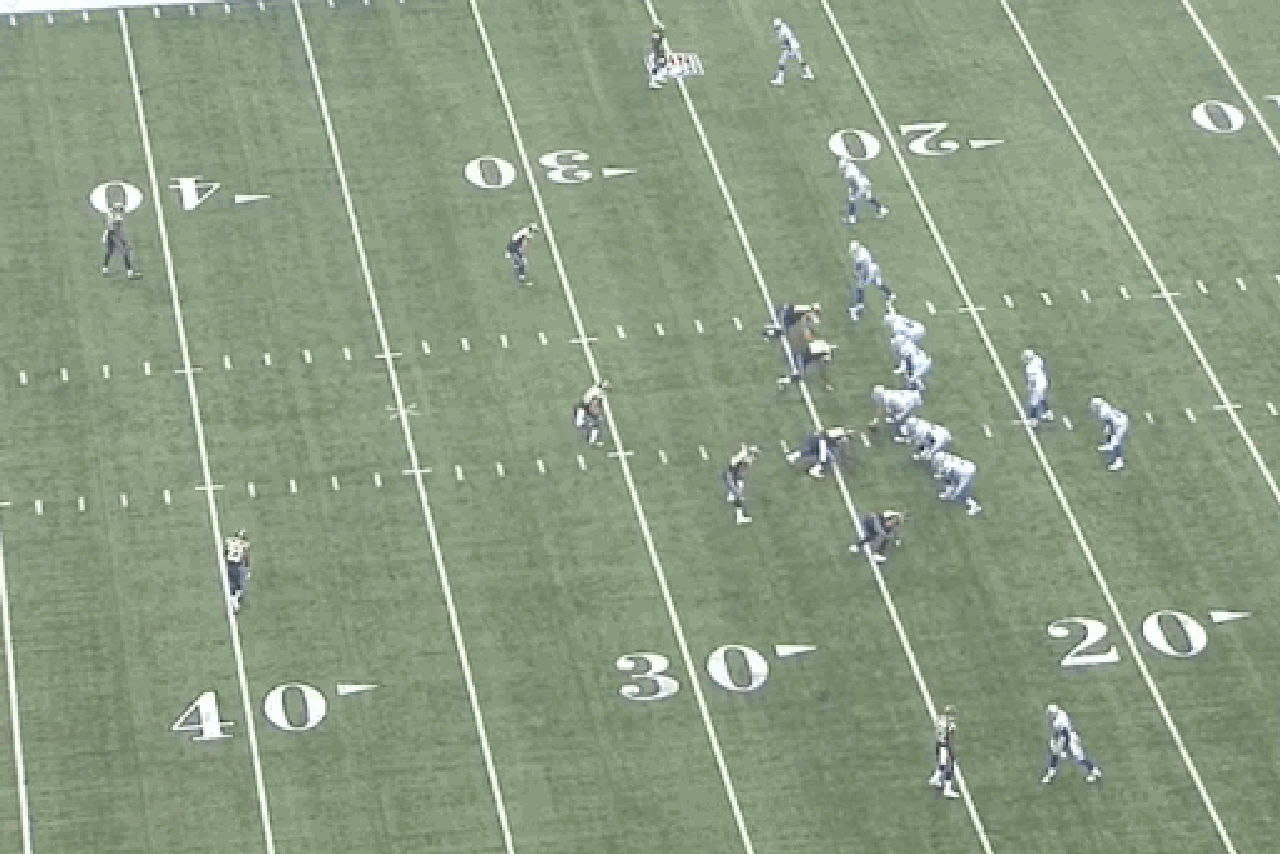 Additionally, there was a holding call on a play with off-setting penalties and a play late in the game where Tyron might have dropped his guard momentarily because of the score being out of hand.  On that final slip-up, Quinn was able to score a big tackle for a loss.

In total, I think it must be said that Tyron got out of this game with a very good review.  Understand, context here.  I realize Pro Football Focus is gaining headlines this week locally for their love of Doug Free's performance in this early season.  I get that, but he is receiving plenty of help at times and he is not going against the level of pass rusher that Tyron is every week.  A grade is not an apples to apples comparison and that is why I encourage people to dig deeper than reading that Free was given a 5.4 versus Smith getting a -1.1.  Unless you can tell me how that affects my game plan (like leaving him all alone against the leading sacker in the NFL all day) then I am not sure how to quantify those results.  Free is playing fine, but he is not in this neighborhood.  Nowhere close, actually.

Smith is playing a fantastic left tackle while not receiving any help to handle leading pass rushers.  I cannot stress what an advantage that this gives your offense to use a numbers advantage in a different place.

Breaking down this game and seeing what a force he is in both the run and protection games has me very encouraged about the path Smith is on.  Dwight Freeney is next and every week he will see the best pass rushers the league has to offer.  But, he is handling just about every one of them at this point of his young and promising career.

I guess the overall point is to watch the game yourself.  Especially the media types who take these newly found grade numbers from well-meaning websites and then tell the audience that this demonstrates that Free is playing better than Smith.  I am pretty sure that anyone on the Cowboys coaching staff was thrilled that Tyron was on an island and handling his business just fine on Sunday.
---