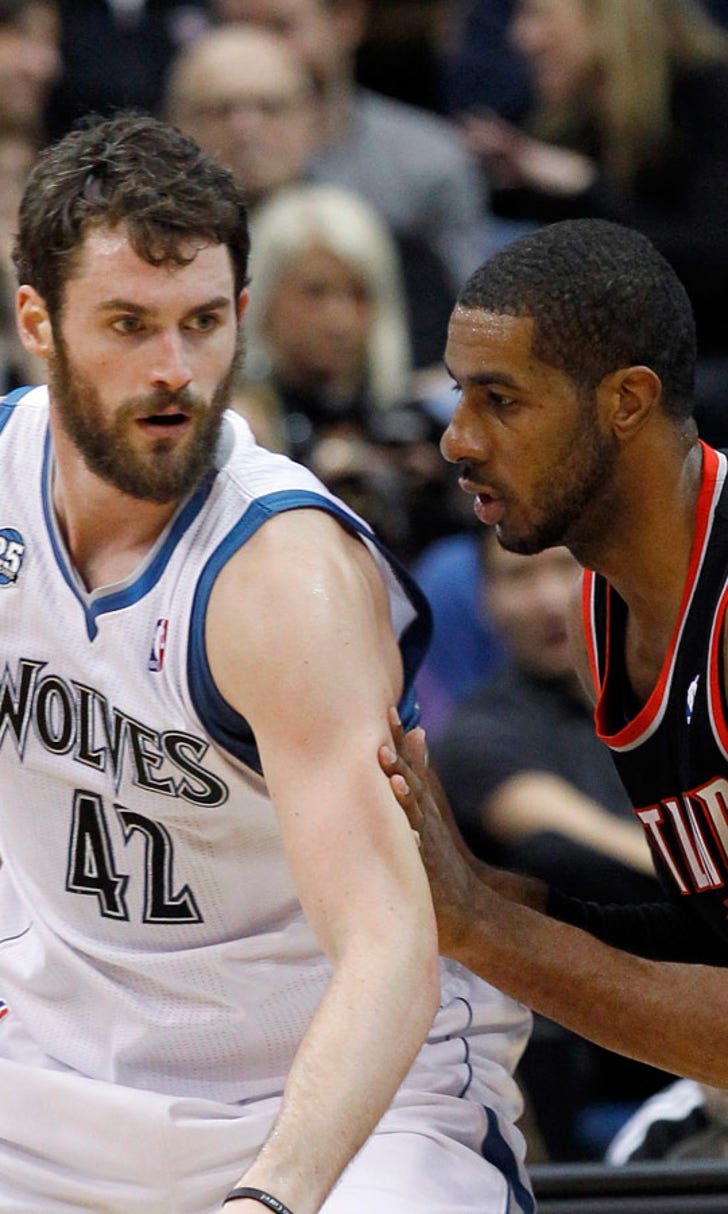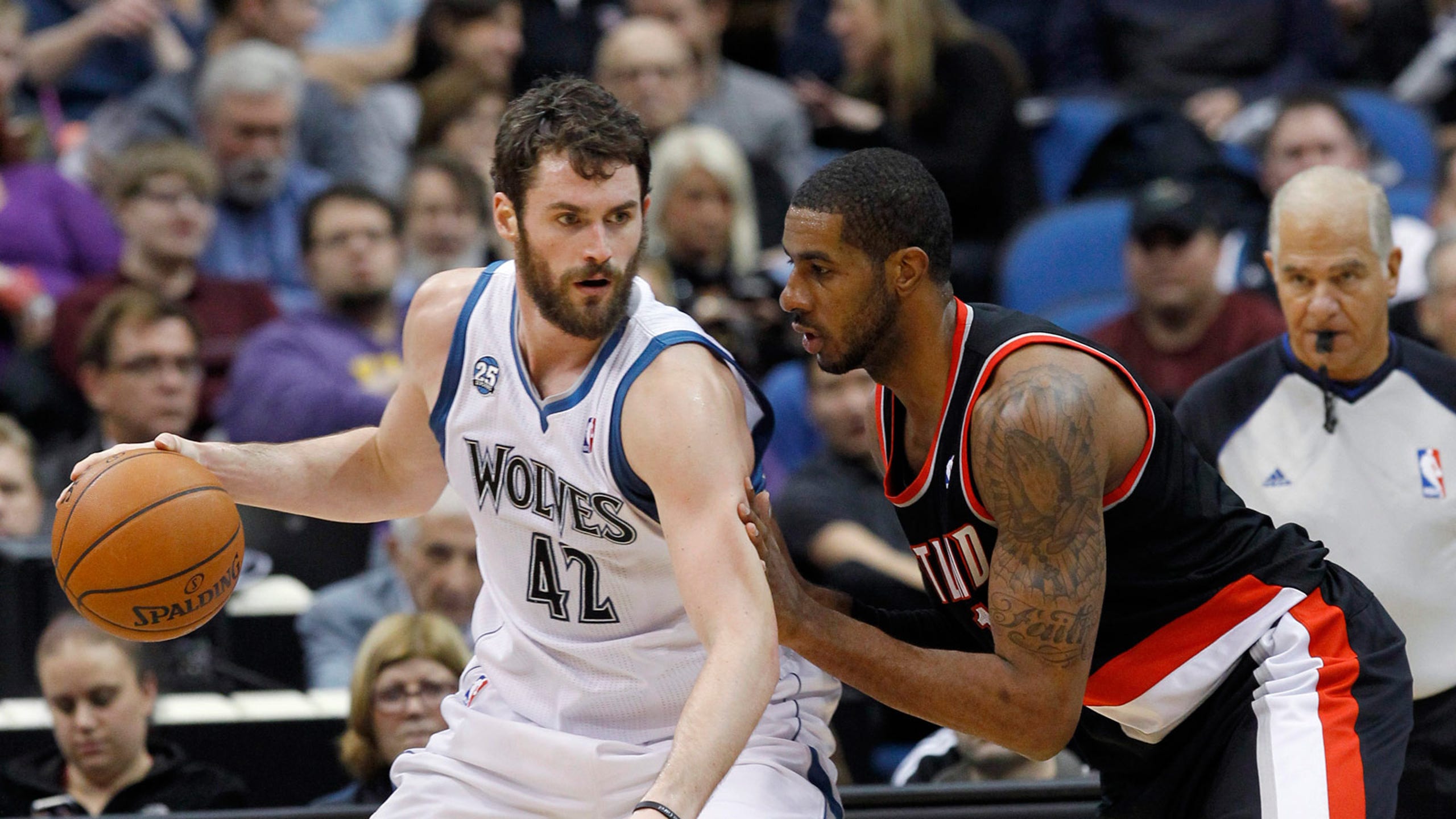 Wolves show promise with impressive victory over Portland
BY foxsports • December 19, 2013
MINNEAPOLIS -- Even after the final horn Wednesday, Damian Lillard was lighting up the Timberwolves.
The Trail Blazers point guard heaved a frustrated, whimsical and ultimately meaningless shot from behind half-court just after the fourth-quarter buzzer. Like so many of his low-odds-looking tries lately, it easily fell through the rim. It didn't count, and even if it had, Minnesota still would've walked away with an arduous win against arguably the NBA's hottest team.
By the time Lillard's last attempt found its target, blue and white confetti fell from the Target Center rafters. The moment, apparently, hadn't been lost on the game ops specialist that cued up that gem, which gave the old venue a playoff-win type of appearance in the aftermath of the Timberwolves' 120-109 victory.
This, though, was a regular-season game in mid-December -- one where an unremarkable, .500-again team learned it has some killer instinct nestled somewhere within its still-developing identity.
"I think it's important for us to keep leads and hold off leads and not always be fighting from behind," said Kevin Love, who finished an assist short of his first career triple-double with 29 points, 15 rebounds and nine helpers.
Said Nikola Pekovic, who muscled his way to 30 points for the third time in his career: "We just got to respond. ... We knew the best team in the NBA's coming."
Minnesota led by as many as 32 in the first half. It allowed Portland to crawl back within five with plenty of time remaining in the final stanza.
But the Timberwolves did what they've learned the hard way must be done when a team is on the ropes -- in the Blazers' case, weary from playing four road games in five nights and awfully sluggish in the first half.
Stamp it out.
"You're trying to get your team to see the validation of when they play the way they're capable of playing," said coach Rick Adelman, whose team has played seven back-to-backs like the one Portland wrapped up Wednesday. "We know, I know, our players know this is (the Blazers') fourth game in five nights, but that's happened to us, too.
"You can go out there and play well, and if you open the door a little bit against a really good team, they're gonna barge through. That's what we have to understand. We can't open the door."
Minnesota left it barely ajar Wednesday.
Lillard made 7 of 14 3s to keep Portland close. The league's leading 3-point shooting team jacked up 40 long-range shots -- the second-most in club history -- in a desperate attempt to come back and hit enough of them to retain a tight feel in what could easily have been a rout.
Yet whenever Lillard and the Blazers (22-5) made a move, the Timberwolves mustered a response.
-- The most resounding came inside the final minute when Nicolas Batum's top-of-the-key 3 capped a 13-1 run and made it 114-109 with 45.5 seconds to go. Ricky Rubio knocked down a pair of free throws at the other end, and Corey Brewer lunged in front of a Lillard pass to force a turnover and set up two more Rubio freebies that essentially iced the win.
-- Trailing 69-43 after Minnesota's second-highest scoring half of the season, Portland opened the third quarter with a 12-3 run that trimmed the deficit to 17. Pekovic responded with his most authoritative sequence on a dominant night, scoring on three consecutive trips down the floor to push the Timberwolves' advantage to 78-59 with 6:41 left in the third.
-- Pekovic and Rubio picked up their fourth personal fouls moments after, however, and Lillard went straight to work with them sitting on the bench. The 2012-13 NBA rookie of the year scored nine of his game-high 36 points -- the second night in a row he scored that many, a season high -- during the next 4:27, including a right-wing triple that made it 87-75 with 2 minutes, 3 seconds remaining in the third frame. Kevin Martin was Minnesota's first responder this time, drilling a 3 of his own off Love's ninth assist of the night. Moments later, reserve guard J.J. Barea hit back-to-back 3s that would've made for a 23-point advantage entering the fourth if not for Mo Williams' 3 with 1.7 seconds left on the clock.
"It's big," said Barea, who scored 10 points and finished in double figures for the third night in a row. "Any time you beat a time like that, it's big."
Love nearly notched his coveted triple-double in the first half, scoring 17 points, pulling down 11 boards and distributing eight assists. He scored 11 points in the first 3:45 of the second quarter alone and finished the evening 10 of 18 from the floor, 4 of 7 from 3-point range and 5 of 6 from the foul stripe.
Minnesota's rookies excitedly called his stat line to his attention at halftime, but Love told them to settle down and focus on the bigger picture.
"I hope it does come," Love said. "I did think I was looking at it right in the face tonight, but it didn't happen for me. The guys kept saying, 'Just get one more (assist).' I said, 'let's get a win. How about that?'"
Along with Love and an early team focus on attacking the rim, Pekovic's assertive 14-of-19 showing helped Minnesota score 72 points in the paint -- the most in franchise history since the stat was first kept in 1996. Love outdueled power-forward counterpart LaMarcus Aldridge, who had 15 points and 14 rebounds but missed 15 of 22 field-goal attempts.
Blazers coach Terry Stotts called Aldridge the best four in the game today, "with all due respect to Love," before Wednesday's contest. Love wasn't confrontational about it afterward, but his performance on this particular night said otherwise.
So did Adelman before the game, contending that Love is indeed the NBA's best power forward.
"His coach is supposed to say that, and our coach is supposed to say that about me," Love said. "He's a tremendous player, and I've got to tip my hat to him, because he's really worked on his game."
Martin (22 points, 4 of 5 on 3s) came back from a one-game absence due to left-knee soreness and provided his usual scoring spark, especially in the first quarter when he tallied nine points. Dante Cunningham played 26 minutes, 9 seconds after rolling his ankle late at Boston on Monday and yanked down seven rebounds.
The Timberwolves felt they'd let one get away in Beantown two days earlier against a team they should've defeated. Wednesday, they maintained a firm grip against a team few may have expected them to beat.
"They got hot," Martin said. "We stayed with it and finished it up."
Follow Phil Ervin on Twitter
---