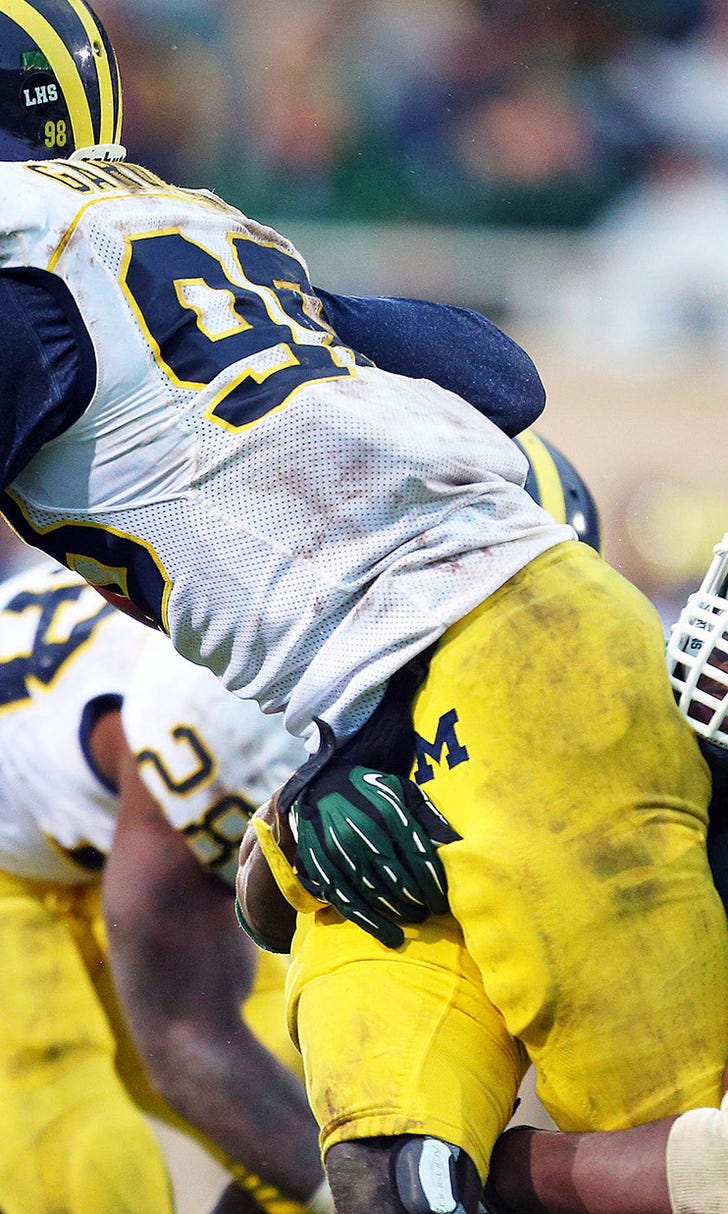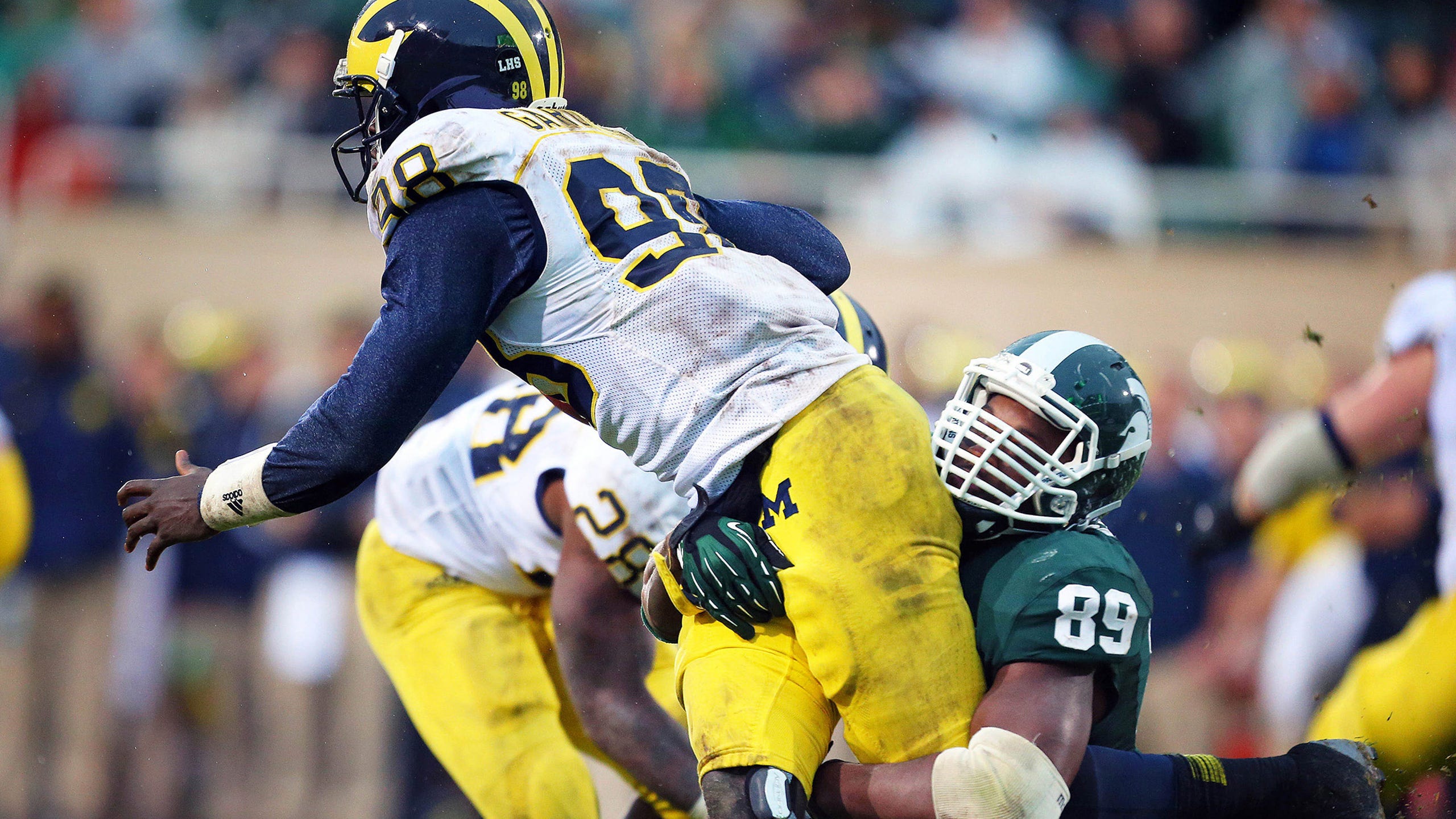 Wolverines travel to East Lansing as huge underdogs Saturday
BY foxsports • October 24, 2014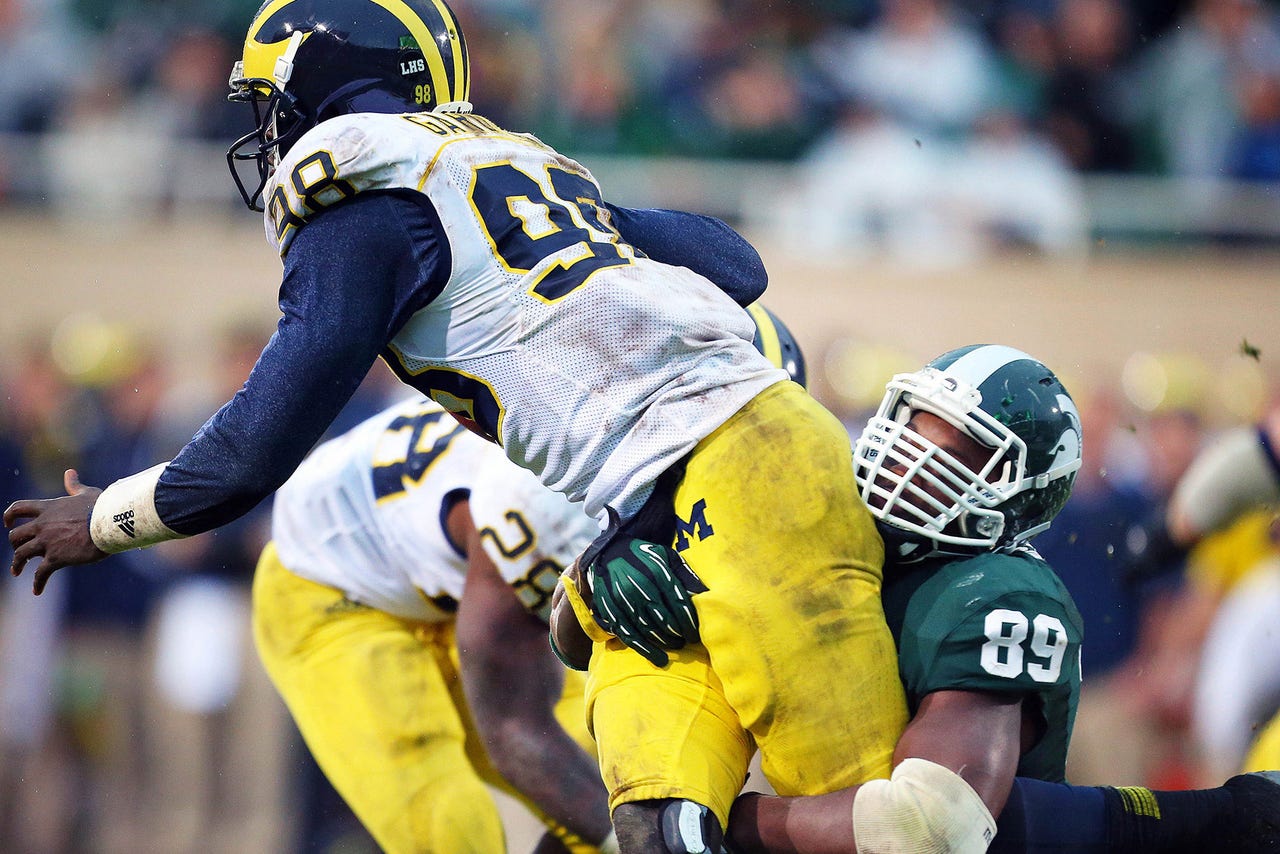 It doesn't really seem like a rivalry week in Ann Arbor.
That, more than anything else, sums up the state of the Michigan-Michigan State series right now. After long periods where the Wolverines treated this game as a nice distraction in between the two important games -- Notre Dame and Ohio State -- now they would almost like to forget it even exists.
Saturday, the Wolverines travel to East Lansing as huge underdogs, struggling to get bowl eligible in a year where the Spartans are serious contenders for a spot in college football's first four-team championship playoff. It hasn't been like this since Bubba Smith was terrorizing people in green-and-white while Michigan fans were trying to figure out how a coach from Miami (Ohio) was going to help.
Things have gotten so bad for Michigan that its entire media campaign seemed focused around one idea -- don't make Michigan State mad. At times, Brady Hoke was complimenting so many Spartans that it sounded like he was just reading the roster, while his players stayed away from controversy at all costs.
"It's not about us ruining their season," Devin Gardner said, in sentiments echoed by his teammates all week. "This is about us."
On one level, Gardner is right -- the Wolverines have been so bad this season that they need to focus on improving their own play if they want to beat anyone -- but the image lingers of him limping up and down the sidelines two weeks ago, screaming at his teammates to try to get them fired up enough to hang on against Penn State. 
But Hoke says that his players are too intelligent to give the bigger, tougher Spartans any bulletin-board material.
"We're just trying to take things week by week, it's not our job to think of the big picture and all that stuff," Miller said. "Our job is to go to work every day and try to get better. Try to prepare for the next opponent."
Things are a little different in East Lansing, where the students were fired up enough to spray-paint Michigan's iconic block M and keep a 24-hour guard on their own beloved Sparty statue. It is the same in the locker room.
"Everything's just moving faster, everything's done with more intensity," Connor Cook said. "With meetings, there is more intensity in the meetings. I don't know how you can do that, but just everyone is a little bit more on edge. Things, just drills, practices, whatever, they just move faster and with more energy."
Spartans linebacker Taiwan Jones -- the player that Michigan has to stop if they want to run the ball -- has a personal reason to want to win again on Saturday.
"Coming up, Michigan didn't recruit me, so yeah, you take that personally," he said. "I don't know why, but I wasn't really hurt, because I went on an unofficial visit there and an official visit here, and I just saw a big difference in the way they treated their players and their recruits.
"No matter how many stars you had, no matter your status, I felt like Coach Dantonio treated everyone the same."
Jones believes he ended up in the right place, but he'll still take out that snub on any Wolverine running back he sees in East Lansing.
"It's always been about the school down the road."
Michigan's defense might slow down Jeremy Langford and the Spartan rushing game, but the committment it will take will leave them very vulnerable to Cook, Tony Lippett and Michigan State's much improved passing game. On the other side of the ball, Devin Funchess presents the same matchup problems that he does with every opponent, but the Wolverines have to find a way to get him the ball, especially in a game where they likely won't have much luck on the ground.
For Michigan to pull off the upset, they have to avoid offensive mistakes and make big plays on defense -- things they have struggled to do all season. If Michigan State gets up early, it could get ugly in a way that hasn't happened in decades.
Prediction: Michigan State 35, Michigan 10.
---