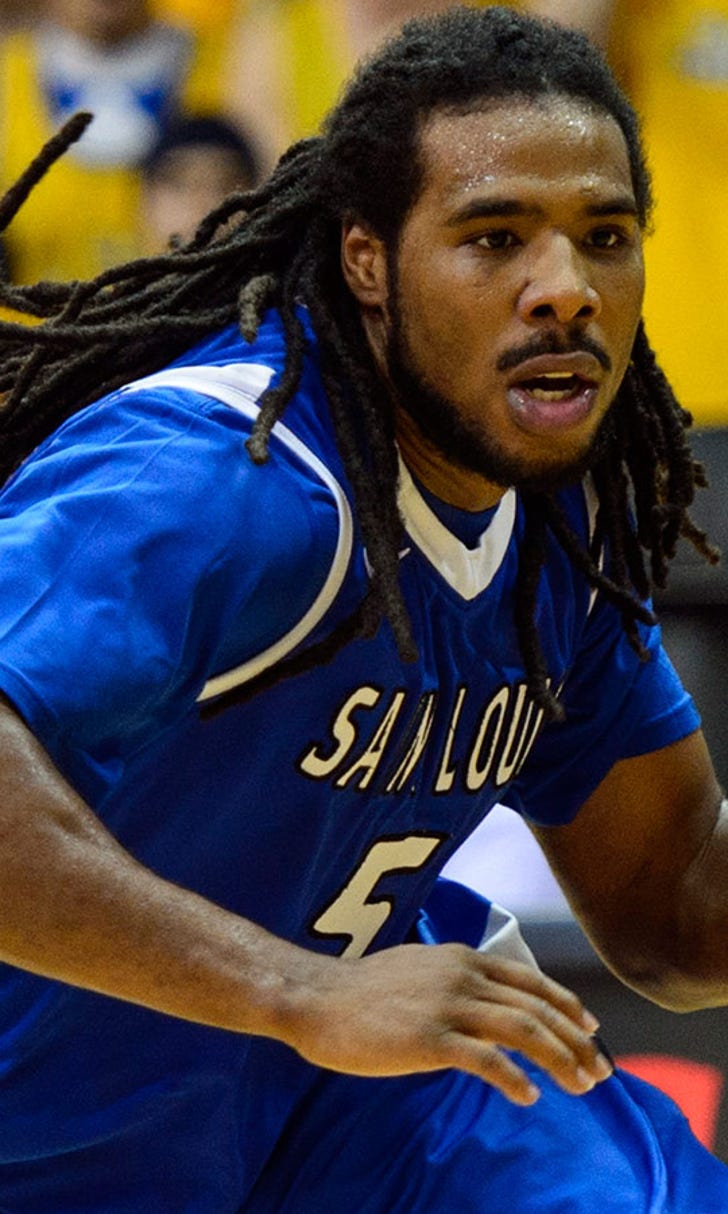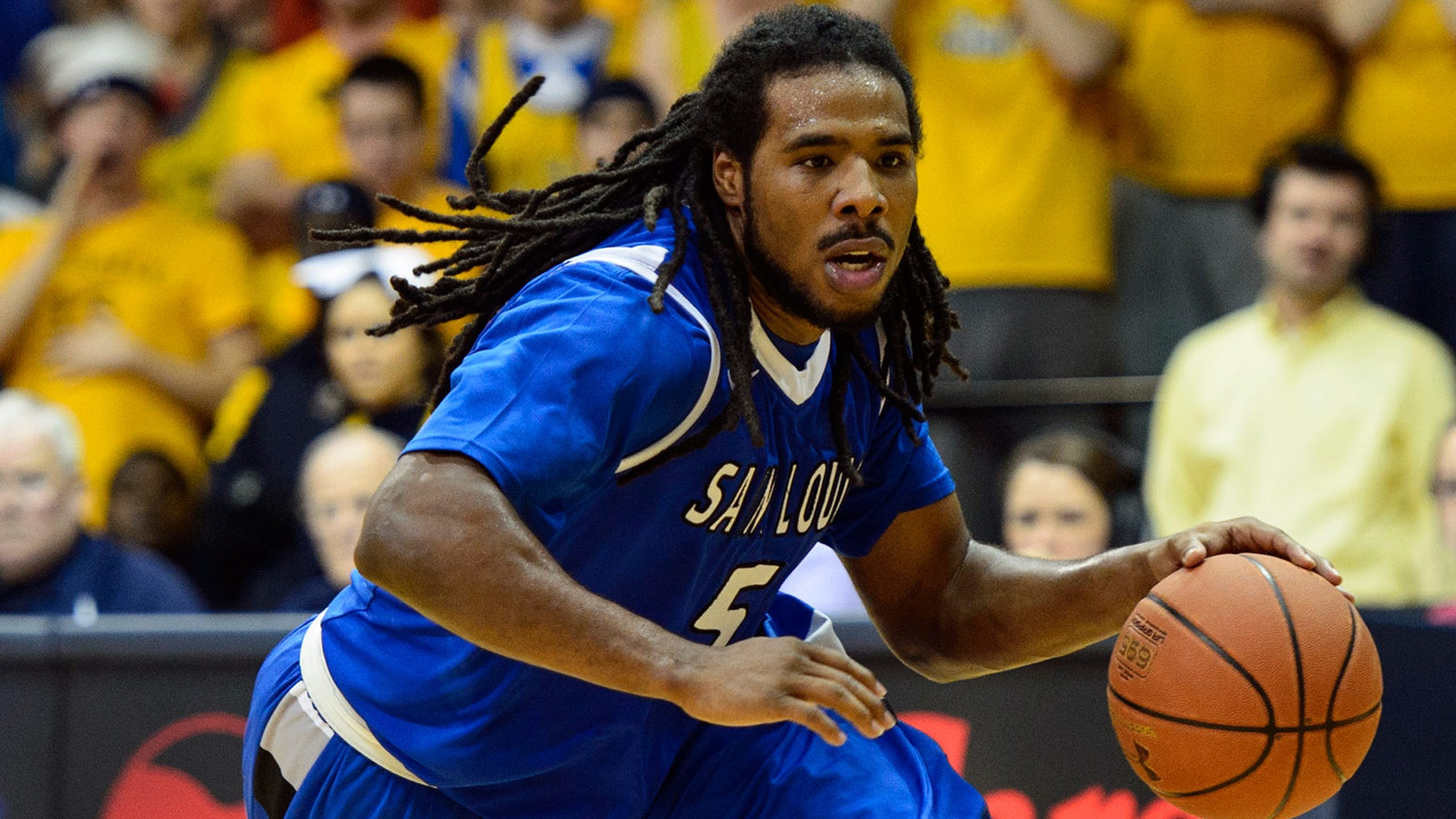 With wealth of recent NCAA experience, Billikens mentally ready for tourney test ahead
BY foxsports • March 16, 2014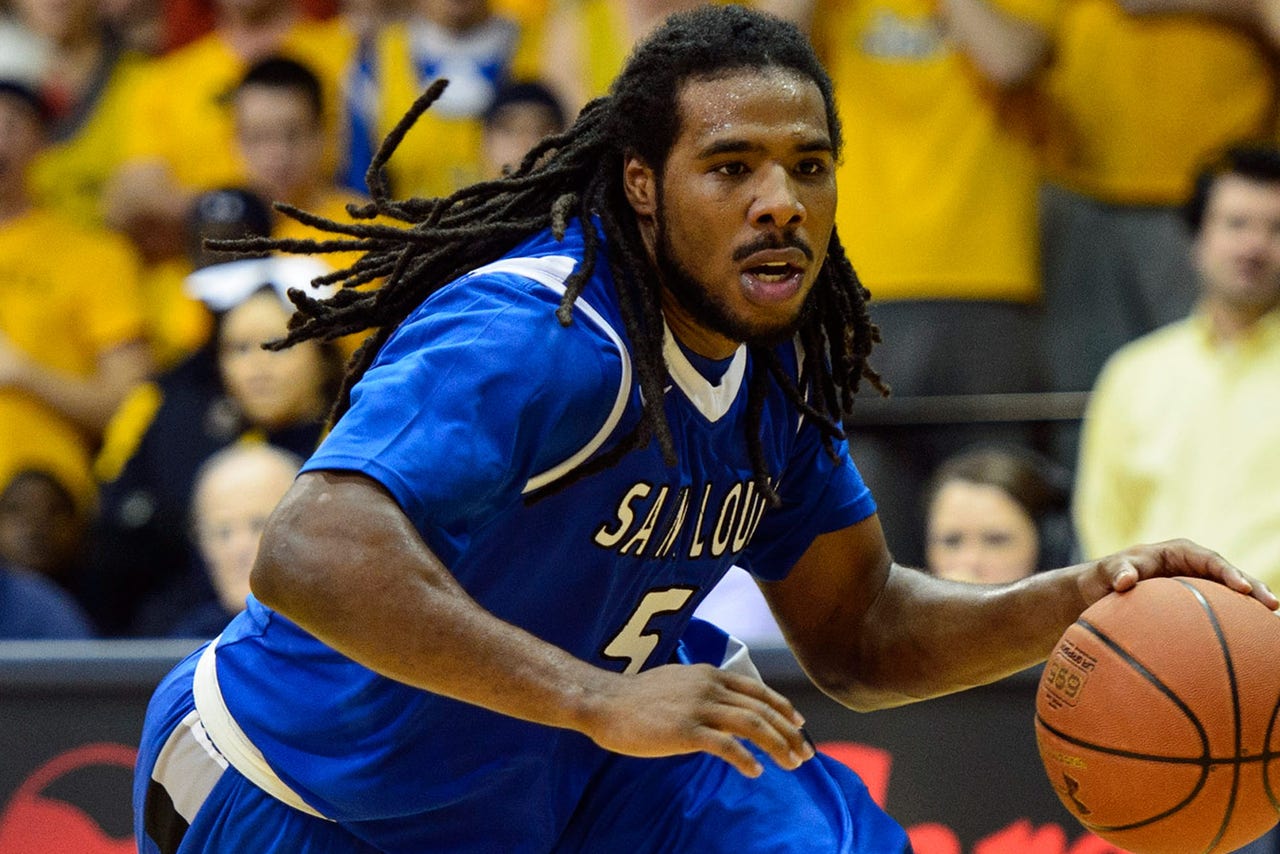 ST. LOUIS -- The suspense kept building during the Saint Louis University basketball team's watch party Sunday evening as the NCAA Tournament brackets were unveiled.
Billiken players, coaches, school officials, family members, some fans and a few media members gathered at Lorenzini's inside Chaifetz Arena to watch as this year's brackets were shown on TV.
The excitement evident when SLU appeared as a No. 5 seed in the Midwest Regional, playing Thursday in Orlando, quickly dissolved when the Billikens' opponent, the winner of the play-in game between North Carolina State and Xavier, was revealed.
Then came some groans as a harsh reality sank in, that the winner of SLU's second-round contest would likely have to play reigning champion Louisville, awarded a No. 4 seed, in the third round.
"I didn't know what seed we'd get coming into it," senior forward Dwayne Evans said. "It obviously built up some suspense -- we didn't go for a while. But we'll play whoever wants to play."
Saint Louis (26-6) will be making its third consecutive NCAA Tournament appearance, a school record. The program's last trip to the NCAA Tournament before this run came way back in 2000, when Lorenzo Romar was the coach.
"I'm really proud of these guys," SLU coach Jim Crews said. "Being able to get to the NCAA three straight years is an unbelievable accomplishment. Just getting in once is really, really hard. So we're looking for the opportunity and obviously the play-in game has a different flavor than it did 10 years ago or something if you've got Xavier and North Carolina State in a play-in game. It's an exciting time. It's great." 
But this Billikens team, which was ranked No. 18 last week, goes into the Big Dance with some serious questions hanging over it after losing four of its last five games, including an upset against St. Bonaventure in the quarterfinals of the Atlantic 10 Conference Tournament on Friday.
"I think we didn't end the way we wanted to, but with the tournament it's a whole new season pretty much," senior forward Rob Loe said. "You win or you go home."
Saint Louis already went home early from the A-10 Tournament after winning the regular season championship for the second straight season.
Crews said he watched the St. Bonaventure game film Saturday while the team was flying back to St. Louis. He saw some of the same problems that have plagued the team during its recent rough stretch and beyond, issues that were also there during the team's 19-game win streak.
"We turned it over too much, which translates into not getting back on defense," Crews said. "That's not just a one-game thing. Even when we were winning, that's gotten a little bit away from us in terms of being ball strong. That's an issue. ... Those are the two biggest issues right there."
SLU's five senior starters -- Evans, Loe, Mike McCall Jr., Jake Barnett and A-10 player of the year Jordair Jett -- have been here before. They know what they are doing in March. They know what it takes to win games.
The Billikens have won a game in this tournament each of the past two seasons. In 2012, under Rick Majerus, they beat Memphis before losing to Michigan State. Last year, under Crews, they defeated New Mexico State and then lost to Oregon.
"They've had a lot of experience in the NCAA, so that's awesome," Crews said. "I think they know that everyone's season comes to a crashing halt except one. That's how it ends. That's why it makes it exciting and fragile and you've got to really get after it and be fortunate with it but I think our guys are well aware of that."
Saint Louis will have to deal with a little bit of a twist this week because it will have to prepare for two different opponents until NC State (21-13) and Xavier (21-12) play their first-round game Tuesday night in Dayton.
NC State features one of the top scorers in college basketball, the 6-8 sophomore forward T.J. Warren (24.8 points per game), named Atlantic Coast Conference player of the year. The Wolfpack played well down the stretch, winning four straight games before losing to Duke 75-67 in the semifinals of the Atlantic Coast Conference Tournament.
SLU is familiar with Xavier, a former A-10 opponent. The Musketeers, led by sophomore guard Semaj Christon (17.1 points per game), are battle-tested after playing a difficult schedule this year, which included a Big East Conference win against then-No. 9 Creighton on March 1. Xavier will go into Tuesday's game having lost three of four, including a rematch with Creighton in the Big East Tournament semifinals.
If the Billikens can win that second-round matchup, they would face either No. 4 seed Louisville (29-5) or No. 13 Manhattan (25-7) for a chance to move on to the Sweet 16 in Indianapolis. Louisville has won five in a row and 12 of its last 13 games and is coming off a win against UConn in the inaugural American Athletic Conference Tournament title game.
The Saint Louis players know the challenge in front of them.
"Everybody's dream is to make it to the NCAA Tournament," McCall said. "I mean, me, Dwayne (Evans) and the other guys, the seniors, we just want to go out with a bang and want to make a run in the tournament."
Evans said the team will bounce back from its recent rough stretch.
"It's lose or go home from here on out," he said. "We'll approach it with like a business mentality. We have guys who are really focused and want to get it done, so that's all you can ask for."
You can follow Nate Latsch on Twitter (@natelatsch) or email him at natelatsch@gmail.com. 
---