Las Vegas Raiders
Las Vegas Raiders
With a new OC and QB, Broncos trudge on to Oakland
Published
Nov. 24, 2017 2:09 p.m. ET
Denver Broncos quarterback Paxton Lynch will make his season debut when he and his teammates visit the Oakland Raiders on Sunday afternoon.

Lynch, 23, started two games as a rookie last season but has been sidelined this year because of a shoulder sprain. The former Memphis standout was named the starter this week ahead of Trevor Siemian and Brock Osweiler.

Denver (3-7) has made hard changes on and off the field to try to stop a six-game losing streak that has plummeted the Broncos to last place in the AFC West. Earlier this week, the team fired offensive coordinator Mike McCoy and promoted Bill Musgrave to the role of interim offensive coordinator and play-caller for the rest of the season.

Musgrave is expected to simplify the offense with Lynch under center.

"Sometimes, it's doing the same thing more often," Broncos head coach Vance Joseph told the Denver Post. "You can kind of master it. I feel that we have a good offense and a lot of good plays that we miss. But we hadn't mastered anything. I think it's going to bring a sense of consistency to our offense that we can master four or five concepts, and that's good enough to get better."

Oakland (4-6) also shook up its coaching staff this week in attempt to salvage its playoff hopes. The Raiders are the only team in the NFL without an interception, and they rank last in the league with six takeaways. As a result, the team fired defensive coordinator Ken Norton Jr. and named John Pagano as his replacement.

Pagano served as the San Diego Chargers' defensive coordinator before the team moved to Los Angeles, and he was a Raiders defensive assistant this year.

"Everybody felt it in this building," Raiders safety Reggie Nelson told the San Francisco Chronicle. "Players, we love Norton regardless. Unfortunately, the production wasn't at a high standard this year. ... My experience with coach Pagano, it's all been good. We shouldn't skip a beat 'cause he's been in that room all year."

The Raiders trail the first-place Kansas City Chiefs by two games in the AFC West, and they remain optimistic that they can make a playoff push in the season's final six games. The top reason for optimism is quarterback Derek Carr, who has an 88.2 passer rating this season with 2,191 passing yards, 14 touchdowns and eight interceptions.

Wide receiver Michael Crabtree serves as Carr's top target with 42 catches for 502 yards and six touchdowns. Meanwhile, veteran tight end Jared Cook has hauled in 41 passes for 535 yards and one touchdown.

On the ground, Marshawn Lynch has amassed 390 yards and four touchdowns for Oakland.

"We need to hold up our end of it as an offense," Carr said. "Everything that we want, everything that we planned and put out as a goal is out there for us. If we can just get hot and get on a run, I'm sure the bandwagon will get full again and all those things. It's definitely possible. There's no doubt in our mind that we can do it, but we have to go out there and do it."



Broncos linebacker Von Miller will try to do what he can to spoil Carr's optimism. Miller leads Denver's defense with eight sacks to go along with one forced fumble, two pass break-ups and 34 tackles in 10 games.

On the opposite side of the ball, Lynch will aim to rejuvenate a Denver offense that has failed to score 20 points in seven of its last eight contests. Lynch passed for 497 yards, two touchdowns and one interception in 2016.

Running back C.J. Anderson leads Denver with 573 rushing yards and two touchdowns, but second-year player Devontae Booker could carve out a bigger role against the Raiders. The Broncos are led in the receiving game by Demaryius Thomas, who has 53 catches for 633 yards and three touchdowns despite the quarterback carousel.

Strangely enough, the Broncos' most recent win was against the Raiders in Week 4 on Oct. 1. Denver grinded out a 16-10 victory as Carr was knocked out of the game with a back injury.

Now, both teams are hoping that a new coordinator can fix old habits.

"I just felt we needed a change," Raiders coach Jack Del Rio said this week. "It wasn't comfortable. It wasn't easy. In fact, it was very difficult to do. At the end of the day, I felt like I had to do it to give us a spark, give us a chance. I had to shake things up."

The Raiders are 2-3 at home this season; the Broncos are 0-4 on the road.



---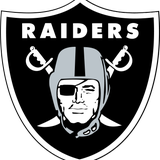 Get more from Las Vegas Raiders
Follow your favorites to get information about games, news and more
---