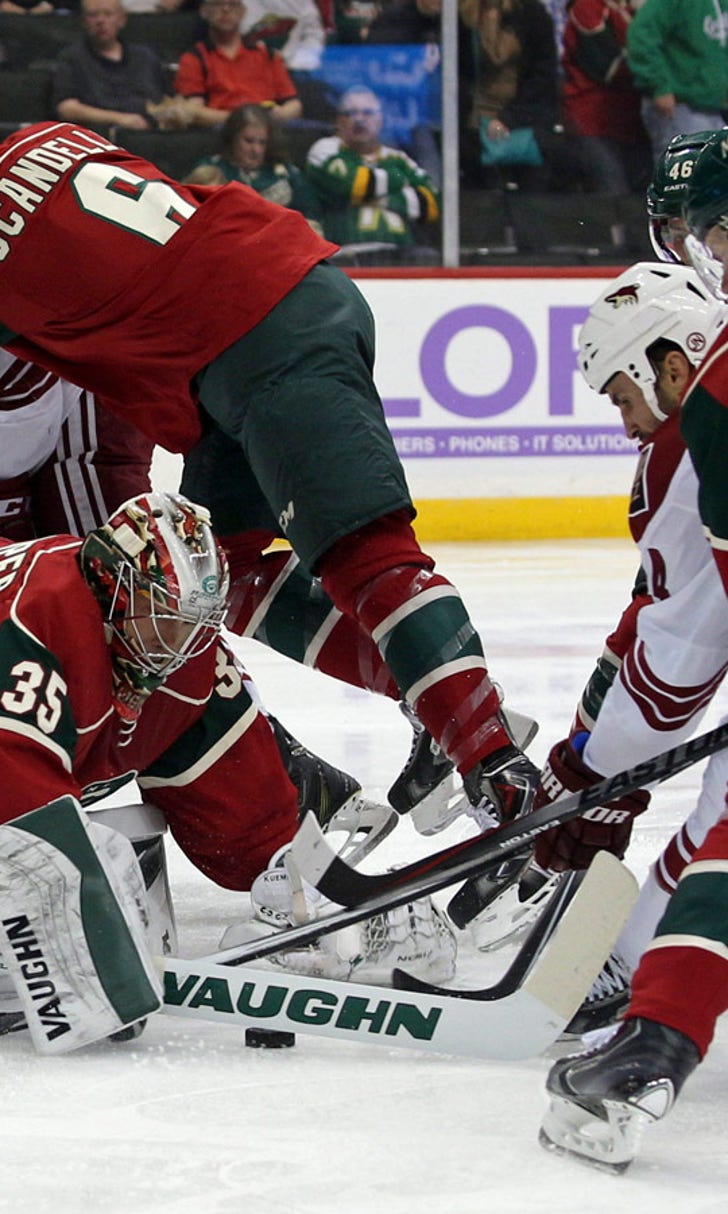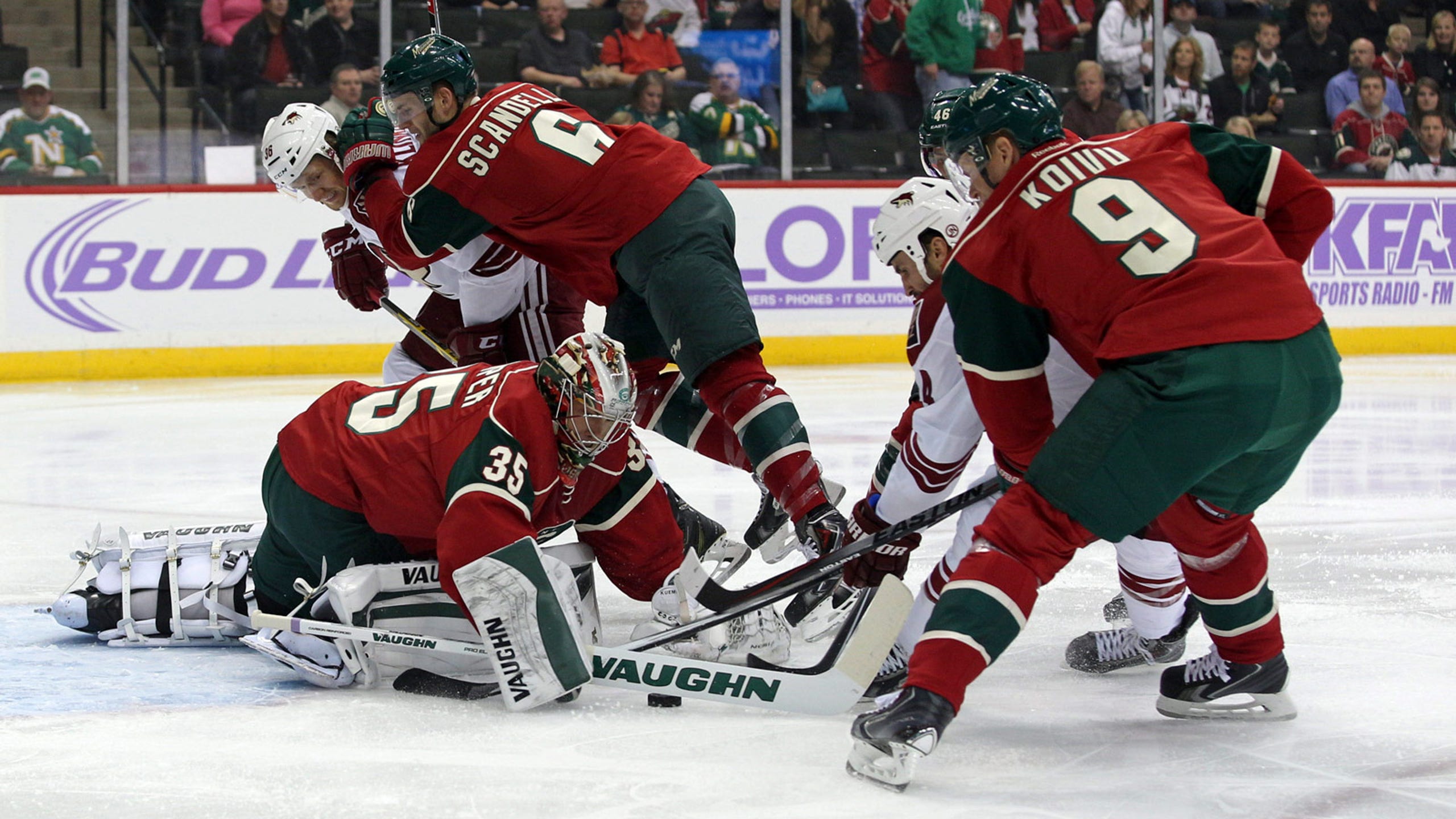 Wild's third win comes in Kuemper's third shutout
BY foxsports • October 24, 2014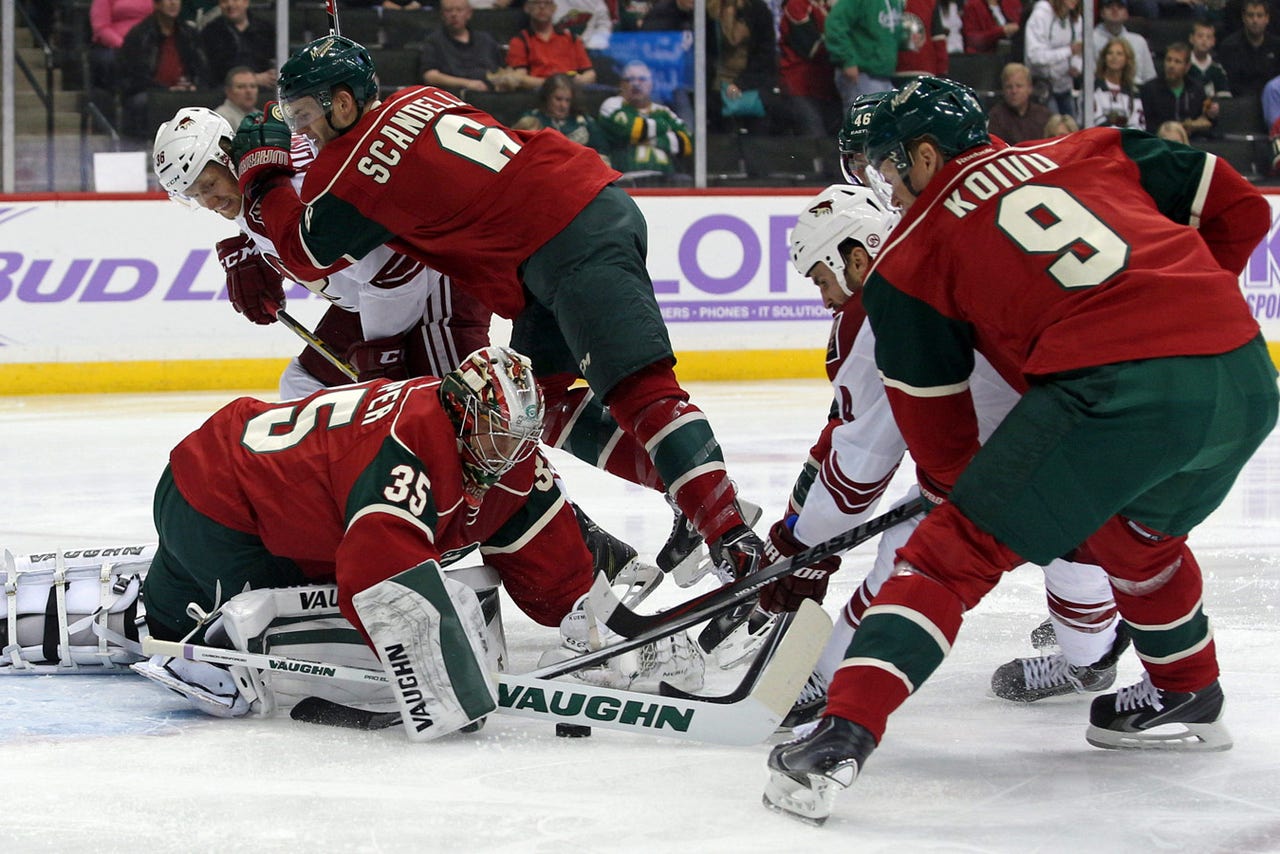 ST. PAUL, Minn. -- There's a common thread in all three of the Minnesota Wild's victories: all three have been shutouts.
Look even closer at those three shutouts and there's another common denominator. Goalie Darcy Kuemper has been between the pipes for each one, including Thursday's 2-0 victory over the visiting Arizona Coyotes.
Thanks to Kuemper's NHL-best third shutout of the year, the Wild improved to 3-2-0 on the season. When Minnesota's game concluded Thursday, no other goalie in the NHL had more than one shutout, putting Kuemper alone at the top. The 24-year-old Kuemper stopped all 26 Coyotes shots he faced, as goals by Charlie Coyle and Jason Pominville were more than enough.
"I thought he was really good tonight," Wild coach Mike Yeo said of Kuemper. "I thought that he was just very involved in the game. Obviously, he got rewarded for it."
The three shutouts are already a career high for Kuemper, who is in his third NHL season but played in just his 37th career game with the Wild on Thursday. Kuemper entered the preseason as one of a few goaltending options for Minnesota, along with Niklas Backstrom, Josh Harding and Ilya Bryzgalov.
Harding has been sidelined by an injury, and Bryzgalov was released from his tryout before the season started. That left just Kuemper and the 36-year-old Backstrom as the two goalies on the roster.
Minnesota has called on Kuemper four times so far in five games. In all but one of his starts, Kuemper has pitched a shutout. It's not exactly the way the young goalie envisioned the season to go early on, but he'll take it.
"I definitely didn't think of something like this happening," Kuemper said after Thursday's win. "It's definitely a good feeling and pretty exciting. I'm fortunate of how the guys are playing in front of me."
Arizona's 26 shots on Kuemper were evenly dispersed through the three periods. He made nine saves in the first and eight in the second as the Wild scored twice after the first intermission. Coyle, one day removed from signing a five-year contract extension, scored on a deflection for a 1-0 lead. Just a few minutes later, Pominville fired a shot from the top of the right faceoff circle to beat Coyotes goalie Mike Smith to give Kuemper a 2-0 cushion.
As he proved once again, one goal would have been enough for Kuemper. Arizona had a few scoring chances in the second period, including a power play opportunity after a penalty on Wild defenseman Ryan Suter. But nothing seemed to bother Kuemper, whose 26 saves matched the second-most he's recorded this year. He made 30 saves in the Wild's 3-0 win over Colorado earlier this month, and his other shutout -- a 5-0 victory in the season opener -- required just 16 saves.
"Obviously Kuemps played really well," Pominville said. "We gave up a little more than what we have in the past and he was solid when he needed to (be)."
Arizona thought it got on the board in the third period when Kyle Chipchura snuck a shot past Kuemper, but the goal was waved off as B.J. Crombeen interfered with the goalie. That kept the shutout alive and, more importantly, kept it at a two-goal lead for the Wild. Kuemper turned aside all nine shots he saw in the third period to preserve the shutout and he improved to 13-3-2 lifetime at Xcel Energy Center.
Inconsistency in goal was a weak spot for the Wild last year despite Minnesota's playoff run. Kuemper played in six of those playoff games a year ago and was 3-1-1 with a 2.03 goals-against average. Minnesota inked him to a two-year contract before the season, giving him an opportunity to be the team's goalie of the future.
The 2014-15 season is still very young, but Kuemper has gotten off to about as good of a start as he and the Wild could have hoped for. His four starts have yielded three shutouts, three victories, and a 0.50 goals-against average.
"I'm real fortunate to have the guys playing the way they are in front of me defensively," Kuemper said. "I'm kind of reaping the benefits of that."
Follow Tyler Mason on Twitter
---
---