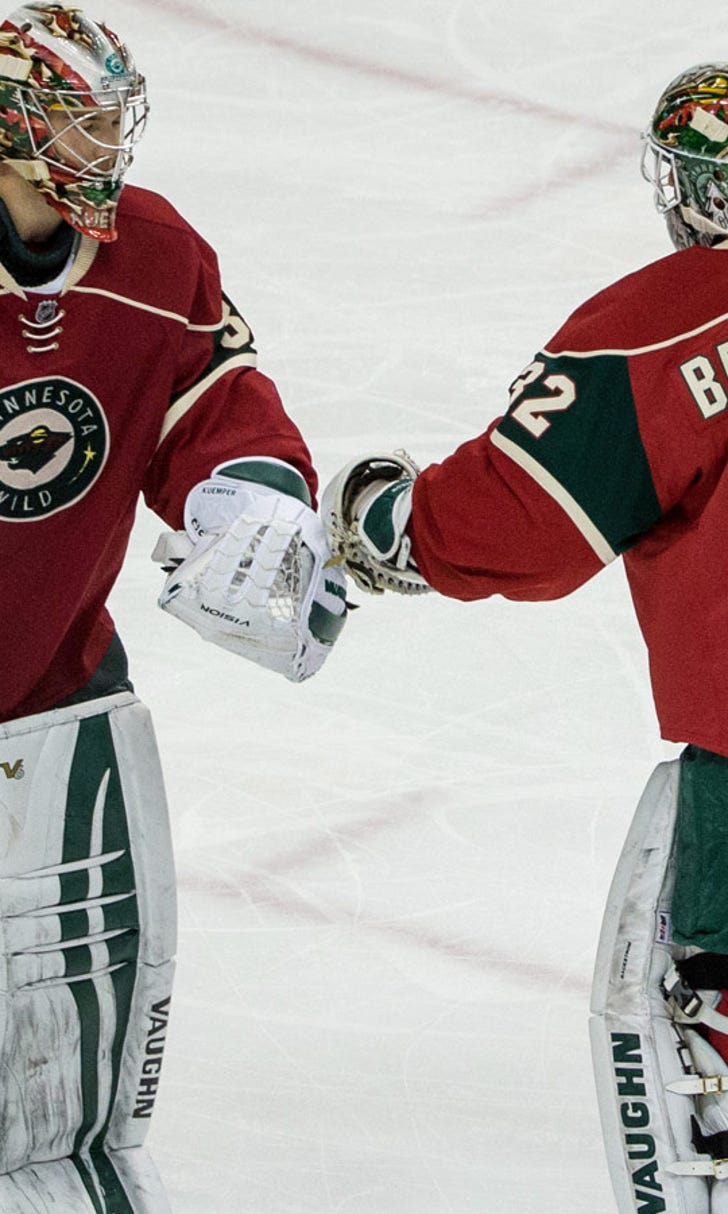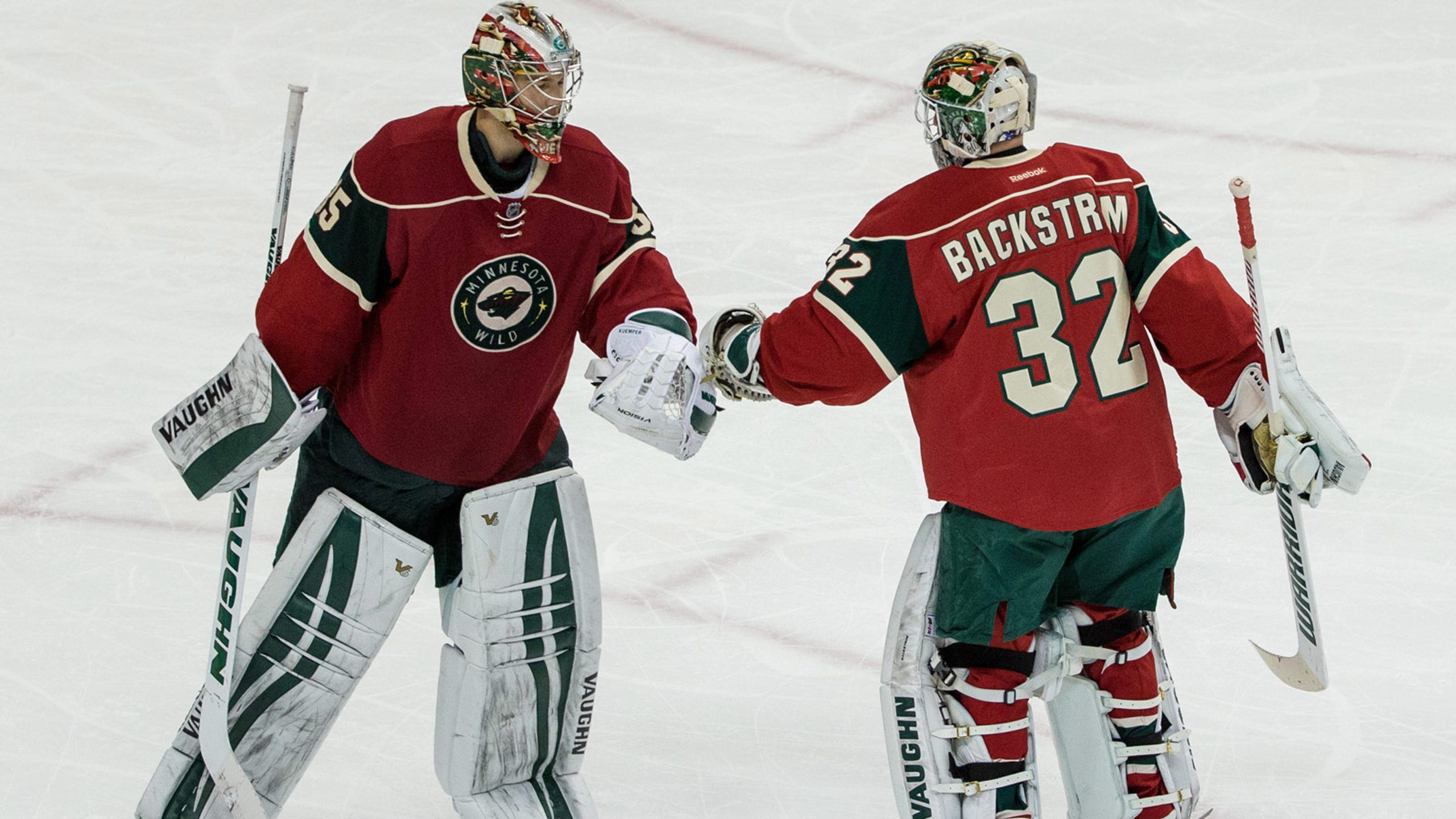 Wild handling goaltender situation one day at a time
BY foxsports • February 9, 2015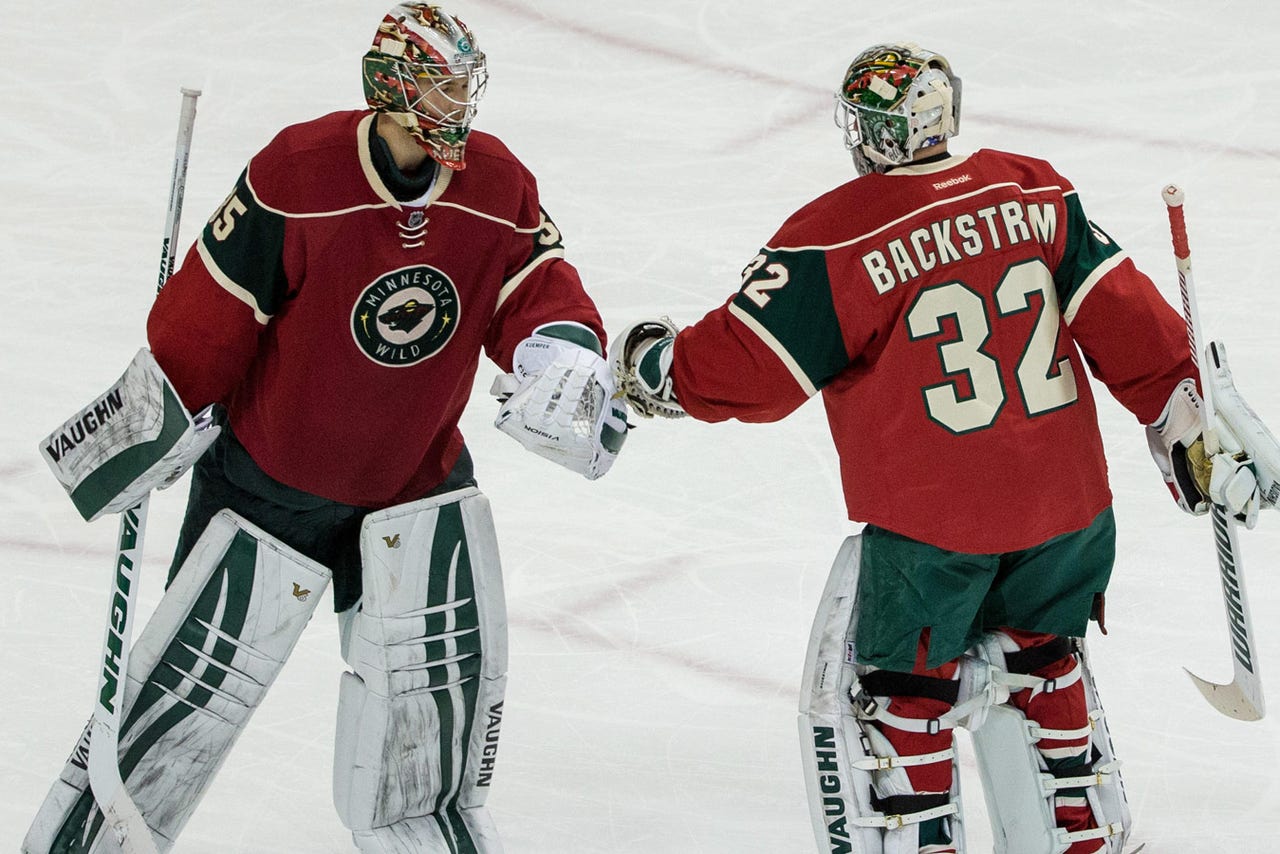 ST. PAUL, Minn. -- On one end of the ice, Devan Dubnyk prepared for Monday night's start against Vancouver with his own net. At the other end of the Xcel Energy Center rink, Darcy Kuemper and Niklas Backstrom shared a net, alternating at times during practice.
So begins the Minnesota Wild's stretch with three goaltenders.
Kuemper rejoined the team after being recalled from his American Hockey League conditioning assignment with the Iowa Wild, and Minnesota heads into Monday night's game against the Vancouver Canucks with three healthy goaltenders on the roster.
"Just ask me tomorrow how I handled the day before because that's what it's going to be," Wild head coach Mike Yeo said of his approach with three goaltenders on the roster. "I don't have a plan for tomorrow right now. I've got Dubey in the game tonight and obviously he's been playing at a level that whenever he's available, whenever we feel that he's fresh, and whenever we feel that we're not going to put him in a bad situation, right now the way things are going, there's a good chance that he'll be in the net.
"We'll have to evaluate after the game what we need for tomorrow based on how the game went tonight and based on some other decisions that we'll have to make."
Dubnyk has earned the lion's share of time in Minnesota's goal because he's 7-1-0 with a 1.31 goals-against average, a .948 save percentage and four shutouts in nine starts with the Wild. Minnesota's rise to a tie for ninth place in the Western Conference started with Dubnyk's arrival in a trade from Arizona.
The 28-year-old netminder was named the NHL's First Star of the Week on Monday after posting back-to-back shutouts last week against Chicago and Colorado. Dubnyk hasn't allowed a goal in 126 minutes, 39 seconds and is the fastest goaltender to post four shutouts with a new team among goaltenders in the NHL's expansion era (since the 1967-68 season), according to the Elias Sports Bureau.
"I said last week it's real nice to get the personal accomplishments," Dubnyk said Monday. "I think our group probably got the First Star the way those two games went."
Dubnyk's play has eased any difficult decision-making.
After a turbulent 2013-14 season that saw him traded for the first time in his NHL career, Dubnyk re-established himself with Arizona and ranks sixth in the NHL in save percentage at .925. He owns the league's 10th-best goals-against average at 2.26.
But Kuemper, who was the backbone early this season, returns after five games in the AHL. Kuemper went 2-3-0 with a 3.22 goals-against average and .891 save percentage in his conditioning stint with Iowa, including one shutout.
Kuemper is 13-12-2 with a 2.62 goals-against average and .904 save percentage after starting the season with three shutouts in his first four games.
"I was feeling good down there so I've just got to carry that here," Kuemper said. "I've played lots of games so it's not going to be anything out of the ordinary for me. Just control what you can control. I'll be ready if I get called upon."
Yeo plans to take the goaltending situation day-by-day, with the only expectation that Dubnyk should continue to lead the pack. Backstrom will back up Dubnyk on Monday and Yeo wouldn't reveal his plans for Tuesday's game in Winnipeg.
"I have no concerns whatsoever about the challenges," Yeo said. "I do know that we have to make sure that we're managing it correctly. In a lot of ways I feel bad for Backy and I feel bad for Kuemps. Obviously as well as Duby's played, he deserves an awful lot of attention. Obviously I think it's kind of magnified and put a little bit more pressure and been a little bit tougher for those guys to deal with everything. But they're handling it well and they've had a great attitude, and I also think that we're playing a better game right now.
"So when either of those two guys gets back in the lineup hopefully we give them a better chance to be successful."
Kuemper has played one NHL game since Jan. 6. He replaced Dubnyk -- who allowed four goals on 10 shots -- in the second period of an eventual overtime loss at Detroit and stopped all 14 shots he faced in regulation and overtime.
As he returned to Minnesota, Kuemper said he hasn't been told what to expect going forward.
"The reps you do get, you just have to make sure you're sharp mentally and getting all you can out of them," Kuemper said. "Just maybe a little extra in the gym to keep the conditioning up and work hard when you do get those reps."
Backstrom, 36, hasn't played since allowing six goals in a loss to Pittsburgh on Jan. 13.
Yeo knows the confidence Minnesota has gained with Dubnyk in net must transfer when Kuemper or Backstrom are called upon.
"We have to be better than that," Yeo said of letting the confidence slip again. "We have to be stronger than that. I'd like to think we can support our teammates. That's what good teams do. I'm hoping that (Kuemper) gets in and he gets off to a great start, that he gives everybody a chance to just relax and do their own thing.
"If it doesn't get off to a great start then we have to be stronger than that mentally and make sure that we understand that we can overcome a bad goal or a bad bounce or whatever the case is. When we're on top of our game, I think we can overcome those things. When we're not, then they beat you."
Follow Brian Hall on Twitter
---