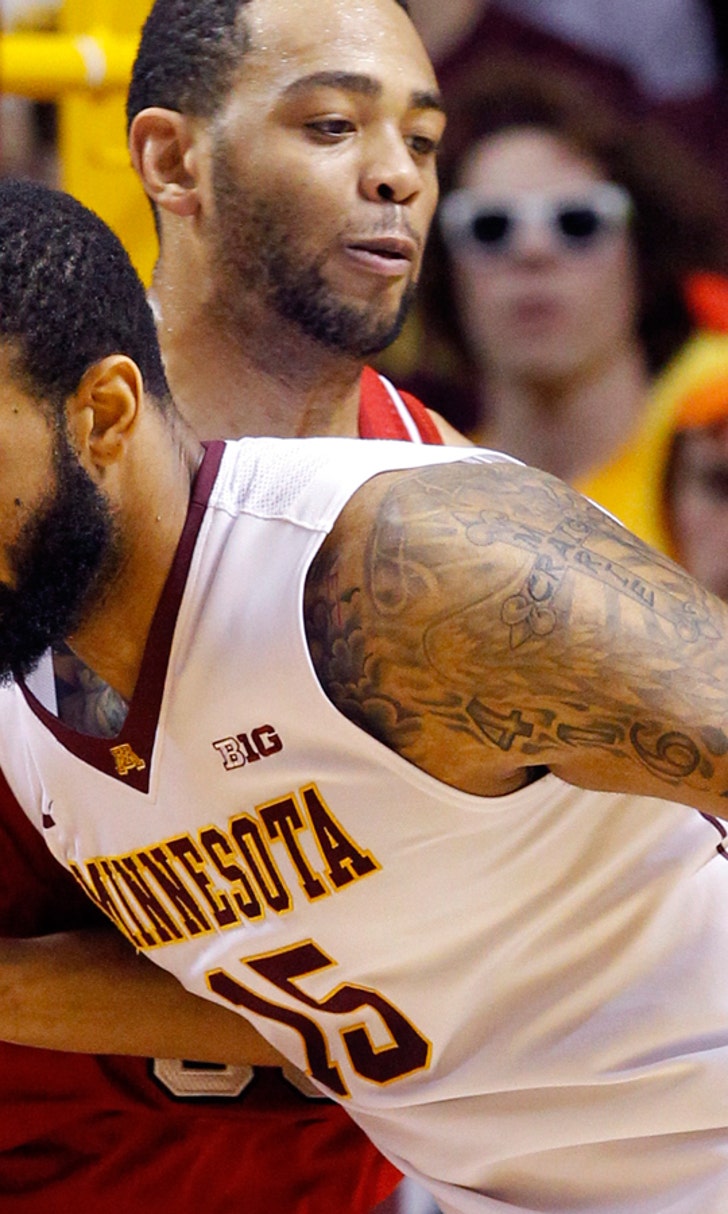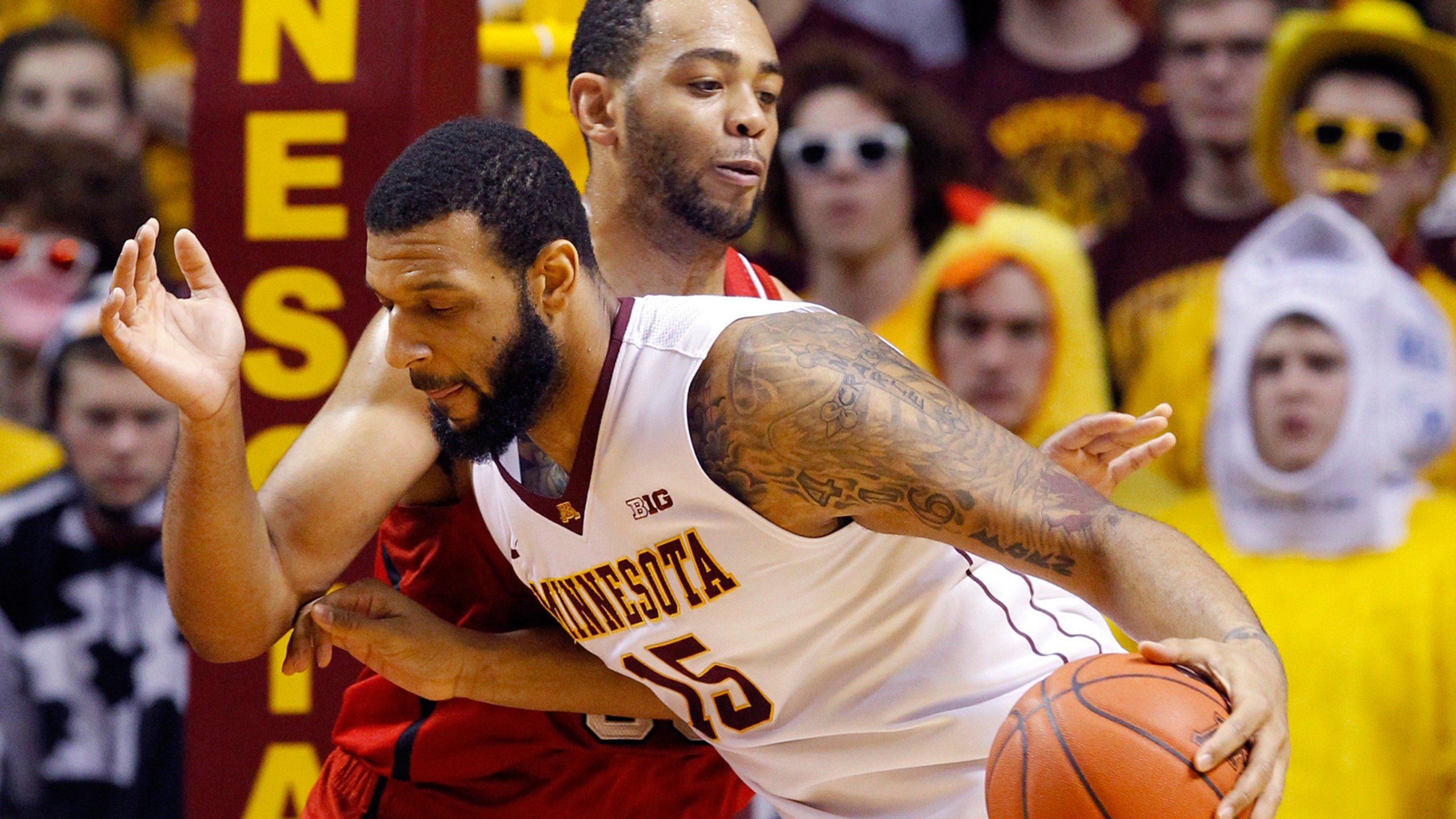 Walker helps Minnesota roll by Nebraska
BY foxsports • January 31, 2015
MINNEAPOLIS -- The first time the Gophers faced Nebraska this season, Mo Walker had arguably his worst game of the year.
Minnesota's 6-foot-10 senior had as many fouls in that game (4) as he did points. He also turned the ball over three times in what turned out to be a three-point loss for the Gophers, one of many narrow Big Ten defeats this year for Minnesota.
Just eleven days separated Minnesota's first and second meetings with the Cornhuskers this year. Leading up to Saturday's game at Williams Arena, Gophers head coach Richard Pitino didn't let Walker forget what happened in Lincoln just a week and a half earlier.
"The two practices leading up to the game, coach has really been on me about it," Walker said Saturday. "He's been making sly comments about it, but I tried not to let it get under my skin. I tried to let the game come to me today and be a lot more aggressive than I was last time."
Walker was not only more aggressive than his first matchup with Nebraska, but he was much more efficient and far more productive. The senior big man finished with a game-high 19 points and added eight rebounds and two blocks in Minnesota's 60-42 victory over the visiting Huskers.
Perhaps just as importantly, he stayed out of foul trouble. Walker picked up two early fouls in his previous meeting against the Huskers, which limited the impact he had -- particularly on the offensive end. He finished Saturday's game with just one foul after picking up four fouls in each of his last five games.
"It's definitely nice not to have to worry about foul trouble," Walker said. "I can be a lot more aggressive, get into the flow of the game more instead of subbing in and subbing out. It's a lot more comfortable playing without fouls."
Walker played 29 minutes Saturday against Nebraska, which equalled the third-most minutes he's played this season. It wasn't just the number of minutes Walker had in the game, though, but his efficiency during that time.
He attempted 10 shots, making seven. Walker was also a perfect 5 for 5 at the free-throw line, helping the Gophers temporarily overcome their free-throw woes. He scored early from the floor and hit shots late from the line, serving as a steady hand on a night when most of Minnesota's lineup struggled from the floor.
"I think patience was really good. He was getting good positioning on certain things," Pitino said. "But I thought more than anything he was really patient and really efficient more than anything."
Nebraska coach Tim Miles was equally impressed.
"I just thought he made plays tonight," Miles said of Walker. "He made three or four tough plays. That's six, eight, nine points."
One of Walker's biggest moments Saturday came in the second half with the Gophers holding onto a four-point lead, 39-35, after Nebraska's Tai Webster hit a 3-pointer at the other end. Walker converted a three-point play of his own to answer the Huskers' run, and Nebraska never got any closer than seven points the rest of the way.
Walker was just one of two Gophers to score in double-figures. Andre Hollins was the other, but he didn't reach the 10-point mark until late in the second half. Minnesota fed the ball to Walker in the post often, forcing Nebraska to try to find a way to stop the Gophers center when he backed his defender down in the post.
More often than not, the Huskers didn't have an answer.
"That's what type of player we need Mo to be for us to be successful," said Hollins, who finished with 12 points, six assists and five rebounds. "I don't think there's anybody in the nation that (can) guard him with his back to the basket. He's a very terrific back-to-the-basket post player."
Minnesota played one of its best defensive games of the year, holding the Huskers to just 42 points on 17-of-46 shooting. The Gophers were outrebounded slightly (30-27) in the win, but Minnesota's pressure on the ball forced 20 Nebraska turnovers.
With Saturday's win, the Gophers are still just 3-7 in the Big Ten with seven regular-season games remaining. Yet even though the season hasn't gone the way Minnesota hoped it would, Pitino's team was fired up during the victory over Nebraska.
That included Walker, who redeemed himself in his rematch with the team that previously held him to his worst game of the year.
"We're still pretty focused on the goal," Walker said. "We're just taking it one day at a time now, one game at a time, having a short memory. When we lose one, put it behind us, come in and prepare for the next one."
After last week's loss, the Gophers are glad Walker's memory is indeed short.
Follow Tyler Mason on Twitter
---