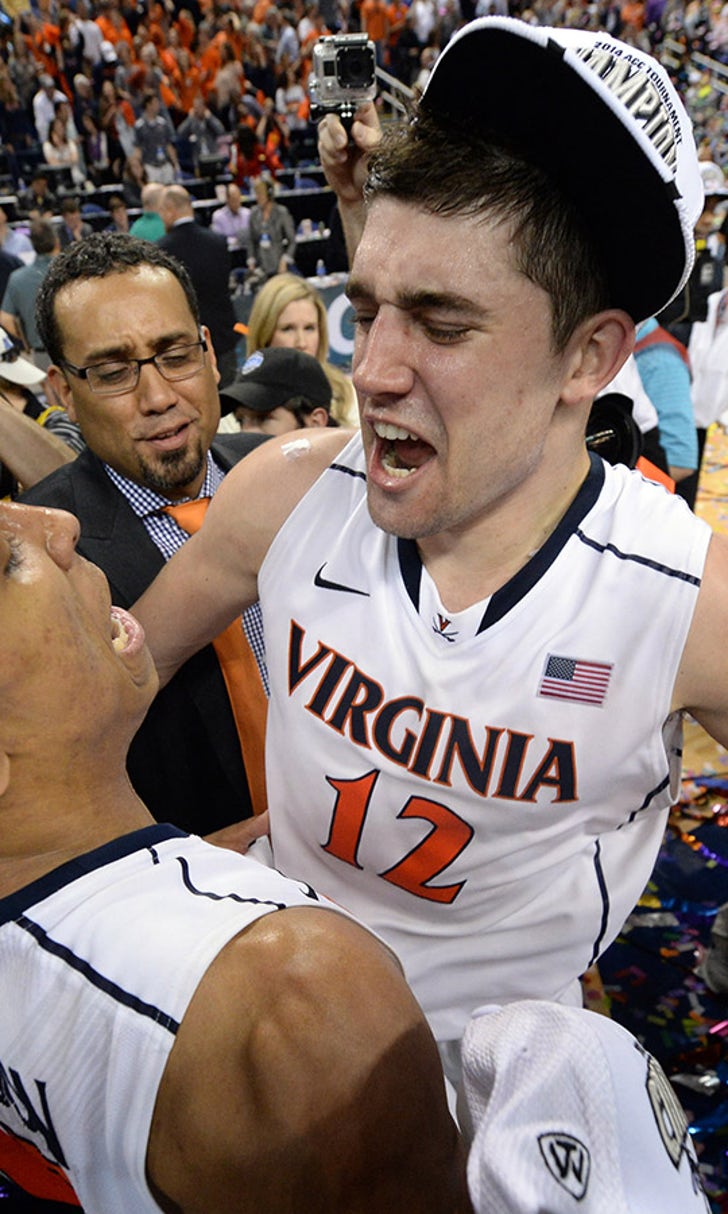 Virginia frustrates Duke to win first ACC tourney title since 1976
BY foxsports • March 16, 2014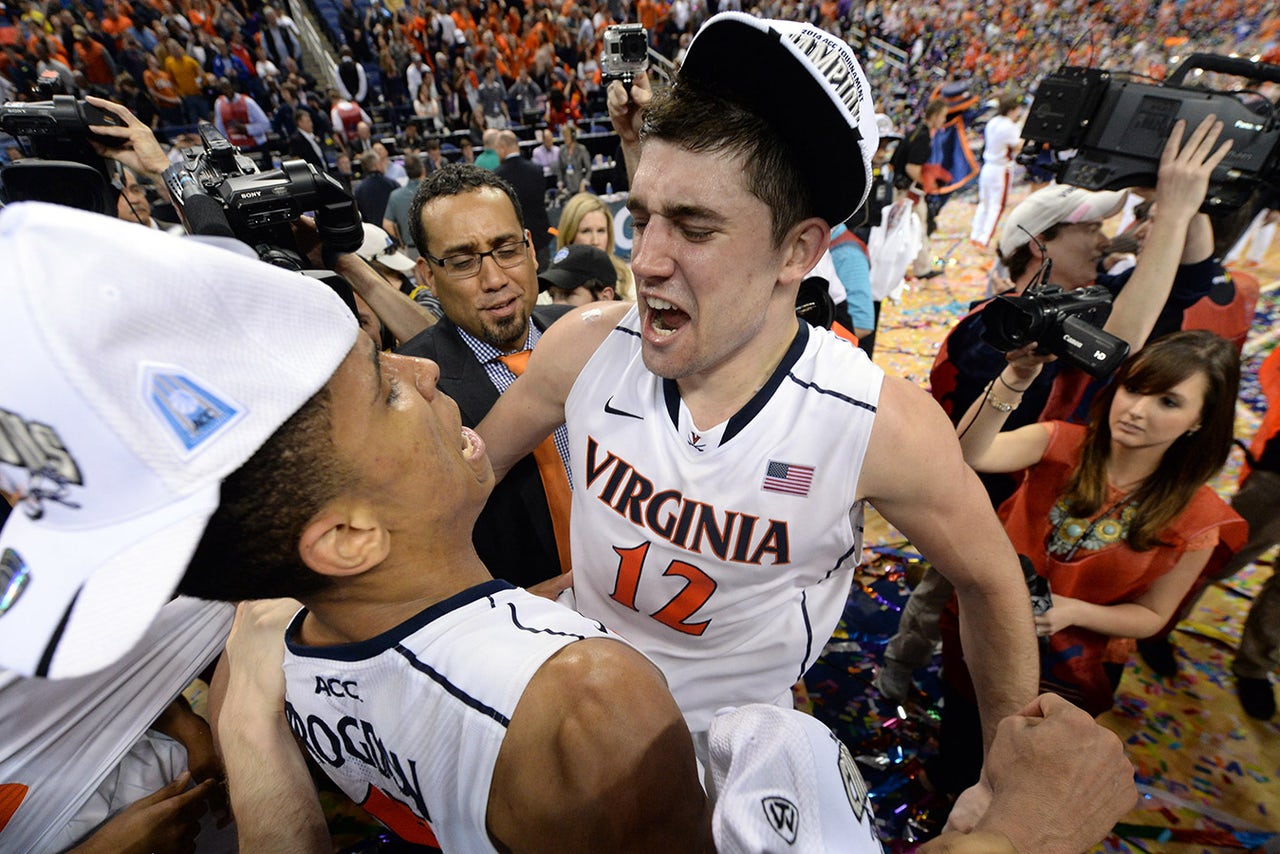 GREENSBORO, N.C. -- As confetti rained down on victorious Virginia, the Charlottesville contingent in attendance -- which was surprisingly sizable -- didn't seem to want to leave.
They swayed back and forth with the music, waved their signs and pompoms and generally had a look of dazed happiness on their faces as they just soaked in the moment.
The crowd had done its job, by the way. In Greensboro, it's almost always the case that a Big 4 team (Duke, North Carolina, N.C. State and Wake Forest) in the ACC championship game is going to have a bit of a home-court advantage. That certainly was not the case in this game as No. 6 Virginia beat the seventh-ranked Blue Devils 72-63.
"Oh, I was surprised. It might as well have been a home game. It might as well have been Charlottesville," Virginia point guard London Perrantes said. "They helped us. They gave us a lot of energy and we love it. We love them. They love us. We went out there and we did it for them."
And that sense of glassy-eyed, absent-minded happiness was not limited to the fans.
Not-quite-All-ACC Malcolm Brogdon played with his piece of freshly-cut nylon netting, absently tearing out the ends of it.
"It was a little bit ripped," Brogdon said of when he got it. "Now I'm just slowly ..." He trailed off, continuing to play with the fraying material.
He smiled, basking in the glow of Virginia's first ACC tournament title since 1976.
Brogdon has been the most consistent player on the best team in the ACC all season long, and even as he and his teammates vanquished yet another foe -- this time, Duke -- the Cavaliers are still seeking respect.
But in the moments after the win on Sunday afternoon, Brogdon couldn't think about much. He couldn't even remember a major part of coach Tony Bennett's teachings.
"From Day 1 when Coach Bennett was recruiting all of us, he talked to us about the five pillars that this program stands on, and that's the foundation that we try to live our lives by on and off the court, humility ... and the other four."
He rattled off three more -- unity, thankfulness, passion -- but he forgot servanthood.
Still, in that moment, four out of five isn't bad.
When it comes time for the NCAA selection committee to seed teams, the term "body of work" is thrown around a lot.
Virginia doesn't really care where it ends up on the seed line. But if you want to judge this team by its body of work -- which includes some head-scratching early season losses -- you're doing it wrong.
"Something we struggled with earlier in the season is just finding an identity offensively. Our leading scorer averages 12 a game," walk-on senior Thomas Rogers said. "No one cares who scores, and that's really unique to any team Iv'e been a part of. Last year we had to have Joe score or we weren't going to score. It just shows our great versatility and our great unselfishness."
During the national anthem, his teammate Justin Anderson turned to him and said, "Akil, don't let circumstances define you."
If Mitchell missed a bad shot or allowed a basket or two on defense, Anderson wanted Mitchell to be able to shake that off.
And he did that.
"He never let one possession lead to another. He just refocused every time. He hit his free throws. He was active on the glass, getting that huge tip-in for us I think to take us up four (with 2:23 to go)," Anderson said. "He did a tremendous job on Jabari Parker, even though his points may not show it, but he made it tough on him all night. All his points were tough."
But it was like pulling teeth to get Mitchell to admit he's his own team's best defender.
"Mike Tobey," he said when asked who the team's best defender was (referring to Virginia's sophomore center).
But as the media began to trickle out of the Virginia locker room and interviews were winding down, he admitted very quietly, "Hey, it's me. I am."
Anderson's sage words of advice to Mitchell were great, but Mitchell remembered a different type of motivational tactic that Anderson used on him.
"(Anderson) took the handcuffs from the police officers out there," Mitchell said with a grin, pointing outside the locker room. "He told me if I locked them up, I was going to get the handcuffs from the police officers."
He looked at Anderson expectantly. "I gave them back," Anderson said with a shrug.
Of course, the handcuffs are more a metaphor for this team's defensive identity than anything else.
The handcuffs came to be after some quotes from FSU forward Okaro White came out earlier this week, suggesting Virginia's players weren't tough. Virginia swept the season series with the Seminoles (and won a third game against them in the ACC tournament).
Leading up to the game, Anderson -- never lacking in creativity -- decided that the Cavaliers would form their identity around this concept of toughness.
"Ever since the Florida State game when we weren't called the tough guys or when we weren't tough, we looked at ourselves and we said, 'All right, if we're not tough, we'll just be the police and we'll lock the tough guys up.' So we just lock up and we pride ourselves on defense, and that's what the handcuffs were for," Anderson said with a grin.
This Virginia team that has won 19 of its last 21 games since a blowout loss at Tennessee wants everyone to understand who they are.
They're tough. They're versatile. They're deep. They will defend, yes, because that's what Bennett's program was founded on -- the idea that defense wins, and that the pack-line defense makes things so difficult on opponents that they have to waste an entire shot clock to score, only to miss and have frustration continue to mount. Duke shot just 38.1 percent for the game and 16-of-49 from inside the three-point line.
But Virginia can score, too. And they can overcome adversity, whether it's within a game or after a loss.
There was some doubt about whether Bennett's style, which was effective defensively but often ugly offensively, would work at Virginia.
There should not be anymore doubts.
"The best thing about this is this is not something that we plan on just doing for this year. This is something that we plan on doing for the rest of the time Coach Bennett's here, his time at UVa.," Anderson said. "He came in to rebuild a program and surely, that's what he did. We're now starting to see the positive results of it."
---