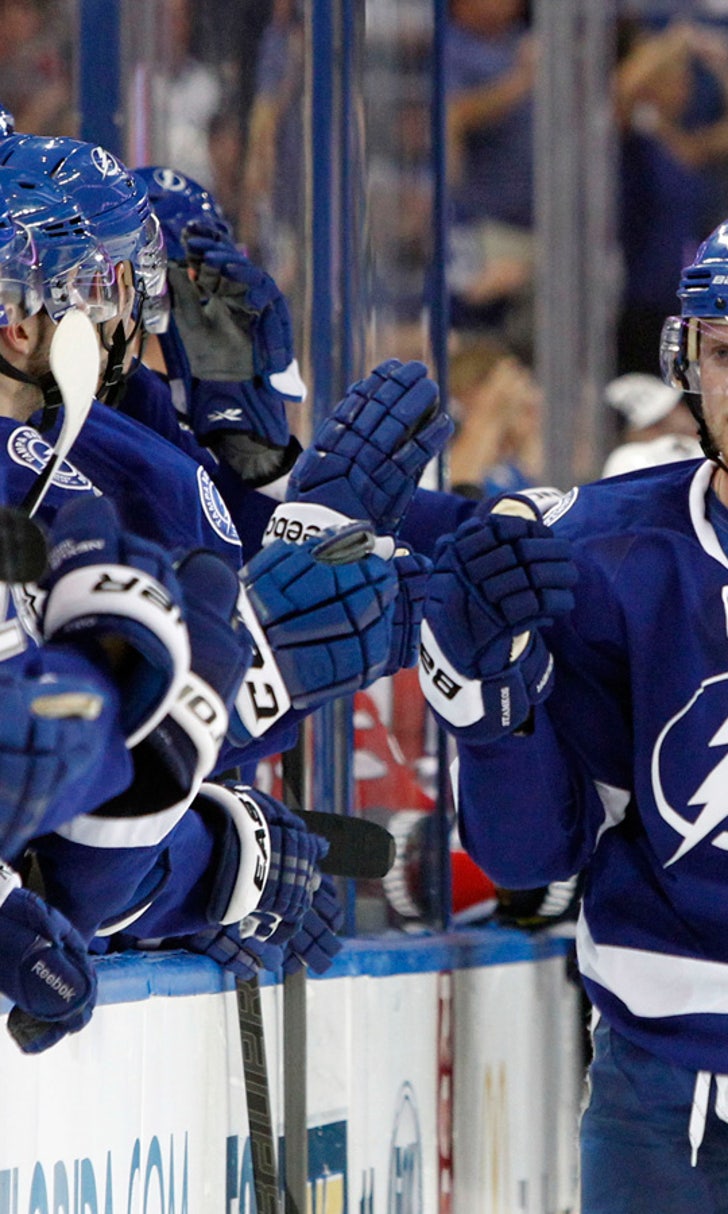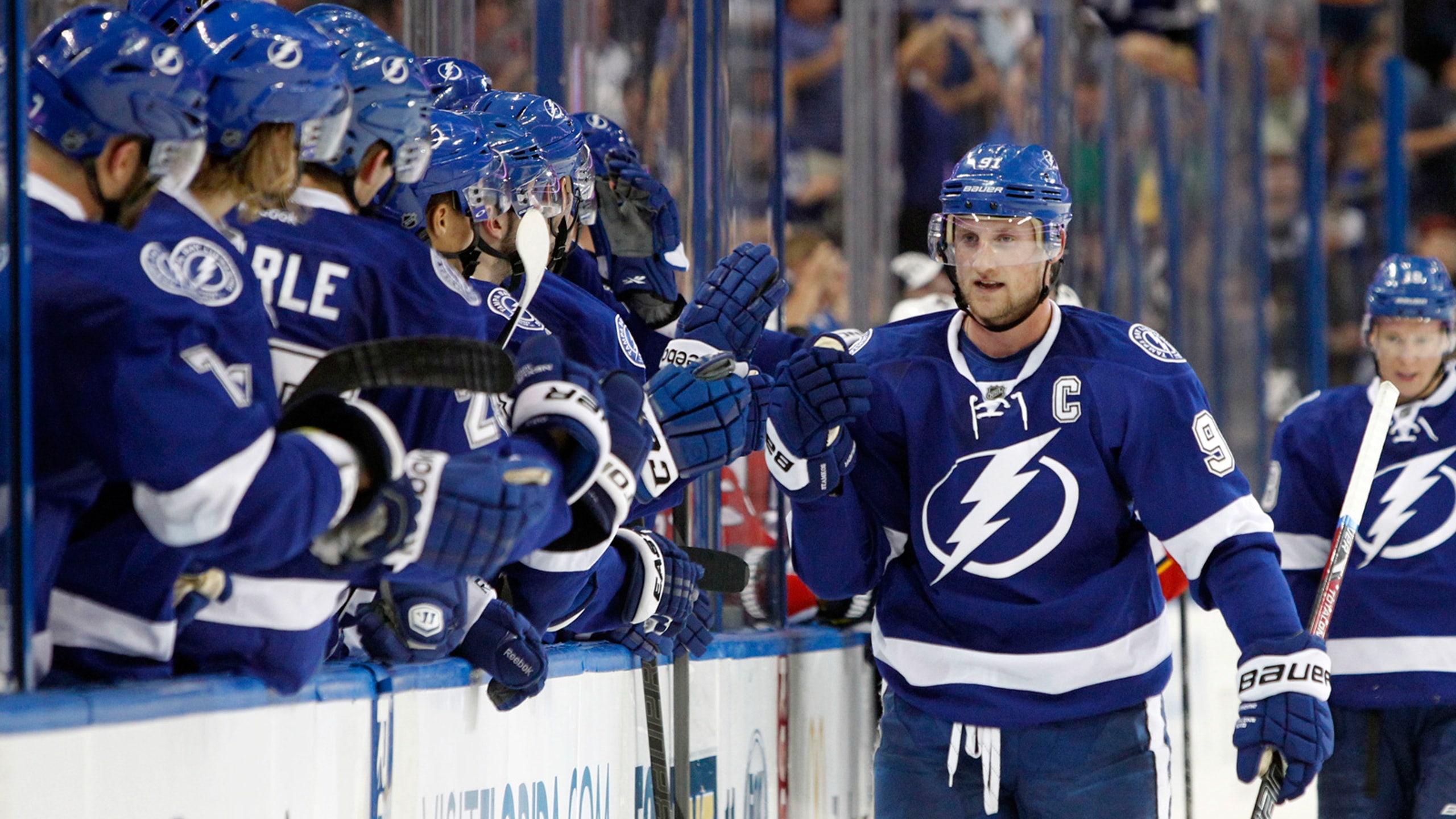 Victory brings relief as Lightning look to right ship for playoffs
BY foxsports • March 13, 2014
TAMPA, Fla. -- That's more like it. This result leaves a better taste. Twice the points are nice, especially when the playoff push gains a little heat.
"We're focused on wins here," Tampa Bay Lightning center Steven Stamkos said, after his team's 5-4 victory over the Florida Panthers on Thursday night at Tampa Bay Times Forum. "As long as we're winning, everybody is happy."
Happy times were with the Lightning again after another victory against their Sunshine State rival that included, at one point before a late flurry, a 5-2 lead in the third period. Four weeks remain in the regular season, so the Eastern Conference standings can still go a number of directions for the boys in blue: up or down, with smiles or stern looks.
But there was only reason to grin Thursday, after earning their first victory following five consecutive winless games. Some usual suspects contributed offense (Stamkos, Sami Salo, Tyler Johnson) as well as some new (Ryan Callahan). There were no shootout heartbreaks this time -- unlike the past two close calls against the Boston Bruins and Phoenix Coyotes -- and the aftermath satisfied.
"Wins are paramount, but you've got to munch points," Lightning coach Jon Cooper said. "We've munched four out of a possible six in the last three (games), and all of the sudden, if we can take care of Saturday night (vs. the New Jersey Devils), the homestand's looking pretty good."
A rekindling of their series with Florida was what the Lightning needed to enhance those results. A quirk in the schedule meant half of the four matchups between the intrastate rivals happened 17 days apart in the season's first month. The most recent meeting occurred Dec. 23, a 6-1 Lightning victory in Sunrise, and Tampa Bay was a much different team then.
Since, Stamkos has returned from a broken right tibia, Marty St. Louis has left in a blockbuster trade, Johnson has asserted himself as one of the league's best rookies and Ben Bishop strengthened his case as perhaps the Lightning' most invaluable roster member outside No. 91. At one point, before the Lightning's post-Olympics slide, they appeared to be a lock to break their playoff drought, though their postseason future had become more uncertain by the day.
That's why this victory was important. Before Thursday, the Lightning last earned two points after beating the Dallas Stars on March 1. Overall, they had earned just four points since the Olympic break ended Feb. 27.
The situation became tenuous enough that Cooper called Thursday's matchup "pretty pivotal" for his team. The announcement was a rare deviation from his calm, calculated approach to a season that has included obstacle after obstacle.
No shock: In the dressing room, the message was felt.
"There's definitely urgency in this room," said Callahan, whose second-period goal was his first with the Lightning. "There has to be. We're too close in the standings for there not to be, especially with two, three losses in a row. It's so tight right now. Every game means so much to try to make that playoff push."
The Panthers, in this case, were the right opponent at the right time for the Lightning. Before Thursday, it didn't take much to learn why these teams had such different paths since October: The Lightning were 21-5-4 against the Eastern Conference, the Panthers 17-23-4; the Lightning were 13-7-2 against the Atlantic Division, the Panthers 11-14-1; the Lightning were 13-9-3 against the Western Conference, the Panthers 7-11-3.
Tampa Bay is playing for the now, a group trying to recapture the spark that produced eight victories each in October, November and January. Who's to say how much of a psychological shock the St. Louis-to-New-York trade had in the dressing room?
But it's only logical to assume that life after the move has been like trying to gain footing in quicksand, with a new foundation yet to form. Comfort will take time.
Meanwhile, Florida is playing for the future, a group trying to gain some of what Tampa Bay captured this winter. The recent trade for goaltender Roberto Luongo was a coup. So was the haul of three draft picks from sending away veterans Marcel Goc and Mike Weaver.
The Panthers could be on the rise, but the full results of these developments won't be seen until next season and beyond.
"It's three games in a row we get a point," Stamkos said. "I know coming into this game we weren't happy, but when you start stringing point streaks together, it adds up quick, especially this time of year."
And this time of year must be extended here. This state needs to see postseason hockey again, and that makes Tampa Bay's push for the present intriguing. Since the 2007-08 season, Florida and Tampa Bay have only produced two playoff berths -- one by each team, the Lightning in the 2010-11 campaign and the Panthers in 2011-12.
Sure, this is a region where NFL free agency and MLB spring training can dominate headlines in spring. But hockey has the potential to make more of a dent. Habits become so for a reason, but a postseason awakening of either of the state's hockey franchises would be felt.
The Lightning are closer to reaching that mark after Thursday. There are no guarantees they'll fend off the New York Rangers, Columbus Blue Jackets, Philadelphia Flyers, Detroit Red Wings and other contenders in what should be a revealing final month.
But of course, a much-needed victory was movement in the right way, two points leaving a more satisfying taste than the recent run of near-misses.
"I like where we're headed," Cooper said.
That direction, after this night, pointed upward.
You can follow Andrew Astleford on Twitter @aastleford or email him at aastleford@gmail.com.
---