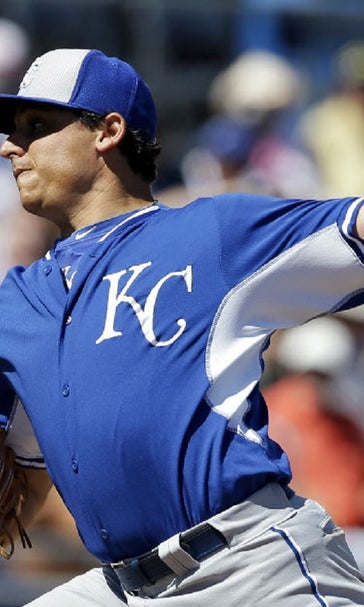 Vargas tires in 5th, Royals edge Padres 9-6 in 10
March 16, 2014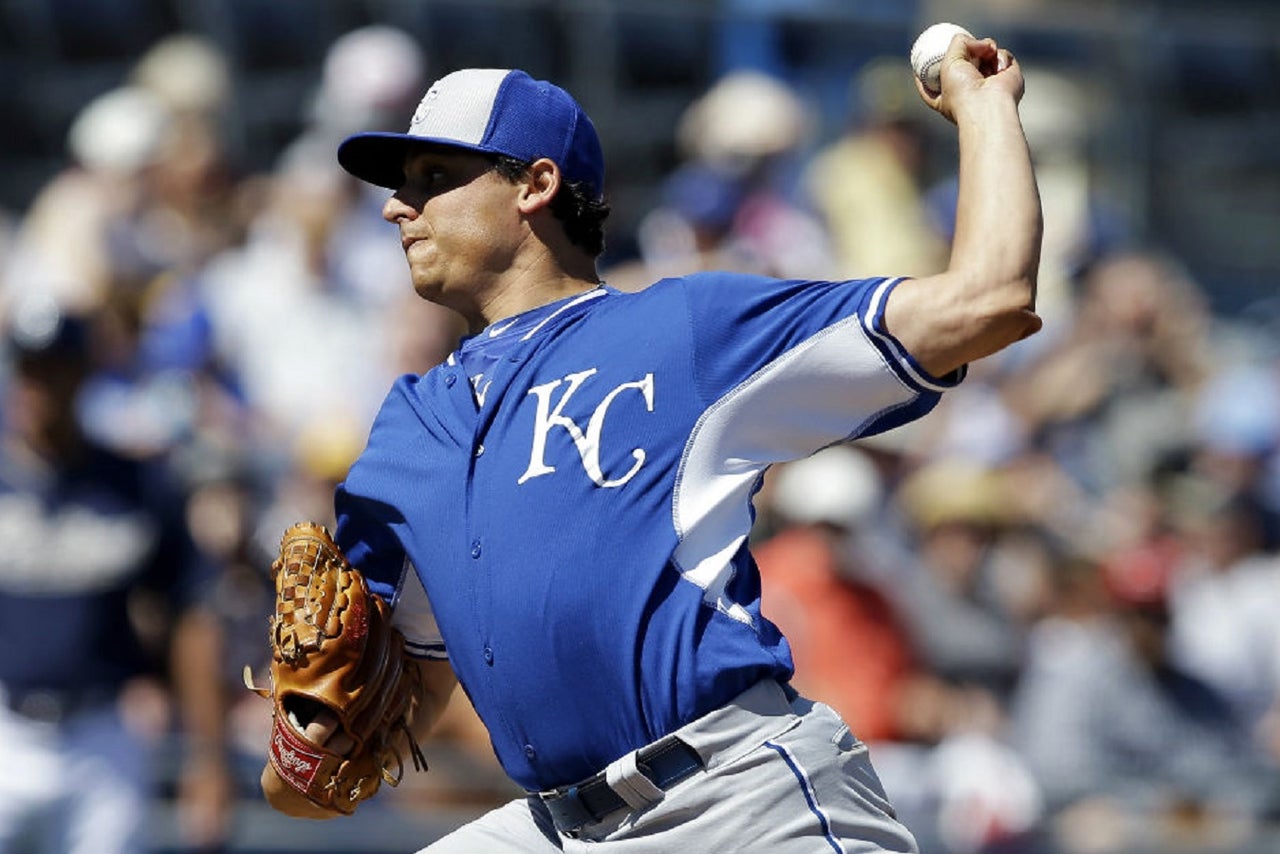 PEORIA, Ariz. -- Jason Vargas cruised through four innings before allowing two home runs in the fifth during the Kansas City Royals' 9-6 victory over the San Diego Padres in 10 innings Sunday.
Jedd Gyorko's first-inning single was the only hit off Vargas until Yonder Alonso's leadoff homer in the fifth. It was the second earned run given up by Vargas in 14 innings this spring. Three batters later, Kyle Blanks hit a two-run shot.
Vargas finished the fifth, allowing three runs and four hits with four strikeouts.
"He got a couple pitches up in the fifth," Royals manager Ned Yost said, "but I thought he threw great."
Carlos Peguero hit a solo homer in the third off Padres starter Ian Kennedy, who reached his 80-pitch limit with two outs in the fifth.
Tune in at 7:30 p.m. Monday for 'Royals Live' followed by the Royals-Rangers spring training game.
Kennedy gave up four runs and eight hits.
New setup man Joaquin Benoit pitched a scoreless seventh for the Padres with one strikeout. He has 11 strikeouts in six shutout innings this spring.
Kansas City tied it on Jason Donald's two-run homer off Donn Roach in the ninth. Matt Fields and Whit Merrifield had RBI singles off Blaine Boyer in the 10th.
STARTING TIME
Royals: Vargas, set to start Kansas City's second regular-season game, had allowed just one earned run in 13 innings before the fifth.
Padres: Kennedy has allowed eight runs and 16 hits in his last two starts, covering 8 2/3 innings.
HEADLEY WON'T HURRY
Padres third baseman Chase Headley thinks it's possible he'll be ready for the March 30 opener, but he won't rush his recovery from a strained calf.
"Worst-case scenario, if I miss a game or two in the regular season, that's better than missing 30," Headley said as he massaged his right calf with a roller.
Headley hopes he can play in an exhibition game within a week.
"The at-bats I'm not worried about because I'll go down to the minor leagues and I can get five, 10, 15 in a day if I want," Headley said. "It's more being on my feet, bouncing back, getting my legs conditioned to play every day. If I can get a week to 10 days of games, then I'll feel really good."
TRAINER'S ROOM
Royals: Right-hander Luke Hochevar will have his season-ending elbow surgery Tuesday.
Padres: Catcher Yasmani Grandal went 1 for 2 and caught five innings in his second start following July knee surgery. ... Outfielder Alex Dickerson is out indefinitely after spraining his left ankle warming up Saturday. ... Closer Huston Street (groin) threw in a minor league game Saturday and is nearing a return. "I'm ready," he said.
CASHNER IMPRESSES
With the Padres opening the season against the Dodgers, Andrew Cashner pitched in a minor league game Saturday instead of facing Los Angeles.
Manager Bud Black said Cashner threw about 75 pitches and hit 98 mph. Black, however, still wasn't ready to announce what seems inevitable: Cashner will start opening night.
"I'm getting closer," Black said, smirking.
STRONG START
The Royals entered the game hitting a major league-best .306 this spring, then added 18 more hits. Outfielder Justin Maxwell, acquired from Houston in July, went 3 for 5 and is batting .419.
"We've had some guys with some really, really good springs," Yost said, "but Maxwell is right up there at the top of the list. He's been phenomenal."
THE CHAIR STAYS
As Cory Spangenberg loaded gear onto a cart to take to San Diego's minor league camp Sunday morning, he had one request.
"Can I take my chair?" Spangenberg asked, smiling.
The answer was no. The swank leather chairs are for the big league clubhouse only.
"Back to the stools," said Spangenberg, demoted on his 23rd birthday.
The second baseman, picked 10th overall in the 2011 draft, hit .261 in 16 games.
"I'm sure he wanted to get a few more hits," Black said. "He's getting closer."
Right-hander Burch Smith and first baseman Cody Decker also were sent down.
---