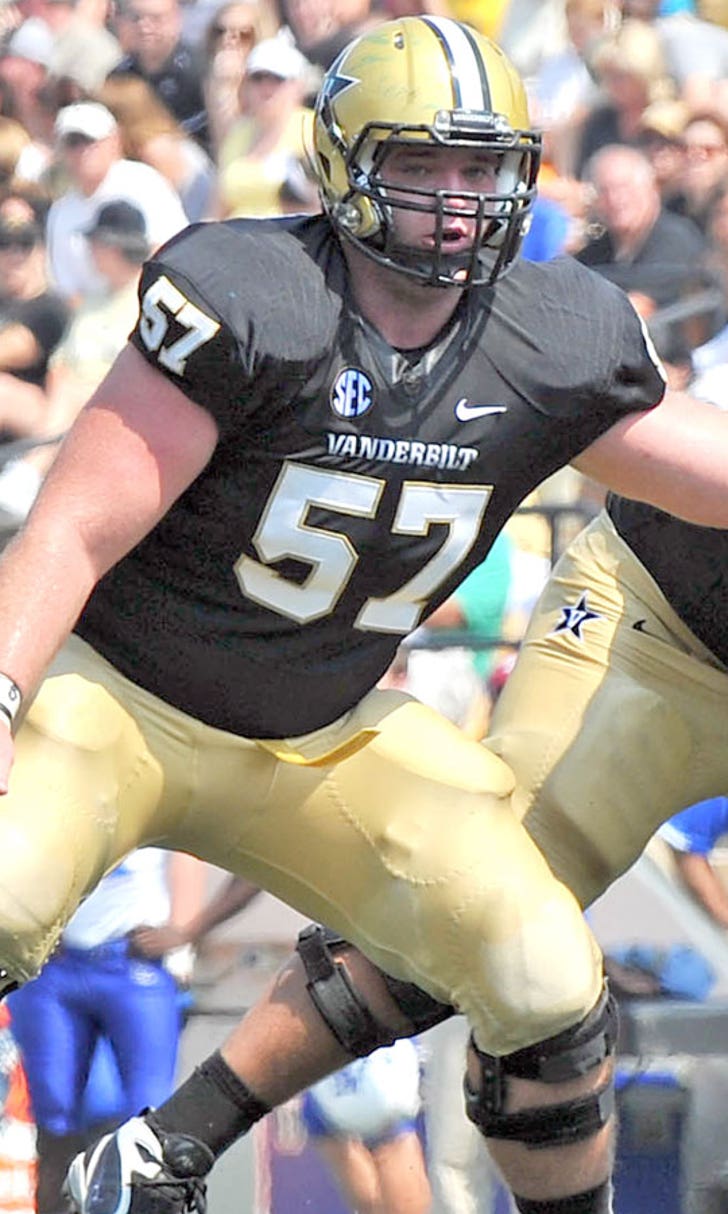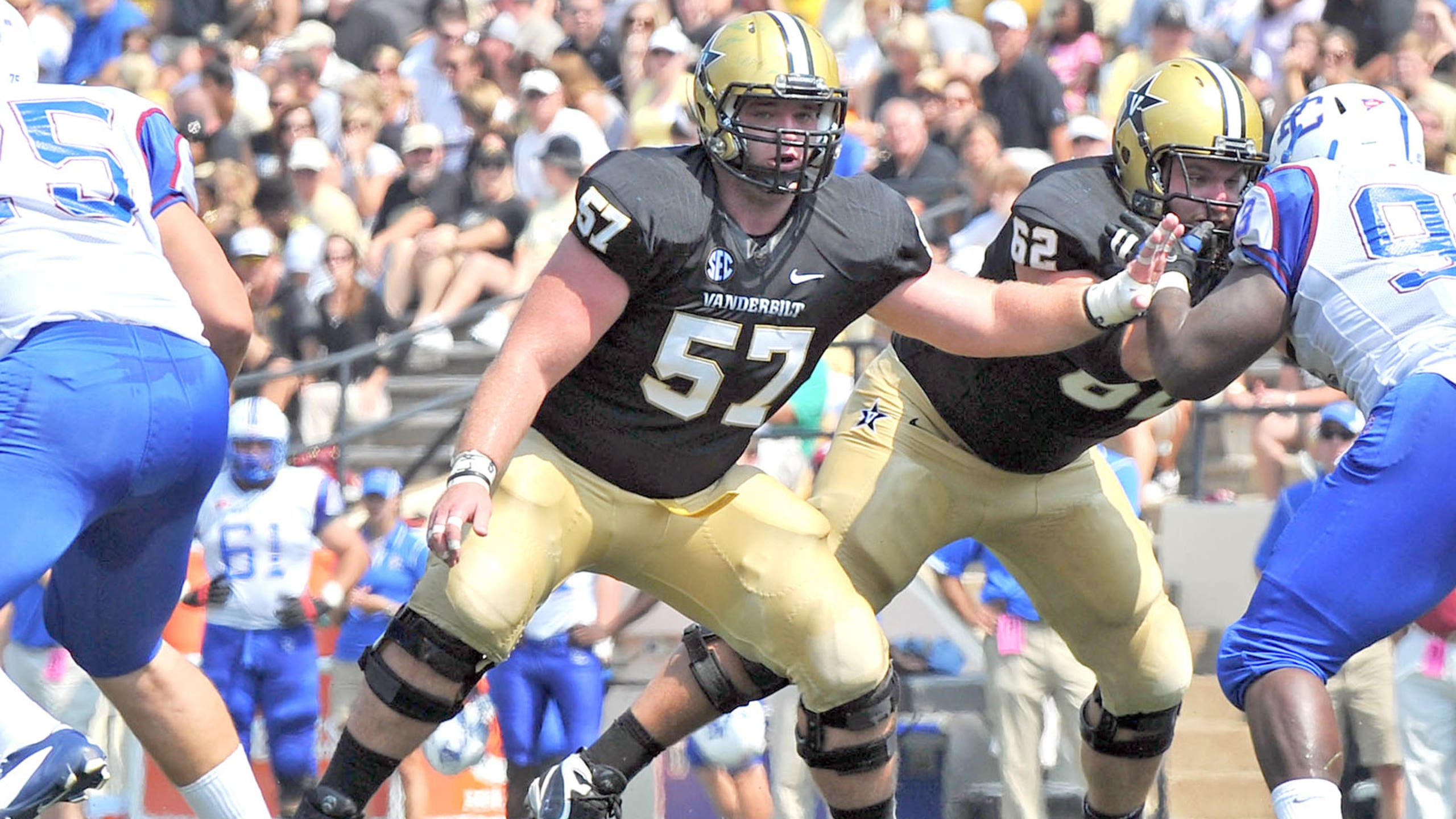 Vandy's Townsend the ideal bridge to Franklin, Mason eras
BY foxsports • August 5, 2014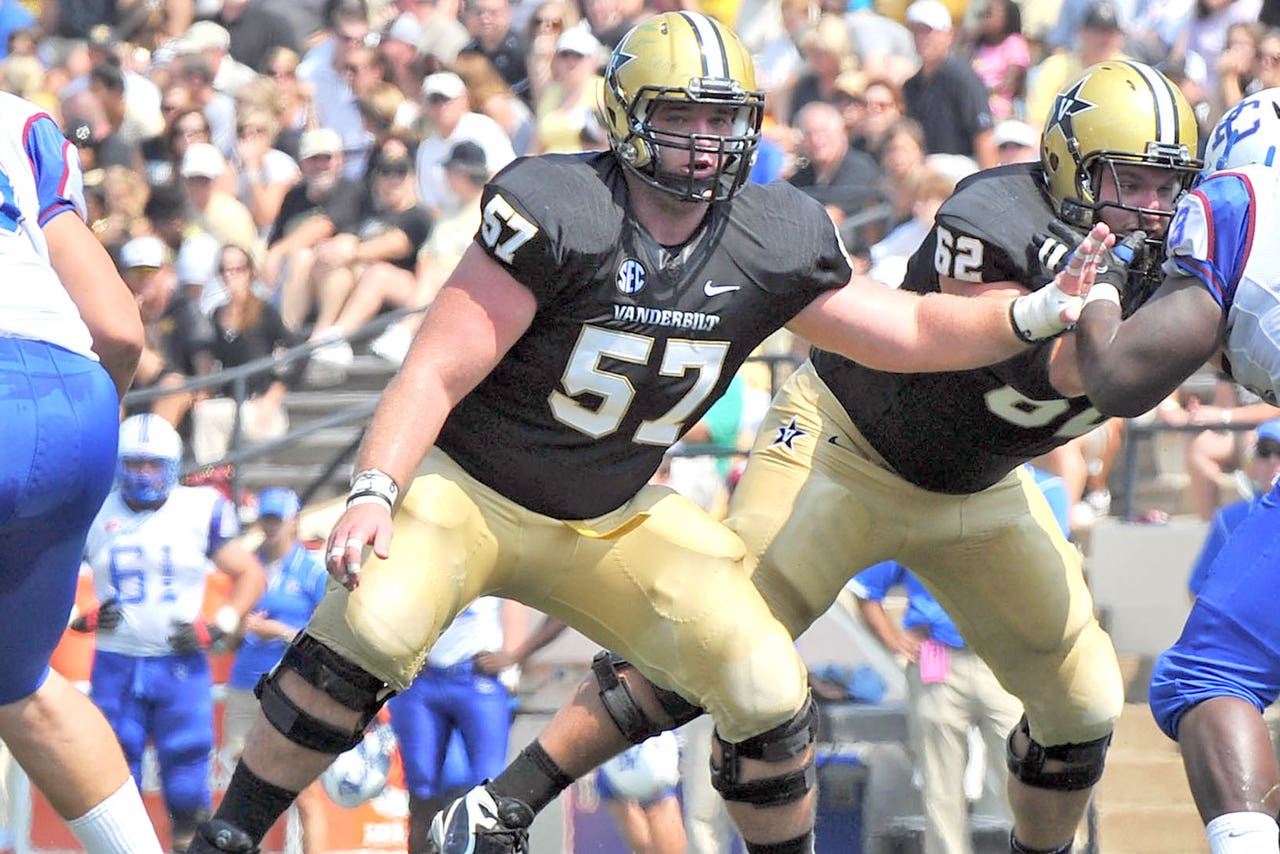 NASHVILLE, Tenn. -- There's nothing backup about Vanderbilt senior center Joe Townsend, even though that's how he became a Commodore in the first place.
It came late in the initial recruiting class of former Vanderbilt coach James Franklin, who called the Middle Tennessee State commitment on the last weekend before National Signing Day in early February 2011.
"Coach Franklin called me in the Sunday before National Signing Day and met me and wanted to get a feel for me as a person,," said Townsend, now a third-year starter and offensive line anchor for a Vanderbilt team that has had consecutive seasons of nine wins and a bowl victory.
With Franklin hovering at his recruiting limit for offensive linemen, apparently a Vanderbilt commitment decided to go elsewhere, opening the door for the product of nearby Hendersonville (Tenn.) High to play for the team he wanted to the most.
"The night before signing day, coach Franklin called me," Townsend said. "I guess someone had de-committed and a scholarship had come open. Pretty much, I was a backup plan, but I kind of took that as motivation. Coach Franklin gave me an opportunity when none of the other (SEC) coaching staffs would, so I just kind of took it from there and started running with it."
All the way into being on the 2014 preseason watch list for the Rimington Trophy that goes to the top center in the country. With Townsend starting the last 20 games, the Commodores have gone 16-4 -- the best record in the SEC other than Alabama during that stretch -- and making Townsend the leader of a talented offense line that returns four starters.
As he assessed his new roster, it didn't take long for first-year Commodores coach Derek Mason to know what he had in Townsend (6-3, 312), the only senior returning starter on offense, plus the three other returning line starters – sophomore tackle Andrew Jelks (6-6, 305) and junior guards Jake Bernstein (6-4, 305) and Spencer Pulley (6-4, 300).
"Joe is one of best linemen in this conference, bar none," Mason said of Townsend, who last season had 32 knockdown blocks and 21 blocks that led to either a touchdown or first down. "I don't care where you go in the SEC, you're not going to find a better lineman, a better center, a harder worker and a guy who you want to be in a fox hole with.
"He's a gym rat. He's a football enthusiast. He loves the game. He has an extremely high IQ. And he's played games and won."
Indeed, the 24 wins by the Commodores the past three seasons under Franklin, now coach at Penn State, is the winningest such stretch for the program in nearly a century. But despite beating rival Tennessee, Florida and Georgia last year for the first time in the same season, Vanderbilt was still picked to finish sixth in the seven-team East Division at last month's SEC Media Days.
The Commodores open the season Thursday, Aug. 28 against visiting Temple. Next is their SEC home opener on Saturday, Sept. 6 against Ole Miss at LP Field, home of the NFL's Titans.
"We're Vanderbilt," Townsend said. "We're always going to have to prove ourselves year in and year out. We're never going to get the respect that we want. We just have to use that as motivation. That's fine.
"If you don't want to respect us, that's OK. We're going to put our head down and go to work every day, and we're going to come out on Saturdays and we're going to beat you."
Vanderbilt has done mostly just that, but can the surge continue and advance?
The Commodores lost eight players to graduation who are now on NFL rosters, including All-American wide receiver Jordan Matthews. They're also trying to decide on a quarterback, most likely between sophomore Patton Robinette, who played solidly in 10 games last year, and redshirt freshman Johnny McCrary.
The notion that the offensive line is a team strength is reassuring to Mason and new offensive coordinator Karl Dorrell, who is implementing a multi-set approach compared to the former read-option.
"That's the big thing," Mason said of having Townsend at center. "Any time you get that guy who really controls your front in terms of calls, in terms of snap count, in terms of getting the ball to the quarterback, and that guy's a returning guy with as many snaps and as many wins as Joe, you feel really good about what you're looking at.
"He's got some guys to the right and left of him that are pretty darn good, too."
But from that group, it didn't take long for new offensive line coach Keven Lightner to figure out which of his charges was the bell cow.
"No question, that was probably the most comforting thing for me, having Joe there," said Lightener, a former Nebraska offensive tackle standout and fellow assistant alongside Mason at Ohio and New Mexico State. "Joe didn't redshirt. He played right away as a true freshman. He's been in the battles and is a very intelligent player, the kind of guy you expect to be here at Vanderbilt.
"I knew we were going to be smart up front. I knew we had intelligent guys, but it's the toughness part."
Especially Townsend.
"Joe is as tough as it gets," Lightener said. "He is downright nasty and loves the game. He just wants to play football. He does all the conditioning he is supposed to do. He does all the lifting and the weights, but he just wants to play football. That's what he's all about."
If Townsend had signed with nearby Middle Tennessee State as originally planned, he still would have stayed close to home for his college career. But playing at resurgent Vanderbilt has been something special for Townsend, whose family has lived in the same home in suburban Nashville since he was born.
"It's been a blessing," Townsend said of his Commodores career. "It really has, being able to see my family. I know the area. It's good and bad, because I haven't ventured off like some kids have to a completely different culture. But at the same time, I get to see my family, which means a world to me."
---