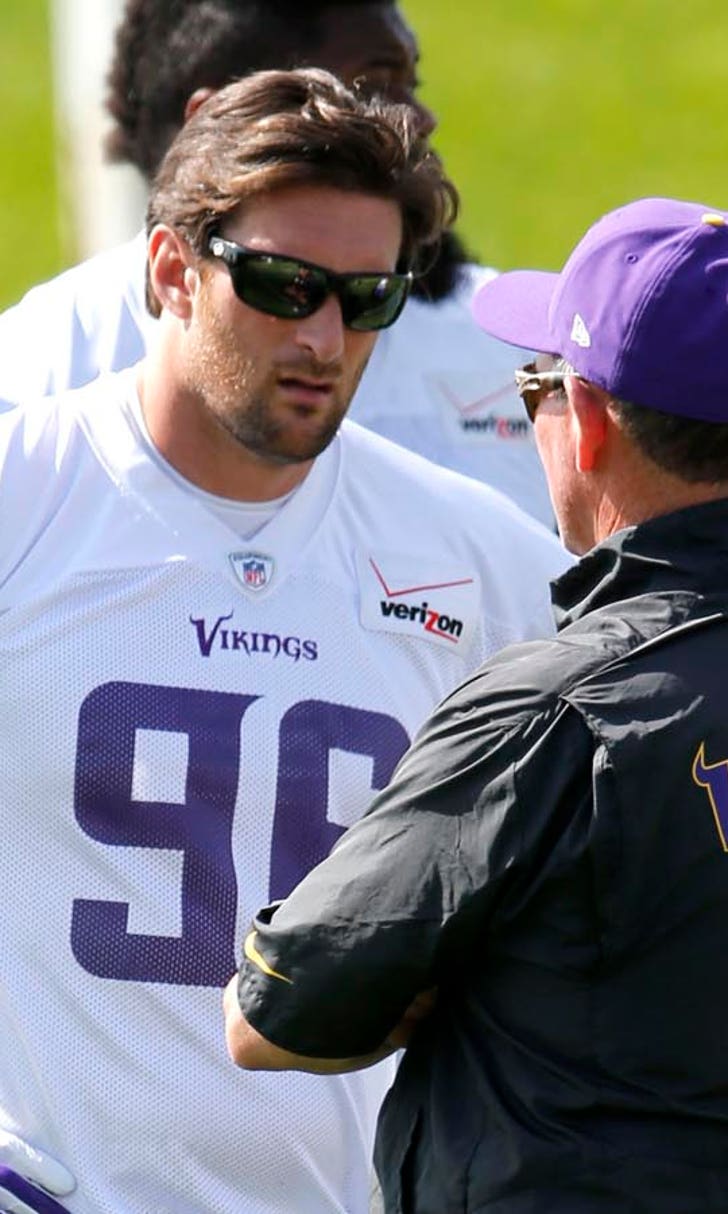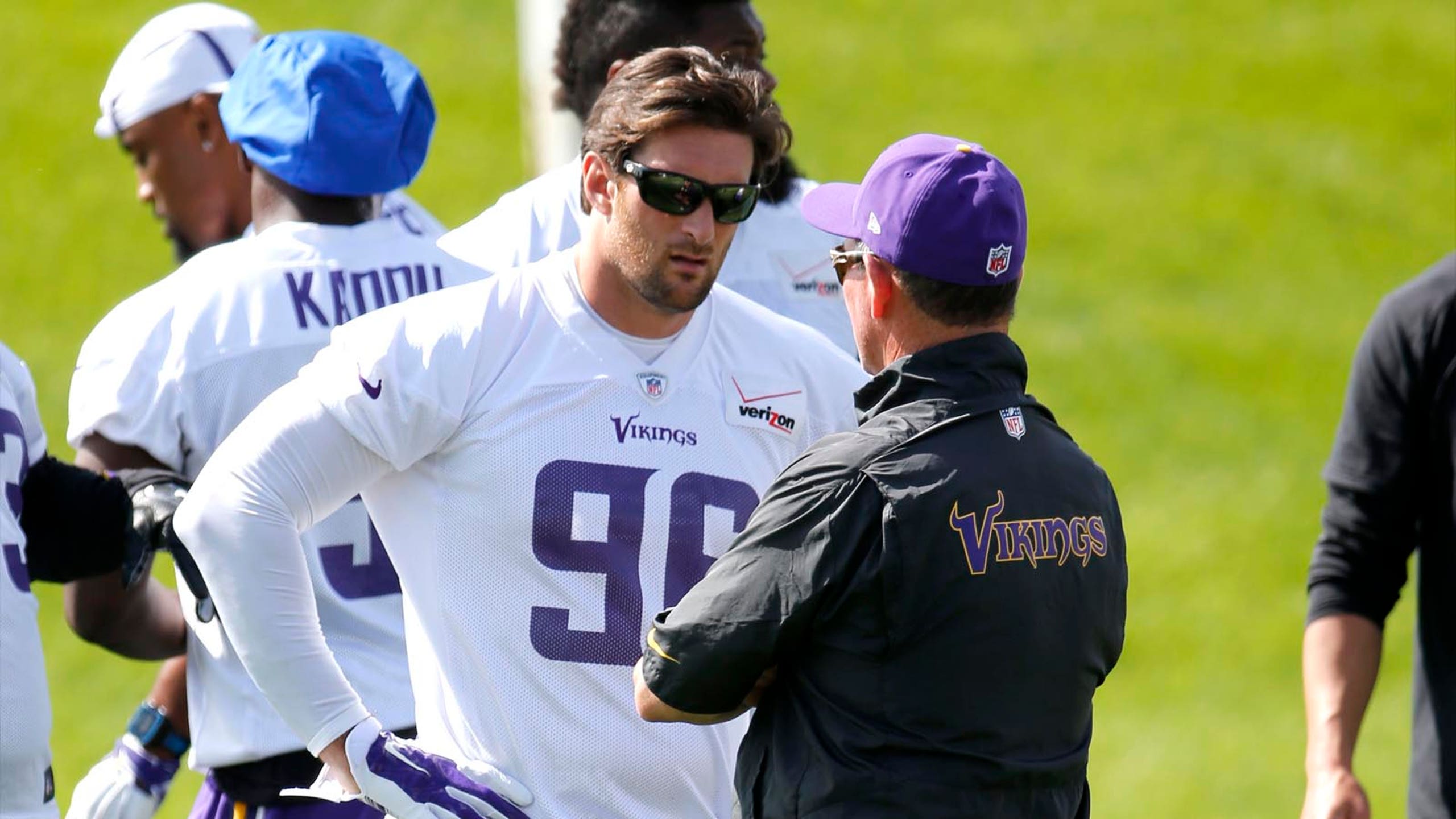 Unusual injuries lead Vikings to inspect lifting regimen
BY foxsports • July 26, 2015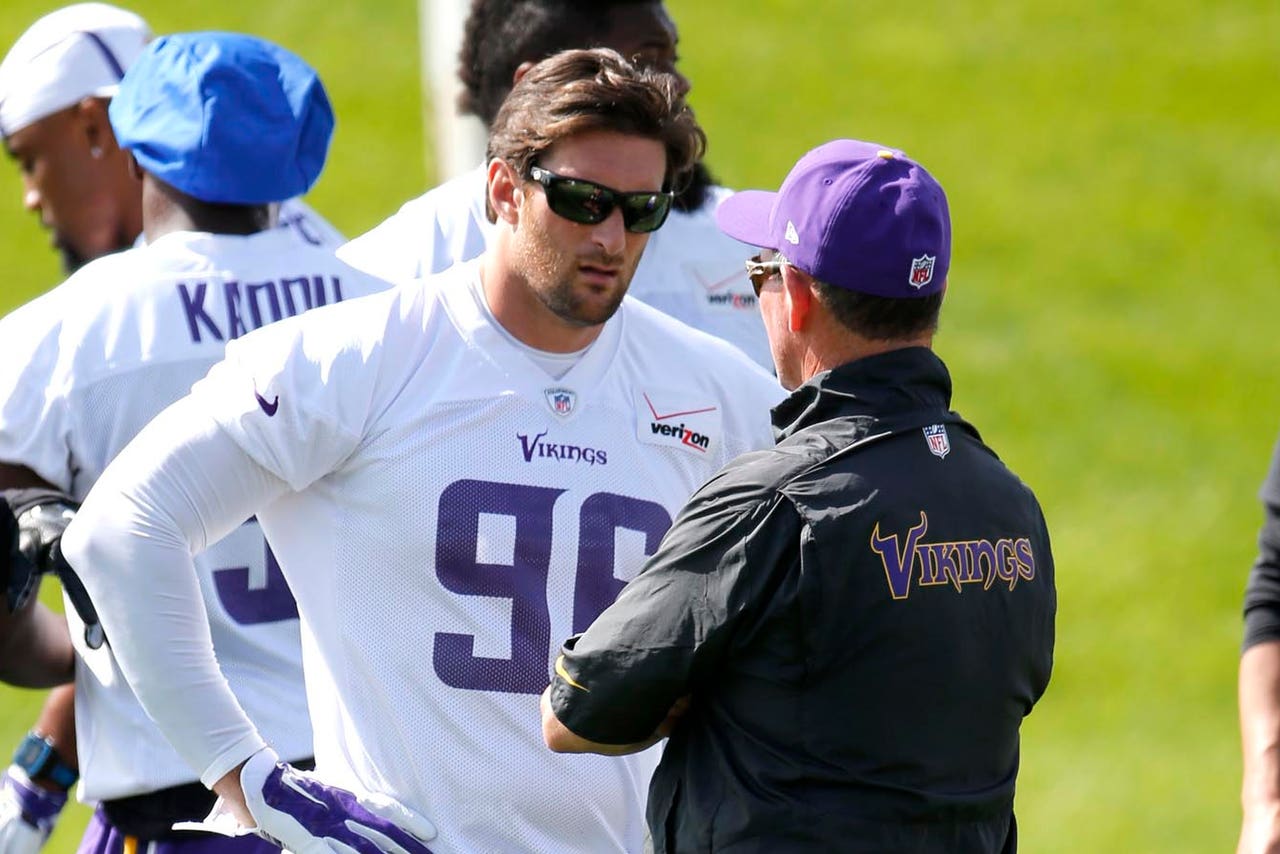 MANKATO, Minn. -- These weren't common football injuries, all these torn pectoral muscles, so the Minnesota Vikings took a closer look.
Right guard Brandon Fusco (13 games missed) and right tackle Phil Loadholt (five games missed) each needed season-ending surgery after theirs occurred while blocking during games last year. Defensive end Brian Robison was able to avoid such a procedure after getting hurt while weightlifting in May, and so was cornerback Josh Robinson after a freak fall during practice in June. But there was enough to be concerned about that coach Mike Zimmer and his strength and conditioning coach and head athletic trainer initiated an extensive evaluation.
"We've monitored a lot of things, and a lot of people have told us, 'It's just freak luck.' But sometimes when we're bench pressing if a guy bounces and it bounces off his chest, that's where they get the tears," Zimmer said. "Sometimes we're going to work on strengthening the rotator cuffs much more than we have. We're going to warm up better than we have. So we've addressed that. Always, when you get more than one type of injury, and especially pectoral, it's more of an unusual injury, you have to figure it out."
Loadholt told Zimmer he "felt great" working out the week leading up to him getting hurt. Robison said he wasn't fatigued; his injury occurred during the second set of a bench press. Robinson's was "the straw that broke the camel's back," Zimmer said.
Under Zimmer and strength and conditioning coach Evan Marcus, the Vikings switched last year to a free-weight-based program and more Olympic-style lifts designed to increase explosiveness. Zimmer said he didn't think the new system was a problem.
"I changed the weight program because I want our football team to have a certain type of mentality and a certain type of aggressiveness. I believe that's a lot about mindset, as well," Zimmer said. "When you're down there and you hear those weights banging and guys working and sweating their rear ends off together, I think it's important that we do it that way. And maybe I'm just old school."
Having more dedicated spotters for players in the middle of bench-press repetitions was another result of the study.
"When you're spotting a guy, it's part of your job is to keep him healthy," Zimmer said.
Robison has rehabilitated the injury to the point where he was ready to start training camp with the Vikings on Sunday. Robinson, however, was placed on the physically unable to perform list. He said after practice that he's not sure if he'll be ready for the start of the regular season or not.
"I'm going to do as much as I can. But just take my time and let it heal," Robinson said.
NOTES: Mike Harris worked with the first team at RG, leaving Fusco at LG after considering moving him during offseason practices. Tyrus Thompson, Joe Berger and David Yankey are also in the mix.  . . . DT Shamar Stephen and WR DaVaris Daniels were placed on the non-football injury list with minor issues. Stephen's knee swelled up on his flight to Minnesota after receiving a massage, Zimmer said. He's expected to practice in a few days.
---
---