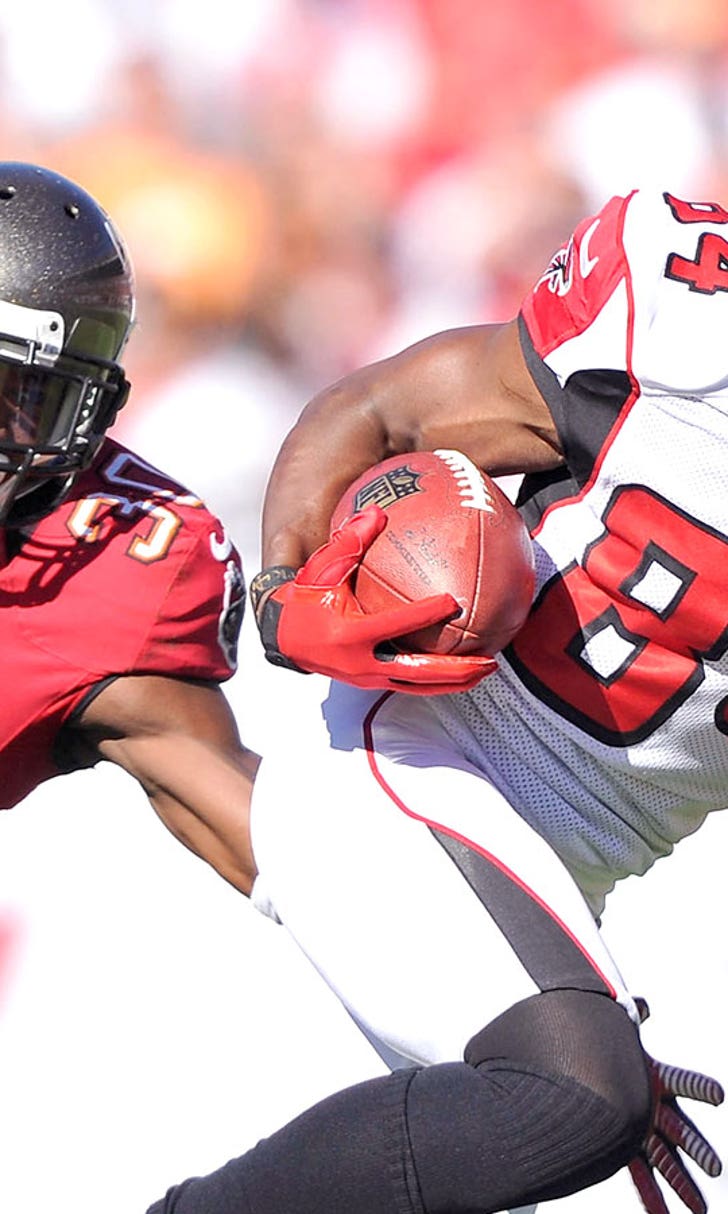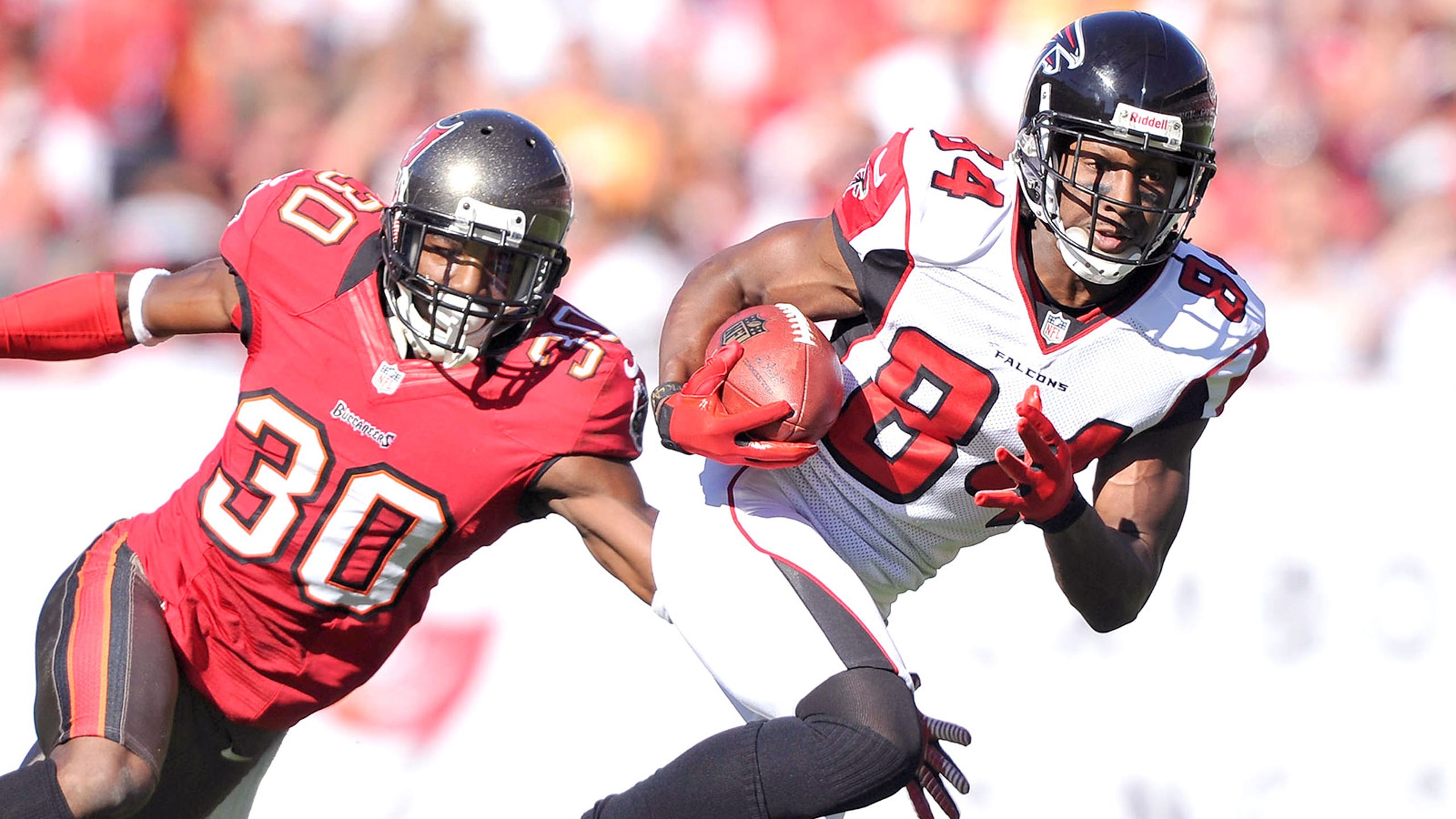 Understanding DraftKings fantasy scoring system
BY foxsports • August 11, 2014
One of the biggest areas in which season-long owners can gain an edge over the field is by understanding and properly exploiting fantasy football scoring systems. A lot of fantasy owners just sort of draft players who they think will be good, failing to realize that the manner in which players score points can dramatically influence their value.
This is no different in weekly fantasy football. Before playing on DraftKings, you should study the NFL scoring system, asking yourself "Where can I potentially gain a competitive advantage over the rest of the field?"
In this article, I'm going to help you figure this out, pointing out some of the notable aspects of the scoring system and explaining how I think they should be handled.
You'll want understand how this scoring system works if you want a shot at the $1,000,000 top prize in the King of the Beach contest!
There's no doubt that the most important scoring rule that DraftKings has in place is awarding a point for all receptions. Those of you who have competed in a PPR season-long league understand how much this seemingly minor scoring change can affect player value.
The most obvious boost in value goes to wide receivers, who "gain some ground" on the majority of running backs in terms of bulk points. Value is evened out a bit across the wide receiver position, too, because high-volume receivers like Kendall Wright and Wes Welker are really rewarded in this format. That puts all types of receivers into play each week—not just those who score a bunch of touchdowns. While you should still generally seek touchdown upside in your receivers, players like Wright have way more value than in standard scoring formats.
Another player type that benefits from PPR scoring is the pass-catching running back—guys like Jamaal Charles, Matt Forte, and Darren Sproles. Even though PPR scoring was invented to narrow the gap between running backs and receivers, it has actually created more scarcity at the running back position because the workhorse backs who can also contribute as receivers are monumentally valuable. Anyone who has owned Charles in a PPR league in recent years is aware of that effect.
The final area where PPR scoring should really change your approach is in the flex spot. So often, we see fantasy owners stick a running back into their flex. That's not a bad approach in standard scoring, and there are times when it's appropriate in PPR leagues, too. By and large, however, wide receivers offer more upside and a better "bang for your buck" than running backs. The flex spot is really important and will be the subject of future analysis, but make sure you're really looking long and hard at high-volume receivers when filling it.
With three receivers and a flex position in a PPR league, the quarterback position can sometimes go overlooked. The fact that DraftKings awards four points for passing touchdowns, though, gives a little more value to the position. It obviously benefits players like Drew Brees and Peyton Manning, while potentially hurting someone like Cam Newton, who accounts for a lot of touchdowns, but not a huge number through the air.
Also note that DraftKings deducts just one point for an interception. While this might seem like it would increase the value of finding a good quarterback, it actually reduces the value of low-interception passers like Aaron Rodgers. The fact that quarterbacks lose just one point for an interception sort of "negates" the four-points-per-touchdown scoring.
Finally, note that DraftKings gives bonus points for games with 300 yards passing, 100 yards rushing, and 100 yards receiving. As you'd expect, there are more 100-yard receiving games than anything else.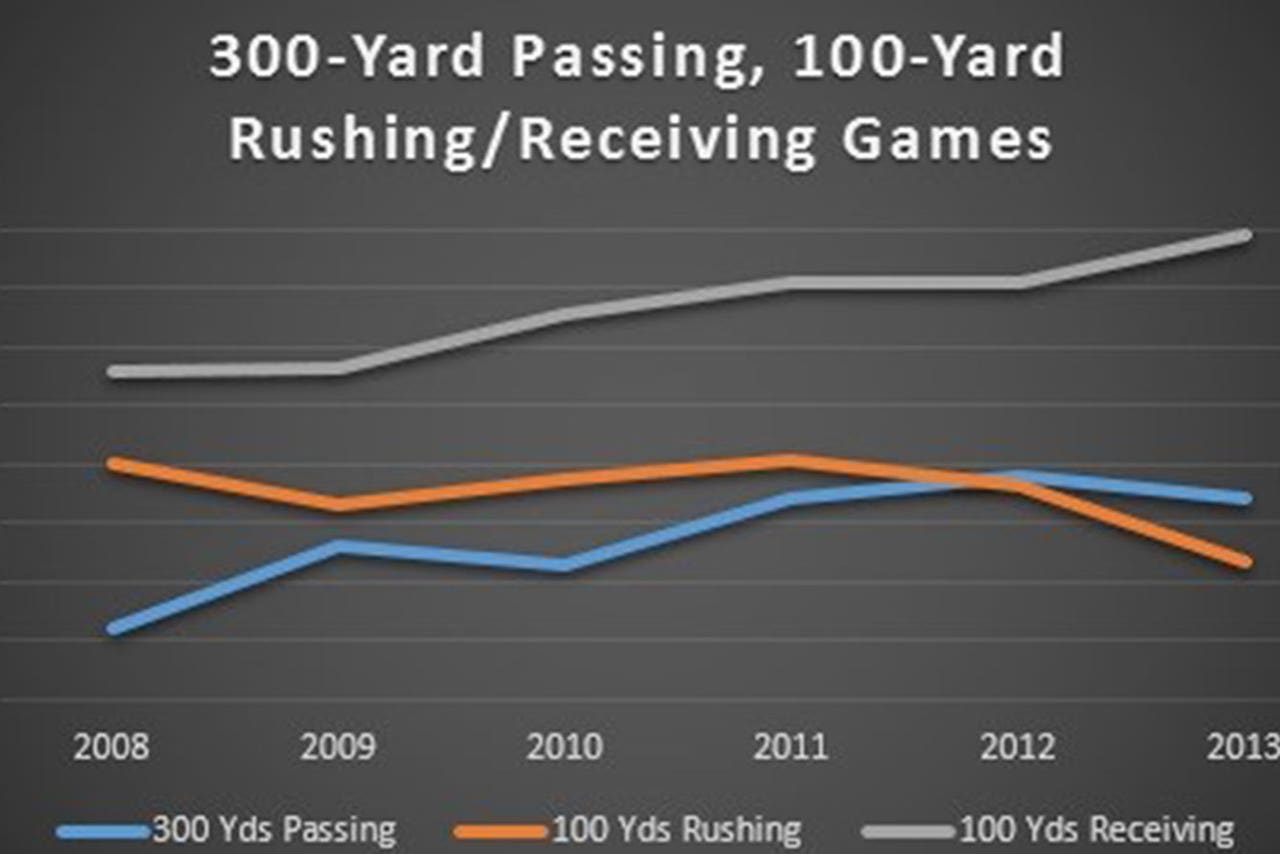 What we're worried about here is not only the total volume of bonuses, but also the trends. You can see that 100-yard receiving and 300-yard passing performances have been on the rise, while 100-yard rushing performances are pretty stagnant (or perhaps dipping just slightly).
This means that we should be projecting receivers as a whole to have a bit more value over running backs than in past seasons. This data adds to the idea that wide receivers are generally superior flex plays to running backs in PPR formats. It also might increase the scarcity at the quarterback position, giving value to the top passers who consistently top 300 yards through the air.
$5 MILLION is up for grabs in the DraftKings Daily Fantasy Football Kickoff Bash! Claim your FREE contest entry here >>
---