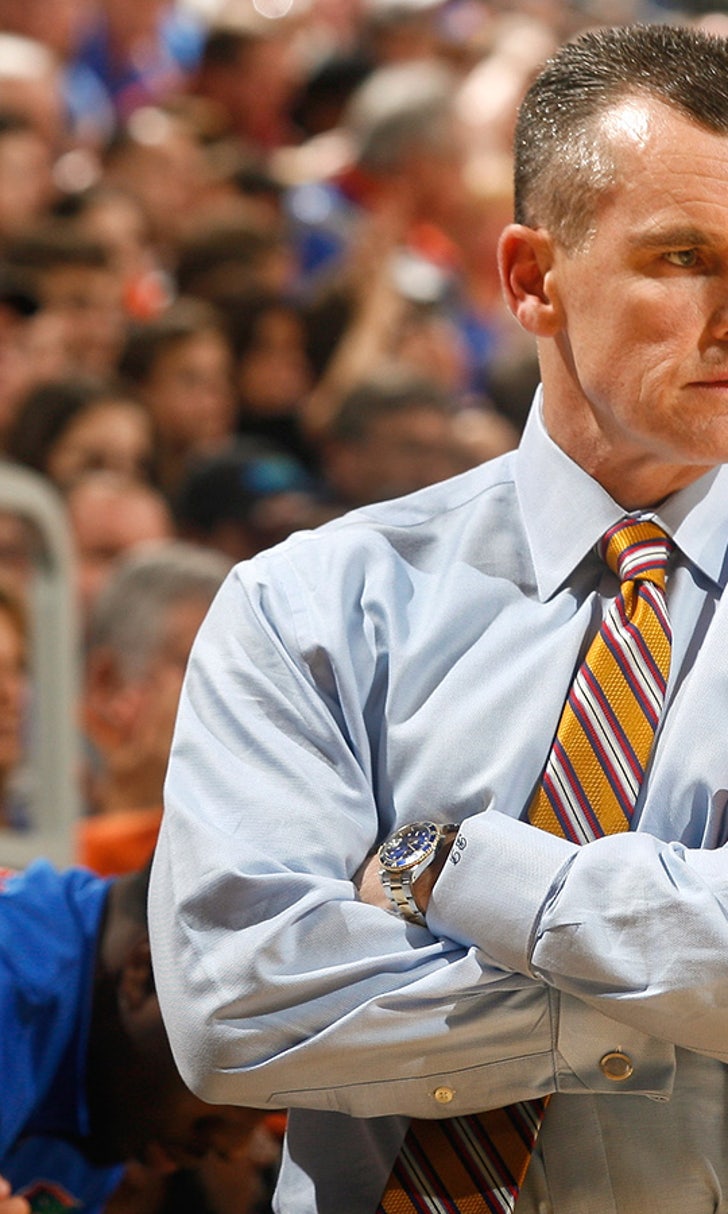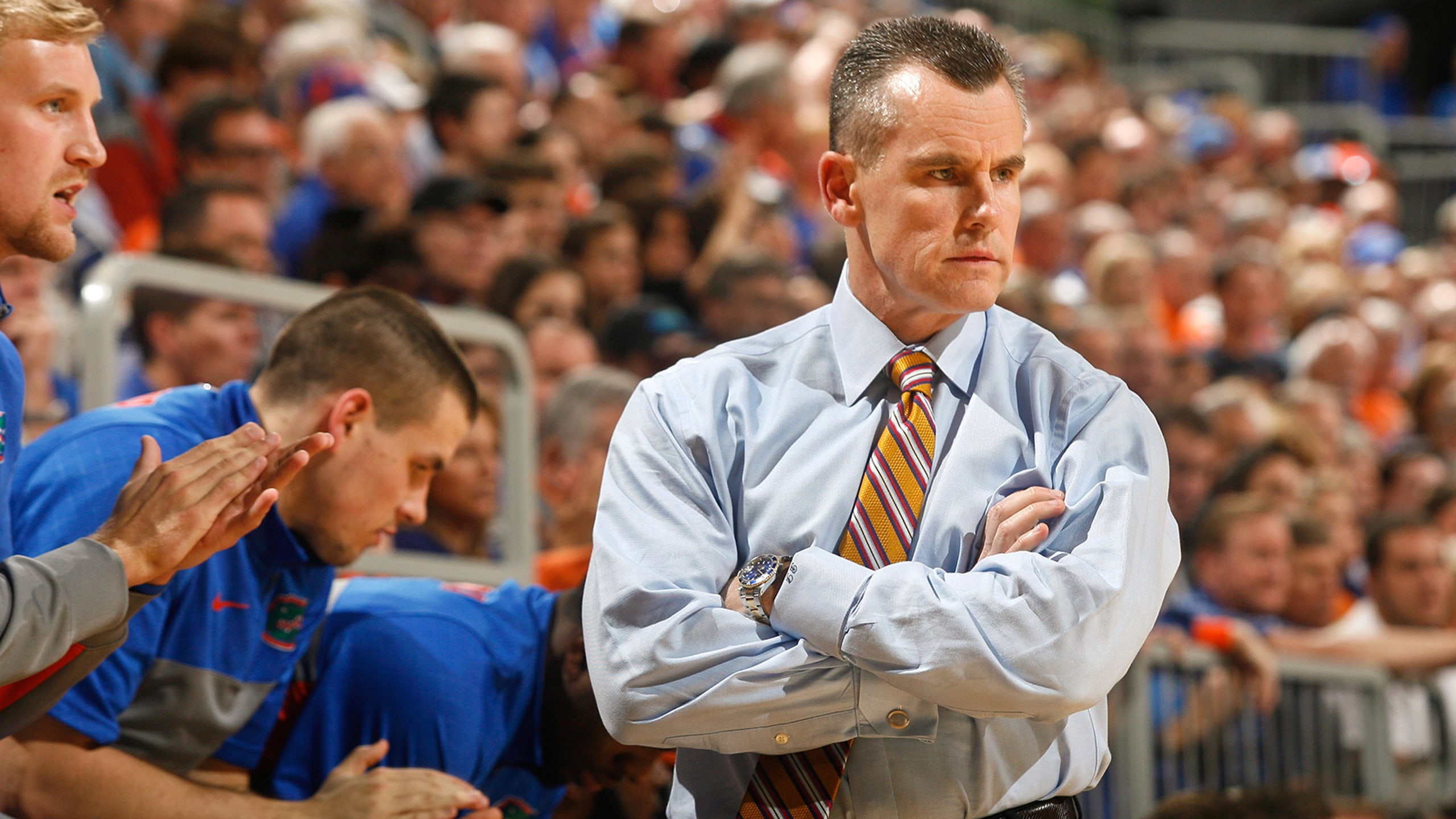 Under Donovan's guidance, Gators aim to extend streak of excellence
BY Zach Dillard • October 28, 2014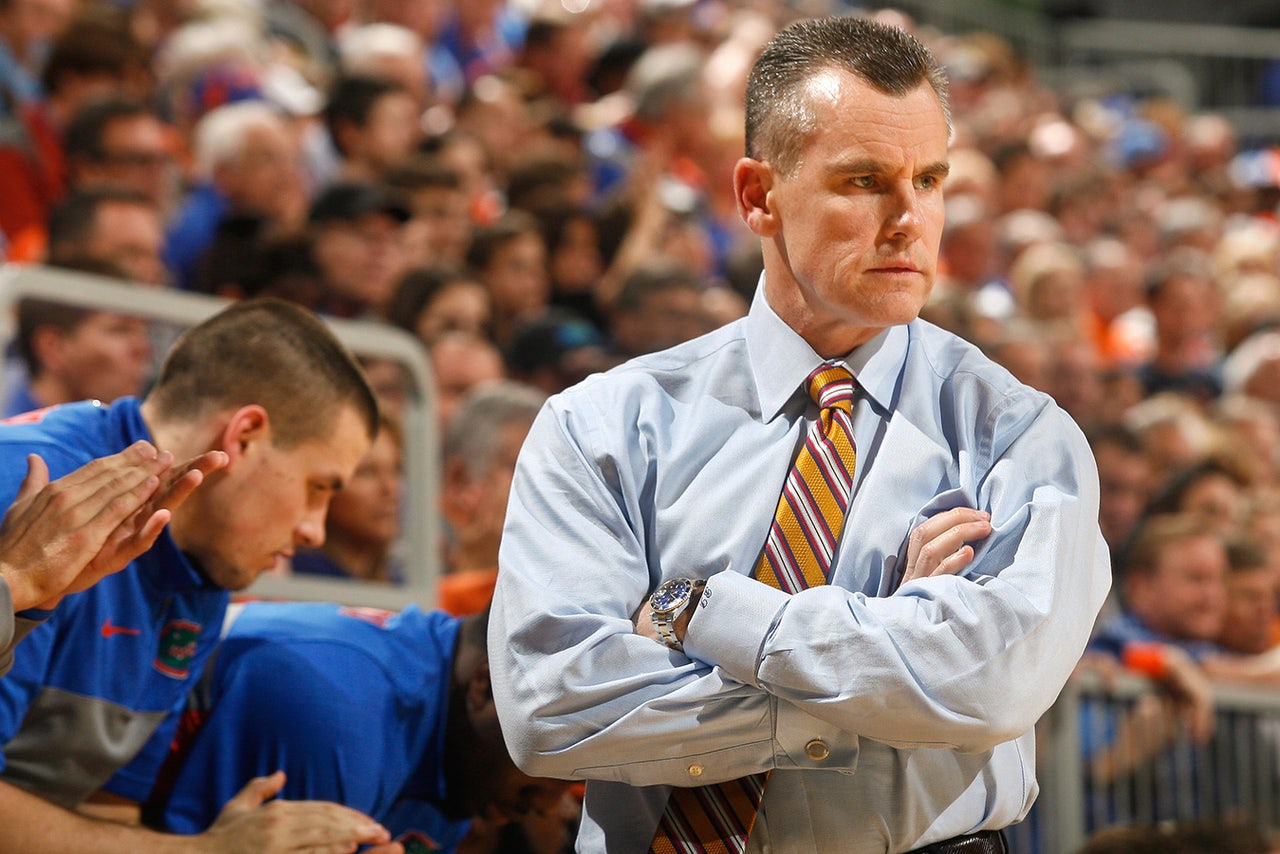 CHARLOTTE, N.C. -- Before the clock expired on the AT&T Stadium scoreboard, as Connecticut guard and Final Four hero Shabazz Napier held the ball calmly under one arm with one finger pointed skyward, Billy Donovan was already in UCONN's bench area congratulating coach Kevin Ollie. There was a brief conversation, more words exchanged with opposing assistants, then a flood of Huskies-centric euphoria.
That was the final scene for Donovan in Arlington, Texas, this past April, the Florida coach's fourth career Final Four appearance. That was the final act for his Gators in 2014, a wildly successful campaign that fell two games short of its ultimate destination. It was a team that finished with a 36-3 record, rattling off 30 straight wins and avoiding a loss from Dec. 2 to that April 5 game in Arlington -- a 125-day marathon bookended by losses to the eventual national champs.
Donovan's program has morphed into a perennial March monster, but those final moments never lose their sting.
"I always say this: it's never an easy exit out of this tournament because your an invested team," Donovan said at the podium that night. "As the clock's unwinding, you're kind of sitting there and you kind of realize that this is getting ready to come to an end."
The impressive thing about Donovan's teams over the past few seasons is its unparalleled ability to pick right back up where it left off.
Over the past four seasons, no other program nationally has been as consistently great as Florida. The Gators' NCAA Tournament results since their 2010 early exit in an overtime thriller against BYU? Elite Eight, Elite Eight, Elite Eight and Final Four, respectively. Donovan is operating a machine. There are zero national titles in that stretch, but the Gators always get their money's worth during the Madness.
There are comparable programs at the top of college basketball's annual heap. UCONN owns two national titles in the past four seasons, but the Huskies also suffered a first-weekend exit and missed the tournament altogether in 2013. Bluegrass powers Kentucky and Louisville have combined for the other two titles and three additional Final Fours, but the Cardinals suffered a "second-round" exit at the hands of Morehead State while Kentucky missed the tourney in 2013 as well.
Keep going down the list of powers: Michigan State, Wisconsin, Michigan and Ohio State have each suffered losses in an NCAA Tournament opener since the start of the 2010-11 season. Duke owns two "second-round" exits over that span. Kansas, North Carolina and Syracuse have each been bounced from the tourney field at least once during the event's first weekend. Along with Kentucky and UCONN, Baylor, Marquette, Arizona, UCLA and Indiana have not heard their name called on a Selection Sunday -- the Hoosiers have gone through that disappointing experience twice.
That leaves Donovan as only the second coach since the NCAA Tournament expanded to 64 teams in 1985 to reach the Elite Eight four consecutive seasons, joining Duke's Mike Krzyzewski, the all-time NCAA wins leader whose Blue Devils reached the regional finals five straight times from 1988 to 1992. The list of coaches who have reached three straight is impressive -- Tom Izzo, Roy Williams, Steve Fisher's Fab Five teams, Donovan's SEC rival John Calipari (twice) and Donovan's mentor Rick Pitino, whose '98 Kentucky roster went on to reach the program's fourth straight Elite Eight and won the title under Tubby Smith when he took the Boston Celtics job -- but there is only one program currently boasting such unrelenting consistency, and it's the one residing in Gainesville.
Still, Donovan is attempting to curtail future expectations.
"They've gotta be willing to start over right now," Donovan said of his re-tooled roster. "It's not even a matter of, 'OK, this is where we got to last year, let's see if we can go further.' Right now I think this team's mentality is, 'We haven't really proven anything.' These guys haven't really done anything. And when I say that, I say that they were on some teams that did some great things, but these guys are stepping into some different roles."
Florida lost four of its seven biggest contributors from one of the nation's most efficiency and consistent teams. Gone are low-post enforcer Patric Young and breakout senior forward Casey Prather. Same goes for quality bench presence Will Yeguete and the 2014 team's engine, point guard Scottie Wilbekin. As their coach has stressed on countless occasions, it was a collection of talent that desperately needed one another to make it all work: not a single Florida player was drafted this past June, but then again, very few groups have left bigger shoes to fill.
Those four seniors were part of an underrated 2010 recruiting class that helped post a career 120-30 record, the winningest class in school history. The Gators' top returning player, guard Michael Frazier II, a preseason All-SEC selection, was fairly steadfast that his current crop of teammates can pick right up where its elders left off.
"We know what it looks like. Especially for us being guys that are coming back that had a lot of experience playing with those guys. Being in practice, being in games when they were tight games," Frazier said at the SEC Tipoff in Charlotte. "We know what it takes to win and come out on top. When there's two minutes left in the game and we're down, we know what it looks like."
Donovan has dealt with other personnel losses over this stretch. The 2011 team was heavily reliant on seniors Chandler Parsons and Vernon Macklin. In 2012, one-and-done star Bradley Beal and senior waterbug Erving Walker were key members of a high-possession backcourt. Standouts Kenny Boynton, Mike Rosario and Erik Murphy exited following the '13 campaign. Veteran coaches are used to the drill.
All the same, the loss of three starters, each of whom were utilized on more than 21 percent of available offensive possessions, and a blue-collar big off the bench is nothing to scoff at, especially when accounting for their efforts on the defense end for a team that allowed 89.2 points per 100 possessions (second-ranked nationally). Donovan insisted this isn't a plug-and-play formula.
"The one thing I am concerned about and we've talked about is this idea that we're just gonna plug guys into (spots where the) four guys left and everything is going to be OK, picture perfect. It doesn't work like that," Donovan said. "The fact that they think this transition period is just gonna happen -- I've always believed this, there are players that when they're coming off the bench playing 18 to 20 minutes a game, unbelievable in that kind of setting. The minute that they've gotta go from that to starter playing 35 minutes, they're not nearly as good. Those are gonna be some challenges for us."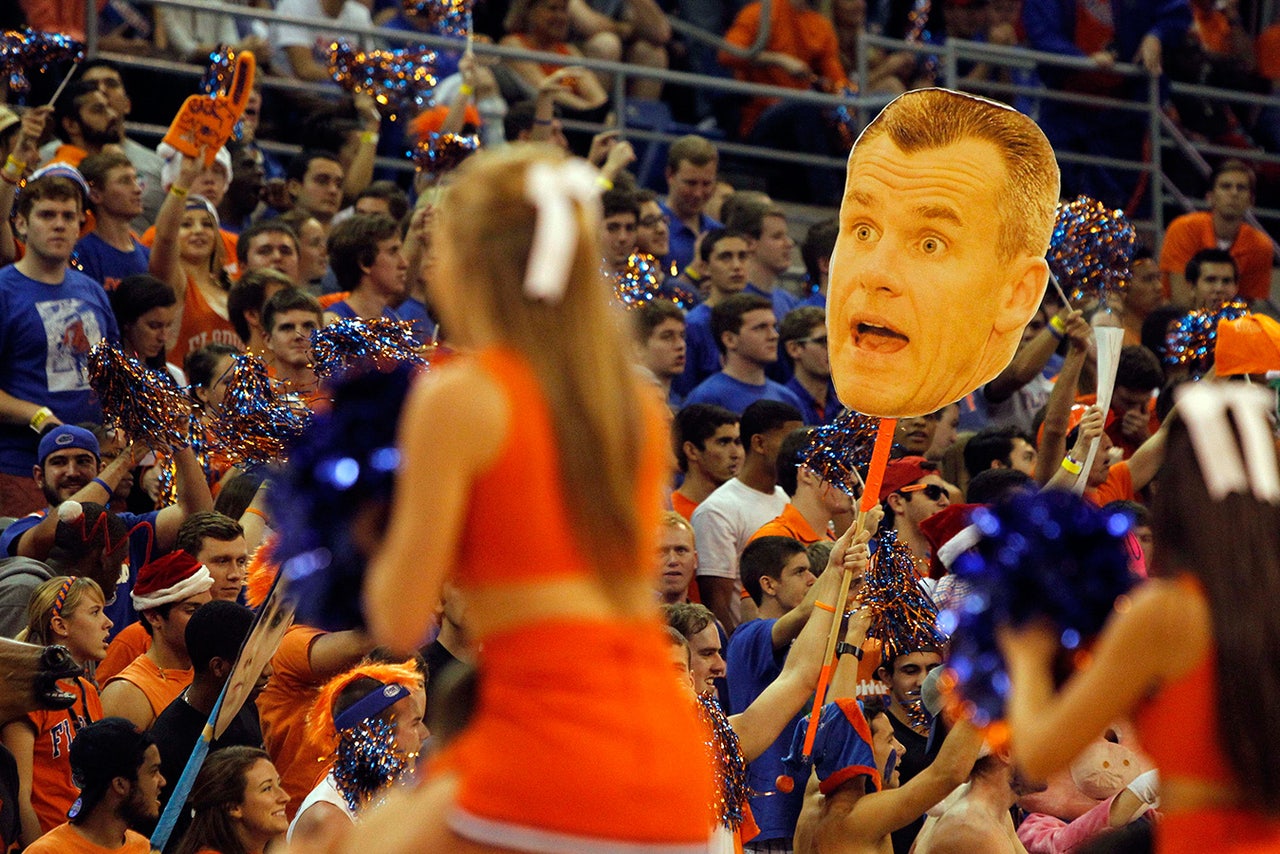 Billy Donovan has posted a career 451-169 record in Gainesville.
Florida returns an intriguing mix of players: mostly young, occasionally experienced.
The group is transfer-heavy, featuring five players that started their collegiate careers elsewhere, including returning starter Dorian Finney-Smith, a talented 6-foot-8 sophomore from Virginia Tech that showed great improvement in his first season in Gainesville. Eli Carter, a 6-foot-2 guard that once led Rutgers in scoring, Jon Horford, the younger brother of former Gators star Al Horford and a post-graduate transfer from Michigan that played for two Elite Eight teams, Alex Murphy (Duke) and John Egbunu (USF) could each factor into the rotation.
The crux of the season, though, will likely come down to how quickly Donovan's prized recruits from the 2013 and 2014 classes catch up to speed. Former five-star recruit Kasey Hill takes over for Wilbekin at the point after a year in reserve and will need to improve his modest numbers (98.7 offensive rating, 48.7 true shooting percentage, 2-to-1 assist-to-turnover rate) and become a spearhead in the Gators' stingy half-court defense. Perhaps the most gifted player on the roster, at least according to NBA Draft boards, is Hill's fellow five-star, 2013 signee Chris Walker. The 6-foot-10 big man is expected to step into a starter's role -- following a season-opening two-game suspension for a violation of team rules -- after missing half of last season for eligibility purposes.
The problem from Donovan's perspective? Walker and Hill have combined to be a part of four losses total in their collegiate careers. The term "battle-tested" doesn't come up much in their scouting reports: "That's like totally abnormal," Donovan said. "That's literally Chris Walker and Kasey Hill's first college experience. It's so far removed from reality."
If Walker lives up to his potential as a sophomore (116.6 offensive rating in 4.8 minutes per game last season), then the starting lineup should be formidable, if not faster and more athletic than a year ago, with Finney-Smith, Walker, Hill and Frazier, the team's top option on offense a year ago. The fifth starter spot remains up in the air and may not be entirely settled until the team's moving parts settle in.
Aside from the Walker suspension, Carter is returning from a broken leg suffered in February 2013, Murphy is not eligible until December and potential starting wing DeVon Walker will miss the season with a torn ACL. A popular name out of the incoming '14 class, the 11th-ranked group in the country, is 6-foot-8 forward Devin Robinson, who could work his way into the starting five with a quick adjustment to the college game.
That's plenty of individual pieces that need to gel. The year-to-year maintenance fee on excellence does not come cheap.
"Coach always stays on us about living in the moment," Finney-Smith said. "Last year's over with. None of that will help us in any practice. It's a different team. We've got different talent. We don't have the post presence we did last year with Pat (Young), but this year I think we're faster."
Replicating Florida's fear factor on the defense end might be the most challenging aspect of the upcoming season. The previous group forged its identity without the ball. The Gators ranked in the top-five in defensive efficiency each of the past two seasons -- only Kansas, Florida State and Louisville have posted back-to-back such campaigns this decade. Three straight seasons boasting that kind of defensive prowess would again set Donovan's program apart -- only Pitino's pressure-crazed Cardinals excel at that rate defensively.
The Gators were able to put up those numbers without overwhelming length or a terrifying shot-blocker, too. As Frazier illustrated, it was about team defense, about buying into a system and knowing success was on the other side of the door.
"I think the biggest thing with the team last year was that we trusted that the guy was going to be in the right spot -- the guy behind us, he was going to be in help (position)," Frazier said. "We had that trust and we really came together as a team. And I think if we can learn from that with this year's team then we can be very good defensively again."
Perhaps the greatest room for improvement is on the offensive end, where the Gators got the job done (18th in efficiency) but did not show off too much explosiveness, partly because they didn't need to. Florida hit the 70-point mark just twice in eight postseason games, playing at one of the slowest paces nationally, turning the ball over a bit too often (17.5 percent of possessions) and struggling in the free throws department.
Donovan believes that with the departures and some new additions, they will be a better all-around shooting team than they were a year ago. That is expected to help with spacing and open up driving lanes for the likes of Hill. The Gators boast length, athleticism, NBA-caliber talent, an enviable track record and, perhaps, more offensive firepower.
Following a difficult non-conference slate that features Georgetown, Kansas, Florida State and UCONN, conference play should offer a greater challenge this time around, although it's still considered a two-team race for first place. Yes, the Gators archrival, Kentucky, is once again stocked with talent, namely nine McDonald's All-Americans, only this time there's experience returning from a national title game loss. For all the talk of the SEC's improvement, as new Auburn coach Bruce Pearl confirmed at the SEC Tipoff, there's still a big gap between Nos. 1 and 2 and the rest of the pack.
For the third straight season, the Wildcats are predicted to finish ahead of Donovan's group, and while Calipari's program boasts its own trio of Final Four appearances over the past four seasons, there hasn't been a safer bet in college basketball than Florida.
Billy Donovan's 2010 class is gone. The remaining collection is relatively unproven and faces a challenging slate, particularly in defending the school's regular season and tournament SEC titles against a projected juggernaut. It's time to start building again from the ground up.
"Once you throw the ball in the air," Finney-Smith said of past accomplishments, "none of that matters."
---