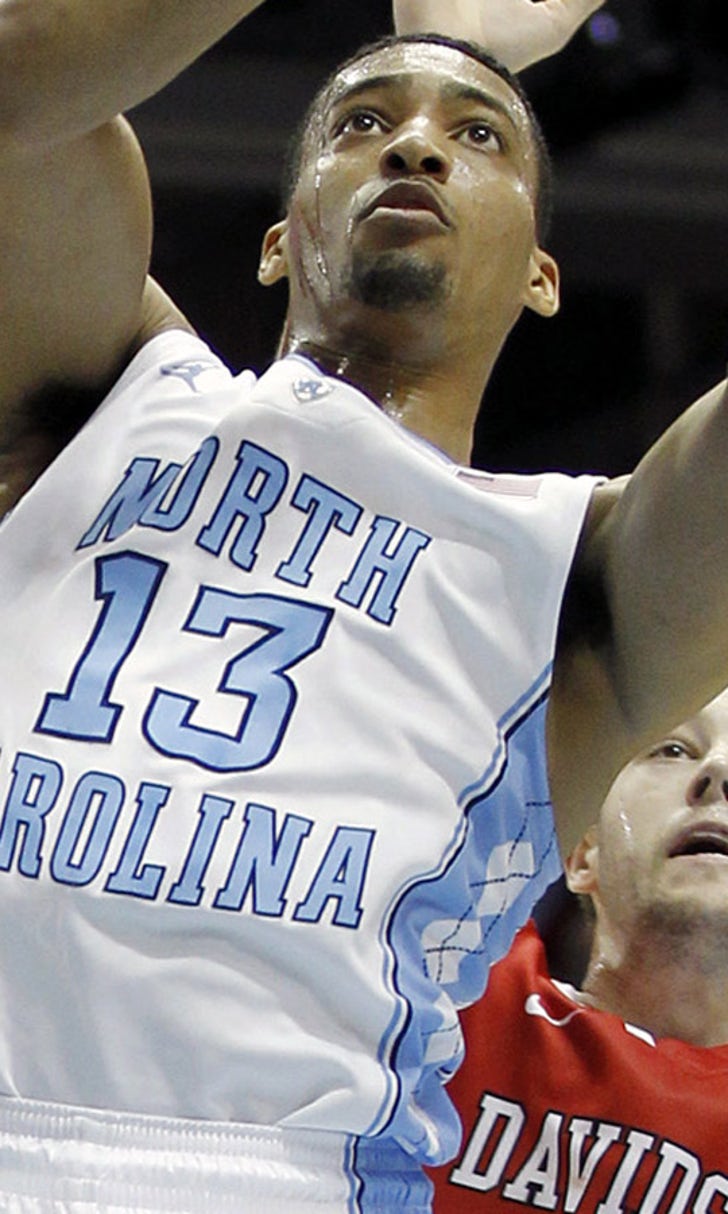 UNC escapes with OT win over Davidson
BY foxsports • December 22, 2013
CHAPEL Hill, N.C. -- For a while, it looked like No. 14 North Carolina (8-3) was going to fall to yet another unranked opponent at home. This time, it was Davidson (4-8). Under Bob McKillop -- perhaps one of the most underrated head coaches in the country -- the Wildcats are perennially competitive, but this is a down year by their standards. Or it was coming into this game, anyway.
An uneven effort from North Carolina against an unranked foe playing very good basketball nearly resulted in yet another loss. But ultimately, it was North Carolina who prevailed in overtime, 97-85. 
Just once this season have the Tar Heels been able to make plays down the stretch in a close game, and that was against Kentucky. Even that became a closer game than it should have because of missed free throws (UNC was 8-of-15 from the foul line in the final 1:16, and Kentucky was able to cut the lead to just three points with seven seconds left). 
This time, the Tar Heels hit 3-of-4 free throws in the final 2:08 of regulation, and 11-of-12 in overtime. Davidson wouldn't go away, and UNC had to make the Wildcats go away instead of just hoping they would. And the Tar Heels did that in a variety of ways.
1. Davidson's junk defenses on UNC's Marcus Paige and Leslie McDonald were incredibly effective, and nearly were the difference in the game.
Marcus Paige -- UNC's leading scorer -- has seen more box-and-one defenses than he ever thought he'd see last year, even as he continued to improve. Davidson's version, though, was different. 
"Rather than have one guy chase me through screens, they would switch off at any screen. So if the guy was box-and-one-ing me and I ran off a screen, the next guy would just pick me up so it was harder to get open," Paige said. "Usually they just have the one guy playing man-to-man fight through everything and faceguard. But that was different and pretty effective."
McKillop credited one of his assistant coaches for the defensive game plan, which included Triangle and 2 against Paige and sharpshooter Leslie McDonald, in addition to plenty of other defensive switches.
"I think Jim Fox put together a defensive game plan that was superb," McKillop said. "We mixed up defenses pretty well. We went from man to zone to junk, man to zone to junk, and I think it's a credit to our guys that they have the intellectual capacity to adjust as much as they did on the fly. I thought our defense was pretty darned good."
It worked, at least for awhile. Paige had 11 of his 17 points in overtime and had no points as late as the eight-minute mark or so. 
But hey, at least Paige could probably write a book on junk defenses after this season ends.
"I'm not really surprised anymore ... but at the beginning, I was surprised. I was like, 'Wow, why are teams box-and-one-ing me? Why are teams paying so much attention to me?'" Paige said. "Now, it's starting to be something that I'm expecting and we're working on game-planning against so we're not surprised by it."
The Wildcats ran some Triangle and 2 against Paige and McDonald as well, trying to take away the Tar Heels' best three-point shooting threat. 
Paige was perhaps less surprised that McDonald was included in the Triangle and 2.
"They understand that our three-point threats are limited, so when he comes back, they automatically have to pay attention to him too," Paige said. "He's a proven three-point shooter so they just paid a lot of attention to him. They made that adjustment quick. He played his first game last game and we're already seeing junk defenses."
In games like that, though, UNC is going to have to have other guys step up. And it did. 
2. Freshman point guard Nate Britt might be UNC's best perimeter defender already.  
No one could guard Davidson's Brian Sullivan. The Miami of Ohio transfer has not been shooting the ball well all season, even after shooting nearly 45 percent from three in his freshman year at Miami of Ohio in 2012. He was below 29 percent for Davidson this year, but he hit 7-of-14 three's on his way to a career-high 33 points in the Dean Dome on Saturday. 
But late in the game, Britt was switched on to him. And he stepped up and did what he could to slow the hot-shooting Sullivan. But it wasn't easy. 
"It was very hard because they set a lot of screens for him to get him open and it was hard to fight through those screens and try to contain him," Britt said. "My teammates helped me out a lot with talking and giving me space so I could get through the screens."
There had to be a great story behind the freshman being switched to Sullivan, like Britt demanding the assignment of the opponent's best player or Williams showing faith in his point guard by giving him the chance.
The truth is far less glamorous.
"It was more of a conversation that we had between (Paige, J.P. Tokoto) and I," Britt said. "(Williams) kind of lets us decide who guards who, because we know each other. We know our defensive abilities. So that's what ended up happening."
Wait, so he didn't even volunteer? "I got stuck on him, so," Britt said with a grin. "I was like, 'Okay, I'm going to do the best I can.'"
Tokoto insisted that it wasn't some bizarre form of freshman hazing. It was just the right and logical switch. 
"I mean, at one point ... I was guarding Sullivan. But it just made sense to me that I should guard the 6-6 kid, 6-7 kid, and not the 5-11 kid," Tokoto said.
Britt's defense on Sullivan, who scored six of his 33 in the final 7:08 of the game (counting overtime) on 1-of-4 shooting and 0-of-1 from three, was outstanding. And what better way to learn on the job tan that.
"It's good for him," Tokoto said of Sullivan. "Marcus (Paige), he got thrown into the fire early. So has Nate, but he's dealt with it just fine. And when we threw him on Sullivan, he did just fine.
"With Nate, he just has to have it in his head that dog mentality that this guy's not going to score on me, I don't care who he is, which he'll get. He kind of already has, but he'll be just fine."
3. Some of the Tar Heels' unusual suspects stepped up, and some of the usual suspects stepped up in unusual ways. 
Sophomore wing J.P. Tokoto carried Carolina most of the way, scoring a career-high 22 points to go with eight rebounds, two assists, five steals and four blocks. And he was scoring early and often when his teammates were struggling to score.
It seems like months ago now when Tokoto had his horrendous night from the foul line against Belmont, making just 4-of-16 attempts. He was 5-of-6 against Davidson. 
Blocks, steals, deflections, driving into the lane and hitting a floater -- you name it, Tokoto can do it. And UNC needs almost all of it.
Junior James Michael McAdoo has had some pretty good games, some average games and some awful games this season already. Not unlike his team, by the way. But he rarely has been able to couple a great night from the floor with a bad night shooting the ball.
Against Davidson, though, he made just 5-of-16 shots but added seven rebounds, five assists, four steals and a block in 38 minutes. His shot selection was questionable, but he made 9-of-14 foul shots and was good in almost every single are (his five assists were a career-high) exception shot selection.
And he was able to get into the passing lanes for steals and fastbreak chances, which has been his go-to energy play since his freshman season. 
"I didn't know I had five assists today, which is exciting for me. I think that's huge," McAdoo said, who was in such a good mood he thanked a reporter who pointed out his free-throw shooting improvement. "As the year has gone on, I have had games where my shot isn't falling and like Coach is really getting on me about affecting the game in other areas. 
"As a basketball player, you've got to be able to realize that every night's not going to be your night. I think that's something that I've really been able to work on."
---