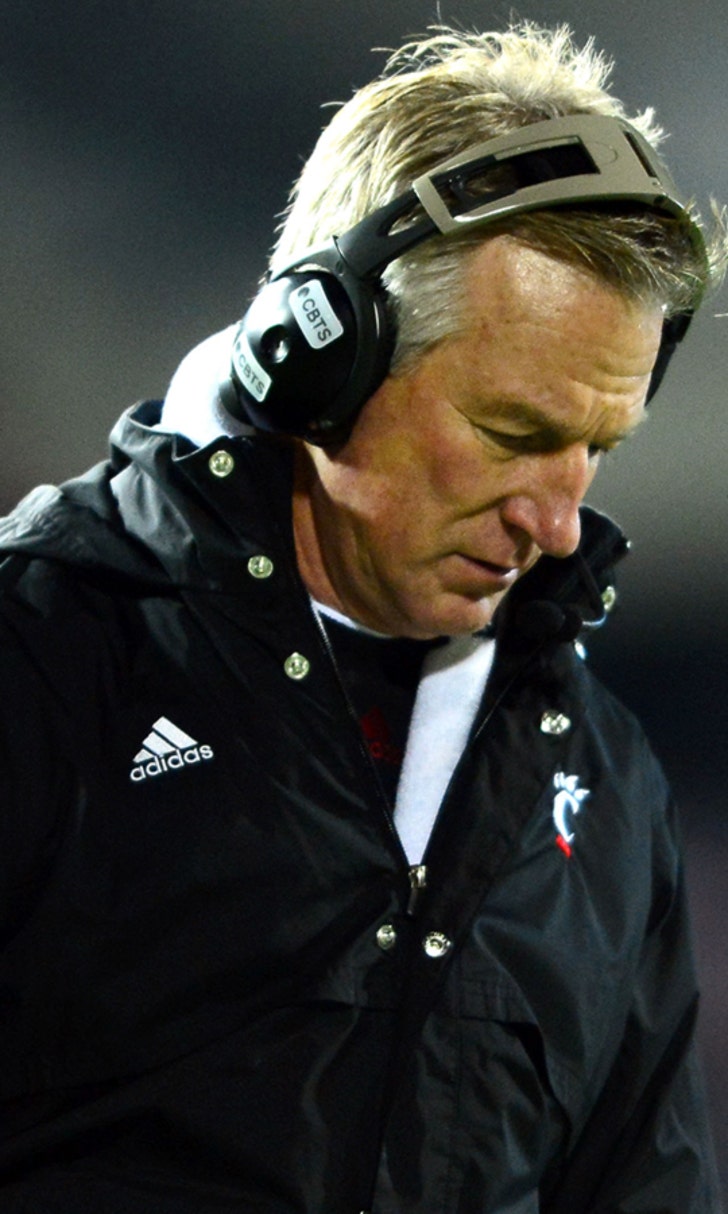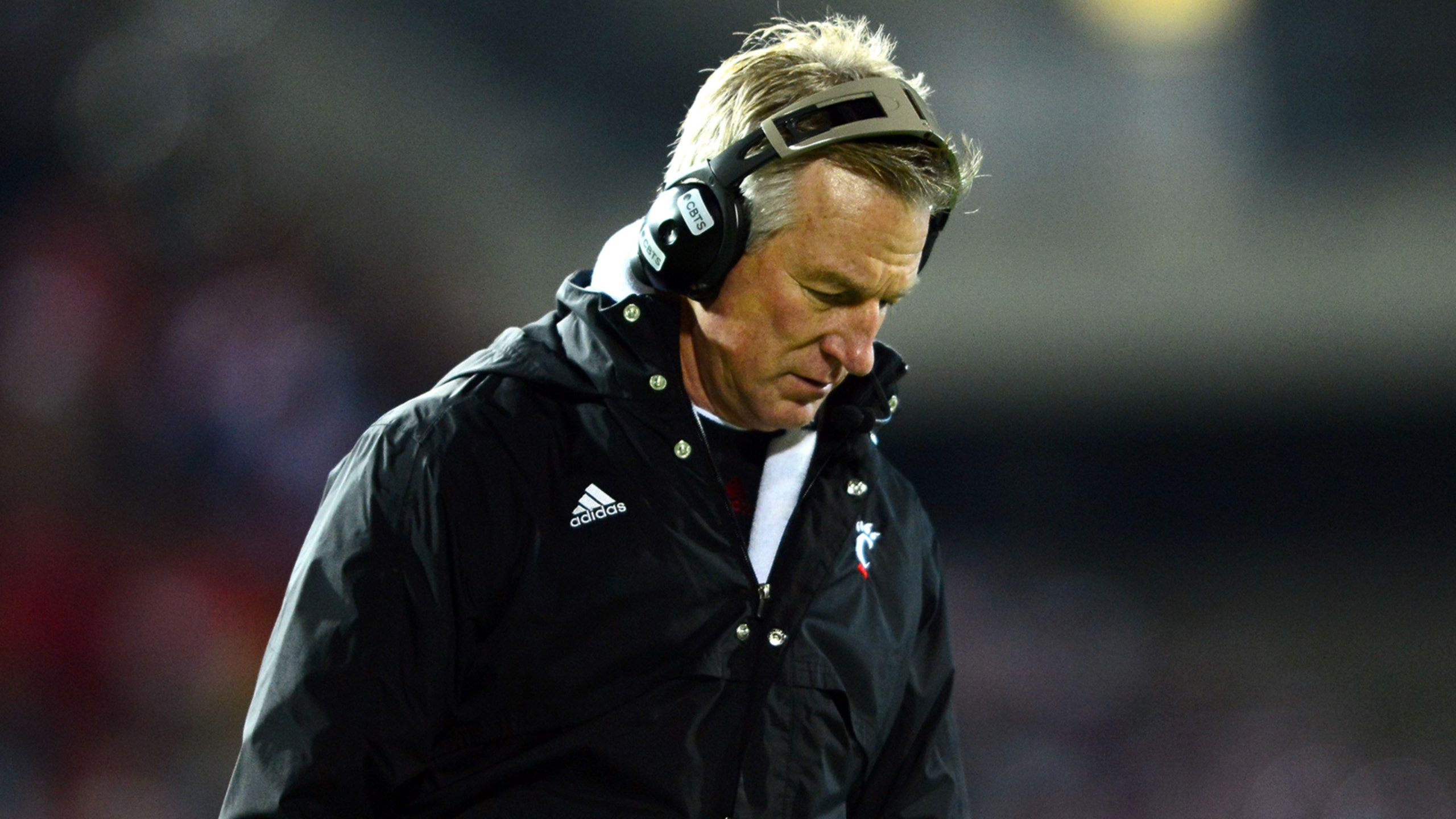 UC suspends another player, Tuberville fed up with off-field problems
BY foxsports • October 29, 2014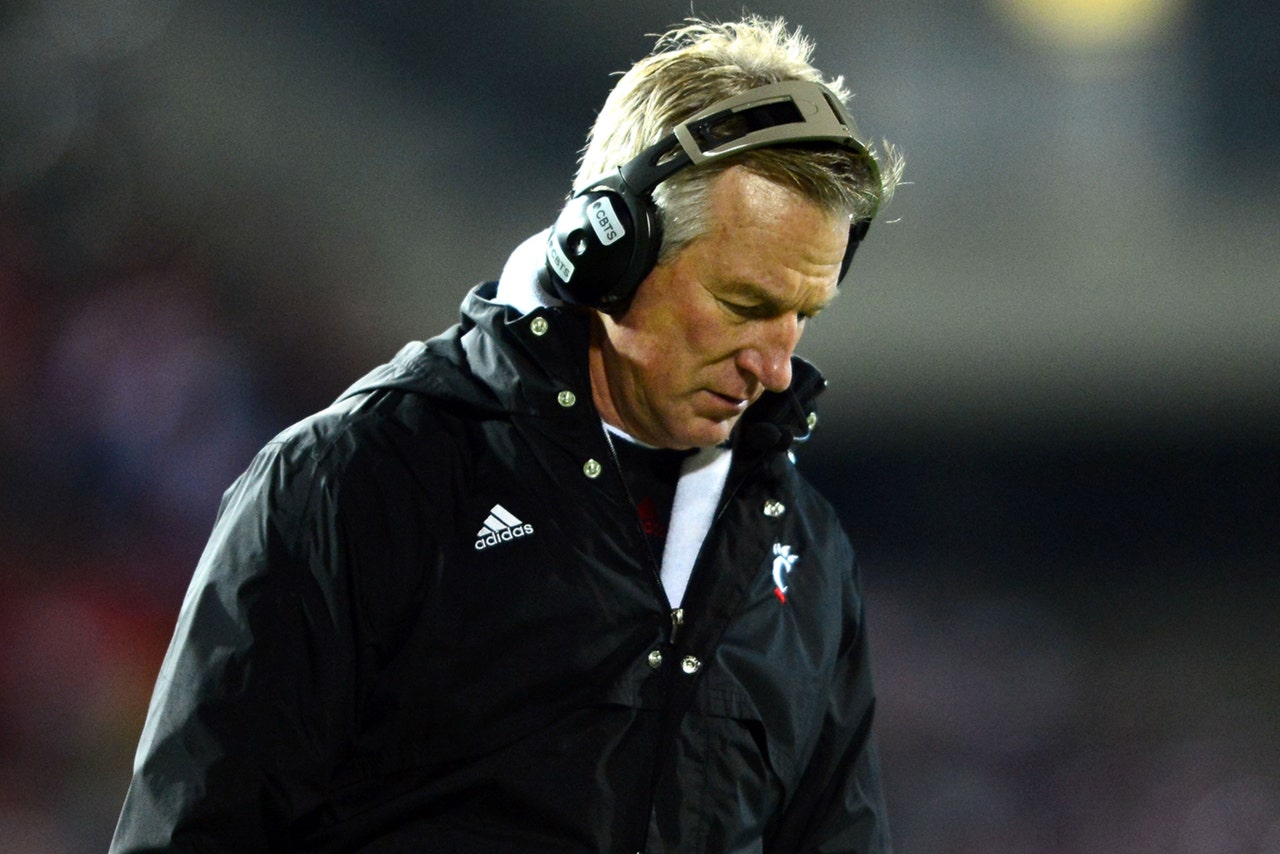 CINCINNATI -- Tommy Tuberville has a pretty easy-going personality, but he's gotten riled up the past couple of weeks and it has nothing to do with how the University of Cincinnati football team is doing on the field.
It's what some Bearcats have been doing off the field that's ticked off their head coach.
Sophomore linebacker Marcus Tappan became the latest UC player to run into trouble with the law when he was arrested early Sunday morning on charges of having a fake ID, disorderly conduct and underage drinking. Tappan, 19, has been suspended indefinitely from the team. He was arrested along with Northwestern redshirt freshman linebacker Brett Walsh after police were called to the scene of an apparent house break-in. Tappan is a junior college transfer from Pasadena, Calif., and has not played in a game for the Bearcats this season.
Last week Tuberville was addressing the issue of junior quarterback Jarred Evans' arrest for assault. Earlier in the season four UC players were either arrested or cited after police arrived on the scene of an off-campus party to investigate reports of gunfire.
Tuberville has had enough.
"I'll be the first one to tell you, we do have problems," said Tuberville during his Tuesday press conference ahead of Friday's game at Tulane. "We do have mentoring program, a training program for our kids, we talk to them, but unlike everybody else I'm fed up with it. We're not going to have it anymore if they're going to be on this football team. But, I'm a guy who gives a lot of second chances, but sometimes you have to put your foot down and say there's no more. There are players that come to this room every day, represent this football team, this University and this city the right way and I'm not going to have it."
Evans and freshman cornerback Alex Thomas, like Tappan, have been suspended from the team while their cases proceed through the court system.
UC fired Antrione Archer, who was the football program's director of player welfare and development, on Sept. 30 after it learned he was arrested last spring in Northern Kentucky on a misdemeanor sexual assault charge. UC is in the process of hiring a new director for that program.
Tuberville said he's not against second chances. He's just upset that the players aren't taking advantage of these first chances.
"I owe it to the city, this University, and this football team to put kids on the field who will do what we ask them to do. We're going to do that," said Tuberville. "It's our job to educate these kids on and off the field, how to handle themselves. We've got a lot of 18-19-year-olds here who have 15-year-old brains and maturity. And when you have that they make stupid decisions. I've had enough of it. And I'm sure everyone else has too. I want to read about the good things that the good guys in here do 100 percent of the time, rather than the bad things a small part of the time. That's not good for athletics, their families, themselves, or again all the other guys on here.
"We owe it to the good guys in here to do it right. Bottom line, no more second chances. Don't get your name in the paper; don't get in a confrontation with the police because I am on the police's side. It's hard every day to get up and put that uniform on if you're a city policeman in Cincinnati, or a campus policeman. I'm on their side. If they are confronted with our players, I'm on the side of the policemen because that's the way it should be. And our players know that, they understand it, and for some reason some of them aren't listening."
UC has improved its record on the field to 4-3 overall and 2-1 in the American Athletic Conference with consecutive wins against Southern Methodist and South Florida after losing three games in a row. Friday's game against Tulane (2-5, 1-2) will give them a chance at continuing the positive play on the field before facing nationally ranked East Carolina at Paul Brown Stadium on Nov. 13.
Tuberville has been pleased with the progress the Bearcats have made on the field.
Now he wants to see it off the field as well.
"We have to keep making sure that our players understand the accountability that they have to have to this room, their teammates, their families and the university, and everybody," said Tuberville. "I am totally responsible for all 120 of them. As I said, I'm taking responsibility and it's going to be a harsh punishment because as we've all seen, it's gotten out of hand. Most of them are small things, as compared to a lot of things that go on, but I don't care how small it is. Speeding tickets, parking tickets, any of those things. You get your name in the paper; you're going to be held accountable because we have wasted our opportunities."
---