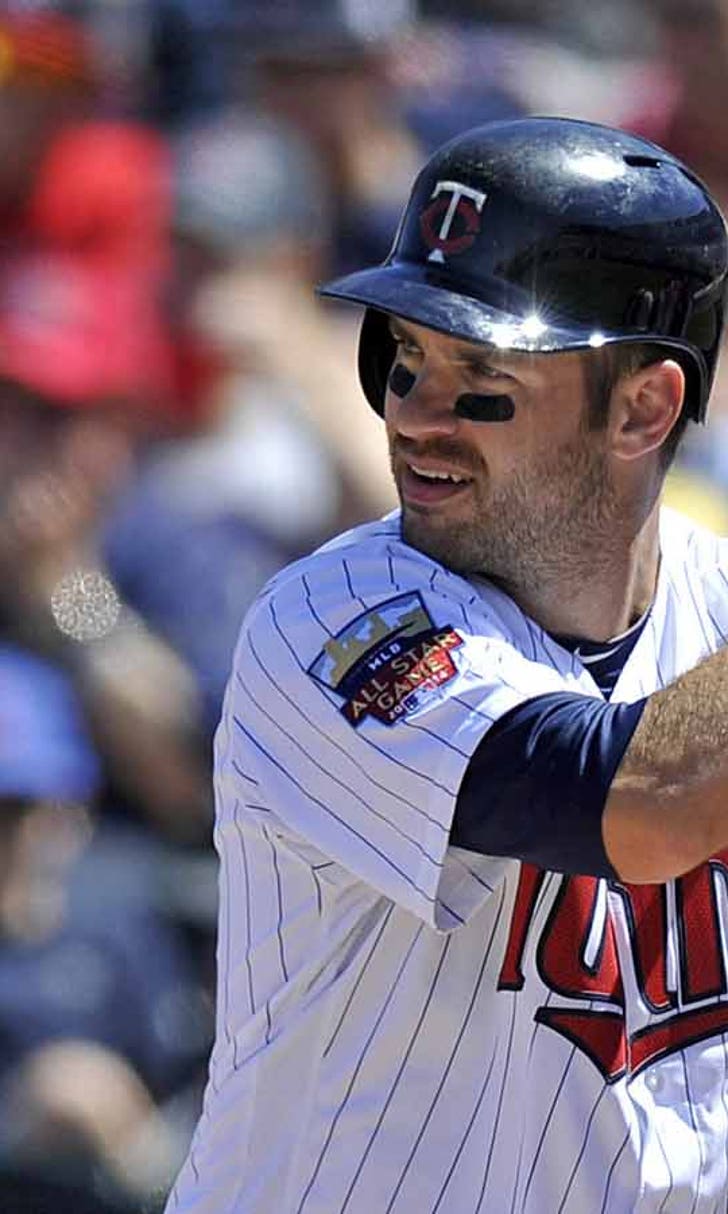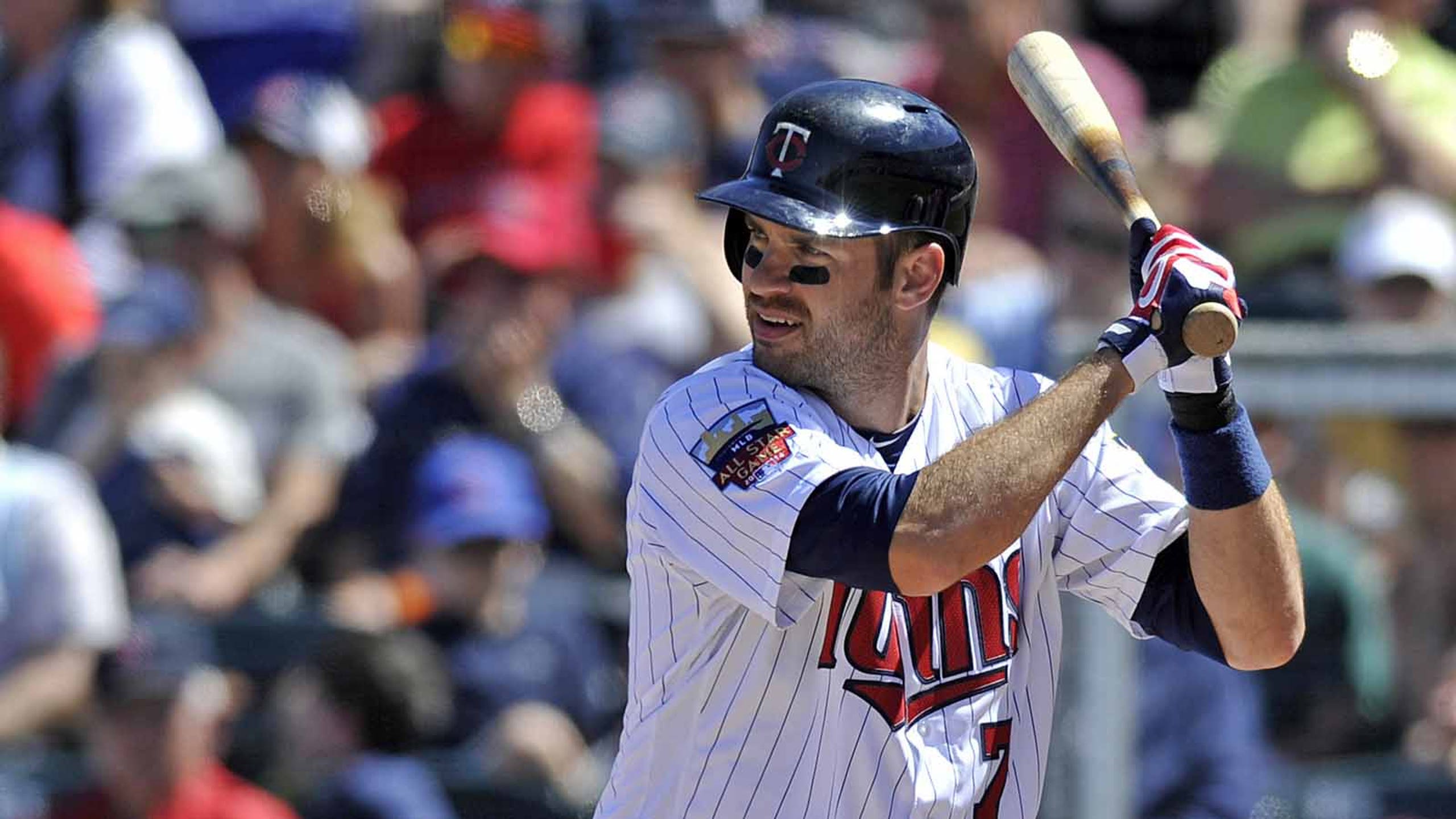 Twins positional preview: First base
BY foxsports • March 21, 2014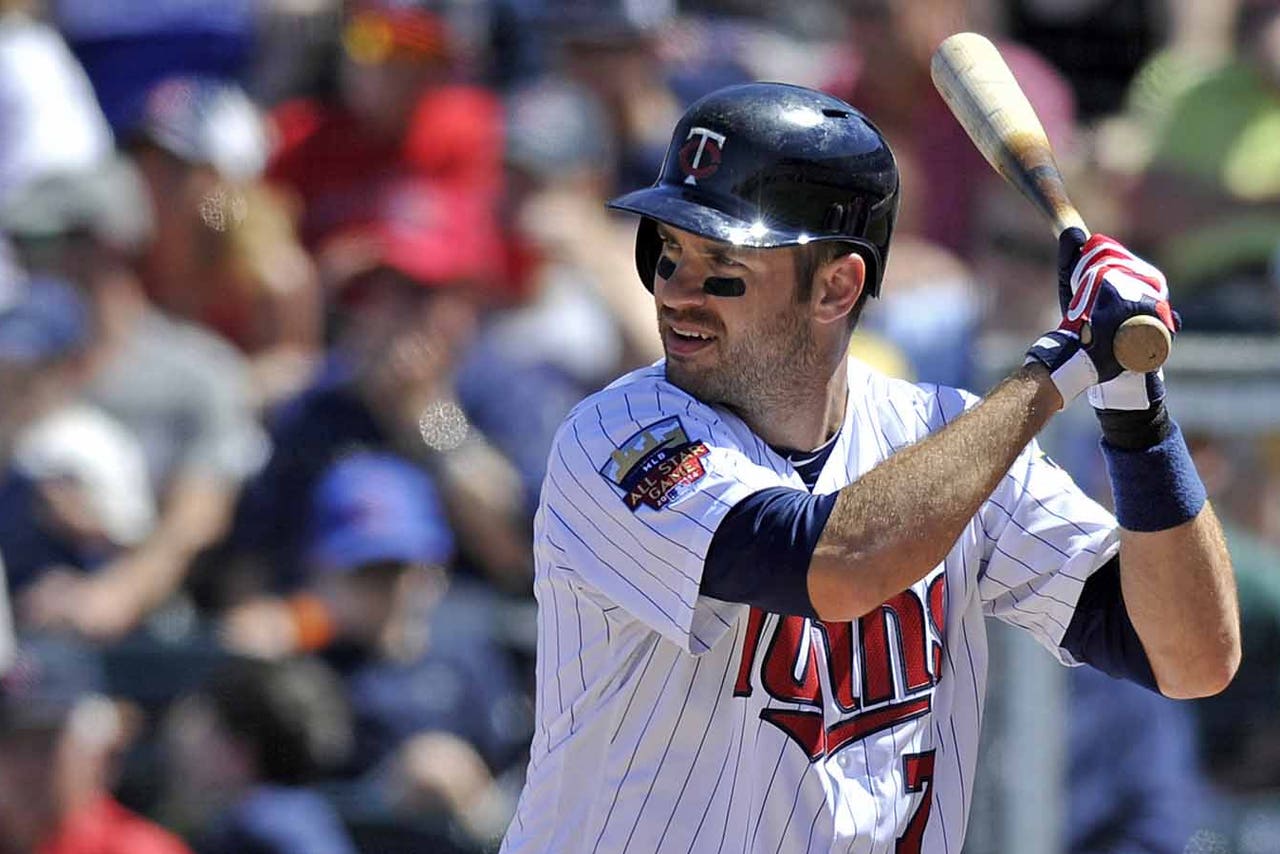 This is the fourth installment of the nine-part series looking at each position for the Minnesota Twins leading up to Opening Day later this month. Today's examines first base, where a familiar face in Twins Territory is ready to play a new position.
PROJECTED STARTER
Joe Mauer (.324/.404/.476, 11 HR, 47 RBI in 113 games in 2013)
KEY BACKUPS
Chris Parmelee (.228/.309/.354, 8 HR, 24 RBI in 101 games)
2013 IN REVIEW
After several injury-plagued seasons dating back to 2009, Justin Morneau held down the everyday first-base job for the Twins for the majority of the 2013 season until he was dealt to the Pittsburgh Pirates at the end of August. Morneau led Minnesota with 74 RBI, and his 17 homers were second on the team behind second baseman Brian Dozier's 18. Since Morneau was set for free agency at the end of the season, however, Minnesota dealt him to the Pirates in exchange for outfielder Alex Presley and a player to be named later (which turned out to be Duke Welker).
After Morneau was traded late in the season, Parmelee and Colabello split time at first base. Parmelee, who also spent some time in the outfield, played 20 games at first. Colabello, meanwhile, made 23 appearances at first base during his first season in the majors. Neither put up numbers close to what Morneau -- a former American League MVP -- produced during his time with the Twins. After spending seven seasons playing independent ball, Colabello finally got his chance in the majors when he debuted on May 22.
Parmelee spent the majority of his time (68 games) in right field, but he did play 23 games (including 20 starts) at first base. Both Parmelee and Colabello held their own defensively at first, as they combined for just one total error (by Colabello) in 180 chances.
Mauer also made eight appearances at first base while filling in for Morneau. With a healthy Morneau last season, first base was not an issue for the Twins in 2013. But that position will have a whole new look in 2014.
2014 OUTLOOK
Those eight games that Mauer played last year at first base were a sign of things to come for he and the Twins. Minnesota's six-time All-Star catcher took a foul tip off the mask against the New York Mets in August and suffered a concussion that ended his season. But the concussion did more than sideline Mauer for the remainder of 2013: it prompted a position change for Mauer, who now becomes Minnesota's full-time first baseman.
There's little doubt that Mauer will handle the position fine defensively. He's played there a bit in each of the past three seasons and has held his own in the 56 total games he's spent at first base; he has committed four errors in 536 chances, a .993 fielding percentage. Mauer has now had a full spring training to work with coaches on improving his footwork and positioning at first base. In years past, it was more of a crash course for Mauer before he was thrown out there.
The hope, too, is that Mauer's offense will see an uptick if he's not behind the plate every day. The wear and tear of 10 years of catching seemed to take its toll on Mauer, with last year's concussion as the final tipping point. Minnesota believes Mauer can play 140 to 150 games a season as a first baseman and designated hitter. His career high for games is currently 147. Keeping Mauer's bat in the lineup will be essential for the Twins' offense.
Parmelee and Colabello are still fighting in camp to earn a roster spot. Like Parmelee, Colabello can also play outfield if needed, but he's viewed primarily as a first baseman. Though he hit just .194 in the majors in 2013, Colabello did hit for average in the minors -- he batted .352 in 89 games with Triple-A Rochester last season. Parmelee, meanwhile, is out of minor-league options, which could factor into the Twins' decision to keep him on the 25-man roster or try to pass him through waivers. He brings value as an extra outfielder, but he batted .229 in 2012 and .228 in 2013. He'll need to get on base more to be a candidate as a backup first baseman.
KEY TO SUCCESS
Keep Mauer healthy. That shouldn't be as much of a problem as it was when Mauer was behind the plate. He's already said this spring that his body feels much better than it has in years past -- especially his knees, which aren't enduring the constant crouching that comes from being a catcher. If Mauer and his career .873 OPS (on-base plus slugging) are in the Twins' lineup every day, the rest of Minnesota's offense should benefit.
Follow Tyler Mason on Twitter
---