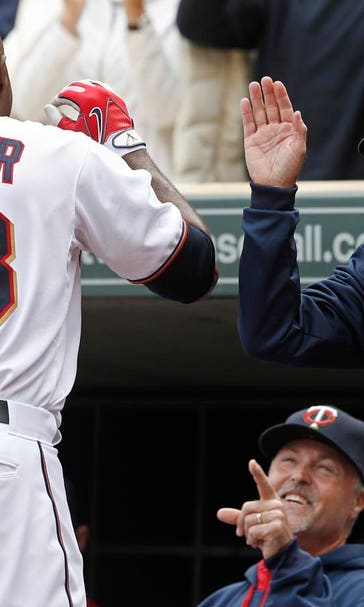 Twins firing on all cylinders to erase slow start
April 19, 2015

MINNEAPOLIS -- The Twins had already dug themselves a hole before even playing a game at Target Field this year. Minnesota went just 1-5 on the first road trip of the season as it came home four games under .500.
Six games and seven days later, the atmosphere in the Twins' clubhouse has changed completely after Sunday's 7-2 win over the Cleveland Indians. The victory gave Minnesota its second consecutive series win as the Twins have now won four of their last five games.
As a result, Minnesota's clubhouse is starting to gain a bit of confidence as the Twins have erased that slow start.
"Oh, man. It's totally different. It's night and day compared to Monday," said Twins right fielder Torii Hunter, who hit a three-run homer in Sunday's win. "It was a rough time on Monday defensively, offensively. We just didn't play the way we were capable of playing. The last four or five days, I think we've been playing Twins baseball."
On Sunday, Twins baseball meant Minnesota's offense tallied 11 hits off Cleveland, played sound defense -- save for an error on first baseman Joe Mauer -- and got a quality start from right-hander Trevor May. The Twins could barely put one of the three phases of the game together during that frustrating six-game road trip. Now, Minnesota has had multiple games in which it's fired on all cylinders.
Sunday was the latest example. Thanks to the 7-2 win, Minnesota took two of three from the visiting Indians. This series win came a few days after the Twins won two in a row against the defending American League champion Kansas City Royals for Minnesota's first series victory of the year.
During that rough first week, first-year manager Paul Molitor preached patience to his club. That patience is paying off in the form of four wins in five days.
"I think throughout the course of the homestand, I think you can kind of feel it getting back to a comfort level. Some of the weight has been lifted that was created by the poor start," Molitor said. "Each day that we go out there and play a crisp game -- even in the loss yesterday I thought it was a crisp game -- there's definitely just more confidence and guys are free to do more of what they're capable of doing."
In Sunday's win, the Twins got offense from all parts of the lineup. Backup outfielder Shane Robinson had a three-hit day and knocked in a pair of runs in the No. 9 spot in the batting order. Hunter's homer -- his first in a Minnesota uniform since Sept. 9, 2007 -- came in the No. 2 hole, while No. 5 batter Trevor Plouffe had three hits, including two doubles.
May, meanwhile, gave up just one run on four hits in six innings of work to pick up his first win of the year. Minnesota also turned in a few nice plays on defense. Oswaldo Arcia was among them, making a leaping catch in left field to take away a hit in the ninth inning.
"A lot of good things happened today," Molitor said. "A lot of good performances. Obviously after the start, we had to come back here and protect our home field a little bit this week and win series against teams in our division, that's a good thing for us."
When Minnesota returned to Target Field for Monday's home opener, the Twins' fanbase seemed to have a "doom and gloom" view of the 2015 season. It didn't help that Minnesota's slow start came on the heels of losing 90 or more games in each of the past four seasons.
Yet the Twins players and coaches didn't seem to panic after their first road trip. Instead, Minnesota came home and won four of six as things have started to fall into place for the Twins. The offense -- which scored just one run in the first three games of the season -- has started to swing the bats better. The starting pitching is straightening out. And the defense is not nearly as flawed as it was in the first seven games.
That's resulted in good vibes in the Twins' clubhouse as they now embark on their second road trip of the year. With the recent homestand a success, Minnesota hopes this momentum can help make the second road trip a bit more positive than the first one.
"We know who we are, what we can be. If everyone plays to their potential, we're a darn good team," May said. "I think we're starting to see, especially with the bats and the pitchers. They're starting to string stuff together and put up crooked numbers and the pitchers are building off of that.  . . . That's how you win games. I think it's pretty wildly spread that we're playing one game at a time. That's how you build momentum and start to put streaks together."
Follow Tyler Mason on Twitter
---