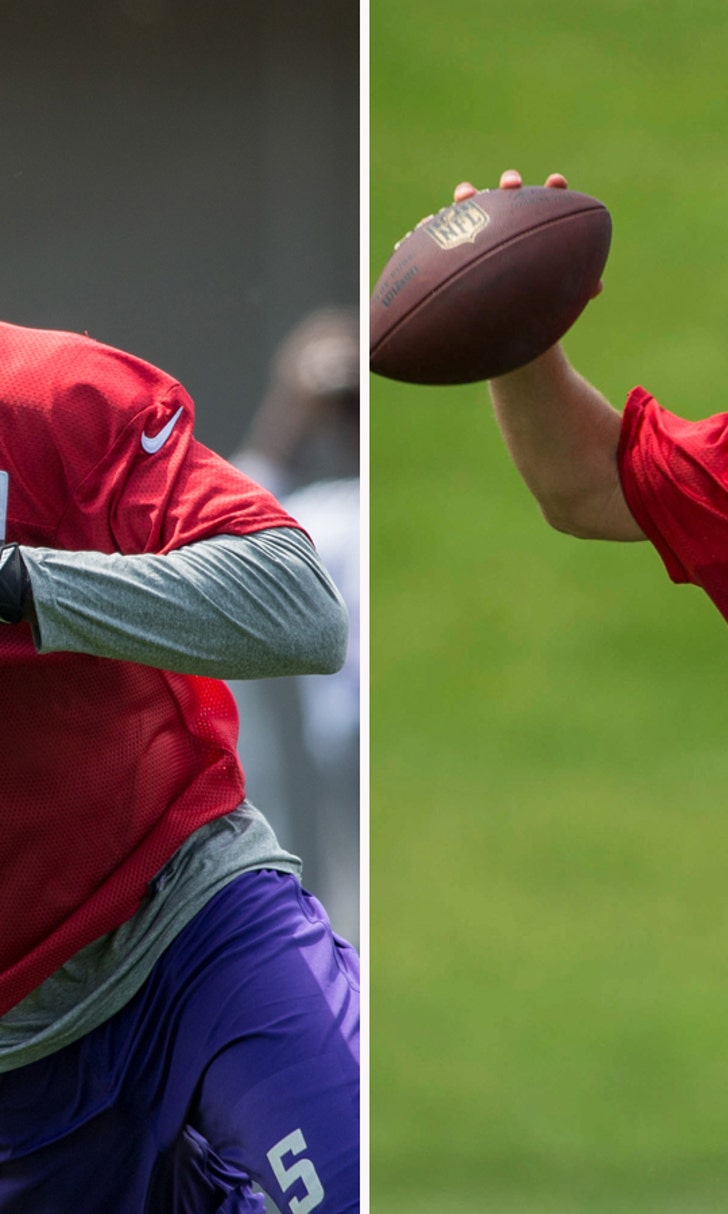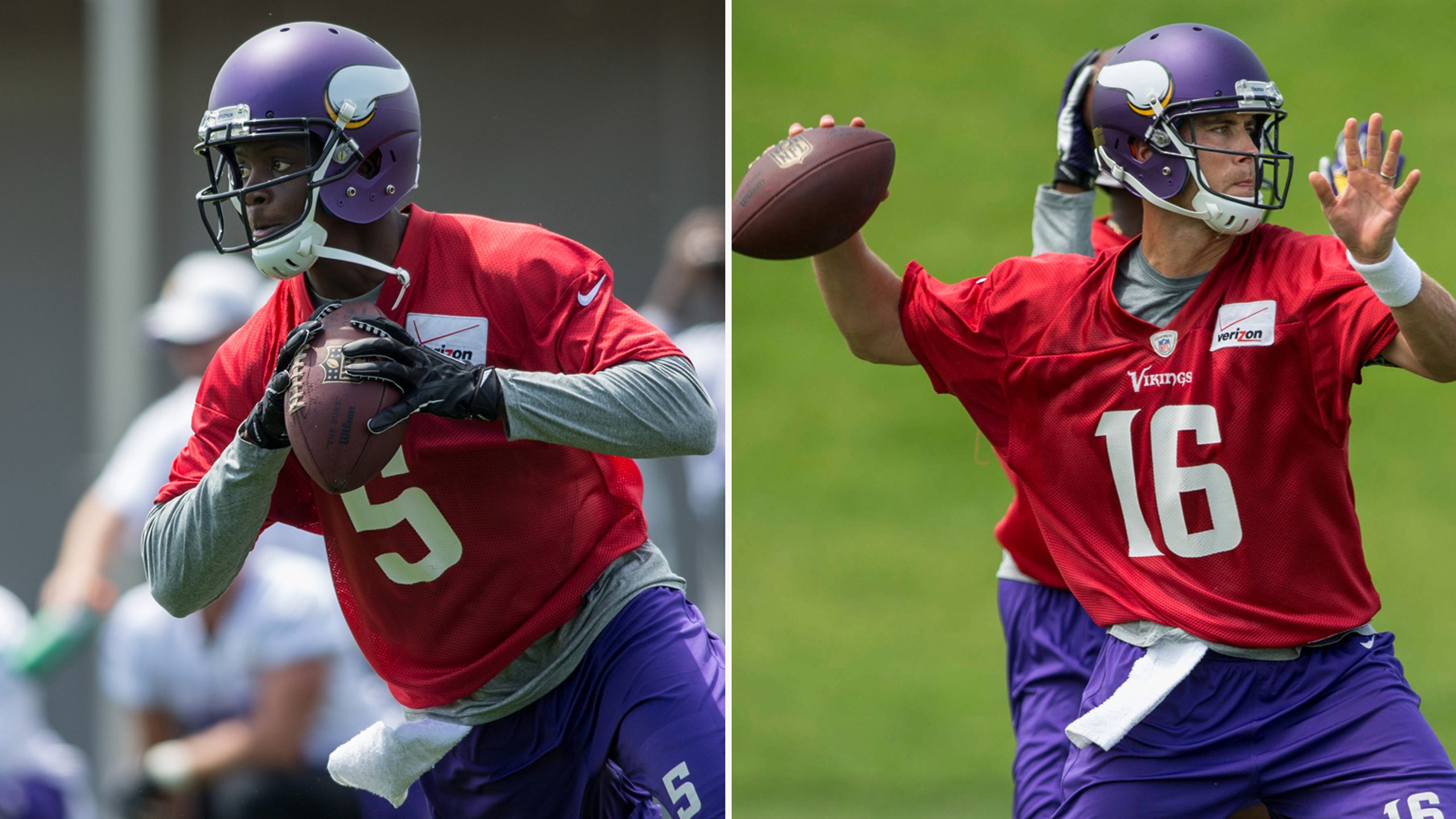 Turner: 'Excited' about QBs; Bridgewater playing at 'awfully high level'
BY foxsports • August 5, 2014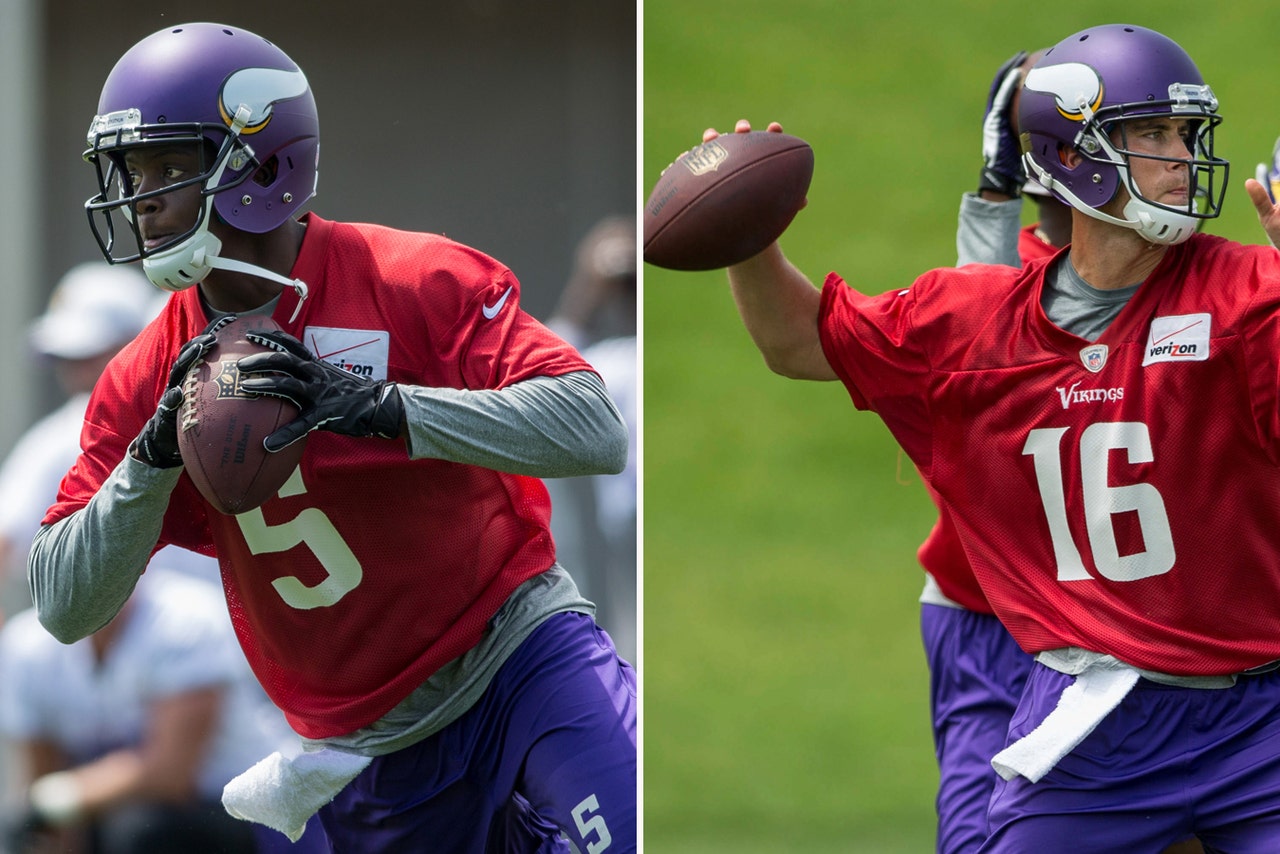 MANKATO, Minn. -- Norv Turner has a different perspective on the interceptions thrown by rookie Teddy Bridgewater and veteran Matt Cassel in recent practices as the two compete for the Minnesota Vikings starting quarterback job.
Turner, Minnesota's offensive coordinator, is pleased with the progress of Bridgewater and said the team wants to see Bridgewater play behind the first-team offensive line in preseason games, which begin on Friday at home against the Oakland Raiders. Cassel has received most of the first-team snaps throughout training camp.
"I think he's playing at an awfully high level," Turner said of Bridgewater. "Those two guys in competitive situations, they've both had over 150 passes, each of them. That's 300. That's over half a season. They've each thrown three interceptions. One of them for each guy was a bad quarterback decision. One of them for each guy was a receiver either fell down or ran a poor route. And one of them I thought was a great play.
"If you throw three interceptions in 150 attempts, you're playing at a high level.  Now, there's no full-speed rush. It's not like a game, but I'm excited about what Teddy is doing. I'm really excited about how Matt is playing."
Cassel has seemingly had the edge to start in Week 1 on Sept. 7 at St. Louis, but Minnesota's coaches have maintained Bridgewater is also competing to start right away after the team traded into the end of the first round of the draft to select Bridgewater out of Louisville. Christian Ponder, another holdover who lost the starting job last season, has been said to be in a competition, but he's trailed in practice reps significantly.
Instead, the competition seems to be down to Cassel and Bridgewater. Cassel should start Friday's preseason game, but Turner wants to see how Bridgewater responds with the first-team offense, as well.
"We need to play Teddy with the first line," Turner said. "We need to mix a lot of players. I think we're still trying to work that out in terms of exactly how we want to do it. I know coach (Mike) Zimmer has a plan in place, and then because he and I have been doing this a while, we're going to be very flexible with the plan. It will be numbers of plays and we want to see Teddy play, yeah. He needs to play to get through that first time going out."
Friday will be important for Bridgewater to get any first-game jitters out of the way. Bridgewater has seemed remarkably composed throughout his first summer and training camp with Minnesota. However, the difference between practice and not being tackled or facing a familiar defense is different from games, even during the preseason.
"I just want to see him manage the game," Turner said. "He doesn't have to be sensational. He needs to make good decisions. He needs to protect the ball, get our group in and out of the huddle, get us into the right play, get us into the right protection. That's the biggest thing about managing a game. He's going to make plays. When he's had an opportunity out here, he's made plays. He's made big plays throwing the ball up the field and made big plays checking the ball down.
"So I think for a young guy, his heart's going to be pounding, he's going to have butterflies. I don't know how many games this is for me, but I will too. That's why this thing is so much fun. That's why we do what we do and the way we do it."
First look at the depth chart: Minnesota revealed its first "unofficial" depth chart of the season on Tuesday. Cassel was listed as the first-team quarterback followed by Bridgewater and then Ponder.
There weren't many surprises revealed. The offense, which returns all of its starters from last season, hasn't changed much. Cordarrelle Patterson, as expected, is listed as a starter at receiver. Jerome Simpson, Jarius Wright and Adam Thielen are listed as second-team receivers. Matt Asiata and Jerick McKinnon, respectively, are the backups to running back Adrian Peterson.
"I could see using both of those guys because they bring different things," Turner said of Asiata and McKinnon. "Last time we talked, I told you how I felt about Matt and he's continued to practice at a high level. And Jerick is doing a nice job and I think you've all seen him. When he gets the ball out in space, he can really go, and he has done a good job running the ball inside. We're just getting them all ready."
The second-team offensive line, as they've practiced, comprises rookie left tackle "Tiny" Richardson, rookie left guard David Yankey, center Joe Berger, right guard Vladimir Ducasse and right tackle Mike Remmers.
Rookie Anthony Barr is listed as the starting strongside linebacker, with Jasper Brinkley in the middle and Chad Greenway on the outside. The second-team includes linebackers Gerald Hodges (strongside), Audie Cole (middle) and rookie Brandon Watts (weakside). Michael Mauti, a natural middle linebacker, is listed at the third-team weakside spot.
The team is still sorting through its linebackers, particularly in the middle. Defensive coordinator George Edwards said Brinkley will start in the base defense in the middle on Friday. Edwards also praised Mauti's work across each of the three linebacker spots.
"They're still working and competing hard, Jasper's done a good job (with) alignment and assignment, those kind of things," Edwards said. "We moved Audie back in there, he's done a good job so far, moving him back in there three or four days. From that aspect of it, we're excited to get to the first competition coming here this week, give them a chance to get out there and compete against somebody else. We feel good with them coming out and competing and understanding what we want to get done at the position."
Robert Blanton, despite being out with a hamstring injury, is listed as a starting safety with Harrison Smith. Jamarca Sanford, last year's starter, and Kurt Coleman are on the second-team, followed by Mistral Raymond and Andrew Sendejo on the third team. Chris Crocker, signed on Monday, is listed initially with the third-team, but Crocker did participate in part of Tuesday's morning walk-through with Smith and the first-team defense.
At cornerback, starters Xavier Rhodes and Captain Munnerlyn are followed by Josh Robinson and rookie Jabari Price. Derek Cox and Marcus Sherels are listed as the third-team cornerbacks.
Kalil getting better: Starting left tackle Matt Kalil missed much of the offseason program after undergoing knee surgery, but Turner feels Kalil is getting back to being himself.
"I think Matt probably had his best day yesterday, and that's a key for us," Turner said. "Missing as much time as he did with his injury, he's probably behind the other guys. But I think he's catching up. I think the other guys across the board are really having good camps."
Right now, the starting offensive line appears to be set with each of the five returning from last season in Kalil, left guard Charlie Johnson, center John Sullivan, right guard Brandon Fusco and right tackle Phil Loadholt.
Nickel linebackers: Minnesota appears to be close to settling on Greenway and Barr as the top linebackers in the nickel defense as well. The two have taken most of the first-team nickel snaps lately.
"Like it a lot, those are two guys that have a lot of ability to get done what we're trying to do, skillset-wise as far as pressure," Edwards said. "As far as coverage, Anthony, we've used him in a load of different roles from rushing to a little bit of everything. From that aspect, we're trying to progress and polish his tools as we move down the road at all those different positions."
Follow Brian Hall on Twitter
---